Cardano surges ahead to become 5th biggest crypto coin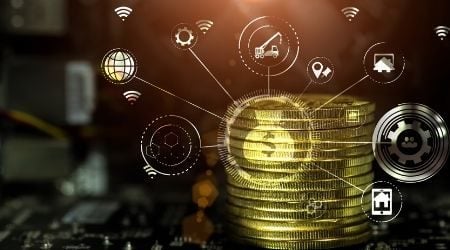 Cardano appears to be the only bright spot among digital coins and tokens, as the rest of the market continues to tumble.
Crypto is unregulated in the UK; there's no consumer protection; value can rise or fall; tax on profits may apply*.
The cryptocurrency market can be volatile at the best of times, but in the past 24 hours, 9 out of the 10 biggest crypto coins have seen their value drop. The only ray of light – Cardano.
Often billed as a third-generation blockchain after Bitcoin and Ethereum, Cardano saw its price rise over 10% to $1.54 (£1.13) on Monday January 17, 2022. This made it the 5th most valuable crypto by market value – surpassing the fast-rising blockchain Solana.
What's happening to other crypto coins?
The broader cryptocurrency market has been in a downward spiral of late. There's been a lot of price volatility over recent weeks. And the past 24 hours have been no different, as prices changed by 20.93% on average. However, it is important to note that trading volume during this time was low, at only 60.35% of the average of the previous 7 days.
Limited trading volume could indicate that the popularity of most of the coins that have been in high demand is starting to wane. Therefore, this most recent drop in price could be an anticipated market correction.
Why is Cardano's value still rising?
So how has Cardano managed to sidestep this latest market tumble? The price of ADA has not been immune to the volatility of the cryptocurrency market. In fact, its price has also fallen by more than 30% over the last 2 months. However, the difference is that it appears to be rebounding faster than previous market favourites, Bitcoin and Ethereum
Buyers are edging towards Cardano due to several factors. Over recent weeks it has exceeded the 20 million transaction market with no downtime in over 1,500 days of operation and is now held in more than 1 million digital wallets worldwide.
Its future also looks bright. Developers are looking to launch projects using the blockchain including a non-fungible token (NFT) marketplace and an exchange for decentralised finance (DeFi) transactions.
Cardano also appeals to the more socially conscious crypto investor, as its "proof of stake" concept proves itself to be more energy-efficient than the "proof of work" concept that Bitcoin and Ethereum work on. "Proof of stake" is a cryptocurrency consensus mechanism for processing transactions and creating new blocks in a blockchain. It typically reduces the amount of computational work needed to verify blocks and transactions, therefore reducing the environmental impact.
What's next for Cardano?
We'll be watching Cardano's progress over the coming weeks to see whether it can secure its spot as one of the top 5 biggest crypto coins. It arguably has a lot going for it. It could also be seen as a refreshing option for investors who want to invest in cryptocurrencies that haven't yet run up to exorbitant prices.
*Cryptocurrencies aren't regulated in the UK and there's no protection from the Financial Ombudsman or the Financial Services Compensation Scheme. Your capital is at risk. Capital gains tax on profits may apply.
Cryptocurrencies are speculative and investing in them involves significant risks - they're highly volatile, vulnerable to hacking and sensitive to secondary activity. The value of investments can fall as well as rise and you may get back less than you invested. Past performance is no guarantee of future results. This content shouldn't be interpreted as a recommendation to invest. Before you invest, you should get advice and decide whether the potential return outweighs the risks. Finder, or the author, may have holdings in the cryptocurrencies discussed.