Fibre to the premises (FTTP), Fibre to the building (FTTB) and Fibre to the curb/cabinet/node (FTTC/FTTN)
If you're comparing broadband deals, chances are you may have come across the terms FTTP, FTTB, FTTH, FTTC or FTTN. We've put together a straightforward guide to explain what these terms mean.
"FTT" terms are used to describe how broadband is supplied to homes and businesses.
First, a little background information. The UK's telephone lines are owned and operated by Openreach. For a number of years, Openreach have been upgrading the as much of the network as possible form the old, less efficient, copper lines, to shiny new fibre optic lines. Over 26.5 million UK premises already have access to fibre broadband, and this number is growing weekly by around 17,000.
If you live in the sticks, there's a chance the network upgrade won't have reached you yet. You may find yourself frustrated when providers are unable to offer fibre tariffs to you once you've told them your address.
What is Openreach?
Openreach is a subsidiary of BT which owns all of the pipes and telephone lines which connect nearly all of the UK to the internet.
In 2016 BT agreed with Ofcom to make Openreach a separate company with its own staff and management. The decision hopes to increase competition in the industry. Openreach will have to consult with its customers, which includes Sky, TalkTalk, Vodafone, Plusnet, to "serve all of its customers equally" without being influenced by BT.
"FTT" terms specifically refer to the final stages of a broadband connection, where in most cases, information has to travel those last few metres (or kilometres) on old copper wires.
Definitions
FTTC – Fibre to the curb/cabinet.
FTTN – Fibre to the node.
Most of the current UK network upgrades are upgrading to an FTTC or FTTN set up, where fibre cables connect the local exchange to a street cabinet or pole. From that point to the premises, information must travel over copper wires.
FTTB – Fibre to the building.
Companies like Hyperoptic have made a niche for themselves by building a network where superfast fibre broadband cables connect multi-dwelling buildings such as apartments and offices. The connection from the boundary of the building to the end user may still use other types of cable.
FTTP – Fibre to the premises OR Fibre to the pole.
The term FTTP has become ambiguous, with two drastically different meanings. That's why many providers don't use it anymore. Crucially however, Openreach use the term FTTP to mean Fibre to the premises.
FTTH – Fibre to the home.
FTTH is the gold standard for domestic network connections, with fibre cables connecting the exchange all the way to the home.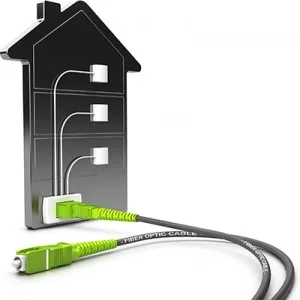 Read more on this topic