ADSL broadband: Compare deals and providers
Compare ADSL deals to find the tariff that's right for you.
A lot of broadband providers talk about offering "standard" broadband (as well as fibre-optic broadband). But what exactly does that mean? Learning some of the basic broadband lingo will equip you with the knowledge needed to find the right deal.
What is ADSL broadband?
ADSL broadband is the standard broadband connection in the UK. Put simply, ADSL broadband refers to an internet connection made through your home's phone-line or "landline".
Compare the UK's best ADSL broadband deals

Compare broadband plans and find the best deal.
Your information is secure.
Who owns the UK landlines?
In the UK, British Telecommunication (BT) owns all of the landlines. BT supplies the landlines to the majority of other broadband providers such as Sky, TalkTalk, and EE.
Only Virgin has installed its own separate, "fibre-optic" network across much of the UK – but we will explain more about what that means later on.
Tied in to most broadband packages is a fee called "line rental". This is simply the cost of renting the landline from BT, with money going towards repairing and maintaining the lines all across the country.
What is that box plugged into my wall, and what does it do?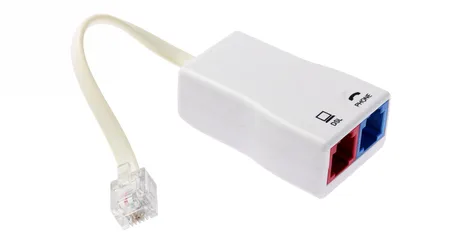 Chances are you have one of these in your home. This is because ADSL broadband is the UK's most common form of internet connection.
Here's what it does:
Plugs into the wall.
Connects to the landline.
Splits broadband and landline frequencies.
Lets you go on the internet without interfering with the phone.
Remember those days when the internet would cut out if someone used the phone? Thanks to ADSL splitters those days are a distant memory.
And what about the 'router'?
In addition to a working phone-line and an ADSL Filter, you'll need a 'wireless router' before you can connect to the internet.
A router is a small box about the size of a notepad, supplied by whichever internet provider you decide to use. Once you've got your router installed, it can be used to connect to the internet through a wired or wireless connection.
What does ADSL stand for?
It's short for 'Asymmetric Digital Subscriber Line'. ADSL broadband is the most common type of internet connection in the UK
4 key considerations when comparing broadband
So, now that that's all cleared up…
There are four key considerations when comparing broadband providers, some of which we've already mentioned. They are:
Availability (you need to find out what's available at your address before anything else)
Speed (this is the most common sales pitch you'll come across, but as speed goes up so does the price!)
Price (the price will be a one-off installation fee, a potential fee for switching providers, and then a monthly price)
Added extras (most providers throw in added extras such as basic TV packages, cloud-based storage, and anti-virus software – so this is something to keep in mind when comparing).
Who are the main broadband providers in the UK?
There's a wide variety of providers in the UK, each offering slightly different packages. Another crucial thing to consider is what is available in your area. Most providers will allow you to check using your post-code, so make sure you find that out before making any decisions. Here's a list of the main broadband providers in the UK: