Black Friday and Cyber Monday statistics | 2020
Latest statistics suggest Brits plan to spend £6 billion on Black Friday and Cyber Monday sales in 2020.
In 2020, Black Friday falls on 27 November. As one of the biggest shopping days in the UK, it's sure to cause a rush of shoppers to both online and high-street stores offering huge discounts and one-off deals. In fact, Brits plan to spend an estimated £6 billion on Black Friday and Cyber Monday purchases this year, according to our latest research. Find out the latest 2020 Black Friday and Cyber Monday statistics and how spending behaviours compare to 2019.
How much will we spend?
Fewer Brits are planning to take part in Black Friday and Cyber Monday in 2020 compared to 2019. Last year, 42% of adults planned to do so, whereas this year the number has gone down to 39%.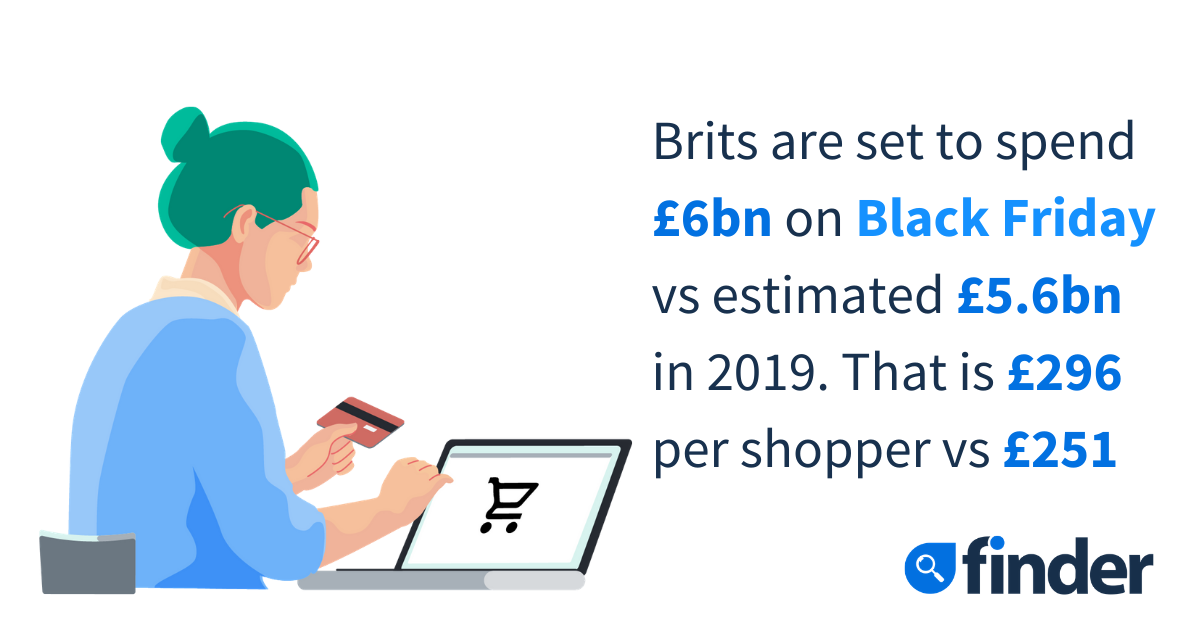 According to our latest Black Friday survey statistics, Brits who are going to take part in the shopping sprees are planning to spend £295.67 on average each this year. This is 18% (£44.47) more than last year when shoppers planned to spend £251.20 on average during the sales. This means the total Black Friday and Cyber Monday spending in the UK will increase from £5.6 billion in 2019 to £6 billion in 2020. Therefore, although fewer Brits are making the most of Black Friday and Cyber Monday deals, spending increases means total spending across the UK is expected to grow.
| | 2020 | 2019 |
| --- | --- | --- |
| % spending on Black Friday/Cyber Monday | 39% | 42% |
| Average spend | £295.67 | £251.20 |
| Total Spend | £5,988,444,539 | £5,555,089,845 |
Gender Differences
Generational differences
Regional Differences
How long do we hold off buying?
With so many discounts just around the corner, it's common to hold off spending in the lead-up to massive sales. In fact, 37% of Brits have deferred dropping pounds on clothing, electronics, major appliances and furniture until the release of Black Friday and Cyber Monday deals. Better safe than sorry, right?
Of those hanging out for a bargain, holding out for a few weeks is the most common (14%), followed by one- to two-months (13%), three to six months (8%) and a patient seven to eleven months (1%). There are even 1% of us willing to wait an entire year before taking on our next bargain shopping spree!
Sales regret: Are people getting the best value for their money by spending during sale time?
In 2018, 21% of Brits purchased something on Black Friday/Cyber Monday that they later regretted, spending an estimated average of £83 on each of these items.
Before swiping your card or clicking the enticing 'buy now' button in the online checkout, think about what you actually need to reduce the chances of buyers' remorse.

It's also important to look into the overall value of the products you're thinking of purchasing. Is the sale price really a good deal? Has it been discounted to this price previously? It can be easy to fall for sales tricks and tactics – by doing your research before the sales hit, you'll be more aware of a great deal when you see one."
In store vs online: How are we planning to shop?
Like the name says, Cyber Monday is all about online shopping, while Black Friday deals can be found on the high street and online. Moving towards online shopping has already been an increasing trend. However, the COVID pandemic has shifted us to online shopping more than ever.
Before the announcement of the second English COVID-19 lockdown, two thirds (66%) of Black Friday shoppers said they plan to do it all online. This is an increase from 2019, where 56% only shopped online on Black Friday. Over a quarter (28%) said they were going to get the best of both worlds – finding their bargains both by hitting the shops and by browsing online stores in the comfort of their home. The number of people planning to shop in-store only is set to fall by a third to just 6% (from 9% in 2019). However, due to the lockdown restriction running until December in England, it is likely that Black Friday will happen almost entirely online.
| How we will shop | 2020 | 2019 |
| --- | --- | --- |
| Online only | 66.49% | 56.11% |
| In-store only | 5.82% | 8.50% |
| Online and in-store | 27.68% | 35.39% |
For all media enquiries, please contact
Check out our Black Friday hub where you can find hundreds of deals at up to 80% off, all in one place.