Bitstamp Bitcoin exchange review
Bitstamp is a "Big Four" digital asset exchange that has earned the trust of the global blockchain community.
In 2017, Bitstamp celebrated its sixth anniversary. Over that short period, it has become one of the world's premier marketplaces for buying and selling Bitcoin.
Bitstamp is often referred to as a "Big Four" Bitcoin exchange. It has the distinction of being the first fully licensed Bitcoin exchange in the world. Today, it commands high liquidity and a truly global client base.
Crypto is unregulated in the UK; there's no consumer protection; value can rise or fall; tax on profits may apply.
Details
Product Name
Bitstamp
Fiat Currencies
USD, EUR, GBP
Cryptocurrencies
BTC, ETH, XRP, BCH, FET, LTC, ADA, XLM, OMG ZRX & 69 more
Deposit Methods
Bank transfer
Credit card
Cryptocurrency
Debit card
SEPA
Faster Payments (FPS)

Trading Fee
0.0% - 0.50%
Deposit Fees
Cryptocurrency: None
Credit card: 5%+
SEPA: None
Wire: 0.05%+
Withdrawal Fees
Cryptocurrency: None
SEPA: 3 EUR
Wire: 0.1% (25 EUR/USD minimum fee)

What is Bitstamp?
Created in 2011, Bitstamp is one of the oldest and most reputable exchanges on the market. Known for being a simple yet complete platform, it has increased in popularity over the past 10 years and is commonly used as a resource with regards to the accuracy of prices across exchanges. However, it only offers a limited number of cryptocurrencies and has a lengthier KYC verification process than most other exchanges. This review will look into how it has stood the test of time and continues to be an excellent option for cryptocurrency trading and investing.
If this is your first exchange: Although many of its options are well suited for a beginner, the trading portal can be a bit overwhelming if you are just getting started.
If you´re switching exchanges: This is a great platform for reliability and accuracy in prices, although it offers a substantially lower number of trading pairs compared to other exchanges.
Pros and cons of Bitstamp
Pros
Reliable platform
Low fees
Great customer support
Cons
Long verification process
Low number of trading pairs
Trading portal not very beginner friendly
Verdict: Is Bitstamp any good?
Bitstamp is a great platform, although it can be a bit tedious during the verification process. It doesn't offer a lot of coins but does offer good uptimes and reliable services. It is not the most popular exchange, but if you are looking to trade specific coins on an exchange with very competitive fees and a good reputation, then Bitstamp might be the place for you.
Finder ratings for Bitstamp
| | |
| --- | --- |
| Supported cryptocurrencies | ★★★★★ |
| Transferring money or assets | ★★★★★ |
| Fees and costs | ★★★★★ |
| Ease of use | ★★★★★ |
| Customer service | ★★★★★ |
| Features | ★★★★★ |
| Staking/earning | ★★★★★ |
| Trustworthiness/security | ★★★★★ |
| Overall score | 3 |
What to know about Bitstamp
One unique feature of the exchange is its long-standing reputation for usability during times of market volatility and for being a well-functioning platform.
Although the exchange has expanded the number of coins it currently offers, the trading pairs are quite limited for certain less popular assets. This means that you may have to look elsewhere for the pairs you want.
Fees and costs
Bitstamp charges average costs for using the platform. It does not charge any deposit or withdrawal fees when using cryptocurrency. Keep in mind you will still need to pay a network fee. There is also a fee when depositing and withdrawing fiat, though these fees are relatively moderate.
Fiat withdrawal and deposit fees
| Deposit | Withdrawal |
| --- | --- |
| 0.05-5% | 0-0.09% |
Crypto withdrawal and deposit fees
| Deposit | Withdrawal |
| --- | --- |
| Free (network fee must be paid) | Free (network fee must be paid) |
What is it like to use Bitstamp?
The user interface is quite well designed. It has a clean platform and doesn´t overwhelm users with options. Although the trading portal can scare off beginners, the rest of the platform has been nicely designed for most users.
Getting Started/KYC
Although the interface is straightforward, it takes time and requires a bit more information than other platforms. Keep in mind that without going through the verification process, you won't be able to buy, sell or trade any type of asset, including cryptocurrencies.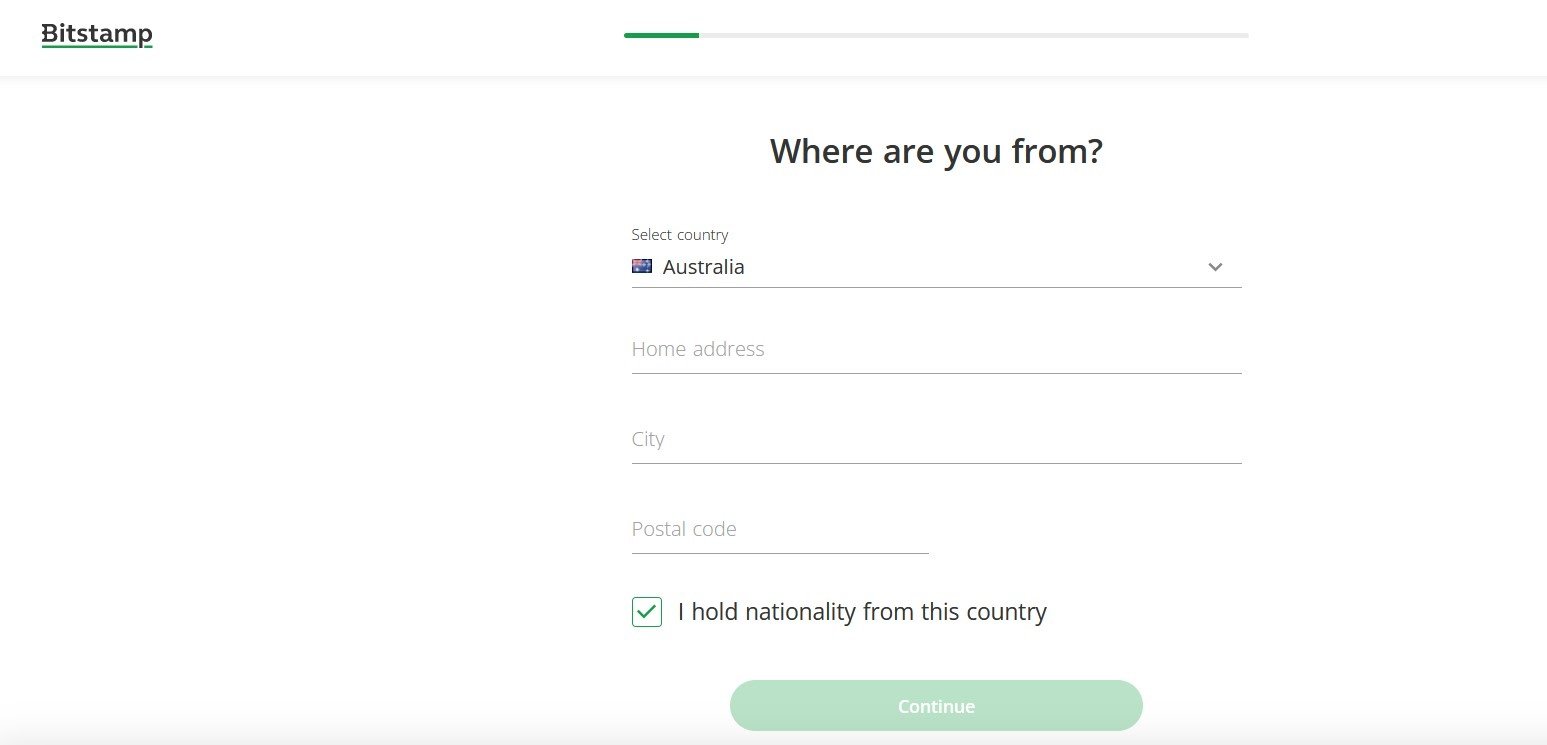 Trading Terminal
The portal for trading on Bitstamp can be a bit complicated for a beginner. That being said, all the information is on the screen, and if you are a slightly more advanced trader, you shouldn't have any issues using the platform.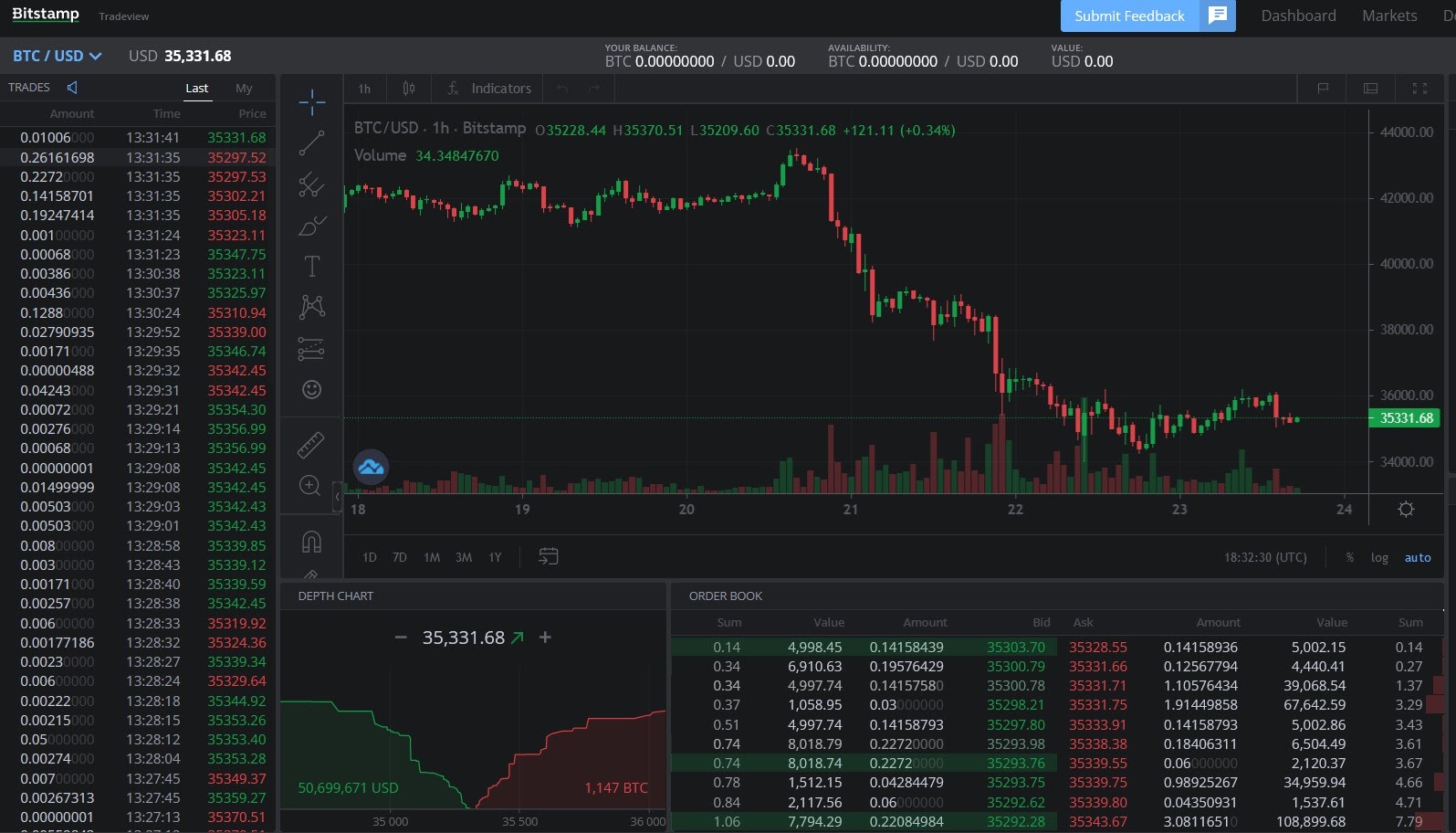 Mobile app
Bitstamp has created an easy-to-use mobile app that allows portfolio tracking and trading among digital assets.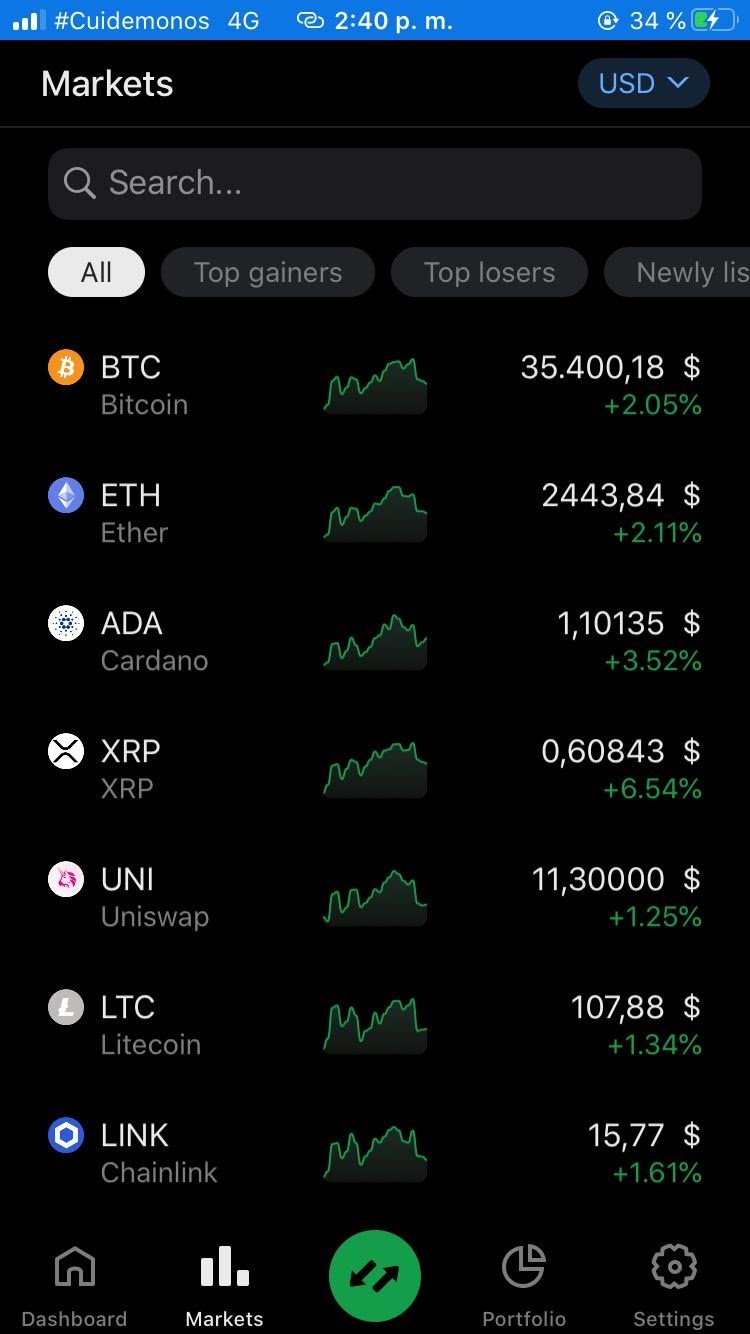 Earning interface
Bitstamp has enabled an option for earning passive income on your crypto funds through staking. At the moment, there are only options for staking Ether and Algorand.
User interface
Bitstamp has created an easy-to-understand and intuitive platform for users to navigate. Below, you can see how it provides an approachable view of markets and other sections of the website.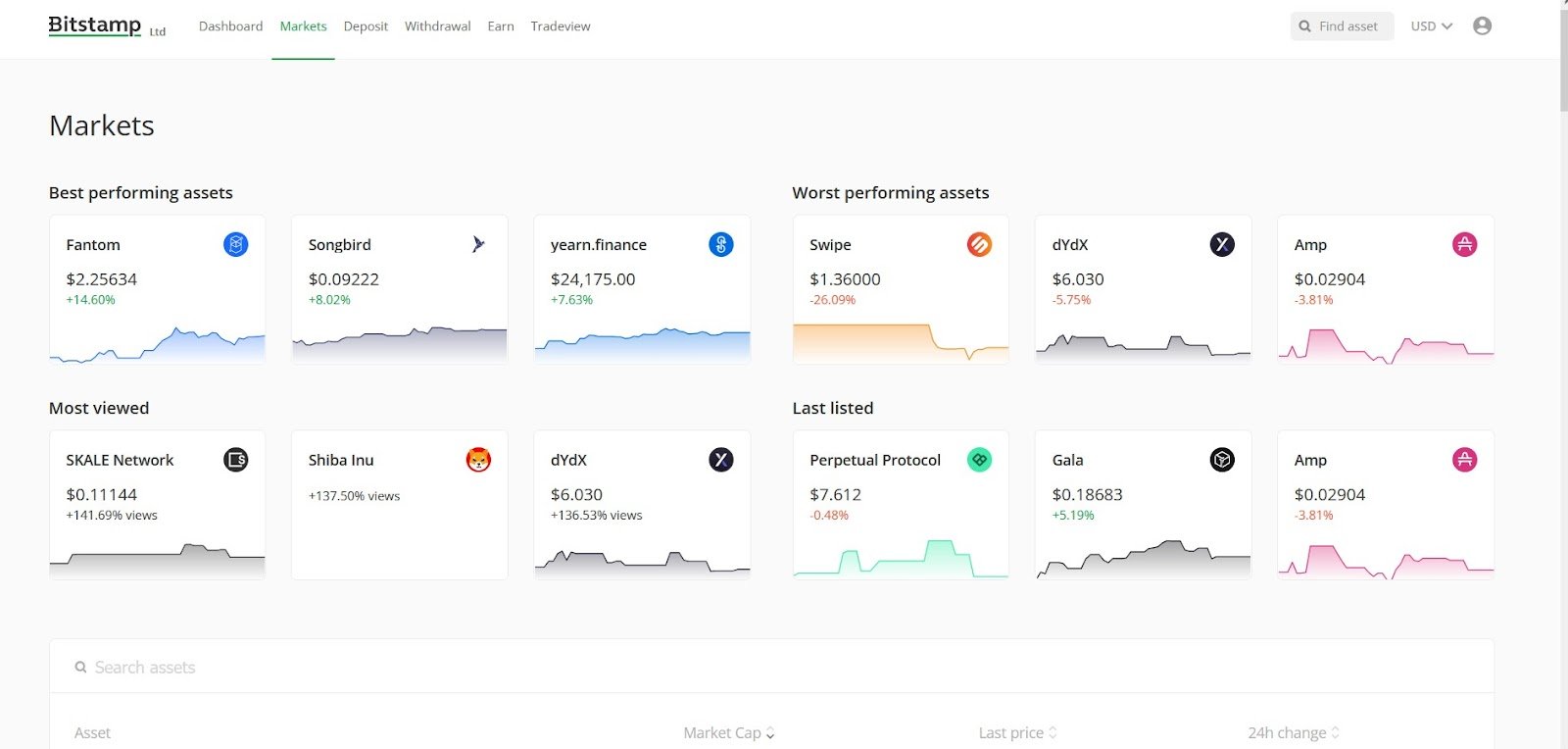 Does Bitstamp have good customer support?
Bitstamp's customer support is standard for cryptocurrency exchanges. It has a worldwide toll-free number that is available 24/7 and offers several email addresses that usually get replied to within 24 to 72 hours.
Bitstamp also has an in-depth FAQ page, which has nearly every aspect of the website covered in detail.
| | Support offered | Wait times |
| --- | --- | --- |
| Contact us form | | 24-72 hours |
| Live chat | | |
| FAQ Page | | N/A |
| Phone | | 24/7 availability |
List of services on Bitstamp
Bitstamp has a somewhat limited number of services on the platform. Essentially, it only offers trading and earning, but its trading tools are highly rated and reliable. Earning, while limited, is a feature that not all exchanges offer for users.
Trading on Bitstamp
Bitstamp offers advanced trading tools for its users, while also offering basic trading options. Basic trading options include market, limit and stop loss. Advanced trading tools include charting capabilities, trailing stops and more.
Earning on Bitstamp
At the moment, staking is being offered for Ether and Algorand on Bitstamp. Ether currently offers 5.5% APR and Algo is at 1.57% APY. The website does state that more cryptocurrencies will be coming soon.
Trust rating
Having been around since 2011, Bitstamp has an upstanding reputation for both security and reliability. That being said, it has experienced difficulty in the past, although the issue was dealt with swiftly without any loss of customer funds.
Past Hacks
In 2015, Bitstamp suffered a hack that saw the loss of 19,000 Bitcoin tokens from the exchange as well as an interruption of services ranging from deposit options to withdrawals. The team at Bitstamp dealt with the situation quickly, and no customer funds were lost since the majority of funds are kept in cold storage wallets.
Security Audits
Since the 2015 hack, Bitstamp has placed extra emphasis on the platform's security. It is currently secured by one of the largest insurance companies in the industry, BitGo, which performs regular third-party audits.
FCA Status
Whilst crypto trading isn't regulated, the Financial Conduct Authority (FCA) maintains a cryptoasset register of firms that have passed AML and counter-terrorism checks. Bitstamp has a UK entity but is not on this register.
Insurance
At the moment, BitGo is the insurance company that backs Bitstamp and it has a $100 million policy in place. The exchange keeps 98% of user assets in offline cold storage to help negate any potential impacts of a successful hack.
Signing up on Bitstamp
Step 1: Sign up
Click on Get Started at the top right of the landing page, which will prompt you to register your name, date of birth and email address. Once this information has been completed, you will receive a verification code in your email to verify it belongs to you and to access the platform.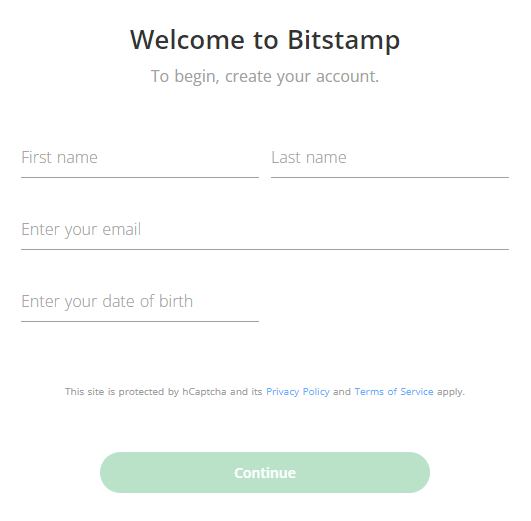 Step 2: KYC
Once your email has been verified, you will be prompted to complete a Know Your Customer (KYC) process. It will require you to present a phone number, government-issued ID and some basic financial information. It might take a few days for the entire process to be completed, but once done, you will have access to everything on the website. Read Finder's KYC guide here.

Step 3: Make a deposit to begin trading
Once you are verified, click on "Deposit" on the top of the screen, and pick the best option for you to fund your account with. Be sure to check what cryptos are available for swapping and which pairs exist.
Compare Bitstamp to other cryptocurrency exchanges
Table: shows partner brands and other brands, sorted by popularity
Crypto is unregulated in the UK; there's no consumer protection; value can rise or fall; tax on profits may apply*.
Frequently asked questions
Can I trust Bitstamp?
Although cryptocurrency is a risky world, and Bitstamp did suffer a hack in 2015, the website is known for its reputation and longevity within the space.
Is Bitstamp regulated?
Bitstamp is regulated in Slovenia and Luxembourg, and it allows users from dozens of countries to use its services.
How can I withdraw money from Bitstamp to my bank account?"
The general process of withdrawing fiat currency from Bitstamp to a bank account is to link the account, then wire or swift transfer the money into the account. The process and ability to withdraw money from Bitstamp will vary based on your geographical location.
Can I use Bitstamp in the US?
Yes, but you need to use Bitstamp USA, which is what this Bitstamp review is about.
Which countries does Bitstamp support?
At the moment, there are more than 60 countries that allow Bitstamp to operate. Be sure to check its website for more information.
*Cryptocurrencies aren't regulated in the UK and there's no protection from the Financial Ombudsman or the Financial Services Compensation Scheme. Your capital is at risk. Capital gains tax on profits may apply.
Cryptocurrencies are speculative and investing in them involves significant risks - they're highly volatile, vulnerable to hacking and sensitive to secondary activity. The value of investments can fall as well as rise and you may get back less than you invested. Past performance is no guarantee of future results. This content shouldn't be interpreted as a recommendation to invest. Before you invest, you should get advice and decide whether the potential return outweighs the risks. Finder, or the author, may have holdings in the cryptocurrencies discussed.