Best mobile plans for seniors
If you're not sure which mobile plan best suits you in retirement, take a look at the choices below.
Compare mobile plans for seniors
Compare our best mobile phone deals
SIM only deals
Shop by network
Whether you're enjoying your retirement years at home or travelling the world as a digital nomad, we want you to get the most out of your mobile plan.
There's really no "one plan to rule them all", so it's worth considering what you mainly want to use your phone for before you settle on a deal. Here are some aspects to consider before choosing a plan:
Calls or data?
If you're a big talker, a plan with unlimited minutes could help to keep your phone bills low. However, if you only want to keep a communication line for emergencies, or for friends and family to contact you on, then you may be better suited to a pay-as-you-go plan. If you often use (or want to use) the internet on your mobile while you're out and about, then you might want to prioritise a plan with more data and fewer minutes of calls.
Pay as you go?
A pay-as-you-go plan may be useful if you aren't planning on using your phone frequently. With these mobile plans, you top up your mobile with credit. Usually an initial top-up of £10 is required, and then you pay for calls, texts and data on a usage basis.
SIM only?
A SIM-only plan (no phone handset is included in the deal) gives you a set allowance of calls, texts and data each month, and you pay for it monthly. If you often find yourself using your phone more than you'd anticipated, then SIM-only plans can be a useful way to prevent overspending. These plans come with different options, so you can make a choice based on what best suits your usage needs, whether that's more data or more texts and minutes.
Phone and SIM contract?
If you are looking for a new phone, you can buy both a phone and a SIM from a phone provider. These contracts have the same benefits as SIM-only plans, but you also receive a new phone and an upgrade service as part of the package. Phone and SIM contracts are useful if you need a new phone and can't afford to pay for it all at once, as these plans normally require you to pay in monthly instalments over the course of around 24 months.
Compare mobile plans and find the best deal.
Your information is secure.
Best plans for budget-conscious seniors
You don't use your mobile phone often, but when you do it's for the occasional catch-up or for an emergency. Since you only use your phone's most basic facilities, you don't want to splash the cash on high-end mobile plans.
You need: a pay-as-you-go, low cost plan for the basic essentials.
Great choices:
O2's and Three Mobile's pay-as-you-go plans are likely to be the best choices for you since they are among the lowest in cost. In fact, they have the exact same rates, but the O2 SIM can be used in older non-smartphone handsets, whereas the Three Mobile SIM can't.
O2 and Three Mobile both offer competitive pay-as-you-go prices with calls costing 3p per minute, 2p per text and 1p per MB of data. If you only use your phone for emergencies or the odd phone call, this could be a great money-saving choice
1p mobile's pay-as-you-go SIM also offers cheap rates, with all minutes, texts and data costing just 1p. Calls are just 1p per minute, texts are 1p per text and data is 1p per MB. However, you must remember to top up at least once every 120 days with at least £10.
PAY-AS-YOU-GO INACTIVITY PERIODS
If you rarely use your phone, don't get caught out by pay-as-you-go inactivity periods. To keep your credit active, you must make a chargeable action at least once every few months.
For each brand's inactivity period duration, see details in our mobile phone provider table.
Best plans for social butterfly seniors
If you're always on the phone to your friends and relatives, those minutes can quickly add up. You need a plan that won't hit you with a hefty bill at the end of the month.
You need: unlimited calls and texts.
Great choices:
SMARTY's Multi SIM includes unlimited calls and texts and 2GB of data, all for £7.50 a month. Plus, get £1.25 back on every unused GB. This is a one month plan, meaning you can cancel any time without extra hassle.
Vodafone also offers a SIM-only plan. Get unlimited minutes and texts, alongside 500MB of data each month, for just £6 a month on a 12-month contract. This is a great choice if you wish to use your phone predominantly for calling and texting, and don't want to spend a lot of money on your plan.
If you're also a social butterfly across your Facebook and WhatsApp networks, you should choose a plan with a larger data allowance, alongside unlimited calls and texts.
giffgaff's £12 SIM-only plan includes unlimited calls and texts alongside 4GB of data. Plus, after your third monthly purchase, you can get an extra 1GB of data included with your plan at no extra cost. No contract is necessary for this SIM, meaning you can change or cancel your plan anytime. giffgaff has won many awards for its flexible service, and is a popular choice. There are other plans, starting at £5, too.
Carphone Warehouse
Amazing Mobile Phones & Tariffs At The Best Prices
Free Next Day Delivery. Click & Collect In-Store
Types: Pay Monthly, Sim Free, Sim Only Deals, Broadband, Smart Home
Best plans for grey nomads
As one of the growing community of older people who love to travel, you'll need a full-service phone plan, because your phone isn't just a communication line – it's a research tool, navigation device and camera all in one.
You need: a plan that includes international data.
Great choices:
If you are looking for complete coverage, giffgaff offers a SIM plan which includes unlimited data, minutes and texts for £20 a month. With this plan, you can use your data, minutes and texts within any EU country at no extra cost. However, you'll need to top up your account if you still want to access your plan while in any other non-EU country.
Lycamobile offers a SIM-only plan which includes 15GB, unlimited minutes and texts and 100 minutes abroad for £25 a month. Just like with giffgaff's SIM, you can use this plan at no extra cost when in any EU country. Lycamobile also offers customers the option of buying international minutes, texts and roaming bundles which can help prevent overspending on trips abroad.
Pay as you go tips

Caution: If you don't use your phone often and are on a pay-as-you-go plan, make sure you don't get caught out by your phone network's inactivity policies.
If your phone is left inactive for too long and you are on a pay-as-you-go plan, your phone network provider may cancel your SIM card and delete your phone number. The "inactivity" period allowed by phone companies varies from around three to six months. You will need to send a text, make a call or top up your phone once during this period to reset it. Larger companies generally allow a longer period of inactivity. You can see what your provider's policy is in the table below: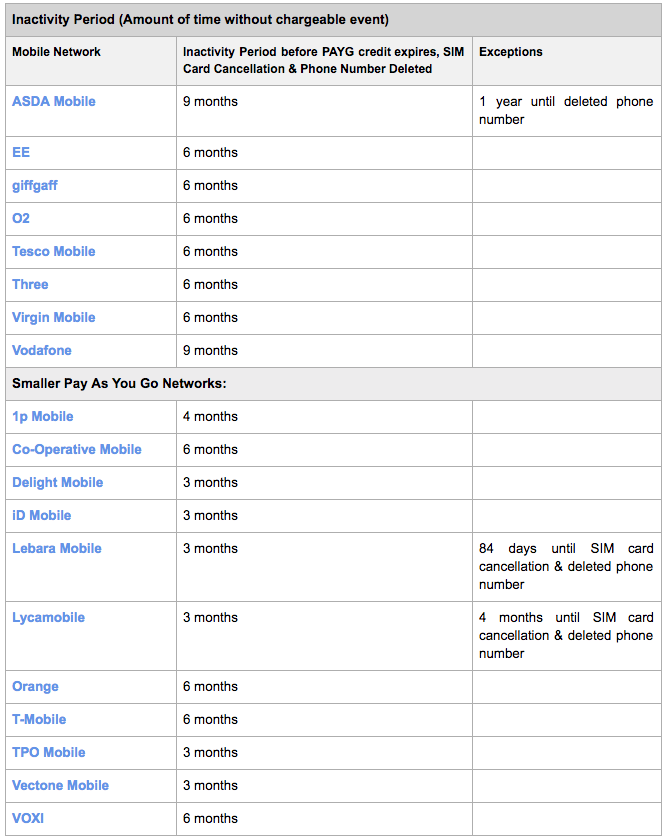 Don't get caught out
Pay-as-you-go credit expires only if you don't use it within a set period (normally six months but see the table above). If you send a text or make a call then you can carry on using it. You DON'T need to keep topping up your phone if you send the occasional text.

Set a reminder, or make a note in your calendar, to send a text at least once every few months (depending on your provider's inactivity limit). If you care for a vulnerable person, you could actively text them asking to text you back.

If you're keeping a phone for emergencies only, make sure the battery is charged every few weeks or so. This will also help you notice if your line is about to be suspended, as after continuous inactivity, providers should send a warning text that the phone will be disconnected if not used.
If someone you know is particularly vulnerable then a range of portable or fixed-position alarms and telecare systems can be installed.