Finder is committed to editorial independence. While we receive compensation when you click links to partners, they do not influence our content.
TradeStation review
This online platform caters to experienced traders — beginners may struggle to use it.
finder.com's rating: 4.1 / 5.0
★★★★★
TradeStation offers a unique trading platform complete with analytics technology and a trading-specific coding language. It may be best for experienced traders with a high monthly volume. Its fees and learning curve might turn away newcomers and low-volume traders.
$2,000
Minimum deposit to open
Details
| | |
| --- | --- |
| Stock trade fee | $0 |
| Option trade fee | $0 + $0.50/contract |
| Asset types | Stocks, Bonds, Options, Mutual funds, ETFs, Futures, Cryptocurrency |
| Account types | Brokerage, Retirement, Individual, Joint |
| Minimum deposit to open | $2,000 |
| Account transfer fee | $125 |
Overview
| | | |
| --- | --- | --- |
| Fees | ★★★★★ 3.25/5 | Stocks are commission-free up to the first 10,000 shares per trade, but minimum deposits are steeper than most for the TS Select account type. With the TS GO account, TradeStation charges a $10 fee for each equities and options trade made on the TradeStation Desktop platform. |
| Available securities | ★★★★★ 5/5 | It offers all the standards, including stocks, mutual funds, bonds and options. |
| Customer support | ★★★★★ 4/5 | Support can be reached several ways but we had to wait 15 minutes to speak to a rep. |
| Mobile app | ★★★★★ 4.5/5 | The mobile app is well-received on both Google Play and in the Apple App store. |
| Research and tools | ★★★★★ 4.5/5 | Investors have access to numerous screeners, top-notch charting, industry news and third-party research. |
| Reliability | ★★★★★ 4/5 | No major outages but mobile app crashes have been reported. |
To learn how our star ratings are calculated, read the methodology at the bottom of the page.
Who is TradeStation best for?
Due to its extensive and often complex capabilities, TradeStation may be best for:
Active traders. The active trader can focus on using the site's capabilities to the fullest.
Traders looking for a complete platform. The ability to trade in almost anything from penny stocks to bonds, coupled with its analytics and historical data, gives TradeStation longevity and value.
Those wanting to take their trading to the next level. TradeStation offers an extensive amount of educational resources that can help anyone make trading more than a casual hobby.
What can you invest in?
TradeStation stands out for its investment menu. You can invest in a wide variety of securities and asset classes. So experienced investors have plenty to choose from.
Stocks
Bonds
Mutual funds
ETFs
Cryptocurrency
Options
Futures
Futures options
You can even set orders for stocks of companies expected to deliver initial public offerings (IPOs). With the ClickIPO app, you can browse price ranges and expected offering dates. TradeStation lets you place conditional orders and if shares become available, they're put into your account.
How easy is it to use?
Reddit investors say TradeStation's desktop platform is comprehensive and feature-rich but not beginner-friendly. This sentiment is echoed in a number of TradeStation mobile app reviews — a number of investors complain that the app's user interface is overwhelming.
That said, the signup process is fairly straightforward. You can sign up for a TradeStation account from a desktop or mobile device and the six-step application process can be completed in under 10 minutes. You'll need to enter some basic personal information, submit details about your employment status and answer questions about your investment goals. Before you gain access to the platform, you'll be asked to sign an account agreement and fund your account.
What research and tools does it provide?
TradeStation's research offerings are designed to help the advanced investor test trading strategies against historical data:
RadarScreen. Monitor and organize up to 1,000 symbols in real-time with the help of more than 180 technical indicators.
EasyLanguage. Design custom indicators to test trading strategies with TradeStation's proprietary programming language.
Strategy back-testing. Back-test trade ideas across stocks and futures with decades of historical market data.
Matrix. Enter, track and change orders through a detailed market depth window.
Trading apps. Add trading applications from independent developers from the TradeStation TradingApp Store.
OpenStation Pro. Map options chains to analyze your break-even potential.
Simulated trading. Take advantage of risk-free paper trading to design and test strategies and build trading skills.
TradeStation pros
TradeStation offers a number of features that could help develop and enhance your trading experience.
Analytical systems and market updates. Award-winning analytics tools include a complete-options trading program and a real-time market scanning and ranking tool.
Fast software across devices. Its desktop platform and mobile app offer dynamic trading platforms.
Extensive educational resources. Access hundreds of educational webinars, YouTube videos, live-streaming events or attend Master Class at TradeStation's affiliated educational website YouCanTrade.com. TradeStation also offers historical market data going back over 50 years.
EasyLanguage coding system. A custom-built coding language for back-testing trading strategies and creating customer alerts — a useful advantage for serious traders.
Free trading for active duty military. All commissions are waived for active duty military members. They also get discounts on futures commissions.
TradeStation cons
There are a few things that might make TradeStation less than ideal for some users.
Difficult learning curve for beginners. The trading system is designed for people already familiar with trading, which might make it challenging for newcomers.
High minimum deposit: The minimum deposit for the basic TS Select account is $2,000. This is a bit higher than that of other brokerage accounts. Some require minimums as low as $1.
No forex trading: TradeStation stopped its forex trading platform a few years ago.
Compare with other stock trading platforms
TradeStation reviews and complaints
As of December 2020, the Better Business Bureau awards TradeStation an A+ rating, but the company isn't accredited with the BBB. Most of the reviews on the BBB website are negative with many citing technical difficulties and poor customer service.
Reviews on TrustPilot are also generally negative. Some users complained of long sign-up times, bad customer service and technical issues.
TradeStation is owned by Monex Group, a large online financial services company based out of Japan. TradeStation formed in 1982 as Omega Research. It launched its trading platform in 1991.
How do I get started?
You can sign up on the website via your desktop or mobile app.
Go to the TradeStation home page and click Open an Account in the top menu.
Click Register. There will be a separate place to click to open a Futures IRA account or an Entity account.
Enter your name, email address, phone number and country of residence.
Create a username and password.
Complete an application, which includes personal information, employment information, financials and experience. Sign the documents.
Select your monthly plan, fund your account and start trading.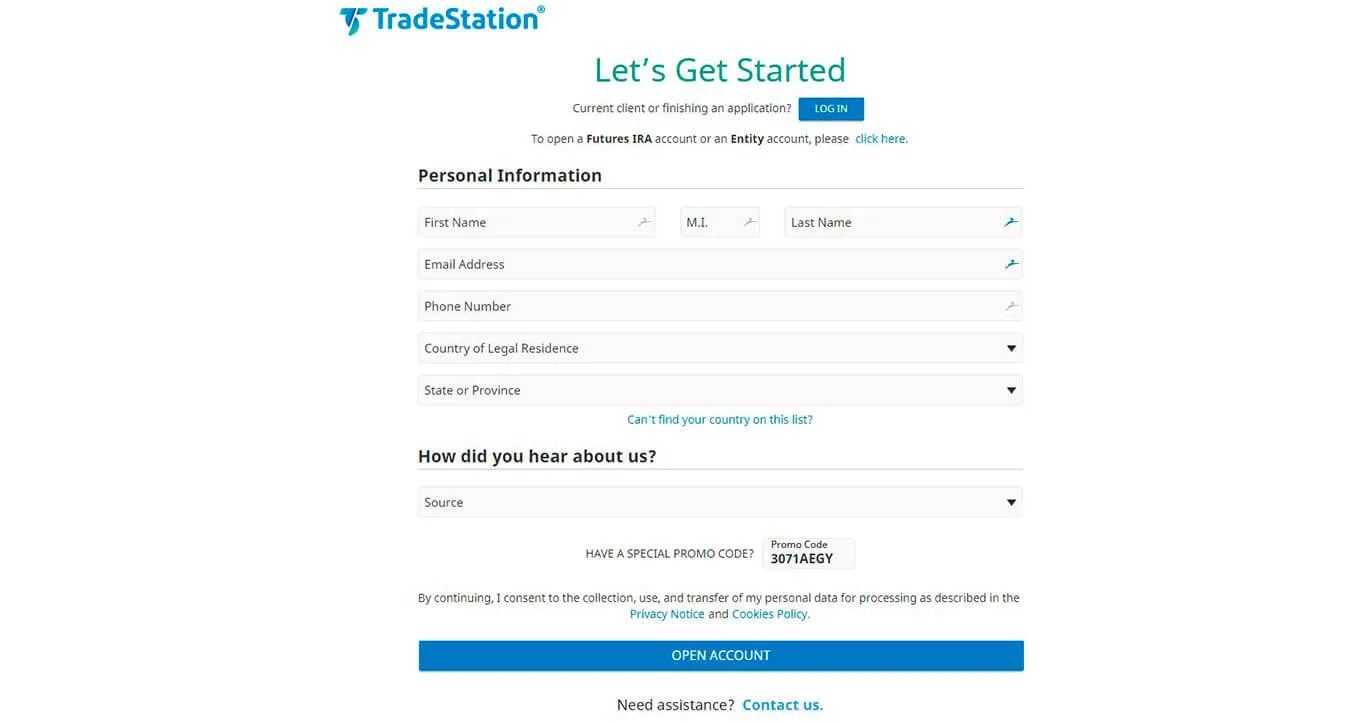 Eligibility
You'll need to meet these eligibility criteria to start trading:
At least 18 years old
US resident with a valid Social Security number or taxpayer ID
International residents and business entities may apply using a paper application
Required Information
Valid passport for international residents
International residents must provide proof of US residency by showing utility bills, bank statements, and/or lease agreements
Employment information
Investment history
Financial information, such as bank statements, that show net worth
The minimum amount to open an account depends on which one you select:
TS Select: $2,000
TS Go: Any amount
I've made my first trade with TradeStation. Now what?
After you've successfully submitted the application, you'll want to familiarize yourself with the platform.
Get educated. Learn about the platform by watching the training and educational videos.
Upgrade your tools. It's advanced analytics tools offer next-level trading — for a fee.
Try the mobile app. Download the app and take your trading with you wherever you go.
Understand the tax implications. Speak with a certified accountant to get tax advice on your online trades.
TradeStation customer service
TradeStation offers a number of ways to reach out if you need support.
Live Chat: Speak with a representative weekdays from 9 a.m. to 5 p.m. ET.
Phone:
For new accounts, you have to visit the Contact section of the website and click on the "Call Me" phone icon. This service is available Monday through Friday from 8 a.m. to 5 p.m. EST.
To make a trade, call 800-822-0512
For technical support, visit the Contact section of the website and click on the "Call Me" phone icon Monday through Friday from 8 a.m. to 5 p.m. EST.
Email: NewAccountServices@TradeStation.com
Bottom Line
TradeStation offers several features that could make it a good fit for active and serious traders, including its analytical tools, coding system and educational resources.
But if you're not an experienced trader and want something else to ease into, there are other platforms out there that don't have the steep learning curve or high fees. Compare options and platforms before you commit.
Frequently asked questions
How we rate trading platforms
★★★★★ 5/5 — Excellent
★★★★★ 4/5 — Good
★★★★★ 3/5 — Average
★★★★★ 2/5 — Subpar
★★★★★ 1/5 — Poor
We analyze top online trading platforms and rate them one to five stars based on factors that are most important to you. These factors include fees, securities available for trade, customer support, customer feedback, platform resources and overall reliability.
For a complete breakdown of how we score each category, read the full methodology of how we rate trading platforms.