TradeStation review
It has sophisticated charting tools, but its service fees are higher than most.
finder.com's rating: 4.1 / 5.0
★★★★★
TradeStation offers a sophisticated trading platform with analytics and research tools. Because of that, experienced investors and day traders will find the highest value out of the platform. But beginners may find it equally useful, especially with the option to learn how to trade with virtual money.
Choose TradeStation if you're an experienced active trader.
Consider something else if you want to invest in foreign stocks, fractional shares or use robo-advisors.
Details
| | |
| --- | --- |
| Option trade fee | $0 + $0.50/contract |
| Asset types | Stocks, Bonds, Options, Mutual funds, ETFs, Cryptocurrency |
| Account types | Brokerage, Retirement |
| Account transfer fee | $125 |
What we think of TradeStation
TradeStation has much to offer and is suitable for beginners, experienced investors and day traders alike. You can trade stocks, ETFs, crypto, options, futures, mutual funds and bonds. This is a far more comprehensive lineup than you'll get with competitors like Robinhood and SoFi Invest.
Similar to these platforms, you can:
Trade stocks and ETFs commission-free — although other investments come with fees.
Open a TradeStation Go account without a minimum deposit requirement. There are two account types: TS Select and TS Go. The first requires a minimum of $2,000 in your account, but for TS Go, there are no minimum requirements.
These features are practical — and pretty much standard these days. What makes TradeStation stand out, though, are its sophisticated research tools and charting features. You'll gain access to stock screeners, Level 2 market data and real-time market quotes. TradeStation offers these advanced tools for free — a huge perk, considering these would cost the average trader hundreds of dollars annually.
For these reasons, TradeStation is worth considering if you're an experienced investor or day trader.
Overview
| | | |
| --- | --- | --- |
| Fees | ★★★★★ 3.25/5 | Stocks are commission-free, but minimum deposits are steeper than most for the TS Select account type. With the TS GO account, TradeStation charges a $10 fee for each equities and options trade made on the TradeStation Desktop platform. |
| Available securities | ★★★★★ 5/5 | It offers a wide range of securities, including stocks, mutual funds, bonds, options and crypto. |
| Customer support | ★★★★★ 4/5 | Support is accessible in several ways, but we had to wait 15 minutes to speak to a rep. |
| Mobile app | ★★★★★ 4.5/5 | The mobile app is well-received on both Google Play and the Apple App Store. |
| Research and tools | ★★★★★ 4.5/5 | Investors have access to numerous screeners, top-notch charting, industry news and third-party research. |
| Reliability | ★★★★★ 4/5 | No major service outages, but mobile app crashes have been reported. |
To learn how our star ratings are calculated, read the methodology at the bottom of the page.
TradeStation is best for experienced traders
Due to its extensive research tools and investment options, TradeStation is best for experienced traders. Perform technical analysis with the platform's vast number of charting tools, or scan and search for stocks based on parameters you set.
Since TradeStation offers such a wide berth of tools, it may also be a good choice for:
Derivatives traders. TradeStation offers access to options, futures and futures options at competitive prices.
Cryptocurrency traders. TradeStation lets you earn between 0.1% and 6% interest on your crypto holdings. The amount you earn depends on the crypto. For example, Bitcoin earns 0.1%, Ether earns 1% and USD Stablecoin earns 6%.
Beginner traders. Beginners gain access to simulated trading — or paper trading — a feature that can help them learn and test trading strategies.
Pros and cons
Consider these benefits and drawbacks before opening an account.
Pros
Analytical tools. Take advantage of sophisticated analytical tools that include advanced market scanning and Level 2 market data.
Educational resources. Explore hundreds of educational webinars, YouTube videos, live-streaming events or attend Master Class at TradeStation's affiliated educational website YouCanTrade.com.
Language coding system. Access a custom-built coding language for back-testing trading strategies and creating custom alerts. Use the application programming interface (API) to create your own trading platform or applications.
Free trading for active-duty military. All commissions are waived for active-duty military members and futures commissions are available at a discount.
Cons
No fractional shares. Those who can't afford or don't want to buy full shares will need to turn to TradeStation's competitors, Robinhood and SoFi.
No forex trading. If you're interested in trading forex, check out IBKR or Thinkorswim.
Numerous fees. From IRA account fees to inactivity fees for accounts under $2,000, expect to encounter numerous account fees.
No robo-advisors. TradeStation isn't equipped with robo-advisors like the ones SoFi Invest or Acorns offers.
TradeStation's fees are higher than most
TradeStation's stocks and ETFs are available commission-free, but traders can expect to encounter commissions for options, futures and crypto. And TradeStation's account fees are higher than most. There's a $35 annual fee for IRA accounts, a 0.3% fee for trading crypto and a $50 annual inactivity fee for accounts of less than $2,000. These fees aren't imposed by a number of TradeStation's competitors, including Robinhood and SoFi Invest.
TradeStation's two primary service tiers — TradeStation Go and TradeStation Select — have different sets of fees. But both services offer access to the same securities lineup and allow trades to be executed across TradeStation's web and mobile applications.
Here's a breakdown of TradeStation's fees:
| | TradeStation Go | TradeStation Select |
| --- | --- | --- |
| Minimum deposit | $0 | $2,000 |
| Stocks and ETFs trading fee | $0 | $0 |
| Options trading fee | $0.50 per contract | $0.60 per contract |
| Futures trading fee | $0.85 per contract, per side | $1.50 per contract, per side |
| Futures options trading fee | $1.50 per contract, per side | $1.50 per contract, per side |
| TradeStation desktop platform | $10 per equities and options trade, $1.40 per futures contract | Free |
| Inactivity fee | $50 | $50 |
| Account transfer fee | $125 | $125 |
TradeStation IRAs offer access to crypto
TradeStation's IRAs have a distinct leg up on the competition by offering access to crypto investments in addition to stocks and options. Available coins include Bitcoin, Ethereum, Litecoin, Bitcoin Cash and USDC.
Minimum deposit requirement: $0
Available investments: Stocks, options, cryptocurrencies
Crypto trading fee: 0.50%
Custody fee: $0
TradeStation doesn't offer crypto wallets. Instead, it relies on BitGo, a digital asset firm, to hold crypto assets in TradeStation accounts.
7 steps to sign up for a TradeStation account
Start the signup process on TradeStation's website via your desktop or mobile app.
Go to the TradeStation homepage and select Open an Account from the top menu.
Select Register and enter your name, email address, phone number and country of residence.
Create a username and password.
Complete an application, which includes personal information, employment information, financials and experience.
Sign the documents.
Select your monthly plan, fund your account and start trading.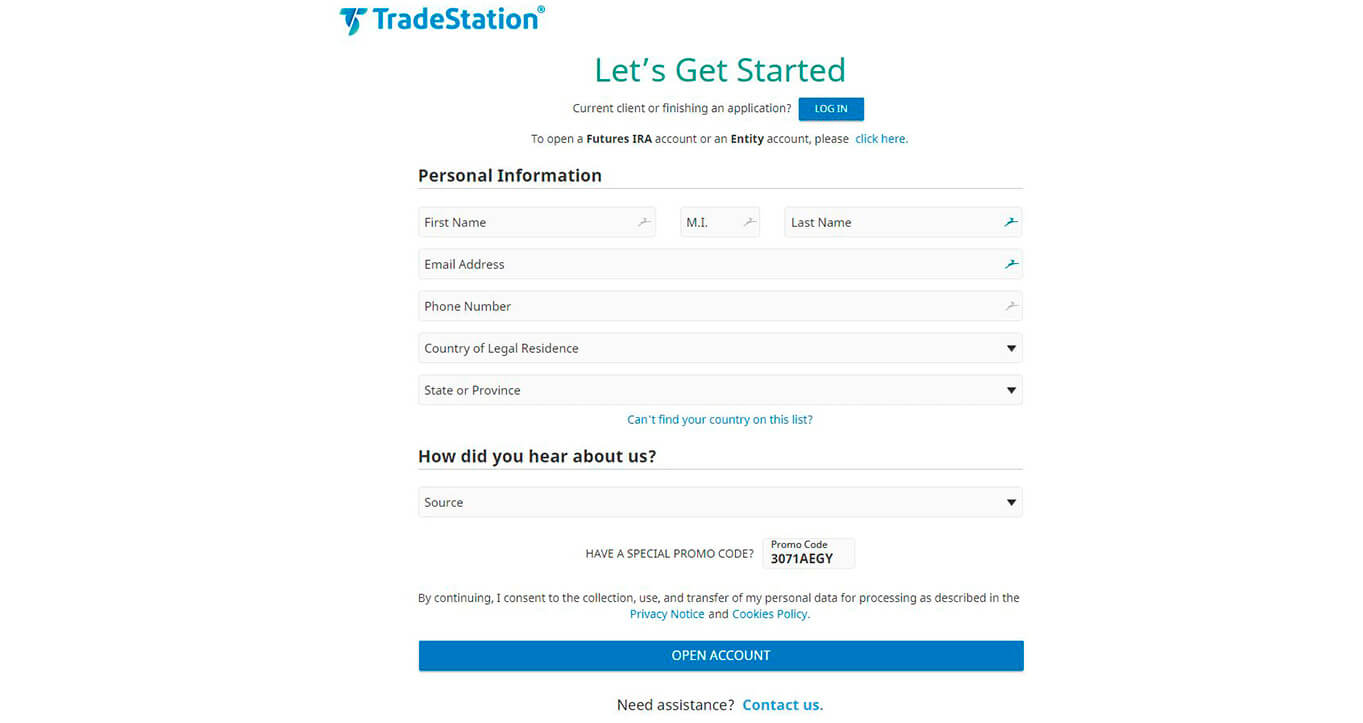 Eligibility
You must meet these eligibility criteria to start trading:
At least 18 years old
US resident with a valid Social Security number or taxpayer ID
International residents and business entities may apply using a paper application
Required Information
Valid passport for international residents
International residents must provide proof of US residency by showing utility bills, bank statements or lease agreements
Employment information
Investment history
Financial information, such as bank statements, that show net worth
The minimum amount to open an account depends on which one you select:
TS Select: $2,000
TS Go: Any amount
TradeStation's research tools are comprehensive
TradeStation's research offerings are designed to help advanced investors test trading strategies against historical data, create their own trading tools or find the perfect stock.
RadarScreen. This feature lets you set parameters, such as chart patterns or indicators, and RadarScreen will scan thousands of stocks to find these patterns. This can simplify the search for stocks that have a particular technical setup, like bullish reversal patterns or double tops.
EasyLanguage. TradeStation's programming language allows you to create your own custom indicators and trading applications or test trading strategies.
Strategy back-testing. TradeStation lets you back-test trade ideas across stocks and futures with decades of historical market data.
Matrix. Matrix is TradeStation's name for its Level 2 market data, which allows you to see the prices orders are waiting to be executed. Unlike most of TradeStation's other research tools, Matrix can be used on TradeStation's web platform.
Simulated trading. This feature allows traders to test strategies with hypothetical money using simulated market data.
The platform has a steep learning curve
Reddit investors say TradeStation's desktop platform is comprehensive and feature-rich but not beginner-friendly. This sentiment is echoed in many TradeStation mobile app reviews — a number of investors complain that the app's user interface is overwhelming.
That said, the signup process is fairly straightforward. Sign up for a TradeStation account from a desktop or mobile device, and the six-step application process can be completed in under 10 minutes. You'll need to enter some basic personal information, submit details about your employment status and answer questions about your investment goals.
Before you gain access to the platform, you'll be asked to sign an account agreement and fund your account.
Is TradeStation legit?
TradeStation is owned by Monex Group, a large online financial services company based out of Japan. TradeStation was formed in 1982 as Omega Research. It launched its trading platform in 1991 and is headquartered in Plantation, Florida. It's a member of the Financial Industry Regulatory Authority (FINRA), the Securities Investor Protection Corporation (SIPC), the Chicago Mercantile Exchange (CME) and the New York Stock Exchange (NYSE).
TradeStation feedback is mixed
As of January 2022, the Better Business Bureau (BBB) awarded TradeStation an A+ rating, but the company still isn't accredited with the BBB. Most of the reviews on the BBB website are negative, with many citing technical difficulties and poor customer service.
Reviews on Trustpilot are also negative: The platform receives a TrustScore of 1.4 out of 5 after 115 reviews. Investors complain of account transfer delays and long wait times — sometimes in excess of an hour — to connect with customer service.
On the plus side, TradeStation's mobile app receives solid feedback from both Android and Apple users.
| | |
| --- | --- |
| BBB rating | A+ |
| BBB accredited | No |
| BBB customer rating | 1/5 based on 6 customer reviews |
| Trustpilot score | 1.4/5 out of 115 customer reviews |
| Google Play app | 4.0/5 stars based on 4,559 reviews |
| Apple app store | 4.6/5 stars based on 15,100 reviews |
| Customer reviews verified as of | January 2022 |
Contact support by phone, email or live chat
TradeStation can be reached by:
Live chat. Speak with a representative from TradeStation's website weekdays from 9 a.m. to 5 p.m. ET.
Phone. Request a call from the support team by selecting the Call Me phone icon on weekdays from 8 a.m. to 5 p.m. ET.
Email. Send an email to newaccountservices@tradestation.com for a reply within one to two business days.
Compare with a wider range of brokers
Explore your options by asset types, option trade fee, annual fee or signup bonus. Select the Go to site button for more information about a particular broker.
*Signup bonus information updated weekly.
Disclaimer: The value of any investment can go up or down depending on news, trends and market conditions. We are not investment advisers, so do your own due diligence to understand the risks before you invest.
How we rate trading platforms
★★★★★ 5/5 — Excellent
★★★★★ 4/5 — Good
★★★★★ 3/5 — Average
★★★★★ 2/5 — Subpar
★★★★★ 1/5 — Poor
We analyze top online trading platforms and rate them one to five stars based on factors that are most important to you. These factors include fees, securities available for trade, customer support, customer feedback, platform resources and overall reliability.
For a complete breakdown of how we score each category, read the full methodology of how we rate trading platforms.