Finder is committed to editorial independence. While we receive compensation when you click links to partners, they do not influence our opinions or reviews. Learn how we make money.
Progressive life insurance review 2020
A life insurance policy you can get quickly and conveniently.
finder.com's rating: 2.5 / 5
★★★★★
Get a quote if… You're comfortable with communicating electronically. If you're on the go and love using email and phone calls to communicate, it'll mesh well with your lifestyle.
Choose a different provider if… Want a company that specializes in life insurance. Progressive partners with a third party provider called Efinancial for life insurance so you don't actually buy from Progressive.
$50,000 to $1,000,000
Coverage
Depends on policy
Medical Exam Required
Details
| | |
| --- | --- |
| Free quote | Online |
| Available states | Depends on carries |
| Policy options | Term, Whole, Universal, Final expense |
| Term lengths | 10, 15, 20, 30 years |
| Issue age | 18 to 80 |
| Coverage | $50,000 to $1,000,000 |
| Medical exam required | Depends on policy |
| Monthly cost | As low as $14 a month |
| Claim methods | Online form, Phone: 1-800-776-4737 |
| Customer support | Phone: 1-855-347-3939, Online form, Chat |
| Riders | No info available |
Expert review
Review by
amy.stoltenberg@findercrew.com
---
Amy Stoltenberg writes about lifestyle and money for Finder, researching the best options for shopping, banking, insurance and authentic travel experiences. After studying writing and fashion at Savannah College of Art and Design, she worked designing apparel at a corporate behemoth before opting for a career with unlimited travel time. When her laptop's closed, she can be found wandering the streets looking for happy hour and hole-in-the-wall eateries.
Expert review
While you may think that Progressive would offer its own life insurance policies, it actually behaves like more of a marketplace that matches you up with well-known brands.
If you're hoping for something more customized or want to buy from the source, shop the market to see what other providers have to offer.
Fill out a short survey to get a life insurance quote from Progressive. It's not deeply customized and coverage is fairly basic, but it's easily accessible and you can manage your account 24/7 online or through the app.
What type of life insurance does Progressive offer?
Progressive offers a fairly standard array of products, with options to pay monthly, quarterly or annually. Policies include:
Term
Choose a policy for 10-, 15-, 20- or 30-year increments. Premiums tend to be more affordable because the benefit will only be paid if you die before the term is up.
Permanent
Lasts for the extent of your life, with a guaranteed payout amount at the end, as long as you keep up with premiums.
Final Expense
Meant for people with end-of-life expenses on their mind, such as medical bills and funeral costs. A highly economic option, as premiums start at just $10 a month, though it's only for people aged 50 to 85.
What riders can I add to my life insurance policy?
You can add a child rider onto Progressive's term plans, which pays part of the benefit early if a child passes away.
Other life insurance providers may have a wider range of rider options.
How much does Progressive cost?
Coverage options start at $50,000, with $1 million maximum. While the exact rate you pay depends on your particular situation, including age and health, Progressive advertises a standard plan of $250,000 for $14 per month. This adds up to about $168 per year in premium payments.
Pros and cons of Progressive
Progressive's offerings are nothing new, but it's respected in the industry and has a reputation for quality customer service.
Pros
Quotes are easy to get. You can conduct a simple search to get a quote — find out within minutes what your rate could be.
Highly rated by industry agencies. Progressive has an AA rating from Standard & Poor's, and an A+ Superior rating from AM Best, which means it's considered trustworthy and financially stable.
24/7 customer service. Get help whenever you need it with a customer service center that has a top-notch reputation in the industry.
Opportunity to bundle. If you're in the market for other coverage too, such as auto or home, you could get it all with Progressive so you can manage all policies from one account.
Cons
Your quote comes from a third-party source. Progressive partners with eFinancial to provide life insurance, so if you're hoping for super-customized coverage from a first-party source, you may want to look for a smaller agency.
Your personal information could be shared. Its privacy policy leaves something to be desired, as Progressive admits to giving your personal info to other companies as it deems necessary.
Automated quotes. You'll have no agents personally shopping around for you. eFinancial runs algorithms to match you with a plan, so it may be hard to find something tailor-made.
Compare life insurance companies like Progressive
Progressive reviews and complaints
Progressive has no accreditation with the Better Business Bureau, but customers have left it an average of just one star. Most of the complaints are about specific cases, and revolve around perceived unfair coverage costs and people unhappy with how customer service handled their claim.
Based on the complaints, communication seems to be problematic between Progressive and its customers, and Progressive has left no response to people's reviews.
How does Progressive protect my data?
Exact privacy policies depend on each state, but in general Progressive has physical, electronic and procedural safeguards in place to help protect your personal information. In encrypts information you submit to safeguard it from hackers while in transit.
But on their website it says it restricts access to your "nonpublic personal information" to its employees and "others who we feel must use it to provide our products and services." So once they have your info, you have no control of who sees it.
How do I sign up?
Go to Progressive's website and select more choices in its product categories chart. A box with more options will pop up; choose Life. Enter your ZIP code and select, Get a Quote.
You'll be taken to a page that asks for your basic info, such as name, gender, height and weight and tobacco usage. You'll also rate your overall health, out of four stars.
After you've filled everything out, select Next, your rates. Progressive will show you an estimate of your monthly and annual premiums. You can Select Policy if you'd like, or scroll down to see rates from other carriers.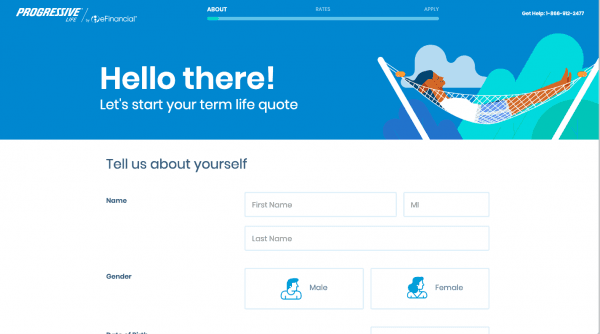 I've signed up. What happens next?
If you choose the quote presented, Progressive's last step is to ask for your email. You'll hit Submit, then a licensed agent will call you to finalize the policy.
More about Progressive
The company was founded in Mayfield Village, Ohio, by Peter B. Lewis and Jack Green. Today, it has over 13 million active policies, and is most popular for its auto insurance. You'd likely recognize their zany spokeswoman, Flo, who dresses in all white and wears a swipe of red lipstick while encouraging you to buy coverage.
Before committing yourself to a single life insurance provider, make sure to compare your options and find the best rate.
Frequently asked questions
Life insurance ratings
★★★★★ — Excellent
★★★★★ — Good
★★★★★ — Average
★★★★★ — Subpar
★★★★★ — Poor
Our experts analyze life insurance companies to help you to find the strongest possible policy and premium for your family's needs. We assess their financial strength, customer satisfaction, policy features and riders. We then give each insurer a score between one and five stars that reflects their offering and reputation in the industry.