PancakeSwap (CAKE) price, chart, coin profile and news
Find the latest PancakeSwap (CAKE) price, coin profile, news and history to get you started with PancakeSwap trading and investing.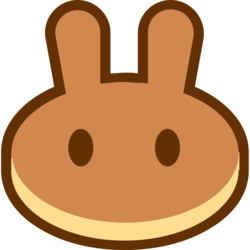 $3.12
PancakeSwap exchange is a decentralized exchange (DEX) that is built on the Binance Smart Chain (BSC).
Operating in a similar sphere to competitors Uniswap and Curve Finance, the PancakeSwap network utilizes an automated market maker (AMM) system to provide users with the ability to trade cryptocurrency tokens such as WBNB, CAKE and BUSD. In addition to an exchange, it also offers liquidity pools, farming and a predictions market as well as an NFT platform, with more features being added regularly.
This guide will teach you how to use PancakeSwap, trade in and out of liquidity pools, how the rewards system works and the potential risks involved.
PancakeSwap and other DeFi protocols are experimental works in progress. Funds deposited into PancakeSwap or DeFi protocols in general can be at risk of smart contract vulnerabilities, malicious developers and hacks. PancakeSwap is governed by token holders through a DAO (decentralized autonomous organization).
What is the PancakeSwap exchange?
PancakeSwap's exchange is built on the Binance Smart Chain (BSC), a version of Ethereum developed by Binance. The exchange sacrifices being centralized in order to offer low gas fees – which have plagued Ethereum in recent years.
An automated market maker allows digital assets to be transacted automatically as opposed to a typical central limit order book (CLOB) system that relies on buyers and sellers at certain prices. For its system to function correctly, the PancakeSwap exchange relies on user-generated liquidity pools.
Once users have provided tokens to the platform, the PancakeSwap network will then draw assets from these pools to facilitate trades.
Liquidity providers. Providers are the key mechanism of AMM's functioning. Users will lend the platform (PancakeSwap) their cryptocurrency assets for other people to trade with. In return, lenders earn interest and liquidity provider tokens (LPTs) that give access to unique rewards.
Liquidity pools. These pools are a collection of funds (often held in a pairing) that facilitates trading of specific assets without requiring another person's involvement.
Disclaimer: This information should not be interpreted as an endorsement of cryptocurrency or any specific provider, service or offering. It is not a recommendation to trade.
How to trade on PancakeSwap
Trading on the PancakeSwap DEX requires a digital wallet like MetaMask or Trust Wallet.
Wallets store digital assets and interact with various blockchains to facilitate their transfer.
MetaMask is available as a browser extension or application that allows users to interact with Ethereum-based applications, like decentralized exchanges.
PancakeSwap is hosted on Binance Smart Chain rather than Ethereum, but since Binance Smart Chain (BSC) is EVM compatible, you can use MetaMask with BSC and any of its applications – such as PancakeSwap.
Step-by-step guide to trading on PancakeSwap using MetaMask.
Create a cryptocurrency wallet. Set up and deposit funds into a wallet like MetaMask or Trust Wallet. NOTE: If you are using MetaMask, you MUST configure the wallet to be compatible with BSC.
Add funds. To use BSC, you will need to purchase a small amount of Binance Coin (BNB) to use for gas fees. This is as easy as purchasing BNB on an exchange like Binance and sending it to your MetaMask BSC wallet address.
Connect your wallet to PancakeSwap. Connect your wallet to PancakeSwap by clicking the "connect" button in the top right corner and selecting your wallet from the pop-up list. There are seven different wallets you can use to trade on PancakeSwap.

Choose the tokens you wish to trade. On the left menu, select "Trade" and then "Exchange". From the drop-down menus available in the "from" (what you're selling) and "to" (what you're buying) section, select the respective token pair. You can search through this list by typing.

Review settings. Once the amounts for each coin have been inputted, users can adjust the details of their trade, such as slippage tolerance and the transaction deadline.

Swap! Finally, press the "approve" button to confirm the transaction. This will result in a pop-up reviewing the overall asset transfer on your wallet. Once approved, hit the swap button on PancakeSwap and your transaction is complete.
Slippage
Slippage is the change in a token's trading price between the time the order is placed and when it is executed. Slippage is most impactful during periods of high market volatility.
PancakeSwap's slippage tolerance function is a good way to mitigate slippage. You can set a threshold where the trade won't execute if the expected price of the asset moves by the set amount.
How to provide liquidity on PancakeSwap
Users providing liquidity is a key feature of automated market makers – without them, the software algorithm for fast, cheap transactions wouldn't work. To incentivize this, PancakeSwap rewards liquidity providers with the platform's native token, CAKE.
Providing liquidity on PancakeSwap is simple:
Connect wallet. Once your wallet is connected, navigate to the "Liquidity" section in the "Trade" menu and select a token pair you wish to provide (for example, BNB and BUSD).
Add liquidity. Choose how many tokens you wish to add to one half of the pair – the other half will auto-fill. This is due to the pairing needing to be of equivalent value. Details will be provided on your proportional share of the pool, which will dictate the amount of liquidity provider (LP) tokens you receive. The LP tokens will be named in accordance with the pair of tokens you provided, so in this case, the tokens would be named BNB-USD LP.
Stake LP tokens. You can now take your newly minted LP tokens to the "Farms" section of PancakeSwap and stake them in their corresponding pool. Scroll down the list to find the correct pair, then click "Enable" and confirm the deposit in MetaMask.
Earn CAKE. Once your LP tokens are deposited, you will immediately start earning CAKE rewards at the APR rate specified. You can claim your CAKE at any time by clicking the "Harvest" button.

Earn more CAKE. Next, you may want to take your newly earned CAKE and stake it in a Syrup Pool to generate even more CAKE.
The PancakeSwap transaction fee is 0.2%, with 0.17% of that going to liquidity providers.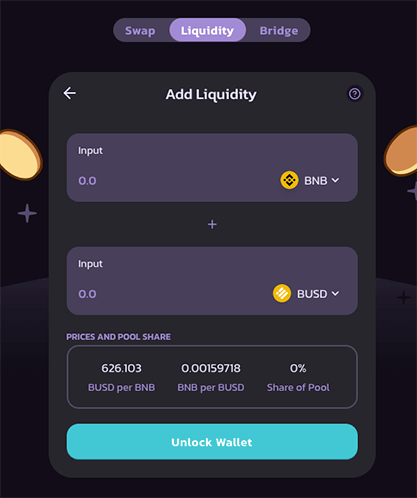 Select the token pair you wish to add liquidity for using the Liquidity tab.
Removing liquidity
You can unstake your LP tokens at any time by clicking the minus button next to the pair in the "Farms" section.
Next, go back to the "Liquidity" section and redeem your staked tokens by returning your LP tokens.
You will receive your share of the token pool plus any additional tokens earned from trading fees, which you get for being a liquidity provider.
The PancakeSwap transaction fee is 0.2%, with 0.17% of that going to liquidity providers.
Keep in mind that the number of tokens you receive may be different to what you originally deposited due to impermanent loss.
Farming on PancakeSwap
Once you have your liquidity provider tokens (LPTs), you can then stake them in "farms" to earn additional rewards. Also known as yield farming – by locking up your LPTs in a liquidity pool, you can earn more tokens over a period of time.
The average yearly return on investment is represented by an annual percentage rate (APR) figure for each farm. It is broken down into daily, weekly, monthly and yearly figures. The APR will vary, so active farmers will often move their LP tokens around.
To get involved in yield farming on PancakeSwap, you must have already provided liquidity to a pair of tokens.
The steps for farming on PancakeSwap are as follows:
Navigate to the "Farms" section of PancakeSwap
Select the pool that corresponds to the token pair you provided liquidity for.
Click "Enable" and confirm the transaction in MetaMask.
Finally, decide on how many LP tokens you would like to stake.
Revisit the farm tab over time to see how much CAKE you earned.
If at any point you wish to harvest your newly-earned CAKE, simply click the "Harvest" button and confirm the transfer.
You can then stake your CAKE in a Syrup Pool to earn even more tokens.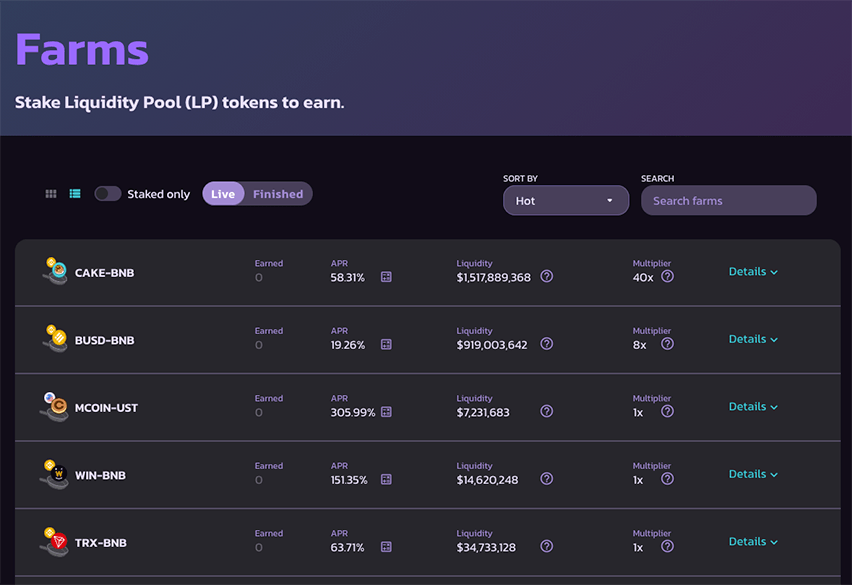 Some of the available farms and APR rates on PancakeSwap
Earning CAKE on PancakeSwap through Syrup Pools
Syrup Pools are another PancakeSwap incentive for users to provide liquidity.
Users can stake their CAKE tokens to earn a range of additional tokens. These pools are used for community-vetted projects involving the Binance Smart Chain (BSC), where project owners distribute a percentage of their novel tokens to CAKE Holders.
Each pool has a visible APR.
To get involved in a Syrup Pool:
Navigate to the "pools" section of PancakeSwap.
Select the pool you wish to stake your LP tokens in.
Confirm the withdrawal of CAKE tokens.
Decide on the amount you wish to stake.
Confirm the transaction.
Passively earn rewards.
Like with farming on PancakeSwap, simply select the "Harvest" button on the Syrup Pool you're staked in to withdraw your assets at any time.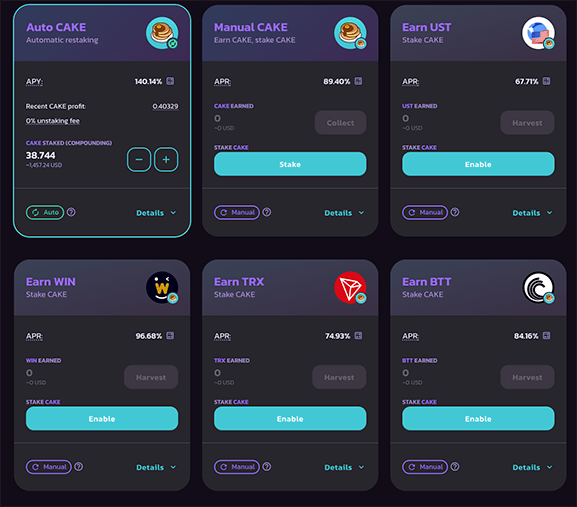 Syrup Pools only require a single token to be staked, but typically have lower APRs than Farms.
When you stake CAKE in a Syrup Pool, your wallet will automatically be provided with a $SYRUP token. This token is intended as a place-holder that shows how much CAKE you've staked in a pool. It is vital that you do not exchange this – if you sell the $SYRUP token, you will not be able to unstake your CAKE.
Risks of providing liquidity on PancakeSwap
Providing liquidity can be a fantastic method to generate passive earnings, but as with any investment, it comes with risks.
Impermanent loss
Impermanent loss is a major risk with providing liquidity to an AMM like PancakeSwap. This is a potential loss incurred by the change in the number of tokens you receive when you take your tokens back out of a pool.
This occurs because liquidity pools operate on a ratio-based algorithm – the value of both tokens (in dollar terms) must remain balanced.
If the value of one token in a pair changes, the ratio of tokens in the pool will be altered. This can result in users withdrawing from the pool with more of one token than the other. This could ultimately result in a loss depending on how the market moves.
Smart contract risk
Even though PancakeSwap is audited by CertiK, a smart-contract auditor, this does not completely dissolve the risk of using the platform. Systems built on smart contracts always pose a potential risk, as bugs and hackers may result in the total loss of funds.
PancakeSwap lottery
Staking and farming CAKE are not the only uses for PancakeSwap's LP tokens. You can actually enter a lottery, which works just as any other lottery would. You can buy an entry ticket for one CAKE, which will then provide users with a random four-digit combination.
The jackpot will then be split based on the four winning numbers. You don't need all four to win – just two digits in the correct order will entitle users to a portion of the sweepstakes.
Other PancakeSwap features
NFTS
Non-fungible tokens
(NFTs) are unique digital assets that are stored on the blockchain. Due to their irreplicable nature, NFTs are a popular method of assigning value to items such as artwork, music and other forms of digital files.
On PancakeSwap, you can trade CAKE to purchase "Pancake Collectibles", which are cute digital figures and artwork. Owners can then keep, display and eventually trade these NFTs.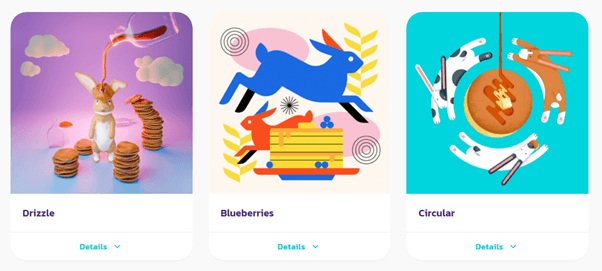 IFOs
Initial farm offerings allow users that are staked in specifically supported pools to gain access to newly launched tokens. Owners of CAKE in one of these pools can dedicate a variable amount of their LP tokens to purchasing the novel token.
Predictions
A new feature of PancakeSwap, LP token holders can stake on whether they think BNB's price will rise or fall over a specified period of time. Winnings have a payout ratio based on the value of each pool.
What does the CAKE token do?
CAKE is the native token of PancakeSwap and allows users to do the following:
Participate in Syrup Pools to earn more CAKE
Participate in yield farming to earn additional CAKE
Purchase collectible NFTs
Enter the PancakeSwap sweepstakes
Participate in IFOs
Stake tokens to speculate on the rise or fall of BNB's price
Vote on community and admin-driven proposals that directly affect the PancakeSwap ecosystem
Where to buy CAKE
If you would like to purchase CAKE to get the most out of PancakeSwap, you can do so using one of the exchanges below. Compare exchanges on things like payment methods, supported currencies and fees.
Pros and cons of PancakeSwap
Pros
Avoids the congestion and gas fees of Ethereum-based DEXs – enjoy fast transactions and low fees
Numerous opportunities for liquidity providers to earn additional income through PancakeSwap beyond just yield farming
High degree of user involvement, ranging from IFOs, NFTs and lotteries to allowing the community to propose and vote on governance
A strong range of token pairs, including unique offerings not found on other DEXs
Cons
Being an automated market maker, there is an inherent risk of impermanent loss
Less range of available tokens than competing platforms like Uniswap
Anonymous development team that provides little financial or business background
Only audited by a singular entity
Binance Smart Chain sacrifices being decentralized for speed
Disclaimer: Cryptocurrencies are speculative, complex and involve significant risks – they are highly volatile and sensitive to secondary activity. Performance is unpredictable and past performance is no guarantee of future performance. Consider your own circumstances, and obtain your own advice, before relying on this information. You should also verify the nature of any product or service (including its legal status and relevant regulatory requirements) and consult the relevant Regulators' websites before making any decision. Finder, or the author, may have holdings in the cryptocurrencies discussed.