Finder is committed to editorial independence. While we receive compensation when you click links to partners, they do not influence our content.
Compare life insurance for people over 40
Purchase a life insurance policy in your 40s to set your family up for a future of financial freedom.
By age 40, you likely have a few financial responsibilities, such as a mortgage, spouse or children. And you may be reaching a point in your career where you've increased your salary and quality of life. Life insurance policy premiums get more expensive as you get older, and by age 55 or 60, your policy options become more limited. That's why your 40s are a good time to consider setting your family up well financially in case of your untimely death.
What's the best life insurance policy for people over 40?
We recommend: Convertible term life insurance
A term life policy is an inexpensive way to ensure your loved ones will be taken care of if you pass away prematurely. Many term policies come with a conversion feature, which means you have the option to upgrade to a permanent policy before a deadline. That way, if you need life insurance for longer than you originally thought or want to treat your policy as a cash asset, you can convert your coverage.
Our top pick: Protective Life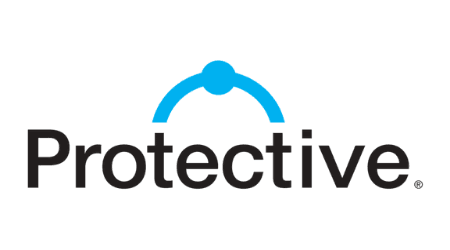 Finder Rating: 3.5 / 5

★★★★★

This brand isn't available on Finder right now.

Get quotes from similar companies Read review

$100,000 – $10,000,000
Coverage range

18 – 75 years
Issue age

10, 15, 20, 25, 30, 35, 40 years
Term lengths

In the life insurance world, Protective is known for its affordable rates and streamlined application process. It offers term life insurance that lasts 10 to 30 years, with the option to convert to a permanent policy without taking a medical exam. You can purchase coverage between $100,000 and $5 million, and dress it up with a range of riders. These include less-common riders like a guaranteed insurability rider, which allows you to buy additional insurance at any time.
| | |
| --- | --- |
| Coverage range | $100,000 – $10,000,000 |
| Term lengths | 10, 15, 20, 25, 30, 35, 40 years |
| Issue age | 18 – 75 years |
How much is life insurance over age 40?
For a 40-year-old man in perfect health, our research suggests the average cost for a $250,000, 20-year term policy is $25 a month. A woman could expect to pay $21 for the same amount of coverage.
Your actual rate will be based on factors like your age, health, family history, occupation and lifestyle. Either way, as a 40-year-old, you can still qualify for coverage at competitive — and maybe even preferred — rates.
What's the cheapest life insurance for 40-year-olds?
To find the most budget-friendly companies, we compared the rates for a $250,000, 20-year term life policy from 10 major carriers. For a 40-year-old nonsmoking man, the cheapest insurer tends to be Pacific Life at $21.48 a month. Legal & General might charge $69.05 a month for a smoker. For a women, those numbers are lower, around $18 with AIG or $56 with Legal & General.
*Based on sample rates from Policygenius, August 2019.
Compare life insurance for 40-year-olds
How much life insurance do people over 40 need?
Life insurance should be affordable, and if you die, the death benefit should comfortably cover your beneficiaries. When you're determining
how much life insurance you need
, think about what you pay for now and what you predict you'll be paying for in the future. Add up those costs, then consider taking out a policy to match that dollar figure.
Generally, life insurance experts suggest a number between 5 and 10 times your annual salary. For example, the median salary by age 40 is $70,000. That means a policy with $350,000 to $700,000 coverage might be a good starting point. That much coverage would essentially replace your salary for your family for 5 to 10 years, enough to get your spouse to retirement or find another source of income.
If you're trying to decide between two or more levels of life insurance protection, there likely won't be much of a price difference. According to our research, a $250,000 policy might cost as low as $18 a month for a 40-year-old nonsmoking woman. Increasing her coverage to $500,000 might cost only $31 — that's less than $15 a month more for double the coverage. And to lift it to $1 million, she might pay $54.03 a month.
What riders should I add to my policy if I'm over 40?
As a Gen X-er, you might want to consider customizing your coverage with riders such as:
Waiver of premium. Pauses your premiums for a specified period of time if you become fully disabled and can't work.
Accelerated death benefit rider.

Pays out a portion of the death benefit if you're diagnosed with a terminal illness. You can use the money for whatever you like, but the rider is designed to cover medical expenses.
Long-term care rider.

Allows you to access money from your death benefit to pay for a nursing home or other long-term care services. To qualify, you typically need to prove you can't perform two of the six activities of daily living (ADLs) — which include getting dressed and using the bathroom.
Can I buy more than one policy?
Yes — as long as you can prove to your insurer that you need them and can afford to pay the premiums. This strategy is called "laddering," and it involves taking out multiple term life policies to match your financial obligations. As those responsibilities drop off, the policies expire.
Let's say you're a Gen X-er with young children and a 30-year mortgage. You might buy a 20-year policy to carry your kids through college and a 30-year policy to cover your mortgage. That way, your loved ones won't be burdened with those expenses if you pass away prematurely.
What's my risk of dying in the next five years?
According to our life expectancy data, for a healthy 40-year-old woman, the risk of dying in the next five years is 0.79%. For a man, it's a little higher at 1.22%. That's pretty low.
Those statistics are even better when you consider that in the US, a 65-year old man is likely to live until 84.3, while a woman can expect to live until the age of 86.6. These are averages — about a quarter of 65-year-olds will reach their 90th birthday and beyond.
Odds of dying for a 40-year-old
| Within the next… | Man | Woman |
| --- | --- | --- |
| Year | 0.21% | 0.13% |
| 5 years | 1.22% | 0.79% |
| 10 years | 3.07% | 1.99% |
| 20 years | 10.20% | 6.46% |
| 30 years | 23.40% | 15.26% |
Bottom line
At 40, financial planning is probably at the forefront of your mind. If you have a family, business or financial assets, you might want to take out a life insurance policy. It can protect all of those things, plus give your family or employees a sense of security for the future. Life insurance becomes more expensive as you age, but if you apply now, there's a good chance you'll be offered a low premium.
As always, be sure to shop around to find a life insurance policy that fits your needs.
More guides on Finder