Ask an expert: How should I invest my $100,000?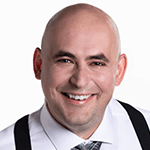 Dennis Shirshikov
Financial Analyst, Fit Small Business
Investors with over $100,000 in savings should devote only 50% of their portfolio to low-risk investments. At this stage, using a financial adviser is critical because the exact mix of investments should tailor to specific goals.
Individuals planning on retiring soon need lower-risk investments they can use for ongoing cash flow, like bonds or stocks that pay a good dividend. On the other hand, younger investors have a higher risk tolerance and a longer investment horizon. Therefore, investing in instruments that can produce a higher return is far more appealing and a bitter fit for their goals.
Overall the strategy at $100,000 encompasses several different pieces of other approaches, but the most important thing is to tailor the investments to the investor's profile and goals.