Finder is committed to editorial independence. While we receive compensation when you click links to partners, they do not influence our opinions or reviews. Learn how we make money.
Citibank home equity loan review
finder.com's rating: 2.9 / 5.0
★★★★★
Borrow between $25,000 and $300,000 with this large-scale lender.
Citibank's mortgage division, CitiMortgage, offers home equity loans ranging from $25,000 to $300,000. Its repayment terms stretch from five to 30 years, and customers can unlock lower interest rates. But the lender charges some closing costs, and home equity loans aren't available in Alaska.
Details
Name
Citibank
Description
The equity in your home can help you pay for home improvements, consolidate debt or give you peace of mind knowing that cash is available if you need it.
Minimum credit
Origination fee
N/A
Other fees
Citibank charges an application fee of $100, and property insurance and origination fees vary between states. It covers all other closing costs.

If you close your home equity loan or sell your home within 36 months, you'll have to pay an early closure release fee — which reflects the third-party closing costs Citibank incurred when you opened the loan.

Pros
Access to funds via check, transfers to linked accounts, plus the convenience of Citibank Auto Deduct for payments
No application or closing cost fees
Flexible credit when you need it
Cons
Not available in Alaska
Early payment penalty
What do customers say about Citibank?
Despite being in business for over 200 years, Citibank isn't accredited with the Better Business Bureau. It holds an F-rating from its involvement in the mortgage crisis of 2008, and other government actions since.

The BBB has received 4,063 complaints in the last three years, most of which related to problems with the product, service and billing. The BBB gives the bank a one-star rating based on 134 customer reviews.

However, it's worth noting that these reviews and complaints are for the bank as a whole, and not just its home loans division.

What makes Citibank unique?
These are Citibank's major selling points:
Rewards for customers
If you're a Citibank customer, it may offer lower interest rates along with closing cost credits. To qualify, you'll need to meet credit and income requirements and set up automatic monthly payments from your Citibank deposit account.
CitiGold and CitiPriority banking customers have access to the best rates.
Accepts alternative credit sources
Citibank is flexible with its credit requirements. When reviewing your application, the lender will consider nontraditional sources of credit, such as rent and child support payments.
Do I qualify for a loan with Citibank?
To apply for a loan, you'll need a Citibank account, credit card or mortgage with a positive balance, and a debt-to-income ratio of 43% or less.
Like most lenders, Citibank doesn't reveal the finer eligibility requirements online. However, the website says the lowest rates are reserved for customers with excellent credit who set up automatic payments from their Citibank deposit account.
Depending on where you live, the bank accepts home equity loans for single-family homes, condos, coops and two- to four-unit homes. The property must be complete and not under any kind of construction.
What are the benefits of getting a home equity loan through Citibank?
Citibank offers fixed-rate home equity loans with predictable monthly payments. You'll also be privy to these benefits:
Incentives for customers. To score the lowest rate, enroll in automatic payments from your Citibank deposit account.
Flexible loan lengths. Choose a repayment term of 5, 10, 15, 20, 25 or 30 years.
Lending criteria. Depending on your credit and lien position, you may be able to borrow up to 80% of your home's value.
Accepts other credit sources. Citibank considers nontraditional sources of credit, such as a positive history of paying rent.
Handy online tools. The site has a rate calculator that crunches your estimated monthly payments.
Solid loan range. Eligible borrowers can take out a loan between $25,000 and $300,000.
What to watch out for
These drawbacks may affect your decision:
Not available in Alaska. Is your property in Alaska? You'll need to look to other lenders.
Early payment penalty. If you pay off your loan or sell your home within the first 36 months, you'll pay a fee. This doesn't apply to collateral properties in Texas.
Some restrictions. The lender imposes limits on property types. For example, mobile homes are exempt, and in Texas, home equity loans are only available on collateral properties that are single-family primary residences.
No second homes. With this lender, you can't put up a second home as collateral.
Limited loan offices. Outside of major cities like New York and LA, loan officers are scarce.
Two-loan maximum. You can have two open loans at a time with Citibank.
How do I get started?
You can apply for a home equity loan online, over the phone or in person.
Phone. Call 877-362-9100 between Monday and Sunday, 9 a.m. to 11 p.m. ET.
In person. On the Citibank site, you can search for a branch near you. Type in your ZIP code, and then filter the results by checking the box for Home lending officer. To save time, you can schedule an appointment online.
Online. Follow these steps:
Go to the Citibank website. Hover over Lending, and tap Home Equity.
Click Apply Online.
You'll be asked to select a product. Press Apply for Fixed-Rate Home Equity Loan.
Enter your full name, phone number and email address. Click Next.
Continue filling out the form with your personal and contact details, income, property type and value, the purpose of your loan, and how much you're hoping to borrow.
Submit your application.
You could be conditionally approved immediately. Either way, a loan officer will contact you to discuss the next steps.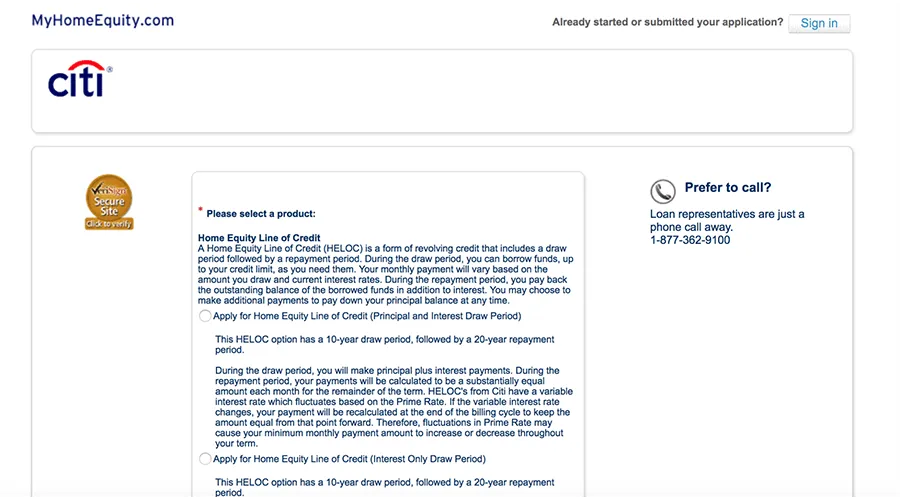 Required documentation
The lender will ask for the following documents:
Recent pay stubs
Bank or asset statements
Tax returns
W-2 forms
Details about any property you own
Driver's license or government-issued photo ID
Current mortgage statement
Property tax bill
Homeowners insurance declarations page
Flood insurance information, if your property is in a flood zone
Citibank will order an appraisal to determine the market value of your property and a title report to verify ownership. The loan officer confirms your employment details and homeowners insurance coverage before approving the loan.
I got the home equity loan. Now what?
Keep tabs on your home equity loan with these tips:
Monitor your account. Manage payments, view statements and download tax documents online.
Contact customer service. There are a few ways to reach the loans team.
Phone. If you're applying for a new home equity loan, call 877-362-9100. If you want to chat about your existing loan, call the team you receive statements from:

CitiMortgage: 800-283-7913
Citibank, N.A.: 800-685-0935
Cenlar: 855-839-6253
In Puerto Rico? Dial 866-280-2050.

Live chat. Log into your Citibank account to get real-time help online.
In person. Visit a local loan officer, or schedule an appointment online.
Make timely payments. Skirt late fees by choosing a payment method that suits you.
Phone. Call the best number from the options above.
Bank transfers. Set up automatic transfers from your Citibank account, or wire funds from an external account.
Mail. Send paper checks to the most relevant address.
If you receive statements from CitiMortgage:

CitiMortgage Inc, PO Box 78015, Phoenix, AZ 85062
If you receive statements from Cenlar for properties in Arkansas, Arizona, California, Colorado, Hawaii, Idaho, Montana, Nebraska, Nevada, New Mexico, North Dakota, Oregon, South Dakota, Utah, Washington and Wyoming: Central Loan Administration and Reporting, PO Box 54040, Los Angeles, CA 90054-0040

For all other properties: Central Loan Administration and Reporting, PO Box 11733, Newark, NJ 07101-4733
Frequently asked questions
Home loans ratings
★★★★★ — Excellent
★★★★★ — Good
★★★★★ — Average
★★★★★ — Subpar
★★★★★ — Poor
We analyze top home loan providers and rate them one to five stars based on factors that are most important to you. These factors include: rates and fees, product selection and borrower experience.
Read the full methodology of how we rate home loan providers.
Expert review
Review by
katia.iervasi@finder.com
---
Katia Iervasi is a staff writer who hails from Australia and now calls New York home. Her writing and analysis has been featured on sites like Forbes, Best Company and Financial Advisor around the world. Armed with a BA in Communication and a journalistic eye for detail, she navigates insurance and finance topics for Finder, so you can splash your cash smartly (and be a pro when the subject pops up at dinner parties).
Expert review
Citibank's home equity loans are best for customers with excellent credit who want to borrow less than $300,000. The lender offers repayment terms in five-year increments, but it charges closing costs and doesn't fund home equity loans for all types of properties.