Finder is committed to editorial independence. While we receive compensation when you click links to partners, they do not influence our opinions or reviews. Learn how we make money.
Ford Focus insurance rates
Average Ford Focus insurance rates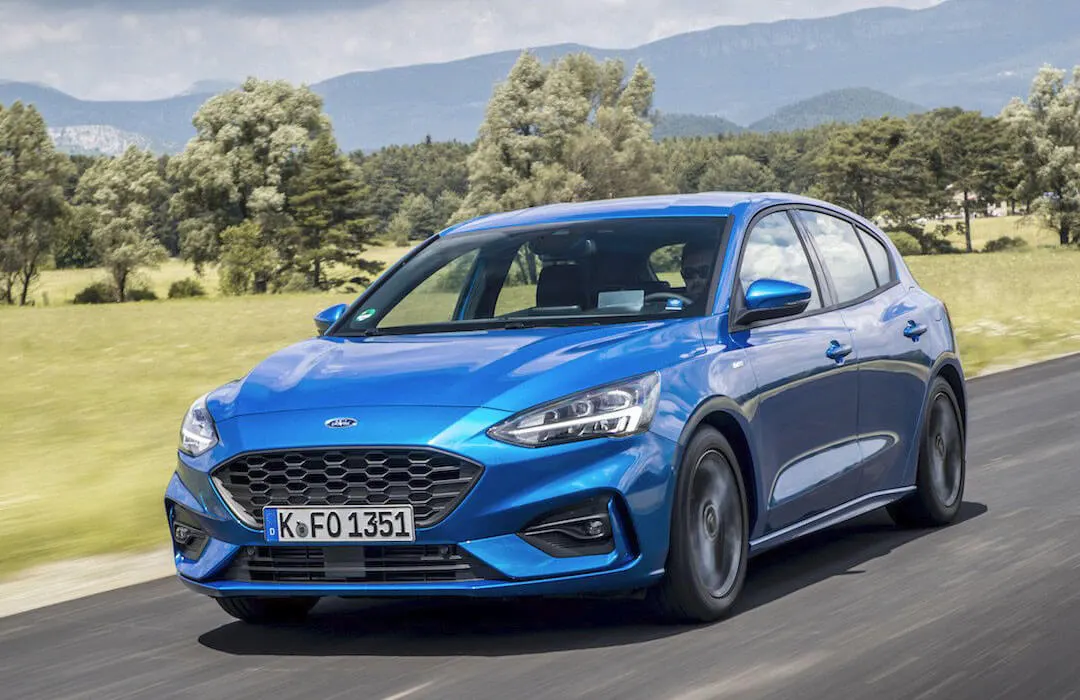 Compare car insurance quotes
Enter your ZIP code below and click Compare to see the cheapest rates in your area.
The average insurance costs for a Ford Focus is $238 a month or $2,856 a year.With a base price of $16,775, the annual insurance cost–to–base car price ratio is 17.0%, making the Focus an expensive sedan to insure.
Compare insurance for your Ford Focus
Ford Focus car insurance rates
| Model | Monthly insurance rate | Base car price |
| --- | --- | --- |
| C-Max | $238 | $36,620 |
| Edge | $173 | $25,905 |
| Escape | $178 | $22,405 |
| Expedition | $172 | $20,000 |
| Explorer | $171 | $55,450 |
| F-150 | $157 | $16,975 |
| F-250 | $167 | $23,100 |
| F-350 | $245 | $30,745 |
| F-450 | $166 | $27,500 |
| Fiesta | $180 | $13,660 |
| Flex | $171 | $30,025 |
| Focus | $238 | $16,775 |
| Fusion | $178 | $22,610 |
| GT | $245 | $450,000 |
| Mustang | $166 | $25,185 |
| Taurus | $173 | $27,345 |
| Transit Connect | $172 | $23,010 |
| EcoSport | $130 | $20,990 |
Case study: Britny's experience

Britny Lawhorn
Assistant Publisher
When I purchased my 2014 Ford Focus SE, it was important to me to search for the best insurance rate.
I was surprised to learn that the Ford Focus has one of the lowest depreciation values compared to other cars. But that also meant my rates wouldn't lower as quickly as other cars over time.
It has consistently high safety ratings due to features like the AdvanceTrac ESC and antitheft system which helped lower my premium cost.
I found it useful to ask providers about any partnerships or other discount opportunities that might be available. I took advantage of a college alumni discount, and saved money by telling my provider that I drove less than five miles to work daily.
Ford Focus money-saving safety features
You could save money on car insurance for your Ford Focus if it comes equipped with these safety features.
Anti-lock brakes
Stability control
Airbags
Seatbelt pretensioners
Anti theft system
How safe is the Ford Focus?
The 2017 model of the Ford Focus has been evaluated by the Insurance Institute for Highway Safety (IIHS) and the National Highway Traffic Safety Administration (NHTSA) for safety ratings. The Ford Focus was awarded four stars, out of five, for the rollover crash test and frontal crash test by the NHTSA. The latest model as awarded a 5-Star Overall Safety Rating by the NHTSA.
According to the IIHS, the small overlap front test of Ford Focus was rated as acceptable, while the other crash tests were deemed good, the highest rating possible. The Ford Focus has side airbags and a driver knee airbag to protect the passengers during collisions. The latest model also features antilock brakes and rollover sensor to provide more safety for the passengers.
From the 2013 model year, the Ford Focus was the tenth most stolen new car, according to the National Insurance Crime Bureau. 483 thefts were recorded.
The Ford Focus has been around since 1998 and is currently in its third generation. Ford Focus sales began in the United States in 2000. The compact car is known for its sporty handling, upscale interior and comfortable ride. In 2016, there were over 168,000 sales in the United States.
Bottom line
The Ford Focus ranks right in the middle of our list of the 360 priciest car models to insure. Explore insurance rates to find the best deal for you.
Compare all car makes & models
Get the cheapest quotes
Compare car insurance companies near you.
Your information is secure.
Read more on this topic