Finder is committed to editorial independence. While we receive compensation when you click links to partners, they do not influence our opinions or reviews. Learn how we make money.
Chevrolet Trailblazer car insurance rates
An affordable CUV with cost-lowering features — except for reliability ratings.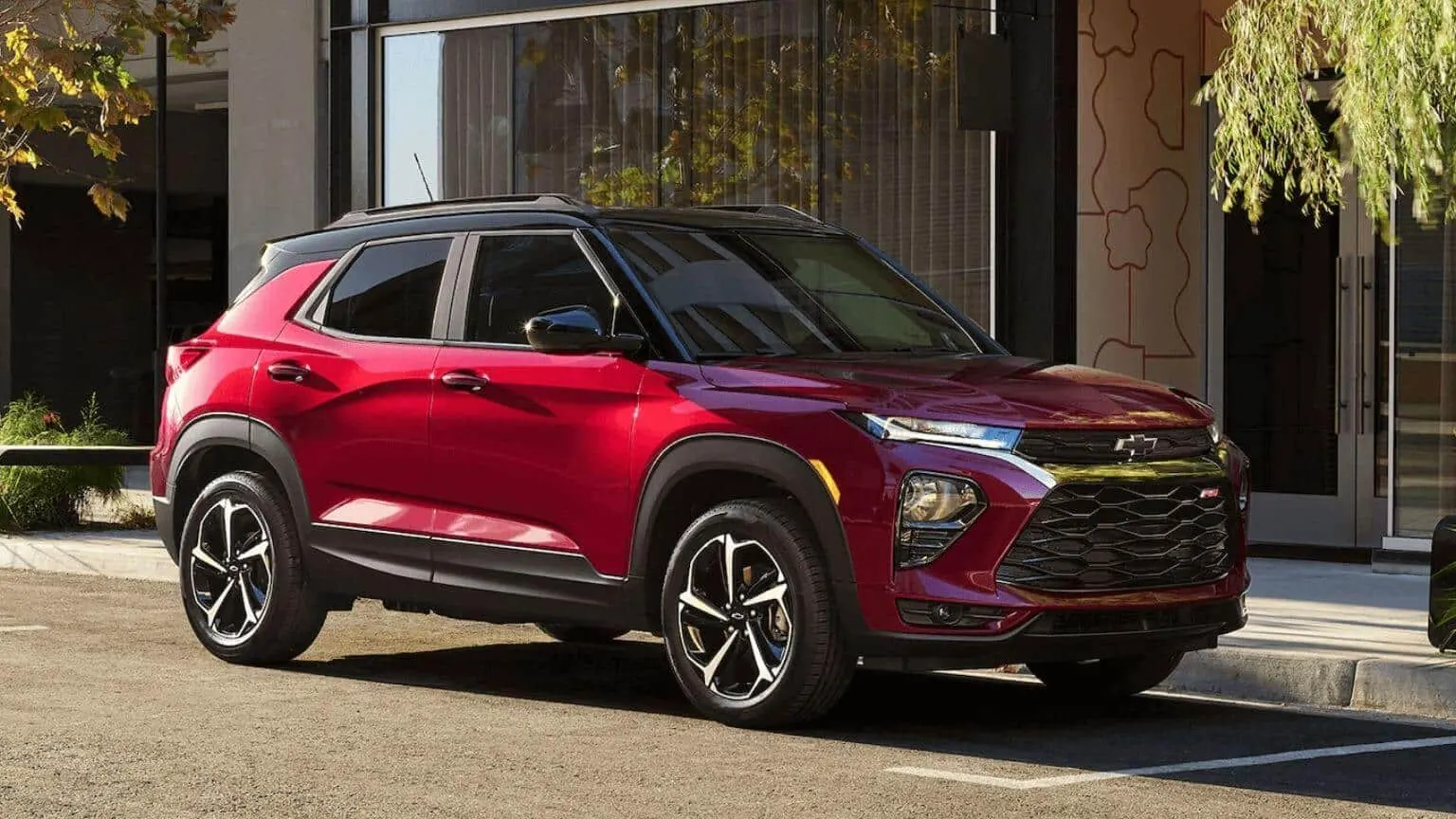 Compare car insurance quotes
Enter your ZIP code below and click Compare to see the cheapest rates in your area.
The Trailblazer is a compact crossover with an above-average expected insurance rate. The average insurance cost for the similar Chevrolet Traverse is $171 a month, or $2,052 a year, about $750 more than the national annual average. With a 2021 base price of $20,000, the annual insurance cost-to-base car price ratio is 10%, above the national average of 4%.
Compare car insurance for your Chevrolet Trailblazer
How do I compare insurance for the Trailblazer?
This vehicle's features, size and standard coverage needs could save you money on insurance. But the full-cost impact of the new model's features are unknown. Features that could lead to savings:
Body type. The 2021 Trailblazer boasts a crossover frame and older models keep a midsized SUV body. Both body types are some of the cheapest for insurance in general.
Fuel. This sporty vehicle gets fuel mileage around 26 for city driving and 30 on the highway in the 2021 model. That rating stands higher than what you might expect for other SUV models. Plus, it's a leg up from previous Trailblazer models that see 12 mpg for city and 16 for the highway.
Engine power. The 2021 model will feature 137 to 155 horsepower, which is less engine power than the 2009 model. Less engine power can mean lower insurance rates.
Theft rates. Across all model years, the Trailblazer's theft rate ranges from 1.5 to 2.5 vehicles stolen per 1,000 produced. That's almost half the median theft rate for all vehicles, which stands at 3.6 thefts per 1,000.
Insurer options. You should have your pick of insurance companies with this popular vehicle and manufacturer. That means you can shop around for the best value.
Maintenance. Older Trailblazers have seen a high number of repair complaints compared to other Chevrolet vehicles on car repair reporting sites. Its most major repair was transmission failure in the 2005 model, which commonly cost owners over $2,000 to repair.
Coverage. If you own an older model, you might consider forgoing extras like comprehensive coverage to save money for a newer vehicle. You might also want roadside assistance if things go wrong and you need help on the road. Otherwise, you can stick to what's required by your car loan.
Warranty. The 2021 Trailblazer comes with a limited warranty for three years or 36,000 miles, plus one scheduled maintenance visit. It also extends a powertrain warranty and roadside assistance for five years or 60,000 miles.
Does the Chevrolet Trailblazer qualify for discounts?
Yes, you should qualify for multiple safety discounts with these safety features:
Airbags
Antilock brakes
Antitheft system
Daytime running lights
How reliable is the Chevrolet Trailblazer?
Overall, the Trailblazer could improve its reliability. This vehicle sees standard or substandard crash test ratings, average long-term reliability and multiple recalls on older models. These safety characteristics could play into a higher car insurance premium.
Safety. Older models received poor to adequate ratings for front and side crashes from the Insurance Institute for Highway Safety (IIHS). Although the 2021 model doesn't have any crash test ratings yet, keep in mind that newer cars provide more safety measures.
Reliability. Older models like the 2009 Trailblazer have a reliability rating of 3 out of 5 stars from J.D. Power. Most car complaints center around minor problems like broken fuel gauges, except for transmission problems in 2005 models.
Recalls. The newest models haven't seen any recalls, as of May 1, 2020. However, the older Trailblazers have seen several recalls on power windows. Fluid leaking into power window wiring could cause a short circuit or even fire. In addition, other recalls included overheating headlights, improper windshield mounting and leather seats that could interfere with airbag sensors.
Bottom line
The Trailblazer offers low to standard coverage needs and a cheaper type of car to insure in general. However, its substandard crash test performance could lead to higher premiums than normal for this type of vehicle. You can lower costs by shopping several car insurance companies or research rates for another car you have your eyes on.
Get the cheapest quotes
Compare car insurance companies near you.
Your information is secure.
Frequently asked questions about the Chevrolet Trailblazer
Read more on this topic