Finder is committed to editorial independence. While we receive compensation when you click links to partners, they do not influence our content.
Business Loan Finder
Grow or start your business with the right financing: Compare top lenders in 2021.
Compare business loan options
Some of the top lenders we review
0
Hours of extensive research
How do business loans work?
Business loans work by providing your company with funding to grow, cover cashflow gaps and other expenses.
With a traditional business loan, you can typically borrow from $5,000 to $5 million at rates starting at 5%. You repay the funds plus interest and fees in monthly installments, often over over five to 20 years.
Some business lenders require collateral, while others offer approval on your creditworthiness, revenue and other factors. If you can't qualify for a business loan, there are alternatives.
What types of small business loans are available?
There are several different types of business financing out there, each offering different terms and benefits. Which one is best for your business depends on its specific situation. If you're buying machinery for your business, you might want to consider equipment financing. If you're struggling with cashflow, a merchant cash advance, invoice financing or factoring might be the way to go.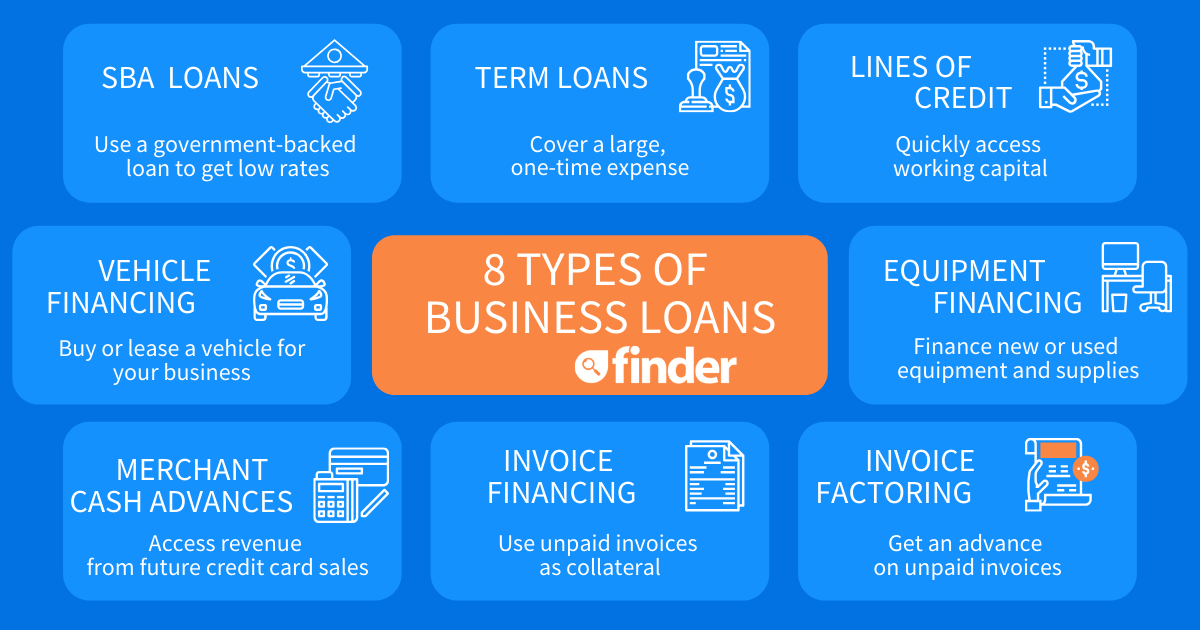 8 types of business loans – explained
Here's how the most common types of business loans break down:
Term loans — cover a large, one-time expense
Lines of credit — quickly access working capital
SBA loans — government-backed financing with competitive rates
Equipment financing — finance new or used equipment and supplies
Vehicle financing — buy or lease a vehicle for your business
Invoice financing — use unpaid invoices as collateral
Invoice factoring — get an advance on unpaid invoices
Merchant cash advances — access revenue from future credit card sales
How much do business loans cost?
Fixed-term business loans come with interest and fees:
Interest. A percentage of your loan balance that your lender applies daily, weekly or monthly, depending on your terms. Typically 6% to 60%.
Fees. One-time fixed costs, typically a percentage of the amount you borrow or a flat rate. Term loans also often come with an origination fee, usually from 2% to 5% of the loan amount.
The total interest and fees is express as an annual percentage rate, or APR. It's the easiest way to understand how much your loan is going to cost you over time. However, not all business loans display their costs as an APR.
How to compare business loans
Look into these features when you are considering business loan options.
Eligibility criteria. Most lenders list basic eligibility requirements online. Otherwise, speak with a representative to learn if your business can qualify.
Loan amounts. If your financing needs don't fall into the lender's range of loan amounts, you might want to move on.
Turnaround time. Do you need money this week or can you wait several months? Invoice financing is known for shorter turnaround times while SBA loans can take months to fund.
Repayment term. If you're applying for a loan with interest, your loan term affects both your immediate and long-term costs.
Repayment frequency. Make sure to consider whether repayments are daily, monthly or weekly.
Rates. The rate lenders charge depends largely on your credit profile and business profits.
Overall cost. In addition to rates, many lenders charge other fees for taking out the loan. The fastest way to compare business loans is to look at the APR — as long as the lenders offer similar repayment terms.
Customer reviews. Customer reviews can give you an idea of what your experience might be like. Check out their ratings on sites like the Better Business Bureau (BBB) or Trustpilot.
How to get a business loan
Here's what you can expect to happen when you apply for a small business loan.
Know what your business needs.
Is it generally short on working capital? Then a line of credit, invoice factoring or a merchant cash advance might be a good place to start. Need a fleet of vans? Look into vehicle loans. Armed with this information, you can begin narrowing down lenders.
Compare lenders.
You know what you're looking for. Now it's time to start comparing business lenders. Ask yourself questions about the loan amount, cost, repayments and the company's reputation while narrowing down your choices.
Get prequalified.
After you've narrowed down your options to a handful of lenders, prequalify for a few before making a decision. Most online lenders offer prequalification through a quick form on their website. Large banks might need you to to call customer service or visit a local branch in person.
Submit requested documentation.
After preliminary approval, the lender will likely need to verify your documents. Some lenders ask for a long list of documents and information. Others don't require any paperwork.
Complete the application.
You'll typically be assigned an account manager who can guide you through the full process. You might be asked to submit additional documentation. More involved business loan applications might involve a site visit from your lender or even an interview.
Review and sign your documents.
Make sure you understand the terms and conditions of your business loan before you sign the business loan agreement. If you don't understand a clause or term, ask your lender — or better yet, a lawyer. That way, you won't be hit with any surprises down the road.
How much can I borrow?
Business loans typically start at around $5,000 and can top $5 million. How much you can borrow depends on several factors:
The type of loan you apply for
Minimum and maximum amounts offered by the lender
Monthly and annual revenue
Monthly debt obligations
Personal and business credit score
What you need the funding for
Business loan calculator
See how much you'll pay for your business loan
Your loan
Loan amount
Loan terms (in years)
Interest rate
Fill out the form and click on "Calculate" to see your
estimated monthly payment.
or
Based on your loan terms…
You can expect to pay back
$
per month

This breaks down to…
$
in
principaland
$
in
interest
charged, with a total cost of $Compare lenders
Where can I get a small business loan?
It used to be that banks and credit unions were your two main options for business loans. That's no longer the case. Let's take a look at some common business loan providers in 2020.
Online providers
Borrowing online is significantly easier than borrowing from a bank: There's less paperwork and a shorter application. It's now also easier to qualify for an online business loan as a small business.
Here's a few types of loan providers you might find online:
Direct online lenders. These lenders fund your loan themselves and often handle all aspects of the application process in-house.
Peer-to-peer (p2p) platforms. These online platforms act as liaisons between borrowers and investor funding. The platform sets the terms and conditions and is your point of contact if you have questions about the process.
Online connection services. Also called marketplaces, these free websites help you prequalify with multiple lenders by filling out one form. They're typically free for business owners.
Business loan brokers. Hiring a business loan broker works a lot like using an online marketplace. The difference is that you have a chance to sit down in-person and discuss your options. And you'll have to pay a broker fee.
Banks and credit unions
Bank loans could be a good option for established businesses pulling in at least $1 million in annual revenue and need large amounts of funding — say, over $100,000.
Credit unions might be nonprofits, but they actually reject more applicants than any other type of lender, according to the 2016 Small Business Credit Survey by the Federal Reserve.
Where can I get an SBA loan?
The Small Business Administration doesn't actually fund loans itself. You'll have to go to a lender that offers SBA financing to apply. You can find SBA loans online through sites like SmartBiz, though the SBA's top lenders tend to be banks.
Whether you apply online or through a bank, SBA loan applications are typically more involved than other types of business financing. And since they involve taxpayer money, and you can get disqualified for reasons that other lenders don't even consider, like having a criminal record.
Benefits of getting a business loan
Getting a loan can help your business in more ways than one. These include:
Get money to grow. You need money to make money. Done right, a business loan can more than pay for itself by funding revenue-growing projects or bring on new staff.
Soften the blow of slow months. Lines of credit and other cashflow funding allow you to keep up your regular expenses when things naturally slow down.
Access the value of business assets. Getting a secured business loan allows you to cash in on items you already own to help expand, get working capital and more.
Build your credit. A business loan can help build your personal and business credit score if it requires a personal guarantee. This can help you qualify for more funding in the future.
Frequently asked questions
Answers to common questions about business loans.
How hard is it to get a small business loan?
It depends on the type of financing you're looking for. Bank loans can be difficult to qualify for if you have a young business or don't have excellent credit. Online loans can have more relaxed eligibility requirements, but the most competitive rates still tend to go to businesses that have been around a few years and whose owners have excellent personal credit.
Is a business loan considered income?
Generally no, the IRS does not consider a business loan as taxable income. However, if the lender forgives the debt — meaning that you don't have to repay it — your business will have to pay taxes on the forgiven portion.
Can I get a business loan without a personal guarantee?
While most business loans require a personal guarantee, it's possible to find one that doesn't. If you'd rather not pledge your personal assets, consider looking for a loan backed by collateral.
Can I get a business loan without collateral?
Yes. Business loans that don't require collateral are called unsecured business loans. This means that you don't risk losing your assets. But you might not get as low of a rate as a secured business loan. You might want to weigh the two options first.
Even many unsecured business loans require a personal guarantee from the business owner. This means that you're responsible for covering the loan amount if your business fails.
This technically isn't collateral because it doesn't name any specific assets. But it's a risk you're taking on as a business owner.
Why do lenders care about my personal credit score?
Business credit scores aren't as widely used. The owner's personal credit score could be better at predicting whether the business is a risk to lend to.
Many business loans — even unsecured loans — also require a personal guarantee from at least one business owner, meaning that you're responsible for paying off the loan if your business defaults.
Can I get a business loan if I'm not a US citizen or permanent resident?
It's possible, but you likely won't have as many options. If you have a partner who is a US citizen or permanent resident, you might have a better chance of qualifying for more competitive rates if you apply with them.