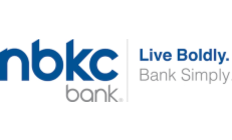 Compare NBKC Bank products: Savings, Checking, and CDs
It may not be a household name, but there's a reason why this bank has sky-high customer satisfaction.
What banking products does NBKC Bank offer?
NBKC Bank offers a suite of banking products for personal and business use, all with online banking access.
Personal banking
Everything Account. Previously known as the NBKC Personal Account, this checking and savings combo has an APY of 1.26% and comes with tools to help you better manage your money.
Personal Money Market Savings. This account earns a competitive 0.25% APY on all balances and requires a low $5 opening deposit.
NBKC CD. Meet your long-term savings goals with the help of NBKC's personal CDs that range from three to 60 months. They require a $1,000 opening balance, and interest rates starting at 0.35% APY for the 3-month CD and go up to 0.9% APY for the 60-month CD.
NKBC Add-to Starter CD. Open this CD with as little as $0 and watch your money grow at 0.8% APY for one year.
Business banking
Business Account. NBKC Bank has a single business account. Open with as little as $0 and enjoy no monthly fees and unlimited deposits and account support.
NBKC Bank Business Money Market Savings. Open this account with as little as $0, and start earning interest as your balance grows. The interest rate is 0.8% APY on all balances.
NBKC Business CDs. With terms ranging from 14 days to 60 months, you can easily access your money once the CD matures. The minimum opening deposit is $1,000, and rates start at 0.25% APY for a 14-day CD and go up to 0.9% APY for a 60-month CD.
NBKC Visa Card. The bank offers a variety of credit cards, including cashback and travel rewards options. With these cards, you can access cash at ATMs worldwide, and you're not responsible for unauthorized charges if your Visa is lost or stolen.
Compare NBKC Bank products
Why should I open an account at NBKC Bank?
No minimum balance required. You don't need to maintain a minimum balance on personal or business accounts.
Account incentives. Most accounts come with limited fees, plus you can score cashback rewards with many of its debit and credit cards.
Sophisticated online and mobile banking. Manage your account, set alerts, deposit checks and make and stop payments online or on the app.
Live chat with customer support. NBKC Bank offers help via live chat on its website during business hours from 8 a.m. to 5 p.m. CT. Customers can also call 800-528-2273 at any time to report a lost or stolen card.
Complimentary access to MoneyPass ATMs. Use any of the 32,000 ATMs scattered around the US for free.
Monthly refunds on ATM fees. If you're not near a MoneyPass ATM, rest easy knowing you'll earn up to $12 in monthly refunds for ATM fees charged by other banks.
What should I look out for?
Few physical branches. While anyone in the US can set up an online account with NBKC Bank, the only physical branches are in the Kansas City area. If you prefer face-to-face communication with your bank, this may not be the right one for you.
Limited customer service times. The customer service team is only available during office hours on weekdays, which means any pressing issues will have to wait until the next business day.
Expensive wire transfers. The bank charges $5 to send domestic wires and $45 for international wires. You won't pay anything to receive transfers from within the US, though international wires cost $45.
How do I deposit or withdraw my money?
Even though NBKC is an online bank, there are still several ways to access your money:
Deposits
Direct deposit
Cash deposit at ATM
Check deposit via mobile app
Check depo
Deposit at a branch location
Wire transfer
Transfer from another account
Withdrawals
At an ATM
At a branch location
Wire transfer
Transfer to another account
What do regulators and customers say?
NBKC Bank is an FDIC-insured, full-service bank. Along with insurance, it protects your money with the help of sophisticated security systems, including multifactor authentication. You'll have to authorize any high-risk transactions, and you can download NBKC's Detect Safe Browsing app for free.
According to the Federal Financial Institutions Examination Council (FFIEC), NBKC Bank has a satisfactory Community Reinvestment Act (CRA) rating, which it earned in May 2017.
The bank is accredited with the Better Business Bureau (BBB) and boasts an A+ rating for its customer service and interactions as of September 2018. From 853 customer reviews, it scored an average five-star review rating. And in the past three years, just two complaints were registered with the BBB — both of which were related to mortgage lending and NBKC Bank quickly solved the issues.
The reviews are overwhelmingly positive on consumer websites, too. Customers praise the personalized customer service and appreciate how easy it is to open a business or personal account. While some account holders lament the lack of physical branches, others say the bank's tech-savvy team and online and mobile banking tools bridge that gap.
Compare NBKC Bank to the competition
NBKC Bank holds $432.7 million in deposits across its four US branches. While it isn't in the top 50 bank holding companies in the country, it's financially strong and boasts $631.5 million in assets. In the industry, the bank is best known for its mortgage lending and has amassed an impressive $411.9 million in loans and leases. As of December 31, 2017, it recorded a return on average investments (ROA) of 1.73% — which sits comfortably above the national average of 1%.
Thanks to these stats, NBKC Bank is a solid choice for personal and business banking. It appears to be most popular with consumers in the two states it has a physical presence: Kansas and Missouri.
Bottom line
If we had to use one word to describe NBKC Bank's approach to banking, it'd be "streamlined." You won't find lengthy account names. Instead, the bank has a single personal and business account and offers flexibility with its CDs and credit cards. It has impressive customer reviews, though if you live outside of Kansas and Missouri, just know there won't be a physical bank branch in your state.
Before signing the dotted line, compare your options with our comprehensive guide to bank accounts.
Frequently asked questions about NBKC Bank
What is NBKC's routing number?
The bank's routing number is 101014869.
What is NBKC's SWIFT code?
NBKC Bank doesn't have a SWIFT code. Instead, it uses a corresponding bank for incoming foreign wires. If you're receiving a transfer in USD, you can use these details:
Receiving bank: Bankers' Bank of Kansas
SWIFT code: KAASUS41
Beneficiary bank: NBKC
Beneficiary bank account number: 101014869
Beneficiary: Your NBKC account name
Beneficiary account: Your NBKC account number
Where are NBKC's physical branches?
NBKC Bank has branches in Kansas City and Liberty, Missouri, and Overland Park and Leawood, Kansas.
How can I open an account if I don't live in Kansas or Missouri?
You can apply for a personal or business account online or over the phone.
Where can I find no-fee ATMs?
You can use your NBKC card at over 32,000 MoneyPass ATMs across the US for free. To find one near you, go to the MoneyPass website and enter your city and state or ZIP code.
How do I report a lost or stolen card?
During business hours, call 913-253-0170. On weekends and after hours, call 800-528-2273.
What can't I use online bill pay for?
You can't use the online bill pay service to make court-ordered payments or payments that go to a payment center, such as alimony or child support.
NBKC Bank is a privately owned bank that prides itself on simplicity. You'll find a concise list of checking and savings accounts and CDs — all with no fees and no hidden fine print. But if you prefer face-to-face communication, you may want to explore other banks if you live outside of Kansas or Missouri.