Finder is committed to editorial independence. While we receive compensation when you click links to partners, they do not influence our opinions or reviews. Learn how we make money.
Compare Discover banking products: Savings, CDs, and Checking
This online bank offers transparency and great rates on a number of essential financial services.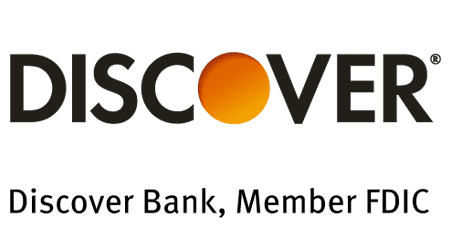 If your banking needs err on the basic side and you can't remember the last time you stepped foot in a physical branch, you may want to consider an online-only bank. Discover currently operates the biggest online-only bank in the country, and its checking and savings accounts offer competitive rates and easy access.
What banking products does Discover offer?
Compare Discover bank products
How does it compare to other banks and services?
Discover holds over $63 billion in deposits, making it the 31st-largest FDIC-insured institution in the country. While that's only a fraction of the amounts held by the Big Four Banks, it's the biggest online-only bank in the country, which is quite impressive considering it's only been in business since 2007.
While it's headquartered in Riverwoods, Illinois, it operates entirely online, meaning there are no physical branches.
Checking accounts
Pros
Earn cash back on debit card purchases. Discover's checking account rewards you with 1% cash back on up to $3,000 in eligible debit card purchases each month.
Minimal fees. Discover doesn't charge annual fees or incoming wire transfer fees, has no monthly minimum balance requirements and won't charge you for official bank checks.
Large ATM network. Discover offers access to over 415,000 ATMs with over 60,000 free ATMs through Allpoint or MoneyPass networks.
Cons
Difficult deposits. To deposit money, you'll need to make an online transfer from another bank account, use mobile check deposit, set up direct deposit or mail a check payable to you with your account number on the memo line.
One account option. Discover only offers one personal checking option — the Discover Cashback Debit checking account.
Daily withdrawal limit. To prevent fraud, you can't withdraw more than $510 a day from ATMs.
Savings accounts
Pros
No hidden fees. Discover is completely transparent with its fees, meaning you won't find any unexpected charges to your account.
Competitive APYs. The Discover Online Savings Account earns a flat 1.01% APY and the Discover Money Market Account earns up to 0.9% depending on your account balance.
Low minimum deposit for savings accounts. You can open the Discover Online Savings Account with as little as $0.
Cons
Withdrawal limits. You're limited to six transactions a month. But due to the suspension of Regulation D, you'll want to check with Discover to see if they're still doing a cap on transactions.
High minimum deposits for money market accounts. Discover requires a minimum deposit of $2,500 to open a money market, which is higher than many of its competitors.
Few account options. Discover only offers one personal savings account and one money market, so your options are limited.
CDs
Pros
No fees. The only time you'll pay a fee is if you need to withdraw your money early. Even then, early withdrawal penalties are lower than the competition.
Several term options. Discover offers terms ranging from three months to 10 years.
Solid APYs for long-term CDs. If you open a CD with a term of 12 months or more, you'll earn anywhere from 0.9% to 1.15% depending on your term length.
Cons
High opening deposits. Unlike other CDs, you'll need at least $2,500 to open a Discover CD.
No partial withdrawals. If you need to withdraw your money early, you'll have to take out the full amount and close your CD.
Mediocre APYs for short-term CDs. Three-month CDs earn 0.25% APY, six-month CDs earn 0.45% APY and nine-month CDs earn 0.55%. You can find higher short-term CD rates at other banks.
Overall banking
Pros
Security. This bank uses proactive fraud monitoring, $0 liability protection, bill pay protection and more.
Connected accounts. If you have more than one account at Discover, you can connect and manage all of your money in one place.
Comprehensive learning center. The Modern Money Blog helps customers learn about personal finance to promote responsible financial behavior.
Cons
One branch. Discover operates entirely online and only has one branch that's located in Greenwood, Delaware. If you prefer to bank in person, this bank might not be for you.
Small product selection. While Discover does offer the basics — checking and savings accounts, money market accounts and CDs — it doesn't go too far beyond the essentials.
Long processing times. Discover might put a hold on new transfers and it often takes a while to process mailed deposits.
What do regulators and customers say?
Discover Financial is FDIC-insured, meaning that deposits up to $250,000 are protected by the FDIC if the bank were to fail. However, it holds higher ratings from the BBB and the top three credit ratings agencies, which have also forecasted it to have a stable and positive outlook. It's officially accredited on the BBB website alongside an A+ rating, though it only holds a 1.5 out of 5-star rating from customers. Many customers express frustration with customer service, long wait times and poor communication.
Bottom line
Discover offers competitive rates and low fees on a strong selection of financial products, making it a great choice for people who are comfortable with online banking. However, it only has one physical branch, meaning you probably won't have access to a teller or be able to make cash deposits unless you live near Greenwood, Delaware. See what other banks offer in
our comparison guide
.
Common questions about banking at Discover
Read more on this topic