Supported assets

1,289

Price (USD)

$69

Wallet type

Hardware wallet
Our verdict
Touted as the "original hardware wallet," we take a look at whether the Model One still stacks up.
The Trezor One is a good entry-level hardware wallet for beginners. As the original hardware wallet, it has a long track record of safely storing the private keys to digital assets offline.
But its features are limited when compared to a hardware wallet like the Ledger Nano S Plus, which retails for only a few dollars more than the Trezor One.
The Trezor One's native software – Trezor Suite – provides a user-friendly interface to help you manage your digital assets and even buy digital assets with fiat through MoonPay, but it doesn't allow you to stake your crypto nor view and manage your NFTs the way that you can on Ledger Live – the native software for Ledger products.
Safely storing the private keys to your digital assets is a very crucial part of investing in this asset class. Do your research on the best crypto wallets out there before you decide which is right for you.
Hardware wallets like the Trezor One are widely considered to be one of the safest ways to store the private keys to your crypto offline, especially if you are a crypto holder looking to invest for the long term.
Pros
Supports 1,289+ crypto assets

Easy-to-use native Trezor Suite interface for your desktop

Can trade crypto to crypto using Trezor Suite

Can store private keys to NFTs on Ethereum

Buy and sell crypto directly from your wallet

One of the most affordable hardware wallets on the market
Cons
Small number of blockchains supported

Doesn't support some major cryptos like SOL, ADA and XRP

Doesn't support iOS

Doesn't work well with Chromebooks

No native staking support or support for NFTs in Trezor Suite
Crypto is unregulated in the UK; there's no consumer protection; value can rise or fall; tax on profits may apply.
Don't invest unless you're prepared to lose all the money you invest. This is a high-risk investment and you should not expect to be protected if something goes wrong. Take 2 mins to

learn more

.
Estimated reading time: 2 min
Due to the potential for losses, the Financial Conduct Authority (FCA) considers this investment to be high risk.
What are the key risks?
1. You could lose all the money you invest
The performance of most cryptoassets can be highly volatile, with their value dropping as quickly as it can rise. You should be prepared to lose all the money you invest in cryptoassets.
The cryptoasset market is largely unregulated. There is a risk of losing money or any cryptoassets you purchase due to risks such as cyber-attacks, financial crime and firm failure.
2. You should not expect to be protected if something goes wrong
The Financial Services Compensation Scheme (FSCS) doesn't protect this type of investment because it's not a 'specified investment' under the UK regulatory regime – in other words, this type of investment isn't recognised as the sort of investment that the FSCS can protect. Learn more by using the FSCS investment protection checker.
The Financial Ombudsman Service (FOS) will not be able to consider complaints related to this firm or Protection from the Financial Ombudsman Service (FOS) does not cover poor investment performance. If you have a complaint against an FCA regulated firm, FOS may be able to consider it. Learn more about FOS protection here.
3. You may not be able to sell your investment when you want to
There is no guarantee that investments in cryptoassets can be easily sold at any given time. The ability to sell a cryptoasset depends on various factors, including the supply and demand in the market at that time.
Operational failings such as technology outages, cyber-attacks and comingling of funds could cause unwanted delay and you may be unable to sell your cryptoassets at the time you want.
4. Cryptoasset investments can be complex
Investments in cryptoassets can be complex, making it difficult to understand the risks associated with the investment.
You should do your own research before investing. If something sounds too good to be true, it probably is.
5. Don't put all your eggs in one basket
Putting all your money into a single type of investment is risky. Spreading your money across different investments makes you less dependent on any one to do well.
A good rule of thumb is not to invest more than 10% of your money in high-risk investments.
If you are interested in learning more about how to protect yourself, visit the FCA's website here.
For further information about cryptoassets, visit the FCA's website here.
The Trezor Model One is the original cryptocurrency hardware wallet. It's a small device for securely storing the private keys to your digital assets in cold storage – offline and physically separated from your computer.
To make transactions using the device, it must be connected to your computer and you must download the device's native Trezor Suite software for your desktop.
The Model One is all you need to manage major crypto assets like Bitcoin (BTC) and Ether (ETH). But it doesn't offer as many coins and features as some of its competitors, including Ledger's Nano S Plus model.
What's in the box?
You'll find the following items in the box for the Trezor Model One:
A Trezor One device
USB-A to Micro USB cable
Keychain with strap
2 recovery seed phrase cards (with lines for 24 words on each)
Instruction booklet
4 stickers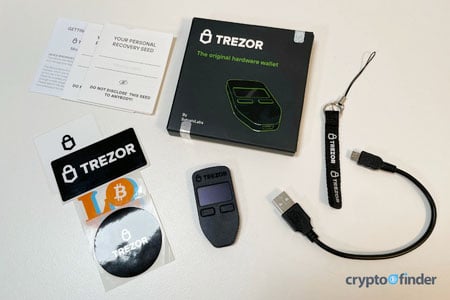 ⚠️ Must read: Check for tampering
Before unboxing your Trezor Model One, carefully check the shrink wrap and the box itself for any evidence of tampering.
Once you open the box, make sure that the holographic sticker over the USB input for the Trezor device itself hasn't been tampered with. If someone has accessed your device, it may be vulnerable to hacking and theft of funds.
Contact Trezor support if you have any concerns about the integrity of your device.
Trezor Model One price
The Trezor One sells for US$69 through Trezor's official website.
This makes it much cheaper than Trezor's flagship hardware wallet, the Trezor Model T, which retails for US$219.
Its cost is about on par with Ledger's base mode hardware wallet – the Ledger Nano S Plus – which retails for US$79.
Where to buy the Trezor One in the UK
Purchase the Trezor One directly from Trezor's website – and not from a third party – to reduce the chances of someone tampering with your device before it reaches you.
Trezor lists some authorised resellers that sell the Trezor One on its site. If you decide to buy from a reseller, these are the only ones that you should consider.
Trezor One supported coins
The Trezor One can store private keys to 1,289+ digital assets. This is fewer assets than the Trezor Model T supports (1,456+).
It's also far less than the 5,500+ digital assets that a comparable wallet like the Ledger Nano S Plus supports.
Importantly, the Trezor One doesn't support major blockchains and crypto assets including Solana (SOL), Binance Smart Chain (BNB), Cardano (ADA) and Ripple (XRP).
Managing NFTs on the Trezor One
You can store the private keys to your NFTs on the Ethereum blockchain with your Trezor One.
But you won't be able to view or manage your NFTs using Trezor Suite. You'll have to sync your Model One with a third-party software wallet like MetaMask instead.
Purchasing and swapping crypto coins through Trezor Suite
You can now use MoonPay in Trezor Suite to purchase crypto with dozens of fiat currencies, including pounds.
And if you want to swap your crypto, there's no need to send it from your Trezor One to an exchange. You can perform trades in Trezor Suite using a swap feature powered by Changelly, which allows you to swap coins and tokens across several blockchains.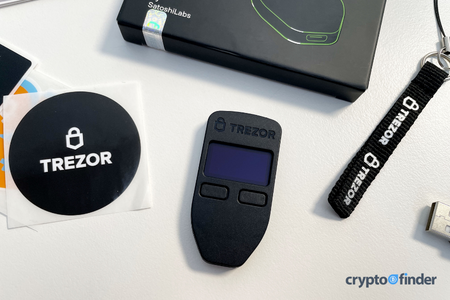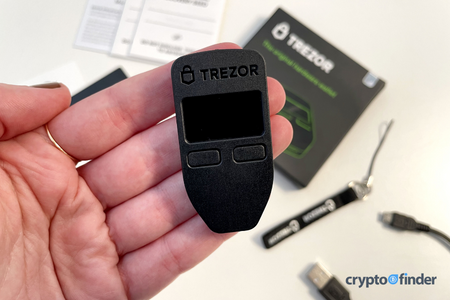 Trezor One security
Because the core technologies that Trezor employs are all open-source – including its physical hardware – anyone is able to review and test the code, which is posted on GitHub, in an effort to expose flaws.
In October 2019, crypto exchange Kraken found a flaw that made the wallet hackable if someone had physical access and the right set of tools. In response, Trezor made improvements to the future editions of its hardware wallets to eradicate the flaw.
While Kraken showed that previous versions of the Trezor One could hypothetically be hacked, there are no reports of a Trezor One purchased by a retail customer ever being compromised in this way.
Trezor specs compared
Both the Trezor One and the Model T help you to safely store the private keys to your digital assets offline.
The main differences between the Model One and Model T are the number of assets each hardware wallet supports, the physical features of the wallet itself, cost and advanced software features such as Shamir Backup.
Trezor Model One
Trezor Model T

Finder rating

★★★★★




Finder rating

★★★★★


Read full review
Dimensions
60 x 30 x 6mm
64 x 39 x 10mm
Display
128×64px OLED screen
240×240px LCD touch screen
Security mechanism
ARM Cortex-M3 embedded-arm processor @ 120Mhz
ARM Cortex-M4 embedded-arm processor @ 168Mhz
Security certifications
CE and RoHS certified (consumer safety, health and environmental health award
CE and RoHS certified (consumer safety, health and environmental health award
Connection
USB-A, WebUSB, Micro USB (for mobile)
USB-C (for mobile), WebUSB
Compatibility
PC (Windows 10+, macOS 10.11+ and Linux), Mobile (Android)
PC (Windows 10+, macOS 10.11+ and Linux), Mobile (Android)
Backup
12-24-word seed phrase
12-24-word seed phrase
Coin support
1,289+
1,456+
Staking
Yes, but only when linked to third-party wallets
Yes, but only when linked to third-party wallets
NFT management capability
✅
✅
Exchange built in to native software (Trezor Suite)
✅
✅
Price (USD)
$69
$219
Trezor One vs. Ledger
While the Trezor One and Ledger devices serve the same primary purpose – storing the private keys to your digital assets offline – there are a number of differences between the devices including supported coins, cost and the physical device.
Our full breakdown of Trezor vs. Ledger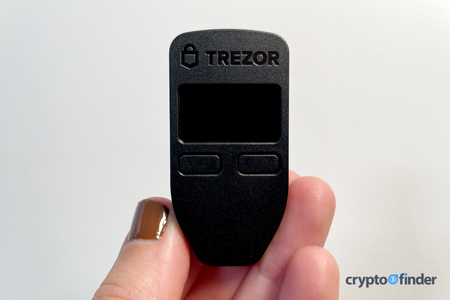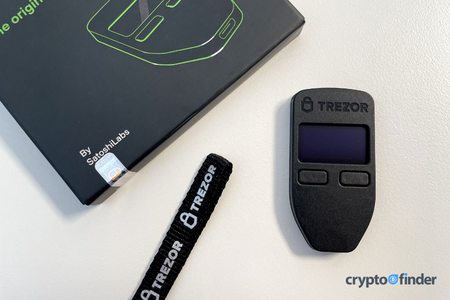 How to set up the Trezor One
Make sure that the shrink wrap around the box in which you receive your device, the box itself and the holographic stickers over the top and bottom openings of the box haven't been tampered with before setting up your Trezor One. Plastic wrapping can be removed and replaced easily, so pay extra care to the condition of the package and plastic seals, which are more likely to reveal evidence of tampering. If you suspect tampering, contact Trezor support for assistance.
Setting up a Trezor One is relatively quick and straightforward, with the device and on-screen prompts guiding you through the process.
Follow these steps to set up your Trezor One device:
Go to https://suite.trezor.io/start/ on your desktop computer.
Click the "Get Desktop App" button and download Trezor Suite for whatever desktop operating system you run. The Trezor One is compatible with Windows 10+, macOS 10.11+ and Linux.
Connect your Model T to your desktop using the USB-A to Micro USB cord.
Click the "Begin setup" button.
Click the "Install firmware" button.
Click the "Create new wallet" button.
Verify the package by following the instructions in Trezor Suite.
Follow the instructions on the device. Your device will generate a unique recovery seed phrase that will provide access to all of the digital assets that you manage with Trezor One.
Click on the "Create backup" button and write down your 24-word recovery seed phrase on the specially designed cards for doing so that came with the device. Make sure to spell all of the words correctly and to write them in the correct order.
Once you've confirmed that you've written all of the words down, your Trezor One will display the 24-word recovery seed again. Double-check the correct order and spelling of the words.
Enter a PIN (recommended length: 4–6 digits) by clicking the obscured numerical pad in the browser. The layout revealing the position of your digits is displayed on your Trezor device.
In Trezor Suite, click on the "Standard wallet" button and set this wallet as your initial and default wallet.
You may also be prompted to give your Trezor One default wallet a name.
How to use the Trezor One
To use your Trezor One, you will use the Trezor Suite app on your desktop in conjunction with the device.
Connecting with Trezor Suite
Once Trezor Suite is open, follow these steps:
Open the Trezor Suite app on your desktop.
Plug your Trezor One into your desktop using the USB-A to Micro USB cable.
Enter the PIN for your Trezor One.
If you gave your Trezor One a name, you will need to confirm the name.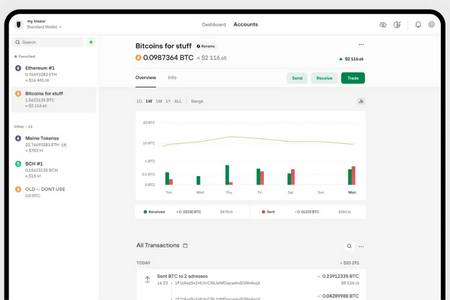 Alternatives to Trezor Model One
Frequently asked questions
Is Trezor One good?
Trezor One is a good hardware wallet for newcomers who are predominantly looking to store the private keys to assets like BTC, ETH and up to 1,289+ other crypto assets offline.
Whether it's right for you depends on the features, level of security and other factors you are looking for in a hardware wallet.
Is Trezor T better than Trezor One?
The Trezor Model T has more security features, a touchscreen and additional coin support compared to the Trezor One – but its higher price reflects this.
Is Trezor One obsolete?
No, the Trezor One is not obsolete. It is still a secure device for storing the private keys to your digital assets offline, and Trezor frequently updates both the software and firmware for the device.
Is it worth it to buy Trezor?
Trezor is one of the two biggest names in the world of crypto hardware wallets. See for yourself if it's worth buying a Trezor by reading our review and comparing it to some of the other best hardware wallets on the market.
Hardware wallet ratings methodology
We rate cryptocurrency hardware wallets by scoring each wallet out of 10 for 3 components: security, functionality and cost. Each component is weighted based on importance, as follows:
Security: 50%
Functionality: 40%
Cost: 10%
These scores are aggregated and visualised as a total score out of 5 stars.
* Cryptocurrencies aren't regulated in the UK and there's no protection from the Financial Ombudsman or the Financial Services Compensation Scheme. Your capital is at risk. Capital gains tax on profits may apply. Cryptocurrencies are speculative and investing in them involves significant risks - they're highly volatile, vulnerable to hacking and sensitive to secondary activity. The value of investments can fall as well as rise and you may get back less than you invested. Past performance is no guarantee of future results. This content shouldn't be interpreted as a recommendation to invest. Before you invest, you should get advice and decide whether the potential return outweighs the risks. Finder, or the author, may have holdings in the cryptocurrencies discussed.