Compare Plusnet business broadband deals January 2021
Plusnet provide affordable standard and fibre business broadband as well as a load of additional benefits.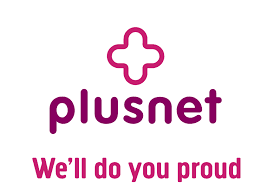 Plusnet offer both limited and unlimited deals on both their standard and fibre broadband. All of their tariffs as standard come with line rental and PAYG calls but offer your business the chance to upgrade to anytime calls and inclusive international call tariffs. Their packages also come with additional benefits such as unlimited overnight usage and a free co.uk domain.
What comes included with a Plusnet business broadband plan?
All Plusnet business packages come with the following as standard:
Plusnet wireless business router. If you choose a standard (ADSL) tariff you'll get the latest wireless-N technology router, worth £40. Alternatively if you go for a fibre tariff you'll get the Plusnet Hub One, their fastest ever router. The hub uses dual band smart Wi-Fi technology meaning more devices can be connected at the optimum speed.
UK-based Business Support available 24/7. Plusnet's most customer focused and technically skilled staff join their dedicated business support team. Plusnet's drive to build strong customer relationships has led Plusnet to win industry awards for outstanding customer service.
Plusnet SafeGuard. SafeGuard filters inappropriate' web content to help you control what your business can see. SafeGuard is run online so doesn't require any downloads or updates
Managed Network. Plusnet back up their network with quality infrastructure to ensure their customers get the best broadband experience. They manage the network so that time-sensitive and interactive traffic are given the highest priority. This means that even when their are lots of people online in your office,
important activities such as video calls will still work properly.
Domain and webspace. You'll get 1 free .co.uk domain, 250Mb of webspace and unlimited email addresses.
What is a 'static IP'?
Each device connected to the internet has an "Internet Protocol" address. These are normally "dynamic", meaning they change over time, or with each connection to a network. A static IP address is always the same, and allows you to access more advanced internet features, such as running a server, hosting a website or setting up a Virtual Private Network (VPN) so your employees can access your server remotely.
Most business broadband plans come with one or more static IPs, and you can generally pay extra to add more to your deal.
Additional Benefits of choosing TalkTalk Business
Move Team. Plusnet have a dedicated move team to help take the stress out of relocating your broadband and phone, meaning you can focus on your business. They also don't charge if you want to move.
Plusnet Pioneers. Plusnet have launched a programme to help provide support and advice to small business, teaming up with a panel pf business experts including one of the dragons from Dragon's Den to do so.
Unlimited overnight usage. You can browse to your hearts content between midnight and 8am without eating away at your monthly allowance.
Static IP address. Plusnet's products come with a dynamic IP a dress as standard but once your account is created you can request a static IP address. This will allow you to access more advanced internet features, such as running a server, building a website or having an email address with your own personalised domain.
Did you know?
In September 2016, seven companies including BT business, Virgin Media and TalkTalk Business signed up for Ofcom's 'Voluntary Business Broadband Speeds Code of Practice'. By doing so these companies must now provide accurate, transparent information on business broadband services at point of sale, manage business customers' speed problems, and allow customers to exit the contract without penalty if the speed falls below a certain threshold. Plusnet has not yet signed up to the agreement.
What is Plusnet good and bad at?
Competitive pricing. Plusnet's plans offer good quality broadband at affordable deals, pricing cheaper than BT's packages.
Customer service. Plusnet are renowned for their high quality customer service, ensuring your queries and issues are dealt with quickly and effectively.
Prices don't include VAT. If you're company has to pay VAT bare in mind that TalkTalks packages don't include this in their listed prices
Additional perks. Plusnet don't have as many additional benefits as providers such as BT who provide a load of extras including phone features and wifi-hotspots.
Latest broadband headlines
More guides on Finder