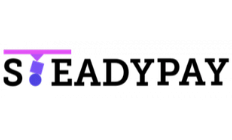 SteadyPay loans review 2023
SteadyPay claims to offer "a new kind of credit" for gig economy workers looking to smooth out their income.
Late repayments can cause you serious money problems. See our
debt help
guides.
What is SteadyPay?
SteadyPay is a subscription-based credit provider that aims to support gig economy workers or those who have an irregular income. It attempts to help workers when their weekly income is lower than usual, such as when they work fewer hours, take time off due to illness or are away on holiday.
How does SteadyPay work?
SteadyPay securely connects its app to your bank account using open banking technology, and when you earn less than your average weekly income, it will offer a "top-up" to your account to make up the difference. For example, if you normally earn £500, but one week only earn £400, SteadyPay can pay you a "top-up" advance of £100 into your account (you can accept or decline it). You then repay this amount over a series of regular instalments. You can also request top-ups yourself if an unexpected expense crops up.
Unlike a credit card, SteadyPay does not charge interest, but instead uses a subscription model, with a £4 weekly subscription fee. You'll need to have paid your subscription fee for two weeks to be eligible for a top-up.
The minimum top-up you'll receive is £25, and the maximum you can owe at any one time is £1,000. You can continue to get top-ups provided your balance stays below the £1,000 limit.
How much does SteadyPay cost?
A SteadyPay subscription costs £4 per week. There's then no interest on any income top-ups you receive (but you do have to pay these back).
If you're only after the credit-boosting "StepUp" facility and don't want income top-ups, you can pay a subscription of £4 per month.
Key features of SteadyPay membership
Product Name
SteadyPay
Available Amounts
£25 to £1,000
New customer maximum
£1,000
Funding speed
To be eligible for top-ups, you must have paid the subscription for 2 weeks.
Upon accepting a top-up offer, SteadyPay will transfer the money to your bank account by the next business day.
Default repayment method
Continuous payment authority
Additional repayment methods
Online payment
Repay early at any point
FCA registration number
789333
How long does it take to get a SteadyPay top-up?
You should receive your top-up advance within two working days of your payday. It can take up to 24 hours after your normal pay has been deposited in your bank account before the SteadyPay app updates, and then another working day for the top-up amount to be deposited in your account if you accept the top up offer.
How much can I borrow with SteadyPay?
The amount you're offered is based on your average pay (calculated on three monthly paychecks or four weekly/fortnightly paychecks). So if your income is more than £25 below the average, SteadyPay might offer to top it up to the average. You can even get multiple top-ups, but your overall credit balance is capped at a £1,000 limit.
What are the eligibility requirements?
While SteadyPay offers a slightly different service to that of a credit card or personal loan, it still has certain criteria that you'll need to meet to be eligible:
| | |
| --- | --- |
| Minimum age | 18 |
| Applications from self-employed considered | |
| Additional eligibility notes | You must be in employment |
How do I make repayments?
You repay your top-up advances via a number of regular instalments, which are scheduled based on whether you get paid weekly, fortnightly or monthly. Once you've received a top-up advance, SteadyPay will automatically take the scheduled instalments from your bank account. If you're unable to make a repayment, you should contact SteadyPay at least three days before the instalment is due to be taken from your account.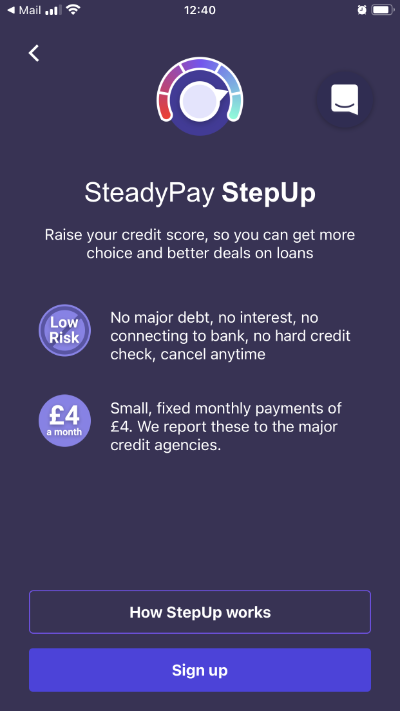 What is SteadyPay StepUp?
SteadyPay StepUp is a way to boost your credit score in return for a monthly fee. You pay £4 per month, and SteadyPay treats this subscription payment as a repayment on a credit agreement. Each payment gets reported back to the main three UK credit reference agencies (Experian, Equifax and TransUnion), which should benefit your credit score with each of them.
Portify and LOQBOX offer similar services, which you can compare in our guide to improving your credit score.
Is SteadyPay any good?
If you don't end up taking any top ups from SteadyPay, then you paid money for nothing (or maybe just for peace of mind – like an insurance policy that you don't claim on).
If you do, then it'll almost certainly work out cheaper than, say, a payday loan might have, but it might not work out as cheap as a credit card (if you cleared the credit card balance in full every month you used it).
Creative innovations to people with help unpredictable incomes is undoubtedly a good thing, and £4 a month is unlikely to break the bank. But SteadyPay takes some getting your head around, and some might find its competitor Creditspring a clearer prospect. Both offer short-term credit and both require a bit of planning ahead (needing to be a member for a set period before you can draw on the credit facility).
Similarly, the new StepUp credit-boosting feature may struggle to compete with LOQBOX, which repays your monthly subscriptions to you at the end of an agreed term.
SteadyPay doesn't seem set to change lives overnight, but credit where credit is due (sorry) it is one of a new wave of fintechs reshaping the borrowing landscape for the better.
| | |
| --- | --- |
| Repay early at any point | |
| Multiple loans allowed at the same time | |
How does SteadyPay compare to other services?
We show offers we can track - that's not every product on the market...yet. Unless we've said otherwise, products are in no particular order. The terms "best", "top", "cheap" (and variations of these) aren't ratings, though we always explain what's great about a product when we highlight it. This is subject to our
terms of use
. When you make major financial decisions, consider getting independent financial advice. Always consider your own circumstances when you compare products so you get what's right for you.