KuCoin exchange review
Buy and sell hundreds of digital currencies on the KuCoin exchange.
KuCoin is a cryptocurrency exchange. Its defining features are an exceptionally wide range of cryptocurrencies plus a rewarding user-loyalty scheme based on its own native cryptocurrency.
Exchange hack: In September 2020 KuCoin was hacked and roughly US$150 million of cryptocurrency was stolen. KuCoin says the theft is covered by insurance, and affected users will be compensated.
Details
Product Name
KuCoin Cryptocurrency Exchange
Fiat Currencies
USD, EUR, GBP, RUB, CNY, AUD, KRW, JPY, TRY, VND & 40+ more
Cryptocurrencies
BTC, ETH, XRP, BCH, EOS, LTC, ADA, XLM, LUNC, LUNA & 580+ more
Deposit Methods
Cryptocurrency
PayPal
Wire transfer
Credit or Debit Card
SEPA

Trading Fee
0.1%
Deposit Fees
None
Withdrawal Fees
Fees vary
Crypto is unregulated in the UK; there's no consumer protection; value can rise or fall; tax on profits may apply.
What is KuCoin?
KuCoin is a cryptocurrency exchange with more than 500 cryptocurrencies listed. The variety of altcoins present on KuCoin makes it one of the biggest cryptocurrency exchanges in the world. As a result, KuCoin markets itself as the "Top Altcoin Exchange". KuCoin launched its exchange (KuCoin) and its core token KuCoinShares (KCS) in September 2017. Over the course of the following 3 years, KuCoin rose to prominence as an innovator in novel trading products and a first-lister of niche altcoins.
"The Top Altcoin Exchange"
KuCoin is a cryptocurrency exchange born of the ambitions of "two tech geeks" who were early blockchain adopters and who have been engaging with Bitcoin since 2012. KuCoin is marketed as the "Top Altcoin Exchange" and it lists over 500 cryptocurrencies and almost US$750 billion in daily trading volume. The exchange has more than 10 million users worldwide and ranks itself "Number 1 in Globalization".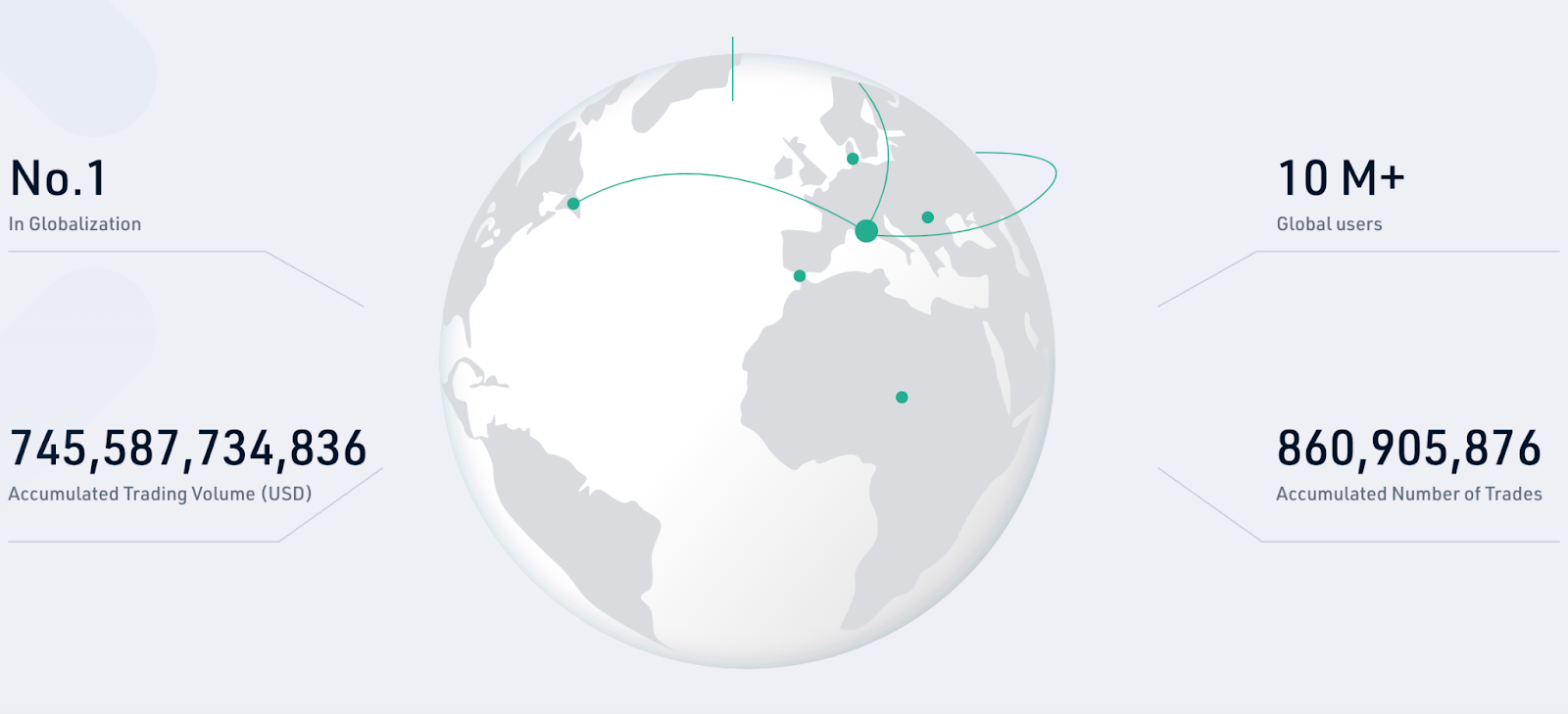 Beyond the technical components of the KuCoin exchange is a social platform, allowing you to "interact with global crypto investors and gain access to timely and trusted crypto news". Across its 10 million active investors, there have been 1 million newsfeed posts about the industry.
KuCoin offers a mobile trading app, as well as the ability to trade via your desktop. It was one of the first cryptocurrency exchanges to offer a fully featured mobile application. The flexible options for accessing your cryptocurrency trading account enable KuCoin to create a diverse user experience.

KuCoin seems to be prioritizing access to the most cryptocurrencies possible while keeping fees low. The founders of the exchange had experienced the difficulty and poor user experience of the early days of cryptocurrency exchange, including trying to sell on the largest exchange at the time, Mt. Gox. In 2013, they wrote the first lines of code for what they described as a "People's Exchange" that would allow everyone to participate in what they saw as a transformative emerging market.
If this is your first exchange: KuCoin has a huge library of cryptocurrencies with relatively low fees. Although it may be intimidating at first, once you're comfortable making transactions, you will enjoy a large marketplace with low fees and integrated industry news.
If you're switching exchanges: you may be coming to KuCoin for its huge marketplace and low fees. At the same time, you may feel overwhelmed by advanced trading options and user interface.
Pros and cons of KuCoin
Pros
Low fees
Very strong selection of cryptocurrencies for those looking to trade a diverse set of coins
Strong user base (10 million-plus)
Cons
User interface could be intimidating to the cryptocurrency beginner
You will not deposit fiat, you're purchasing coins directly using a third-party mechanism, not your bank account
KuCoin is not licensed in America
Verdict: Is KuCoin any good?
Your experience with KuCoin depends on your involvement with the cryptocurrency space broadly. As we've discussed previously, KuCoin has demonstrated a strong but advanced user experience, attracting more than 10 million investors worldwide. It boasts that 1 in 4 cryptocurrency users have interacted with KuCoin in the past. This may be because of its wide range of features and its marketplace of 500+ cryptocurrencies. The fees are relatively low depending on your activity on the platform and it processes billions in transaction volume. For the advanced user, there are alternative use cases for KuCoin, like derivatives, margin trading, staking, lending, automated trading bots and mining pools.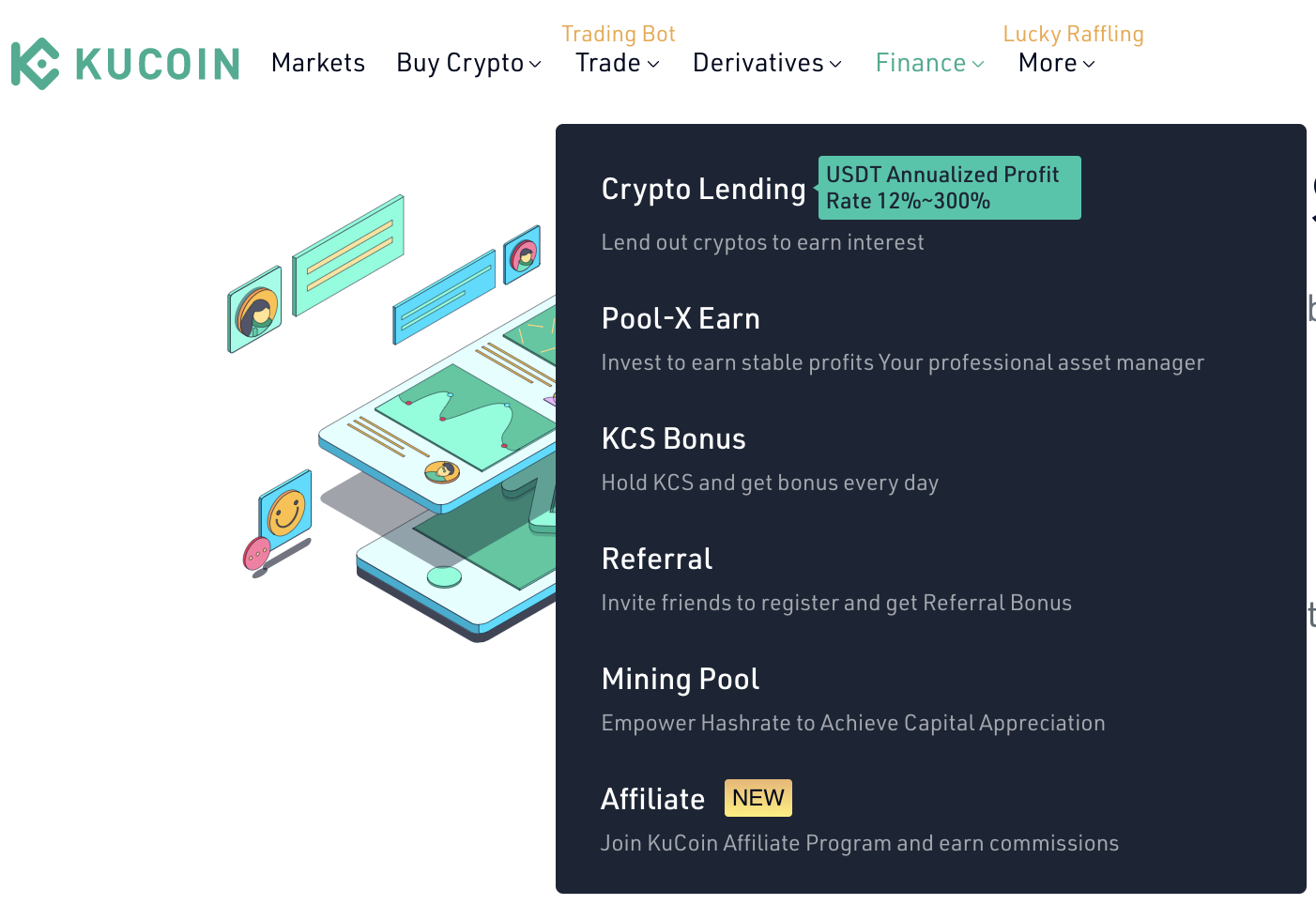 If you're new to the cryptocurrency space, KuCoin may feel overwhelming. There are plenty of opportunities for you on the platform but its user experience is advanced.
What to know about KuCoin
KuCoin mobile app vs KuCoin web
The KuCoin cryptocurrency exchange is available on desktop and via mobile app. You will immediately notice the difference in UX (user experience): web defaults to a light mode while your mobile app defaults to dark mode.
On the bottom of your screen in mobile (for iOS) you will see the options of Home, Markets, Trade, Futures and Assets, whereas on the desktop version your menu will look like this:

Some will find the mobile version of KuCoin overwhelming. It is loaded with information and, for the cryptocurrency beginner, they may find the desktop version to be a better starting place.
Finder ratings for KuCoin
| | |
| --- | --- |
| Supported cryptocurrencies | |
| Transferring money or assets | |
| Fees and costs | |
| Ease of use | |
| Customer service | |
| Features | |
| Staking/earn rating | |
| Trustworthiness/security | |
| Overall score | |
Kucoin's supported cryptocurrencies
Transferring fiat and cryptocurrency with Kucoin
On the KuCoin exchange, you can only deposit cryptocurrencies or stablecoins like USDT. Depositing cryptocurrencies is fairly straightforward after you have successfully created an account. You can deposit cryptocurrency via the traditional methods of QR code or BTC wallet address. Your deposits will go directly to your main account within KuCoin.
Although you cannot deposit fiat, you can purchase cryptocurrency directly using various purchase methods, as outlined in the table above. That includes a Visa/Mastercard linked to your bank account, usable only after you've provided identity documents and passed Know Your Customer (KYC).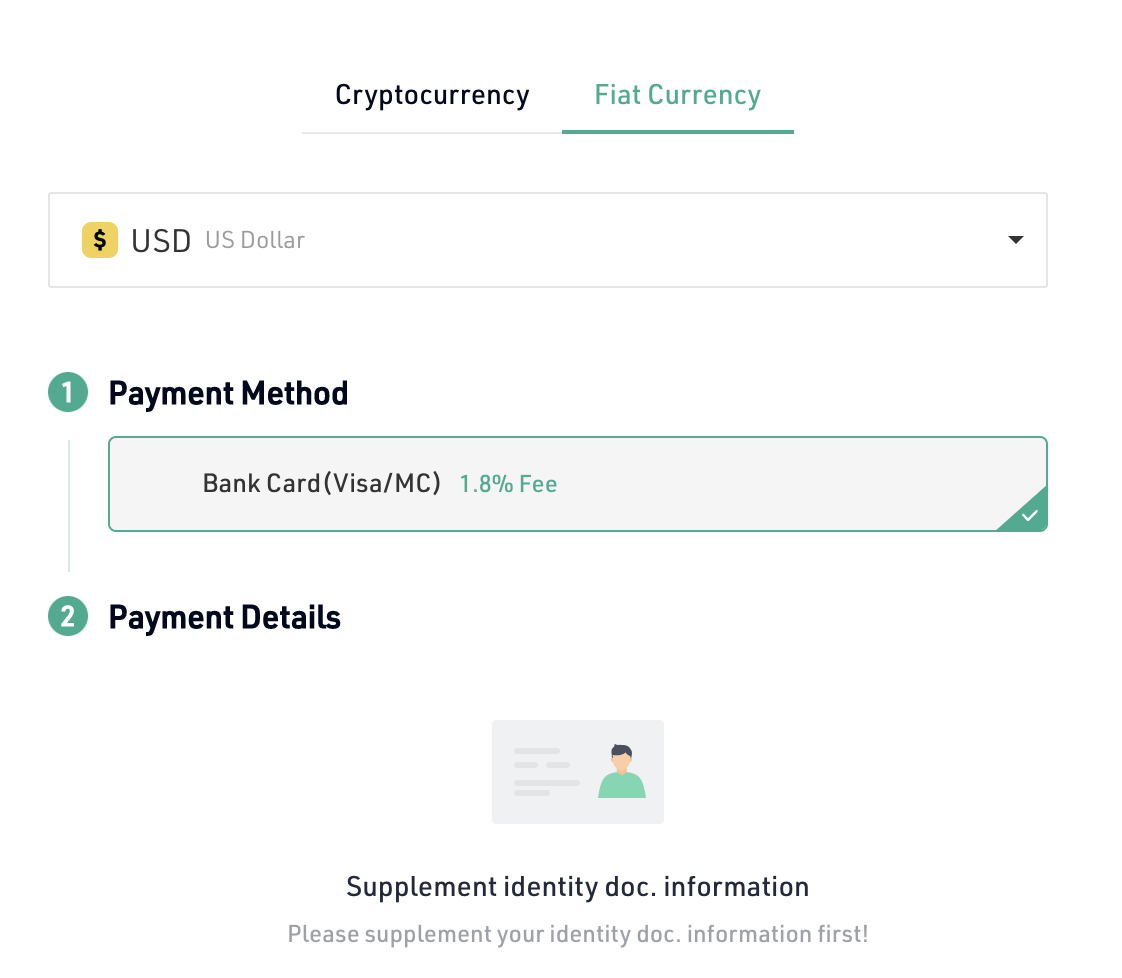 Fiat withdrawal and deposit fees
| Deposit | Withdrawal |
| --- | --- |
| 1.8% | 1-10 (USDT) |
Crypto withdrawal and deposit fees
| Deposit | Withdrawal |
| --- | --- |
| BTC: 0 | BTC: 0.0005 |
| ADA: 0 | ADA: 1 |
| ETH: 0 | ETH: 0.004 |
What is it like to use KuCoin?
KuCoin is a progressively improving cryptocurrency exchange. From the time of its launch in 2017 to the present, the team has been constantly innovating, and integrating novel features and improvements. In general, KuCoin gives the user a fun user experience with a multitude of ways of engaging in the app on a daily basis. For example, users that hold KCS in their account are entitled to a portion of the fees charged by the exchange. Additionally, there are daily, weekly, monthly and seasonal promotions and campaigns for users to earn rewards. These promotions come in the form of raffles, surveys or daily check-ins that make users eligible to receive a variety of rewards, typically in the form of cryptocurrency.
Does KuCoin have good customer support?
KuCoin has decent customer support due to its variety of support mechanisms. Users are typically able to find their own answers through KuCoin's comprehensive FAQ. However, if the query can only be solved using the help of KuCoin staff then users will need to submit a form, enter a live chat or ask a question on a forum with other users.
The contact form is designed to narrow down the support request, suggest an FAQ topic, and if need be, connect the user with the necessary support staff. Similarly, the instant chat mechanism begins with the user interacting with a support bot, only being connected with a human being in the event that the bot cannot solve the query.
While reports of customer service vary online, the general consensus is that KuCoin staff are supportive and generally able to solve issues faced by users. However, there are also a number of negative anecdotes from users stating that they've permanently lost funds due to transaction or technical errors.
| | Support offered | Wait times |
| --- | --- | --- |
| Contact Us form | ✅ | 6+ hours Average wait time based on the company website. |
| Live chat | ✅ | Instant – 2+ hours |
| Forum | ✅ | 1 hours+ |
| FAQ | ✅ | Instant |
List of services on KuCoin
Trading on KuCoin
The KuCoin earn platform is for generating additional income on cryptocurrencies that you own. But the earn platform is not the only way to earn more cryptocurrencies from KuCoin. Users are also able to create trading bots, receive airdrops or participate in daily, weekly, monthly or seasonal promotions to entitle themselves to rewards. For a full breakdown of the number of ways to earn cryptocurrency on KuCoin, check out our earning on KuCoin review.
Borrowing on KuCoin
Users are able to use their cryptocurrency as collateral to take out a loan. This may be done through the margin or futures trading interface. Any time users use cryptocurrency as collateral to secure a loan they are risking being liquidated and losing the underlying collateral. Borrowing money against a volatile asset like cryptocurrency is considered to be high risk and should only be done by professional or advanced traders.
Promotions on KuCoin
KuCoin has no shortage of promotions. On any given day, week or month, users can access promotions on KuCoin via the "More" tab. For example, users may get airdropped tokens if they're holding a particular kind of asset. Additionally, they may log into the app to claim a daily participation reward, able to be redeemed for USDT or other tokens. Lastly, a trading competition is always taking place, allowing users to compete for highest volume or most profit gained. Check out Finder's review on KuCoin promotions for more information.

Is KuCoin safe? / trust rating
KuCoin has had a bumpy road with respect to the level of trust it attained with its user base. However, despite past hacks and reports of missing funds, KuCoin provides many opportunities to secure individual accounts which increases trust in the overall exchange.
Regardless of the shortcomings, KuCoin maintains and implements the latest security standards from an individual user account perspective. Users are encouraged and walked through the process of setting up 2-factor authentication (2FA), a safety phrase, a trading password, segregated accounts, whitelisted crypto addresses and whitelisted IP addresses. This adherence to the latest security standards improves KuCoin's overall trust rating.
KuCoin has released no official third-party security audits or insurance providers.
Past hacks
The most notable hack on KuCoin occurred in September 2020 when hackers stole close to US$200 million worth of cryptocurrencies from KuCoin wallets. However, most of these tokens were able to be frozen, destroyed and reissued into KuCoin's possession. The ability to essentially reverse the hack through direct means calls into question whether or not KuCoin or these projects inhabit the quality of immutability present within cryptocurrencies such as Bitcoin.
Other cohorts of users report funds being missing or failing to be credited to their account after a deposit. While many of these stories are anecdotes, they have eroded trust in KuCoin enough to bring fault to their reputation as being a trusted cryptocurrency exchange.
FCA status
Whilst crypto trading isn't regulated in the UK, the Financial Conduct Authority (FCA) maintains a register of crypto firms that have passed their AML and counter-terrorism checks. However, KuCoin has no UK entity and therefore you won't find it on the FCA's register.
Signing up on KuCoin
Signing up for KuCoin exchange is easy and can be done in just a few simple steps. It should be noted that identity verification is not required for those wishing to trade already-owned crypto assets on the exchange. Simply sign up and deposit assets to begin trading.
Compare Kucoin against other exchanges
Table: shows partner brands and other brands, sorted by popularity
Crypto is unregulated in the UK; there's no consumer protection; value can rise or fall; tax on profits may apply.
Cryptocurrencies aren't regulated in the UK and there's no protection from the Financial Ombudsman or the Financial Services Compensation Scheme. Your capital is at risk. Capital gains tax on profits may apply.
Cryptocurrencies are speculative and investing in them involves significant risks - they're highly volatile, vulnerable to hacking and sensitive to secondary activity. The value of investments can fall as well as rise and you may get back less than you invested. Past performance is no guarantee of future results. This content shouldn't be interpreted as a recommendation to invest. Before you invest, you should get advice and decide whether the potential return outweighs the risks. Finder, or the author, may have holdings in the cryptocurrencies discussed.
Image source: KuCoin