Disney Plus UK review: Price, content, features and more
How Disney's streaming service works and all the titles you can watch with it.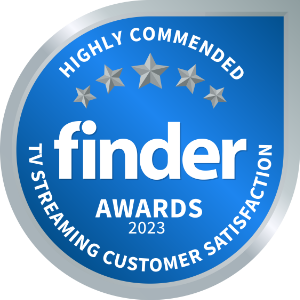 88.4% of respondents in our 2023 customer satisfaction survey said they would recommend the service to a friend.
Disney Plus is the Mouse House's response to platforms such as Netflix, Prime, and Apple TV+. The online streaming service gives users access to a generous library of TV shows and movies from the Disney catalogue, as well as titles from Marvel, Star Wars, Pixar and National Geographic.
After a trial launch, Disney Plus rolled out first in the US, Canada and the Netherlands in 2019. The UK followed in March 2020. In 2023, the service was highly commended in Finder's Customer Satisfaction Awards, coming just behind Netflix.
With each passing month, it adds new titles to its library. Highlights include original show The Mandalorian, WandaVision and long-running series The Simpsons, as well as several Marvel and Star Wars blockbusters.
Disney Plus UK price
Subscriptions to Disney Plus in the UK cost £7.99/month or £79.90 for an entire year.
Subscriptions to Disney Plus in the UK originally cost £5.99 a month or £59.99 for an entire year. That changed on 23 February, 2021 due to the addition of the new channel Star to the platform. As of that date, prices increased to £7.99 a month or £79.99 annually.
Both packages give you the same offering in terms of content, simultaneous streams and devices. The only difference is committing to an entire year saves you money compared to the monthly pricing structure.
Disney Plus Star
In a November 2018 earnings call, Disney chairman Bob Iger outlined the company's plans to expand Hulu's availability to more countries once the purchase of Fox was finalised. On 11 December, 2020, Disney Plus announced that it would be adding Star to the platform on 23 February, 2021.
Star is not a separate service, it is a hub within the platform, just like Marvel and National Geographic. Originally, Disney Plus was family-focused, but the arrival of the Star channel has added over 600 movies and TV shows for adults as well.
This means the likes of Deadpool, Homeland, Modern Family, Family Guy,Aliens and Die Hard, to name a few, are now on Disney Plus. Star has even got its own new shows coming, including one with the Kardashians and the Jenners. All existing or new subscribers automatically get access to Star.
Disney Plus free trial
Although there was initially a 7-day free trial when Disney Plus first launched, this is no longer the case as the offer was removed in June 2020. Since then, free trials have typically only been offered in certain countries through various promotions with other companies. Special promotions or bundles may be available again in the future, such as with Disney Plus Day (see below).
The easiest way to create a Disney Plus account is via the official website. To sign up to Disney Plus, all you'll need is an email address as well as your debit or credit card. Register for an account, drop in your card details and you'll be good to start watching.
If you're looking for a different way to sign up, then you may want to purchase a Disney Plus gift subscription.
Disney Plus Day
As part of the celebrations of Disney Plus reaching its second birthday globally on 12 November, the company is launching a special series of events. Called Disney Plus Day, it will feature some new programming, the arrival of some fresh movies, a first-month discount and other announcements.
For a very limited time, the service will cost just £1.99 a month for current, new and returning Disney Plus subscribers. That's right, it applies to everybody whether you are new to Disney Plus or have had an account from the beginning. That is a huge saving for customers before the price reverts to £7.99 a month from the following month onwards. This offer is only available until 7am GMT on 15 November, so you need to be quick.
In terms of content, a sequel to the Home Alone franchise, titled Home Sweet Home Alone, will debut on the day, along with a Frozen spinoff called Olaf Presents and a closer look at Star Wars' Bobba Fett before his series drops in December.
Jungle Cruise and Shang-Chi and the Legend of the Ten Rings will also be available to all Disney Plus subscribers as part of their subscription for the first time, along with a new season of The World according to Jeff Goldblum. There are also more announcements expected on the day itself, including new arrivals to the Marvel Cinematic Universe.
What shows and movies does Disney Plus have?
Disney is investing heavily in original content for Disney Plus. This echoes what competitors like Netflix and Amazon are already doing. To begin with, the company will rely on established brands instead of exploring new avenues, but its focus has changed over time.
Indeed the arrival of the Star channel in February 2021 brought four Star Originals, with more coming in the future. These shows are exclusive to Disney Plus.
On the TV front, Disney Plus offers hours of Disney Channel programming, but also original productions made especially for the streaming service. The list includes Star Wars spin-off The Mandalorian, which became an international hit shortly after its release. Subscribers can even binge-watch 30-plus seasons of popular animated series The Simpsons. For lovers of everything Disney, there are docu-series available as well, like The Imagineering Story and High School Musical: The Musical: The Series and Diary of a Future President.
On the movie front, Disney Plus is becoming the exclusive streaming destination for all titles under the Disney umbrella. Captain Marvel and Avengers: Endgame, for instance, were available at launch, with remakes of The Lion King, Aladdin and Frozen 2 joining the platform in 2020.
The catalogue also includes hundreds of animated titles from the Disney Vault, as well as Marvel, Star Wars and Pixar films. Disney Plus has even secured the likes of Broadway musical Hamilton.
How to watch Disney Plus
Disney Plus can be viewed in a few different ways. You can watch on your laptop or desktop computer by accessing the website or downloading the app on iOS and Android devices. There is also an app for PlayStation 4, PlayStation 5 and Xbox One game consoles.
On the big screen, you can use Apple TV, Chromecast, Amazon Fire TV Stick, Roku or Android TV to stream from another device. Some Samsung and LG TVs also have built-in Disney Plus support. All content on Disney Plus is in HD.
You can stream on up to four devices at once. Unlike Netflix, Disney Plus isn't charging extra for the ability to watch on multiple screens. Parents will be happy to know you can set up a Kids Profile to ensure your children don't see any inappropriate material.
Disney Plus features
Multiple profiles. You can stream on up to 4 devices at once on Disney Plus. This means that more users can watch at the same time using only one account. On that note, you can create separate profiles for everyone, so that each user can curate their own watch list and keep track of the content they're most interested in. You can also choose a Disney character for a profile picture.
Offline viewing. Disney Plus allows you to download shows and movies on mobile devices to enjoy on the go without burning through your mobile data. All titles are available for download, unlike Netflix where some titles (especially non-originals) aren't. Additionally, there's no limit to how many downloads you can have, other than the storage capacity of your device.
Accessibility features. The streaming service offers a variety of accessibility options, including closed captioning, audio descriptions, text-to-speech support, colour contrast, responsive design and keyboard navigations. Availability of closed captioning and audio descriptions varies by language. Thanks to Disney Plus being a global streaming service, you'll find content available in multiple languages.
4K, Dolby Atmos and Dolby Vision. The majority of the library is in 4K Ultra HD and HDR. There's also content that comes with 5.1 Surround Sound and Dolby Atmos and content that supports the Dolby Vision standard. More titles are continually having their quality upgraded. Keep in mind that you'll need a compatible device and a high-speed Internet connection to enjoy these features.
Kids Profile. Disney Plus lets you set up a special Kids Profile that only shows titles rated age appropriate. You can set it up as you would a normal profile – just make sure you tick the Kids Profile box when setting the profile name.
Ability to request shows or movies. While the Disney Plus content library is pretty comprehensive, some shows and movies from the Disney catalogue are missing. If you can't find your favourite title, you can request it to be added by accessing the Help Section and using the Give Feedback feature.
GroupWatch. In late 2020, Disney Plus began rolling out its GroupWatch feature. This allows you to watch and react to the same show with up to six different friends at once. It can be used to help you create your own virtual watch party.
Disney Plus Premier Access
Since the global coronavirus pandemic, Disney moved several of its cinematic releases straight to Disney Plus. Some of the titles that have received this treatment include Artemis Fowl, Mulan and Soul.
Premier Access is for titles that you can watch via Disney Plus but require an additional payment. Disney Plus first introduced Premier Access for the remake of Mulan. It cost £19.99 to watch but also required you to have an active Disney Plus subscription. Once purchased, you're able to watch the Premier Access title as many times as you like.
Disney Plus also went down this road with Raya and the Last Dragon, Black Widow, Cruella and more. There's no other way to access these titles on Disney Plus without paying up or waiting for them to be added to the rest of the library. For example, for Mulan, this took 3 months.
How does Disney Plus compare to Netflix, Amazon Prime Video and others?
Despite joining an increasingly crowded marketplace, Disney Plus stacks up really well. When comparing it to other premium streaming services that offer 4K and multiple devices, Disney Plus currently costs significantly less than the likes of Netflix. The only two streaming services cheaper than Disney Plus before the price rise are Prime Video and Apple TV+.
Although it will become more expensive with its upcoming price bump, it will still cost less than packages from Netflix except for the basic standard definition plan.
The interfaces for Netflix, Prime Video and Disney Plus are similar, but Disney may have an advantage due to its simplicity. As Disney Plus sorts its content via brands such as National Geographic and Pixar, it's easier to navigate than others.
Disney also has the benefit of owning the rights to its own content. This has been a disaster for other streaming services or Pay TV providers since Disney has taken its own shows off other platforms. In the future, Disney Plus is likely to continue taking back its content from the other services.
Inevitably, the biggest battle will be that of Disney Plus vs Netflix, already engaged in a worldwide heavyweight streaming war.
Our verdict on Disney Plus
So far, Disney Plus has gone off without a hitch. Its price is phenomenal when compared to its competitors. What it lacked in content at the beginning, it made up for in quality, with new originals. Add in the fact Disney Plus will only improve as more originals and big exclusive releases make it to the platform.
More importantly, it hosts content from Disney's subsidiaries Marvel, Lucasfilm, Fox Studios and National Geographic. These are some of the biggest media franchises in the world, so it's obvious that the Force will continue to be strong for Disney Plus.
The removal of the free trial hasn't seemed to affect consumers' willingness to test out the platform, as it has now grown to well over 100 million subscribers. With some adult content joining the platform from February 2021, it's becoming an increasingly common subscription service in households across the UK.
Frequently asked questions about Disney Plus