Digital banking adoption
How many people are switching to digital-only banks?
Would you switch your main current account to a mobile-only bank? People all over the country are increasingly opening bank accounts with digital-only banks such as Starling Bank, Monzo and Revolut, which have no bricks-and-mortar branches and allow you to control your finances from your phone. It is not just limited to banks too. A range of apps are popping up like budgeting and saving apps. Every year we carry out digital-only banking adoption research to see what stage this potential revolution is at and to get a feel for what the British public thinks.
This year's research showed that currently, around 14 million Brits have at least one bank account with a digital bank, and this number could increase by almost 10 million over the next 5 years. Digital banks aren't all about banking, though. Some digital banks, such as Revolut, allow you to open a share trading account to trade stocks and shares commission-free. If you prefer to keep your investments separate to your banking, then we've also compared the best trading apps to help you choose one that's suited for you.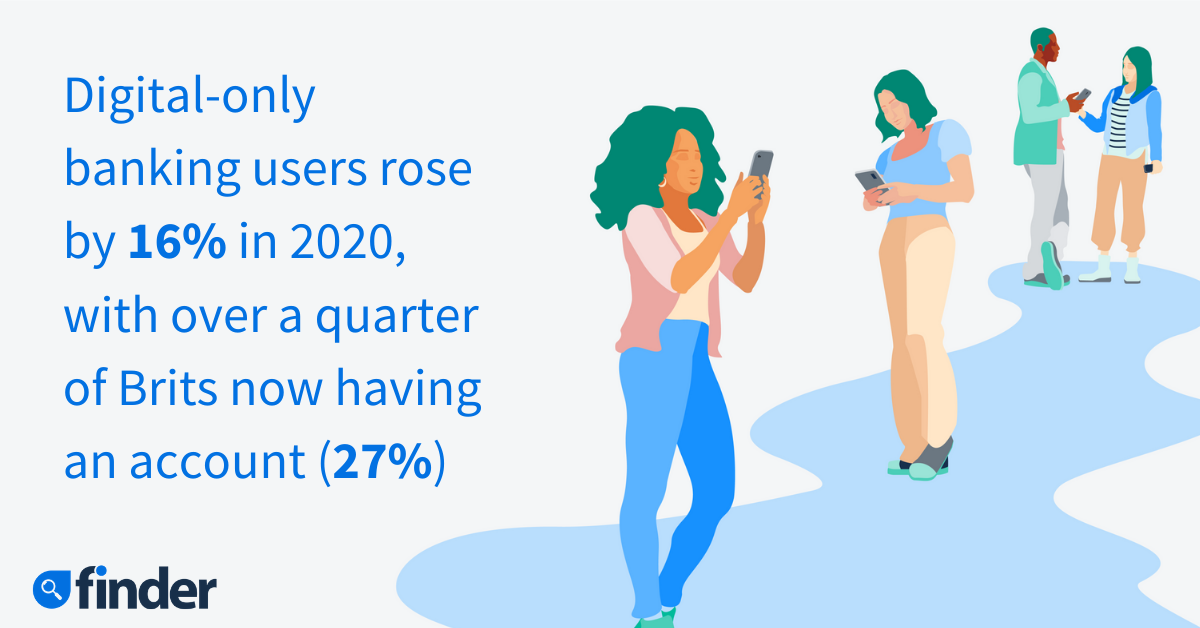 How many people have taken up digital bank accounts so far?
According to our survey, over a quarter (27%) of British adults have opened an account with a digital-only bank, equating to 14 million people. This is an increase of 16% from last year's figures, when almost 1 in 4 Brits (23%) had a digital-only account. It is also 3 times the amount of Brits who had one in January 2019 (9%).
Over the course of 2021, a further 5.7 million Brits intend to open an account with a digital bank. If all of those who intend to do so actually follow through, 38% of the UK population will have a digital bank account – equal to almost 20 million Brits – by the end of the year. Contextually, this means that for every group of 5 people, 2 will have a digital bank account open within the year. This number will also skyrocket within half a decade, as 3.1 million Brits plan to open a digital bank account in the next 5 years. This would bring the total number of Brits with a digital bank account up to 23 million by 2026.
Why are people switching to digital-only or sticking to incumbents?
We asked Brits who have already opened an account with a digital-only bank or intend to in the next 5 years why they made this decision. For the third year in a row, the convenience that comes with digital banking was named as the main reason for opening an account.
Customers are also motivated by the better rates that digital-only banks may offer, which is the second most popular reason for Brits opening an account (15%). 14% of Brits prefer digital banking because they like to receive real-time notifications on their spending, while 11% were either recommended a digital bank by family and friends or were attracted to the low transaction fees when using these bank cards abroad. While 10% of digital bank account owners switched because they liked the look of the card they'd use, the least common reason was to do with COVID-19. Only 7% of those who have a digital banking account opened their account because their incumbent handled the pandemic poorly.
For now, it seems that a lot of people still have no intention of switching to a digital-only bank account. 55% of our survey participants said they are currently not planning to do so, an almost 2% increase from 2020. However, this also indicates a 19% decrease from 2019. The top reason for Brits not going digital is that their current banks treat them well (58%). In addition to this, 36% of customers who have no plan to go digital said that they value being able to visit a member of staff in a branch.
Uptake of digital-only banks by age group
As you might expect, the number of digital-only bank account holders is higher within younger age groups. Almost half (46%) of generation Z (those aged 24 and under) have a digital bank account, which is unchanged from last year. On the other end of the spectrum, just 6% of the silent generation (those aged 76 and above) have a digital account.
Uptake of digital-only banks by gender
30% of men have an account with a digital-only bank, compared to just under a quarter of women (24%). In addition to this, men are more likely to go digital-only, with 14% aiming to open a digital-only account in the next year and only 8% of women intending to do so.
Combining the responses of those who would open a digital account after getting more information and those who intend to open one in either the next 12 months or the near future, the total proportion of men who would get a digital bank account is 32%, compared to 26% of women.
The adoption rates of these digital banks also depend on where you are in the UK
Londoners have the highest adoption rates in the country, with 46% of them having opened a digital-only bank account. This is nearly triple the rate of South West England, where only 16% of people have opened a digital-only account, making it the most reluctant region to get involved with the banking trend. Last year, Wales was the region with the lowest percentage of those willing to switch to digital banking, but the area now sits in the second-lowest spot on our list, increasing to 19%.
Commenting on the findings, Jon Ostler, CEO of Finder UK, says...
"Last year's research showed that digital-only banks were gaining traction, but this year's research shows that they should now be viewed as true competitors to incumbents. The number of people who opened accounts over the past 12 months exceeded the intentions of those who took our survey previously, so the trend appears to be gaining momentum.
"Of course, there are still many who have no plans to try digital-only banks. Some customers are satisfied with their bank and see no reason to change – especially with the big players significantly improving their app offerings recently. In response, the challengers are all playing to their budgeting, visualisation and spending insights strengths, and Monzo has gone one step further, offering an incentive which allows people to be paid a day early.
"Research we previously carried out found that almost half of those with digital-only accounts kept less than £1,000 in them, so the challenger banks will need to keep innovating if they are to convince customers to use them as their main bank."
Methodology
Finder commissioned Census Wide on 10-12 January 2021 to carry out a nationally representative survey of adults aged 18+.
A total of 2,000 people were questioned throughout Great Britain, with representative quotas for gender, age and region.