Customers can now spread the cost of what they buy online from George at ASDA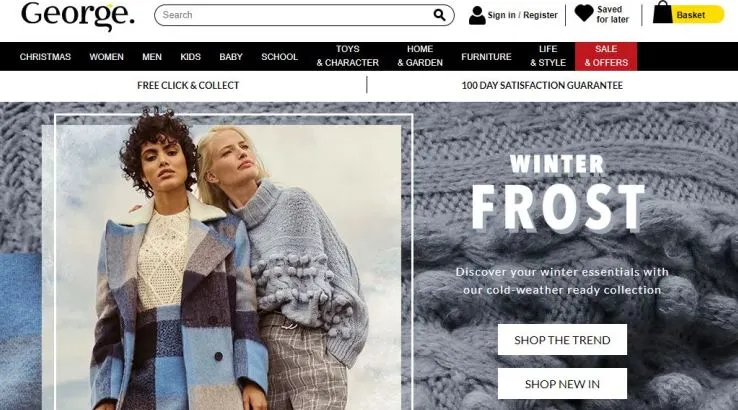 The supermarket's online customers can make "flexible payments" to spread the cost of any clothing, furniture and toys they buy on the George website.
The tool is being introduced ahead of Black Friday and Cyber Monday thanks to a pairing between credit firm Jaja Finance and the supermarket chain. The deal applies to any items sold under ASDA's clothing and home brand.
Customers are promised that getting pre-approved for credit will take less than a minute, and they will then have a 90-day interest free period for the purchases they make on George.com.
The arrangement involves Jaja Finance's white-label facility JajaPay, which has been branded ASDA Flexible Payments.
ASDA's Head of Cards, Lending and Ways to Pay, Matt Collinge, says that Jaja was judged the best launch partner for the new proposition because it was "the best fit for our customers and for us as a business".
Opening an ASDA Flexible Payments account means customers have an ongoing credit facility they can use exclusively on George.com.
Payments are made by Direct Debit for the full, minimum or another amount of the customer's choice each month. They then receive a monthly statement showing the balance, the minimum payment amount and the due date. If customers choose not to pay the full balance by the due date for the payment they will be charged interest from the date of their purchase.
JajaPay uses Visa for payment processing and enables online retailers to employ its credit provision at the checkout to "engender loyalty and incremental sales among online shoppers".
The ASDA move is the latest sign of a shift away from traditional store cards in recent years. Jaja reckons that retailers who have been issuing branded credit cards alone have found them to be an ineffective way of driving loyalty as they can be used in other stores and on different brands' websites.
Jaja Finance CEO Neil Radley, who used to head up Barclays' Western Europe cards division, believes JajaPay updates the store card for the 21st century. The aim is to improve relationships between retailers and their customers by doing away with the plastic. Radley is in discussion with a number of major brands to further roll out the concept.
If you are seeking savings on clothes, home and garden products, toys and more from ASDA, you can score some bargains with Finder UK. We have live, hand tested offers so have a look at our ASDA voucher codes.
Picture: George at ASDA