There are a lot of different trading apps available if you plan to start share trading – We've rounded up the UK's leading stock trading apps for you to help you find the one that suits your profile best. If you're in a bit of a hurry you can jump straight to the bottom where we've summarised the best trading apps. We've also covered how to choose one. (We've also updated this page to reflect the best apps available in 2022).
Best trading app for low-cost trading: eToro
Best trading app for low-cost trading
eToro is our pick for the best 0% commission trading app because it's free to use and there's no commission to pay when buying or selling stocks and exchange-traded funds (ETFs).

What sets it apart from other 0% commission trading options is the fact that there's also no commissions or management fees for its "Smart Portfolios", which are ready-made thematic portfolios created by expert analysts. And, it's also free to use its highly-popular CopyTrader feature, allowing you to copy trades from other investors for no cost.

There are a few additional fees to be aware of, such as a $5 withdrawal and 0.5% foreign exchange (FX) fees. Unfortunately, you have to pay an FX fee every time you deposit or withdraw money because eToro is all denominated in US dollars. There's also an initial $50 deposit to bear in mind.
Commission-free stock trading
Over 3,000 assets to choose from
Social features like CopyTrading and News Feed
Free to open an account
Invest from just $10
Lots of learning resources including a demo account
$5 withdrawal fee
You can't invest in an ISA
An emphasis on trading over long-term investing
Automatic FX fee on non-USD deposits
Some of the trading fees are complex for certain assets like crypto
Inactivity fee after 12 months of no login
$50 minimum first deposit
| | |
| --- | --- |
| Price per trade | £0 |
| Frequent trader rate | N/A |
| Annual custody fee | 0.00% |
| Bonds fee | £0.00 |
| ETFs fee | £0.00 |
| Investment trusts fee | £0.00 |
| Phone dealing fee | £0.00 |
Best all rounder trading app: IG
Best all rounder trading app
Zero commission on US shares
On IG, there are over 5,000 exchange-traded funds (ETFs) that you can invest in. ETFs are a type of security containing a whole bundle of assets, and are listed on stock exchanges. ETFs are great investments for beginners because you get diversity built in, and they're an easier way to invest in whole sectors and markets. They allow you to invest in lots of different stocks with a single transaction, which can also lower your trading fees.

IG is a great provider to choose if you want to learn how to invest. It helps you gain knowledge from a few different angles. When we tried it out, we particularly liked the free demo account. You can figure out how to trade the same way you'd learn any skill - by having a go and practising. The demo account is risk free as it uses virtual money, but works in exactly the same way as the real thing. Once you've got the knack of it, you can get going with real money if you decide you want to go ahead.

IG's platform is an all rounder — you can invest in an ISA, SIPP, and a general investment account (GIA). For beginners, it has ready-made portfolios, as well as individual shares for those that want to pick their own stocks. There are some additional investment types for experienced investors as well - it's a platform with plenty of depth.

So many options can be a bit overwhelming for beginners, but IG provides good tools to help you learn and grow as an investor.

Great learning resources and a demo account
Massive choice of over 13,000 investments including ready-made portfolios
Fee discounts for active investors
Only cheap when investing regularly
Choice of options, tools, and markets might overwhelm newbies
Quarterly platform fee of £24 if you make less than 3 trades per quarter
Price per trade
UK: £8
US: £10
EU: 0.1% (min €10)
Frequent trader rate
UK: £3
US: £0
EU: 0.1% (min €10)
Annual custody fee
£96 (can reduce by trading)
Bonds fee
N/A
ETFs fee
£3.00
Investment trusts fee
£8.00
Phone dealing fee
£40.00
Best trading app for beginners: Hargreaves Lansdown
Best for beginners
Hargreaves Lansdown (HL) was a winner in the Finder Customer Satisfaction Awards 2023 - 86% of respondents in our 2023 customer satisfaction survey said they'd recommend HL to a friend. It's known for great service and great features, none of which comes cheap.

With HL, you can invest in an ISA, a SIPP, and a JISA/junior SIPP, if you have children you'd like to invest for. HL has a trading fee of £11.95 (or £5.95 for frequent traders), which is higher than many of its rivals. If you're trading less than £1,000, you could end up paying more in fees than you make in profit.

But, in return for the pricier commissions, you get significantly more features and better customer service. You can access detailed information about investments, and guides that can help you make better trading decisions. The HL app lets you keep track of your investments from anywhere in the world - from your bed to the top of Mount Everest (assuming you have the mobile data).
Wide range of accounts
No platform fee for some accounts
Free fund trading
Great customer service reviews
Excellent mobile app
Discount for regular investors
Expensive to buy or sell shares
Fee structure is slightly complex
No demo account
Some investors may not need all the features
As a listed company, HL has to please shareholders
| | |
| --- | --- |
| Price per trade | £11.95 |
| Frequent trader rate | £5.95 |
| Annual custody fee | 0.45% |
| Bonds fee | £11.95 |
| ETFs fee | £11.95 |
| Investment trusts fee | £11.95 |
| Phone dealing fee | £20 - £50 |
Best trading app for investing in funds: interactive investor
Best trading app for investing in funds
interactive investor (ii) is one of the most trusted brand names in the investing industry, and for good reason.

The platform is our top pick for safety features because it scored flawlessly against our security criteria. Features like 128-bit SSL encryption, constant system monitoring, and biometric login provide some peace of mind, but, you can also draw comfort from the fact that ii has been around for over 30 years and is now part of a FTSE 250 firm, abrdn.

It's not the cheapest investing platform available, but if safety and security are your main concerns, ii takes this seriously and does everything in its power to keep your investments safe.

Flat monthly fee is good value for large portfolios
Massive choice of investments
A platform designed for every type of investor
Lots of account choices
Invest online or with the ii app
Platform fee is expensive for small portfolios
Share dealing charges are quite high
Free monthly trade(s) with premium plans
Cheapest plan has a maximum portfolio size
Adding a SIPP costs more
| | |
| --- | --- |
| Price per trade | £3.99 (free regular investing) |
| Frequent trader rate | £0 |
| Annual custody fee | £119.88 (£9.99 monthly) |
| Bonds fee | £40.00 |
| ETFs fee | £7.99 |
| Investment trusts fee | £7.99 |
| Phone dealing fee | £49.00 |
Best trading app for international trading: DEGIRO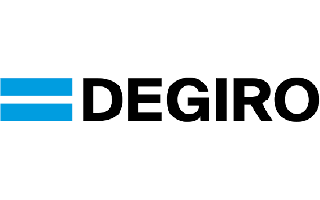 Compare with similar providers
Read review
Capital at risk
Best trading app for international trading: DEGIRO
On DEGIRO, you can trade on over 50 stock exchanges in 30 countries worldwide for relatively low fees.

We've worked out that DEGIRO is typically best for international trading fees, despite its pretty confusing fee structure. Among trading apps we've reviewed, it has the best score for fees among platforms which also offer international trading. In our fees analysis, it scored higher than many commission-free platforms. Many of the zero commission providers charge a higher FX fee (typically between 0.5% and 1% of the trade value), compared with DEGIRO's FX fee of just 0.25%. DEGIRO has recently changed its fees to make US shares commission free, with just a small handling fee per share.

DEGIRO lets you invest in shares, bonds, and ETFs, which can help you diversify across different assets. The trading platform is more suited to sophisticated investors rather than beginners, with excellent charting tools and company financials. It's worth noting that you can't invest in an ISA or SIPP with DEGIRO.
Access to over 50 exchanges
Excellent mobile app for trading on the move
Competitive commissions and no minimum deposit
Low FX fee
Plenty of asset types
Complex fee structure
No tax-efficient accounts
The platform isn't intuitive
Minimal trading tools and educational resources
No FSCS protection
| | |
| --- | --- |
| Annual custody fee | 0 |
| Bonds fee | 0 |
| ETFs fee | €2.00 |
| Investment trusts fee | €7.50 |
| Phone dealing fee | €10.00 |
How to choose the best trading app
Sometimes, a trading app is considered the best because…well, it's a great app and has loads of features. A lot of the time, it's down to you, and what features you're looking for. You wouldn't judge a goldfish on how well it can climb a tree, would you?
There are loads of different things that you should consider when choosing the best trading app for you, such as:
Fees and charges. Some platforms charge a flat fee, while others charge based on how much you invest.
What you can trade. Such as shares, ETFs and funds.
How easy the platform is to use. Some platforms are designed for more experienced investors, so might be quite complicated and difficult to use.
Market research and tools. The tools available on the platform can be helpful in understanding your investments.
Demo account. If there's a demo account available then you can give it a go without putting down any real money, this is a nice touch if you're a newbie to investing.
Compare trading platforms
Table: sorted by promoted deals first
All investing should be regarded as longer term. The value of your investments can go up and down, and you may get back less than you invest. Past performance is no guarantee of future results. If you're not sure which investments are right for you, please seek out a financial adviser. Capital at risk.