Table: promoted then other popular deals
Business credit cards are designed to suit the financial needs of different types of companies, ranging from small startups to major corporations. These cards allow you to keep your business and personal expenses separate, assign cards to employees, manage your cash flow, track your finances and earn rewards. Just as with personal credit cards, there's a range of factors to consider before deciding if a business card is right for you.
Cashback business credit cards: earn when you spend
With cashback credit cards, you earn cashback every time you use your business card, no matter what for. Cashback is usually paid into your business current account, so you can use it as you wish – perhaps to take your team for lunch? These cards often come with an annual fee and may also offer added rewards or perks, such as travel insurance.
Pros
Get back a percentage of your credit card spending.
All your business spending counts, so you should be able to earn cashback fairly quickly.
Earning cash instead of rewards means complete freedom on how to use it.
Cons
The annual fee can be quite pricey.
Interest rates on purchases aren't especially competitive, so these cards aren't great for borrowing.
Rewards business credit cards: free treats on your business spending
These cards reward you for paying with a credit card, usually offering reward points for every £1 spent on eligible purchases. Unlike personal credit cards, a business credit card with rewards will let you earn points on your work spending (potentially even on your PPC spending – who'd have thought it?!). It's important to remember that these cards usually come with higher annual fees and interest rates though, so you'll need to make sure that the value of the rewards outweighs the costs.
Pros
Earn rewards on your credit card spending.
All your business spending counts, so you should be able to earn points more quickly than with your personal credit card.
Treat yourself and your team to benefits and experiences you wouldn't normally get.
Cons
The annual fee can be quite pricey, so you should weight it up against your card usage.
These cards often leave much to be wished for when it comes to borrowing.
Frequent flyer business credit cards: earn air miles for your business trips
This type of rewards business credit card is linked to an existing frequent flyer programme, such as Avios. Some frequent flyer schemes are tied to a specific airline, while others allow you to get points that can be redeemed at a number of airlines. This kind of business credit card can be particularly lucrative for companies that do a lot of travelling.
Pros
Earn air miles every time you use your card.
All your business spending counts, so you should be able to earn points more quickly than with your personal credit card.
Exchange your miles or points for free flights, hotel stays or flight and room upgrades.
Cons
These cards usually come for a not-so-cheap annual fee.
The interest rate typically offered by these cards isn't great.
Bad credit business credit cards: get your business credit score back on track
These cards can offer a credit facility to your company even if a few funding issues in the past mean that your credit score is less than ideal. Bad credit credit cards tend to have a high rate, so it's imperative that you clear your card balance in full every month. Using a bad credit credit card correctly for a while will help your business rebuild its credit history and improve its credit score.
Pros
Successfully apply for a credit card to help with your business' cash flow even if your credit history isn't perfect.
Improve your business' credit score by paying the credit card bill in full every month.
Have your credit limit reviewed as your credit score improves.
Cons
High interest rates mean you really need to avoid carrying a balance on these cards.
Very few perks and rewards.
0% purchase business credit cards: spread the cost of a large purchase
These credit cards charge no interest on your purchases for a few months, allowing you more time and flexibility to pay them back. Unlike with personal 0% purchase cards, the introductory deal won't usually be super long, but if you need to buy, say, a piece of equipment, it'll give you a bit more time to even out your cash flow. Don't forget to set an alarm for when the 0% period ends, because that's when your balance will go back to accruing interest.
Pros
Get a few months' time to pay back the cost of a large purchase or deal with an emergency.
Some of these cards may come with extra rewards and perks.
Cons
The revert rate can be quite high, so you need to clear your balance before it ends.
The introductory 0% period only lasts a few months.
Low rate business credit cards: borrow at a competitive rate
These business credit cards have low standard variable interest rates for purchases and can give companies a more affordable option if they need to pay off spending over a longer period of time. Some options even offer the same standard interest rate for purchases, cash advances and balance transfers. Many low rate business credit cards also have a low annual fee.
Pros
Affordable rates allow for some flexibility when it comes to paying back the credit card balance.
Annual fees are usually quite competitive as far as business credit cards go.
Good choice if you're more worried about the financial features of a card than about earning rewards.
Cons
They require a good credit score (or your business won't get the advertised rate).
Don't expect many rewards or perks to come with these cards.
Travel business credit cards: spend abroad with no fees
Foreign transaction fees can quickly amount to a small fortune if you use your business credit card abroad. They can be up to 3%, which means that if you spend, say, £500 in a currency other than sterling, you'll be charged £15 in fees. With these cards instead, making payments abroad is free; if you're lucky, you may be able to find a travel credit card that also gives you reward points for your spending.
Pros
Avoid expensive currency conversion fees when you travel.
These cards sometimes come with additional travel rewards and perks.
As long as they're on the Mastercard or Visa circuit, they'll be widely accepted abroad.
Cons
Not necessarily the cheapest option if you can't clear your balance in full every month.
More about business credit cards
With business credit cards, it's the business entity that is responsible for managing the account. If there's an issue with the account, the entire business will be held responsible, rather than one individual person who's linked to the account. Likewise, rates and credit limits can be based on the turnover and credit background of the company, rather than the individual.
Business credit cards vs personal credit cards
Unlike personal credit cards, business credit cards are designed specifically for work spending and often include features such as additional cards for employees, customisable spending limits for different users and expense tracking. Some business credit cards may even have analytics tools designed to help with business reporting and budgeting.
But in most other ways, business credit cards are similar to personal credit cards. With either option, you'll get access to funds up to a specified limit and be able to pay off what you spend over time (with interest charges). Both personal and business credit cards also include costs in the form of annual fees and interest rates, as well as perks such as rewards programmes or complimentary insurance.
What are business charge cards?
A charge card acts as a short-term (usually monthly) loan to a business for any purchases charged on the card. These cards defer payment until the end of the statement period, when you're required to pay off the account in full. Interest rates do not apply to charge cards as there is no revolving line of credit, but they often apply hefty late fees if you don't pay the balance in full by the due date.
Business charge cards are designed for organisations that have the financial stability to clear their balance each billing cycle, which will typically be between 25 and 51 days. If you are looking to borrow funds over a longer period of time, business credit cards may offer more flexibility.
Despite these different account structures, charge cards do have many similar features to conventional credit cards, including expense tracking tools, supplementary cards, rewards programmes and complimentary extras. As a result, they are often put in the same category as business credit cards.
Does your business use company cars?
If you or your employees regularly use company cars or hire cars as part of their day-to-day job, you may want to consider taking out a fuel card. Fuel cards are a simplified form of business charge card that can only be used to purchase petrol and related products, and generally offer discounts on fuel. They are popular with transport companies or those with multiple company cars, as they let drivers pay for their fuel costs without having to give them a full-featured credit card.
Allstar Plus 'All-in-one' Business Credit and Fuel Card
Earn an introductory bonus of £150*
Up to 44 days interest free on purchases**
Savings on fuel and vehicle servicing/repair
* £150 credit will be applied to your account once you spend over £150 on goods and services (excluding those purchased in a fuel station) within the first 3 months of opening your account. Offer valid until 31st July 2021. Offer can only be redeemed once per company. ** Subject to status.
How to compare business credit cards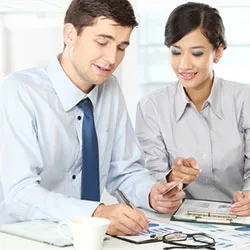 Comparing business credit cards side-by-side allows you to find an option that is suited to your business's specific needs. Some of the core factors to compare when weighing up business credit cards include:
Business spending habits

Choosing a card should depend, to a significant extent, on the spending habits of your business. You should aim match these spending habits to card features. For example, if your business uses a credit card to purchase flights, and regularly pays it off, then a frequent flyer card might offer competitive value. On the other hand, if your business plans to rely on the card primarily to borrow money, a card with a low interest rate, low fee or interest-free days is likely to be the most affordable option. Business cards that offer a lot of "bells and whistles" may seem appealing, but always ask yourself if they will have a positive impact on your bottom line.

Interest rates

Interest rates can vary hugely from card to card. Some cards charge the same rate for all transactions and others apply different rates depending on whether the transaction is a purchase, cash advance or balance transfer.

Fees and charges

Business credit cards feature a range of fees and charges. Some of the most common include:

Annual or monthly fees. Business credit card annual fees are usually around £30 a year but can be more.
Supplementary cardholder fees. While some business credit cards offer additional cardholders at no extra cost, others may charge up to £75 for extra cards. Check whether fees are "one-offs" or regular charges.
Currency conversion fees. This charge is applied for transactions made overseas or in a foreign currency and is typically 3% to 3.5% of the transaction value.
Over-limit fees. If you or an employee goes over the credit limit on the account, a fee of around £12 may be applied. Additionally this may be visible in your business's credit history.
Late payment fees. If you don't make the minimum payment on your business credit card by its due date, a fee is likely to be applied. Additionally this may be visible in your business's credit history.

Interest-free days

Business credit cards offer an interest-free period on purchases – usually around 55 or 56 days – provided you pay your balance in full by the statement due date. This can offer valuable short-term cash flow flexibility. Note that non-sterling transactions and cash advances will usually be exempt from this perk.

Minimum required monthly payments.

Business credit cards generally have minimum payments of 2% to 4% of the outstanding balance, unless they are charge cards, in which case they need to be paid in full each statement cycle.

Extra perks

These may include, but are not limited to:

Reward points. Collect reward points per pound spent, and redeem these with anything from equipment to days out.
Air miles. Collect air miles for popular programmes such as Avios.
Online business banking. Business credit cards usually give you all the access you would expect from banking online, such as 24/7 access to your account plus business security options such as encryption technology for peace of mind. Business applications may also allow mobile management so you can bank on-the-go with your business.
Complimentary insurance. Many business credit cards include complimentary travel insurance and liability insurance for the account.
Airport lounge access. Travel like a VIP with free access for cardholders and, potentially, their guests too.
Expense management systems. Keeping on top of business expenses and consolidating your credit card transactions can be difficult among all the other tasks involved in running a business. Expense management systems give you 24/7 control and visibility with standard or custom reports.
What is APR?
Credit card promotions (both for business and personal cards) have to include an
Annual Percentage Rate (APR)
, which all card issuers must calculate in the same way.
The APR takes into consideration the default interest rate plus any mandatory, regular account fees (namely, a card's annual fee). It basically tells you how much it is going to cost you to carry a balance on the card for one year.
There are two main catches. The first is that the Financial Conduct Authority (FCA) states that this rate must be what 51% (or more) of people accepted for a card receive. That means that up to 49% of those accepted for a credit card may end up paying a higher rate. This is why it's often called "Typical" or "Representative" APR. This is especially relevant to you if your business credit score isn't ideal or if it's the first time you try to borrow money for your business: you may end up being offered a higher rate.
Secondly, the APR is a handy figure, but it isn't necessarily the most useful thing to look at when comparing cards. For example, if you're considering a rewards credit card, keep in mind that the APR doesn't reflect the value of the points you'll get for using it. Fees for using the card abroad are also not part of the APR. Ultimately, it all comes down to what you need the card for.
Pros and cons of business credit cards
Pros
Potential tax deductions for claiming a business credit card or charge card annual fee
Simplified book-keeping/accounting process
Expense and cashflow management
Liability options
Security features
Customisable credit limits
Builds business credit
Additional cardholders
Complimentary extras specifically designed for businesses
Available and issued as either Visa, Mastercard or American Express card
Cons
Require a good credit record and business turnover
Potentially expensive fees
Interest charges if you carry a balance
Can be hard to keep track of employee spending if you're a small business
Limits spending to business expenses only
Purchases are not protected by Section 75 of the Consumer Credit Act, in contrast to purchases mad on a personal credit card
How to apply for a business credit card
If you're interested in getting a business credit card, the first step is to compare a range of options to find one that is convenient and affordable for your business. Once you have found one, you can usually apply online. Before you apply for a credit card, you'll need to make sure that you meet the following eligibility requirements and have organised the necessary documents to complete the application:
Eligibility requirements
Much like personal credit cards, cardholders will need to be over 18 and residents of the UK. Some lenders will also stipulate a minimum annual turnover. While cards are available for pretty much any size and kind of company, lenders may have specific products for specific categories of businesses (for example sole traders).
Necessary documents and information
The other details you will be asked to provide vary depending on the card, but generally you will need to provide:
Contact details. Contact details for you and/or your business.
Proof of identification. A valid form of identification, such as your driver's licence or passport.
Financial information. You may need to provide information about your business income and/or revenue as well as any assets and liabilities, including investments, debts and regular expenses.
Additional cardholders. If you wish to manage employee spending under the one account, you'll also need to provide details of all cardholders.
Accountant's information. Information on the person or organisation that manages your company books and financial records.
Other documents. Supporting documentation such as tax statements and investor reports may also be required.
If you're approved, you could have your card in as few as 5-10 business days (depending on the account and issuer). You can then activate the card, and start using it for your business.
With expense tracking features, additional cards, interest free periods and reward options, credit cards can be a convenient option for both big and small businesses. Now that you know more about them, you can compare your options and find a product that suits your business' needs.
Ready to compare business credit cards?
Frequently asked questions
We show offers we can track - that's not every product on the market...yet. Unless we've said otherwise, products are in no particular order. The terms "best", "top", "cheap" (and variations of these) aren't ratings, though we always explain what's great about a product when we highlight it. This is subject to our
terms of use
. When you make major financial decisions, consider getting independent financial advice. Always consider your own circumstances when you compare products so you get what's right for you.