Finder is committed to editorial independence. While we receive compensation when you click links to partners, they do not influence our opinions or reviews. Learn how we make money.
TIAA Bank Business Money Market review
You'll need at least $5,000 to avoid the monthly fee and APYs are lower than the competition.
TIAA Bank's Business Money Market is open to its existing business customers. It connects to your TIAA business checking account for easy transfers. But the APY tops out at 0.45% — a rate much lower than the competition — and you need to maintain a minimum $5,000 balance to avoid the monthly fee.
$1,500
Minimum deposit to open
Details
APY
0.45% on balances of $1,000,000+
0.40% on balances of $100,000 to $999,999.99
0.35% on balances of $10,000 to $99,999.99
Fee
$14.95 per month
To waive the fee
Maintain a $5,000 minimum balance
Minimum deposit to open
$1,500
Interest compounding
Daily
Monthly transaction limit
6
Fee per transaction over the limit
$10
More Info
Expert review
Review by
katia.iervasi@finder.com
---
Katia Iervasi is a staff writer who hails from Australia and now calls New York home. Her writing and analysis has been featured on sites like Forbes, Best Company and Financial Advisor around the world. Armed with a BA in Communication and a journalistic eye for detail, she navigates insurance and finance topics for Finder, so you can splash your cash smartly (and be a pro when the subject pops up at dinner parties).
Expert review
The TIAA Business Money Market account is a go-to for businesses that already bank with TIAA and want to keep their accounts in one place. You can easily move money between TIAA accounts and there are no fees for internal overdraft transfers, domestic wires and online check deposits.
But interest rates are on the lower end of the spectrum and you'll need to keep at least $5,000 in your account to avoid the $14.95 monthly fee. If you're not tied to TIAA, we recommend exploring other business money market accounts before you make a decision.
What are the benefits of a money market account with TIAA Bank?
This FDIC-insured account features integrated banking tools, check-writing privileges, an easy online application and the following other benefits:
Linked accounts. The money market account is connected to your existing TIAA Business Checking account, so you can easily move money between the two.
No minimum balance. You need $1,500 to open the account, but after that, there's no minimum balance unless you want to waive the monthly maintenance fee.
Minimal fees. There are no fees for internal transfers, domestic wires and online check deposits. If your balance is less than $5,000, you'll need to pay a monthly maintenance fee of $14.95.
Multi-user accounts. Add several authorized users to your business account.
What should I look out for?
The Money Market account has its flaws, including:
Lower APYs. Interest rates start at 0.25% for balances between $0 and $9,999.99, and go up to 0.45% for $1,000,000 or more. These aren't the most competitive rates on the market.
High opening deposit. You'll need $1,500 to open a money market account and another $1,500 to open a TIAA Business Checking account if you don't already have one.
Miscellaneous fees. The bank charges a $10 fee for each excess transaction and cashier's check. There's also a monthly maintenance fee of $14.95, but it can be waived if you have $5,000 or more sitting in the account.
Short customer service window. Live agents are only available during business hours — Monday to Friday, 8 a.m. to 5 p.m. ET. Outside of those hours, you have to go to the Contact Us page to request an email or call back.
No live chat function. While TIAA is a predominantly online bank, it doesn't have a real-time messaging system.
Find even more providers with our guide to business savings accounts, and get the one that's best for you and your business.
Compare with similar business savings and money market accounts
How do I open an account?
If you'd like a human to walk you through the process, call a business banking specialist at 855-850-5282, Monday to Friday from 8 a.m. to 5 p.m. ET.
Otherwise, hop online and follow these steps:
Head to the TIAA Bank website.
On the top right corner of the homepage, click Open an Account.
Navigate to Business. Choose your Business Type: Partnership/Corporation, LLC (Single-Owner), LLC (Multi-Owner), Sole Proprietor or Non-Profit Organization.
Enter your full name and email. Press Continue.
Check the box for Business Money Market and specify how you heard about TIAA Bank. Click Continue.
Create a Security Code. Press Continue.
Follow the prompts to fund your account.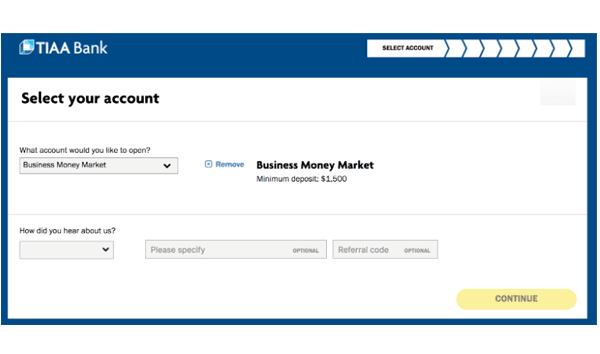 Eligibility
To apply for a Money Market account, you first need a TIAA Bank Small Business Checking account.
These are the other eligibility requirements:
US citizen or resident alien with a physical address, Social Security number or tax ID number, and a driver's license or state-issued ID
At least 18 years old
Authorized signer for the business — in other words, an owner or director
Required information
To sail through the application, have this info handy:
Valid driver's license or state ID
Social Security number or individual tax ID
Proof of residential address
Proof of business address
Depending on your business structure, you'll also need to provide a copy of one of the following documents:
Certificate of Good Standing/Active Status
Operating agreement
Partnership agreement
Articles of incorporation
Fictitious name registration
Doing business as (DBA) registration
Business or professional license
IRS-issued non-profit classification letter (e.g. 501(c)(3) letter)
Signed meeting minutes or an official document listing the current president and secretary
After you've submitted your online application, fax the document to 877-471-6459 or mail to:
TIAA Bank
11 Oval Drive, Suite 107
Islandia, NY 11749
How do I deposit and withdraw money?
To open an account, you can transfer funds from either an existing TIAA business account or an outside institution. The bank will also accept paper checks from an outside bank. You can use these methods to move your money around:
Internal transfers. Send and receive money to and from your existing TIAA Business Checking account.
Domestic wires. Wire funds from an outside institution to your Money Market account.
Checks. Mail a paper check made out to your business name to:

TIAA Bank11 Oval Drive, Suite 107
Islandia, NY 11749
How can I get in touch with customer service?
You can contact TIAA's business banking team in the following ways:
Phone. Call 855-850-5282 on weekdays from 8 a.m. to 5 p.m. ET
Fax. Enter 877-471-6459
Email. Send a message via the Contact Us page and request an email or call back
Social media. Reach out to @TIAABank on Twitter or Facebook
Mail. Address snail mail to:TIAA Bank11 Oval Drive, Suite 107
Islandia, NY 11749
In person. TIAA Bank has four Florida-based financial centers. They're open Monday to Thursday, 9 a.m. to 4.30 p.m. and Friday from 9 a.m. to 5p.m.

501 Riverside Avenue
7749 Normandy Boulevard, Suite 155
10400 San Jose Boulevard
104 New Berlin Road
Frequently asked questions