Five smart ways to make the most of your small business loan
Getting approved for a small business loan is only half the battle. Here's what you need to do next.
Business loans are different from personal loans in a lot of ways, but the key difference is that the funds are essentially an investment. The way you use your business loan funds may be the difference between you increasing your profits and you defaulting on the loan.
So, how should you make the most of your business loan?
How would you like to improve your business?
1. Buy new equipment
Purchasing equipment can take your operations to a new level, whether it's industrial equipment or a new point-of-sale (POS) system. If you're currently leasing equipment it can also assist your cash flow as you won't have to make regular lease payments.
When considering whether or not to purchase equipment with your loan funds, look at how much you've been approved for and consider how much you really need the new equipment. There's no need to spend your funds just because you have them.
2. Boost your online presence
Having an online presence, whether it's a website or a social media page, is invaluable these days. By establishing and maintaining a website and social media accounts, you can increase your customer base and also your marketing capabilities. However, you may need outside help to do this.
Consider the costs of getting yourself set up as well as the ongoing costs of maintaining a website and social media accounts.
3. Market your products or services
Marketing can make or break many businesses, and ignoring marketing due to costs can end up being a costly mistake in itself.
Whether it's online marketing, an ad campaign or getting some PR expertise, you'll need money to get started. Make sure you choose the right type of marketing for your business to ensure you get the best return.
4. Expand your operations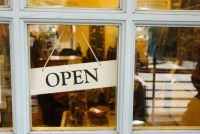 If your business is doing well it might be wise to use your loan funds to expand. You could consider opening up a new retail location, a second warehouse, a new office space or even start selling online products overseas. Restaurants are a great example of businesses that could benefit from having multiple locations.
Expanding your customer base is always a win, just ensure you've done your research so the investment is worth it.
5. Cover cash flow fluctuations
Cash flow is an issue for many small- to medium-sized businesses. Delayed payments can mean your business is left without vital cash flow for up to 90 or even 120 days. Depending on what type of business loan you have, you might be considering using it to cover gaps in cash flow.
For example, a business line of credit is ideal for covering cash flow fluctuations, but a lump sum loan may not be. Using your funds to cover cash flow means you can continue operating as normal and repay the funds once you get paid. Another example is invoice financing, which is best for businesses who rely heavily on accounts receivables.
Compare business loans you can apply for today
Bottom line
Before using your business loan funds, consider how you'll spend it and work out what will be best for your business. You can consider getting expert advice before deciding and even work out some cash flow projections to ensure you're making the most of the loan.