Finder is committed to editorial independence. While we receive compensation when you click links to partners, they do not influence our opinions or reviews. Learn how we make money.
LendingClub personal loans review
Loans up to $40,000 — if you're OK with a rocky history.
finder.com's rating: 3.72 / 5.0
★★★★★
Best for borrowers with good credit looking to check their rates before applying.
Pick something else if you need to borrow more than $40,000 or want a fast turnaround.
Details
| | |
| --- | --- |
| Product Name | LendingClub |
| Min. Loan Amount | $1,000 |
| Max. Loan Amount | $40,000 |
| APR | 10.68% to 35.89% |
| Interest Rate Type | Fixed |
| Min. Credit Score | 640 |
| Origination Fee | 1% to 6% |
| Late Fee | 5% of your unpaid payment or $15, whichever is greater |
| Loan Term | 3 to 5 years |
| Turnaround Time | As little as 4 days |
Expert review
Review by
anna.serio@finder.com
---
Anna Serio is a trusted loans expert who's published more than 800 articles on Finder to help Americans strengthen their financial literacy. A former editor of a newspaper in Beirut, Anna writes about personal, student, business and car loans. Today, digital publications like Fundera, Business.com, and ValueWalk feature her professional commentary, and she earned an Expert Contributor in Finance badge from review site Best Company in 2020.
Expert review
LendingClub personal loans are ideal if you have good credit and want to check your rate before submitting a full application — you can prequalify by filling out a quick online form without affecting your credit score. Its loans are available to residents of all states except Iowa and West Virginia. And you can apply with a cosigner to increase your chances of approval.
But you can only borrow up to $40,000 — on the low end compared to other lenders — and it charges an origination fee of up to 6%. It's also not the fastest lender out there: You'll have to wait at least three days to get your funds.
Not sure LendingClub is for you? Compare your other options below.
How much will this loan cost me?
LendingClub is on the expensive side, even for a lender that accepts borrowers with fair credit. Its APR ranges from 6.95% to 35.89% — nearly the maximum amount a lender can legally charge. Combined with an origination fee of 1% to 6%, you'll likely find a better deal elsewhere if you have excellent credit.
Use the calculator below to estimate your monthly payments and total interest paid over the life of your loan:
How it works
The total cost of your loan depends on your APR, loan amount and the term you choose. The APR you're offered is based on your credit history, income and current debt load.
If you only have fair credit — that is, you meet LendingClub's minimum score of 640 — you may be stuck with a higher APR and a higher origination fee.
Those with higher credit may qualify for lower rates, but it will depend on your debt-to-income ratio and other factors.
What do I need to qualify?
To apply for a personal loan with LendingClub, you'll need to meet the following requirements:
Minimum credit score of 640
Verifiable bank account
Not a resident of Utah or West Virginia
US citizen or permanent resident
At least 18 years old
What information do I need to apply?
You'll need to provide some basic information to prequalify with LendingClub:
Estimated credit score
Annual income
Social Security number
Pros
May qualify with a credit score of 640+
Coapplicants welcome
Check your rate without affecting your credit
Available in 48 states
Cons
Turnaround takes at least four days
Origination fee of 1% to 6%
Scams have used LendingClub's name in the past
Previous FTC complaint and scandal with former CEO
See other personal loan options
Is LendingClub legit?
Yes. LendingClub has safeguards in place to protect your personal and financial information. It's FDIC insured, registered with the SEC and has a standard SSL encryption. You can also view LendingClub's privacy policy on its website to learn how your information is used and shared with other businesses.
Was LendingClub involved in a scam?
Not exactly, but LendingClub hasn't always followed the rules. There have been two major controversies surrounding LendingClub in the past few years.
FTC complaint
In April 2018, the Federal Trade Commission (FTC) filed a complaint against LendingClub over its "no hidden fee" promise, claiming that it had charged hidden upfront fees on several of its loans. LendingClub responded by pointing out that it clearly states that its loans come with origination fees in several places on its website and when borrowers apply for a loan.
CEO resignation
In May 2016, LendingClub's founder and former CEO Renaud Laplanche stepped down after internal reports found that there had been about $22 million in loans sold to a single investor and failure to disclose possible conflicts of interest.
Although this had a major impact on LendingClub's credibility, the company itself took appropriate measures to prevent fraud and account for false revenue. Because LendingClub resolved the issue internally and continues to work at increasing the transparency of its policies, this was not a scam. Rather, it was a problem with a single individual that the company handled quickly.
Does LendingClub get good customer reviews?
| | |
| --- | --- |
| BBB accredited | Yes |
| BBB rating | Not rated |
| BBB customer reviews | 1.9 out of 5 stars, based on 152 customer reviews |
| Trustpilot score | 4.9 out of 5 stars, based on 956 customer reviews |
| Customer reviews verified as of | 09 March 2020 |
It depends on where you look. LendingClub receives positive reviews on Trustpilot, with borrowers complimenting its fair rates and streamlined application process. However, over on the Better Business Bureau (BBB), several people complained about a complicated application process, issues managing their loan online and high interest rates. A few were also disappointed that they'd gotten a preapproval letter in the mail, but were ultimately rejected.
How do I apply?
You can apply online through the following steps:
Go to LendingClub's website.
Enter your loan amount and select how you'll use your loan funds. Click Check Your Rate.
Select if you'll be applying as an individual or with a coapplicant, then fill out the required fields with information about yourself, your employment and your income.
Read the terms of use, privacy policy and other important documents related to your privacy, then enter a password to create an account.
Finally, enter your credit score and click Get Your Rate.
Step-by-step application process with screenshots
What happens after I apply?
If you're preapproved, LendingClub will give you multiple loan offers. Select the offer that best fits your needs and follow the directions to fill out the rest of your application. You may need to submit proof of income or identity to finalize your application. At this point, LendingClub will do a hard credit check that will cause your credit score to drop a few points.
Once you receive your finalized loan terms, you'll typically get your loan funds directly into your account within four business days. Overall, the application process can take a week from start to finish.
I got a preapproval letter from LendingClub. What does it mean?
It's not uncommon for lenders to send out promotional letters to borrowers who might qualify for a loan. These include potential rates and terms based on a soft credit pull that has no effect on your credit score. You might have gotten a letter from LendingClub that looks like this: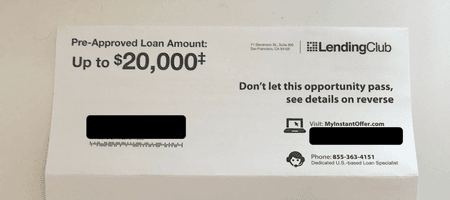 While it's likely legit, there are also preapproval scams out there. Before you hand over your personal information, reach out to LendingClub to make sure it's real.
How do repayments work with LendingClub?
LendingClub offers automatic monthly repayments, but be careful: If you don't have enough in your account on your due date, LendingClub will charge a $15 nonsufficient funds (NSF) fee on top of the overdraft fee your bank might charge. You can also make a one-time payment from your bank account at no extra charge. And while you can pay by check, there's an additional fee of $7 per payment.
You have a 15-day grace period if you need to get your payment in a little late, but LendingClub encourages you to call or email as soon as you know you're going to have trouble making a payment. If you don't make a payment within the 15-day grace period, you could be hit with a fee of 5% of the unpaid amount or $15, whichever is greater.
If you want to change the due date for your next payment only, you can log in to your account and set your payment for up to 15 days after your original due date. You can also permanently change your due date by visiting the Payment Due Date section and choosing a new date.
Compare LendingClub to its top competitors
Looking for more alternatives? Compare lenders like LendingClub
If you're still on the fence, compare your other personal loan options before you apply.
Frequently asked questions
Personal loan ratings
★★★★★ — Excellent
★★★★★ — Good
★★★★★ — Average
★★★★★ — Subpar
★★★★★ — Poor
We analyze top personal loan providers and rate them one to five stars based on factors that are most important to you. These factors include: rates and fees, customer reviews, loan amounts, loan processing and borrower experience.
Read the full methodology of how we rate personal loan providers.