Finder is committed to editorial independence. While we receive compensation when you click links to partners, they do not influence our opinions or reviews. Learn how we make money.
How to spot a fake credit card
The numbers on the front of the card and the logo are just a few tip-offs.
Credit card fraud is an issue both in stores and online, with technology offering criminals many different ways to get and use card data. If you run your own business or work in a shop, being able to identify a fraudulent card could save you a lot of money and time. Here's what to look for to spot fraudulent cards.
How much does credit card fraud cost Americans?
Data from Javelin Strategy & Research found that credit card and identity fraud cost Americans $16 billion in 2016. This data, published in 2017, found that card-not-present (ie online) fraud increased by nearly 40%, likely as a result of the EMV card rollout.
What to look for on any credit card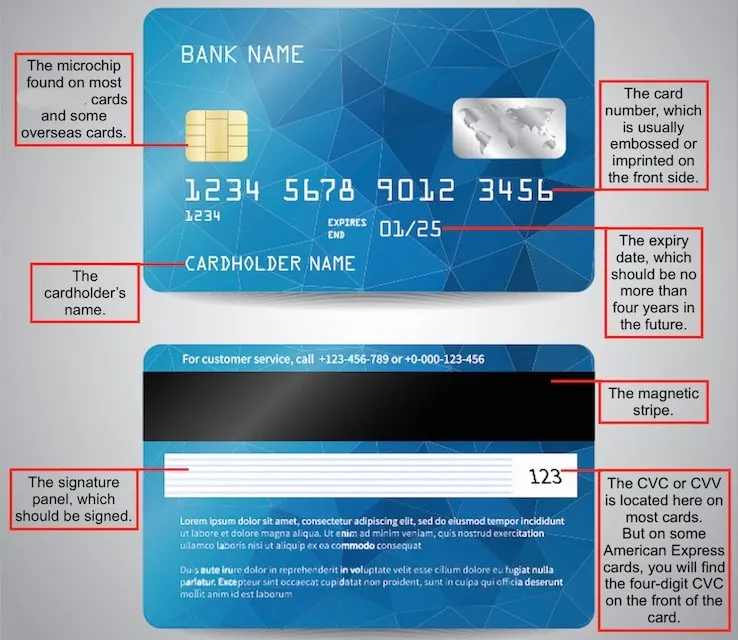 No matter what type of credit card is used, it should always include the following features:
Card number.
The card or account number is the main set of digits on the card. This is the number you would type in when making an online purchase and it also helps verify payments made in-store.
Cardholder's name.
The name of the cardholder should be clearly printed on the card. It's typically on the front of the card, underneath the account number, although it can vary.
Embossed numbers and letters.
Most credit cards have account numbers and names imprinted on the card with metallic embossing. Even if the metallic shine has worn off, you should feel the bumps from these symbols when you run your finger across the card.
Expiry date.
Check that the card has a valid expiration date and note how long it's valid. Generally, cards should expire around three to four years from the date they were issued. So, for example, if a card issued in 2018 showed an expiry date in 2030, you could question its legitimacy.
Magnetic stripe.
All credit cards have a magnetic stripe that could be used to swipe the card at a payment terminal. Most credit cards also have an embedded microchip on the front right-hand side that you would insert into a payment terminal.
Signature panel.
Legally, credit cards must have a signed signature panel. However, some people choose not to sign their card, so it's not always a sign of fraud. But if you doubt the validity based on the signature, ask for a form or photo ID and check that the name matches the one on the card.
Card verification code.
Also known as a CVC or CVV (card verification value), this is a three- or four-digit number used to authenticate online transactions. It's on the signature panel for all Visa and Mastercard credit cards as well as many American Express cards.
Visa credit cards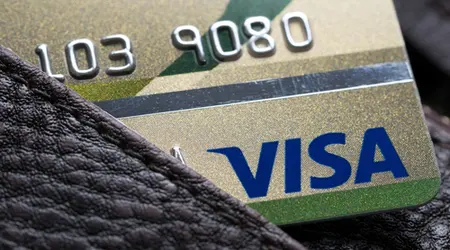 Visa logo.
Visa credit cards usually have the Visa logo on the front of the card, in the lower right-hand corner. Sometimes it will be blue on a white background, but it could also just be the name in Visa's signature lettering.
Card number starting with 4.
All Visa card numbers start with a 4 and are 16 digits long. The numbers are also broken up into four groups of four numbers.
Hologram.
A square, metallic hologram showing a dove will be on either the front or the back of the Visa credit card. When you move the card, it should look like the dove's wings are slightly moving as well.
Signature panel background.
Most Visa credit cards have a striped pattern on the background. Some also include the last four digits of the card number, right next to the CVC.
Mastercard credit cards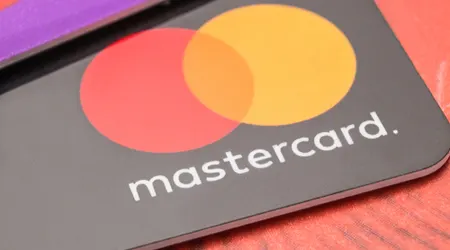 Mastercard logo.
Look for the Mastercard logo with two overlapping circles, keeping in mind it could be printed on the front or back of a Mastercard credit card.
Card number starting with 5. Just as all Visa cards start with a 4, all Mastercard credit cards start with a 5. They also have 16 digits, spaced in blocks of four.
Hologram.
Mastercard credit cards have an oval-shaped hologram that shows two overlapping worlds. This is similar in size to the Mastercard logo.
Signature panel background.
Mastercard signature panels usually repeat the word "Mastercard", although it may have the old "MasterCard" capitalization.
American Express credit cards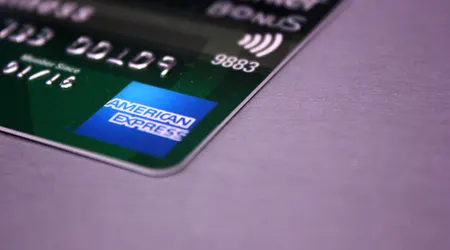 American Express logo.
American Express cards typically have a blue square with either "American Express" or "Amex" printed on it. Some cards also have the centurion figure, or AMERICAN EXPRESS printed in block letters along the side of the card.
Card number starting with 3.
Amex cards start with the number 3 and have 15 digits in total. These are spaced in blocks of 4, 6 and 5 digits.
Signature panel details.
Similar to Mastercard, the signature panel on an American Express card usually has "American Express" printed on it.
Other details to look out for
As well as the actual credit card, keep an eye out for these potential signs someone is trying to use a fraudulent credit card in your store.
Uneven numbers on the card.
Even if the numbers are embossed, check to see if they are printed in a straight line. Crooked numbers could indicate it's a badly printed fake.
Scratched or defaced cards.
If the front of the card is beaten up so you can't check details such as the name, or if the signature panel is scratched away, it's safer not to accept a payment. Explain that you can't accept the card in that condition and suggest the person use another payment option.
Someone who spends more than your usual customers.
If someone is buying a lot of expensive items, it could be because they want to make the most of a fraudulent card before it's reported.
Someone who asks to pay for purchases in smaller, separate transactions.
If someone asks to pay for items in separate transactions of under $100, they could be trying to get around the no-PIN option offered for tap-and-go cards.
Nervousness or fidgeting.
If someone is constantly looking around the store, checking their phone or just generally seems restless, it could be because they know they are doing the wrong thing. When that's the case, be extra careful to check the credit card they use.
Exaggerated friendliness.
While some people get nervous when they are breaking the law, others may have a sense of bravado about them. So when someone seems overly friendly or loud and it doesn't seem quite right, trust your instincts.
What should I do if I think someone is paying with a fraudulent card?
If you spot a card that looks suspicious, you don't have to accept it for the payment. Remain calm and explain to the person that the card won't be accepted.
If there are visible signs of tampering, you could also call the company or bank that has issued the card and ask them to confirm it is valid. If you feel anxious or threatened, call your manager, a security officer or your local police station.
Compare credit cards with fraud protection guarantees
Back to top
Bottom line
With a little wherewithal and knowledge of these common fraudulent marks, you should be well prepared to spot fraudulent credit cards. For more information on credit card security, check out our complete guide.
Frequently asked questions
More guides on finder