Can my bank change my savings account interest rate without telling me?
Unfortunately, banks have plenty of flexibility to leave you in the dark.
When interest rates drop, the growth of your savings slows — and it can happen without you even knowing it. Your account's terms and conditions often allow your bank to change your interest rate without notification. Learning how to predict these changes and find out if they affect your account can help you stay on top of your finances.
Why are there interest rate changes?
Banks are private businesses with the right to set and change interest rates as they please. However, these rate changes don't come out of nowhere — the interest rate on your savings account usually fluctuates for three different reasons:
Inflation. Interest rates tend to move in the same direction as inflation. So, if inflation is high, your bank may follow suit by raising interest rates.
Supply and demand. Credit rates are directly tied to savings rates. If borrowers are willing to pay a higher interest rate for a loan, you'll earn a higher rate on your savings account because the bank will be lending out your funds.
The Federal Reserve. The Fed sets target rates for banks. By law, banks aren't required to adopt the federal funds rate, choosing instead a higher or lower rate as they'd like. But the Federal Reserve offers securities and other incentives to banks that tend to keep their APY rates close to the Fed's.
What an interest rate change means for your savings
You may think your money is working as hard as possible, growing at the APY you signed on to when opening your account. But chances are good that the interest rate on your savings account has changed without your knowledge.
Banks are given a lot of freedom in how they operate — including the freedom to change your APY without notification.
The Truth in Savings Act doesn't require banks to notify customers of interest rate changes on variable-rate accounts. Rather, you may notice it down the line on, say, a bank account statement reflecting the adjusted rate.
Back to top
How to stay aware of interest rate changes
Remain vigilant to make sure you're earning the best possible interest rate on your savings account. Review your account's terms and conditions to find out if your bank is contractually obligated to notify you of rate changes. If they aren't, it's up to you to keep track.
Check your monthly account statements to stay on top of your current interest rate. You'll also stay aware of your total balance to the interest you're earning, helping you to know when it's time to shop around for the best interest rates.
If your APY drops after a Fed rate cut, there are three things you could do with your savings to ensure you still get a competitive rate.
Back to top
How to earn the best interest rate on your savings account
Take control of your finances while ensuring that interest rate cuts minimally affect your savings bottom line.
Shop around
Review your savings account at least each quarter for the details you'll need to compare other, potentially better options on the market. You'll find a huge range of savings account products offering strong rates for growth, including high-interest savings accounts and saving bonds.
Consider a CD
Certificates of deposit come with a set interest rate for the term of the deposit. CD rates are often stronger than those for traditional bank accounts, earning you more on your investment with little risk.
Compare savings accounts for earning interest
Consider these savings accounts or use the table below to sort accounts by their interest rates. Want to compare your top picks side-by-side? Check the "Compare" box next to your favorite accounts.
The impact of an interest rate cut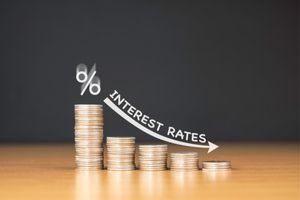 An interest rate cut of 0.25% or 0.50% may not sound like much. But even a small adjustment can result in a sizable difference to your savings balance.
Let's say you've saved up $15,000 in an account with a 2.50% APY. If your bank drops that rate to 2%, you'll lose $76 in interest you'd otherwise accrue over the course of a year.
The effect of compound interest can quickly multiply the amount of money you're effectively missing out on. And with the potential for interest rates to continue dropping, the net effect of a lower interest rate put a dent in your savings goals.
Bottom line
Banks are not legally required to notify you when they decide to change your account's APY. Pay attention to the rate in your monthly statements, and take your money elsewhere if you think you're at an unfair rate.
Compare savings accounts and CDs from a range of banks to grow your money — and reach your financial goals — more quickly.
Frequently asked questions
Images: Shutterstock
Back to top