Finder is committed to editorial independence. While we receive compensation when you click links to partners, they do not influence our opinions or reviews. Learn how we make money.
Tesla Model 3 car insurance rates
Average insurance rates for Tesla Model 3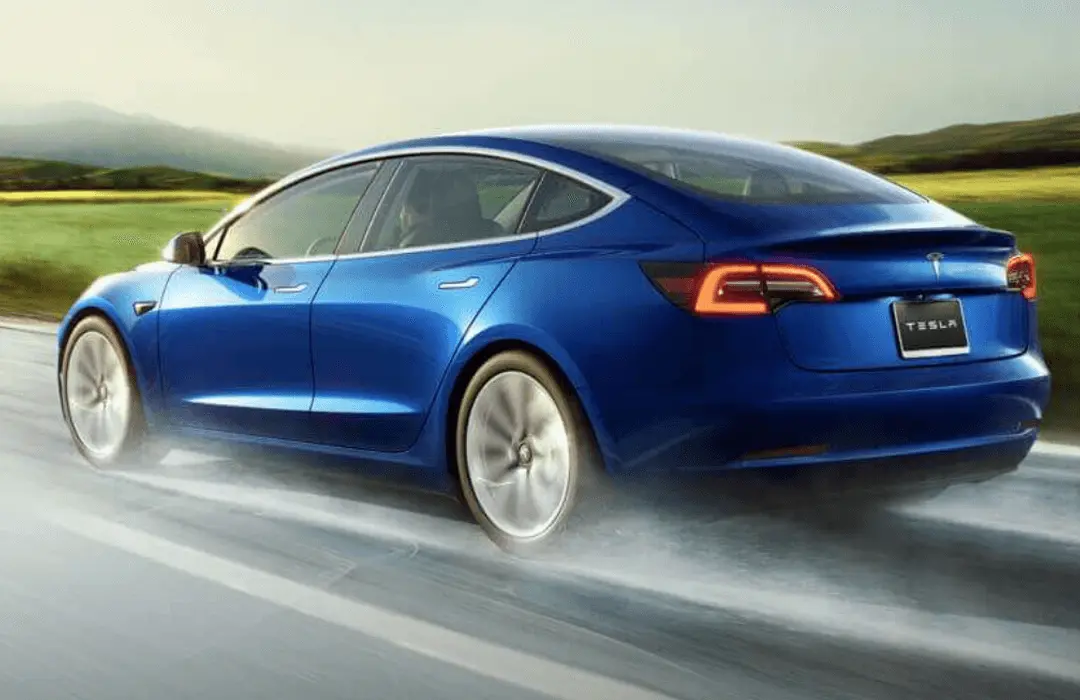 Compare car insurance quotes
Enter your ZIP code below and click Compare to see the cheapest rates in your area.
How much is car insurance for a Tesla Model 3?
The Model 3 is Tesla's first foray into the mass market. While it's cheaper than its other models, it's still classified as a luxury electric car, so insurance is on the pricey side compared to other sedans. The reason is simple: Insurers have to assume more risk than they would for a standard mid-priced sedan, with its custom parts and high speeds.
The average monthly car insurance premium for the Tesla 3 is a surprising $88 a month, which comes to $1,056 a year. At a starting price of $35,000, the Tesla 3 is the cheapest Tesla to insure, though you might want to increase your maximums to fully protect this luxury car.
Discover coverage that's broader than competitors, valuable discounts up to 30% off and perks like shrinking deductibles that reward no claims.
Broad coverage, including for custom car parts or ridesharing
Transparent pricing tools that help you buy within budget
Accident forgiveness on small claims or for staying claim-free
Stack a variety of discounts for multiple cars, autopay or homeownership
Compare insurance rates for your Tesla Model 3
Tesla Model 3 car insurance rates
| Model | Monthly insurance rate | Base car price |
| --- | --- | --- |
| Tesla Model S | $227 | $68,000 |
| Tesla Model X | $227 | $82,500 |
| Tesla Model 3 | $83 | $35,000 |
How do I compare insurance for the Tesla Model 3?
When you're shopping around for an insurer, think about these factors:
Price. Electric cars are generally more expensive to insure than their gas counterparts, though you could get a 5 to 10% electric car discount.
Additional coverage. You may want more than the minimum state coverage requirement for your Tesla. Since Teslas can be more expensive to repair, you might want to opt for collision coverage. And if you live in a high-crime area or a town where hurricanes or rock slides are a concern, comprehensive coverage could be a good idea.
Extras. If you want to enhance your policy with extras like accident forgiveness and vanishing deductibles, look for a provider that ticks those boxes.
Restrictions. Each provider has its own set of limitations. Research these now to avoid any gaps in coverage, denied claims and other surprises later on. Not every insurer is prepared to cover a Tesla, even this entry-level model.
Manufacturer offer or loyalty discount. Tesla is known to offer showroom discounts, as well as referral discounts that increase with each qualifying referral.
Warranty. The Model 3 is protected by a new vehicle limited warranty for four years or 50,000 miles — whatever comes first. Tesla also covers vehicles with the standard battery for eight years or 100,000 miles, as well as those with the long-range battery for eight years or 120,000 miles. The warranty includes basic towing up to 500 miles for issues covered by the warranty and towing due to flat tires up to 50 miles to the nearest Tesla service center.
Car insurance rates for Tesla Model 3 by year
| Year | Progressive | Geico | State Farm | Average |
| --- | --- | --- | --- | --- |
| 2017 | $371 | $375 | $213 | $320 |
| 2018 | $374 | $389 | $225 | $329 |
| 2019 | $384 | $404 | $300 | $363 |
What factors affect car insurance for a Tesla Model 3?
The rate you're offered reflects your driving history, credit, location, and the ins and outs of the car you drive. For a Tesla Model 3, your premium may also be affected by these factors:
Body type. The Model 3 is a mid-size, luxury, all-electric, four-door sedan. It's typically pricier to insure than a gas car, but cheaper than other Tesla models.
Fuel option. The all-electric car has two types of batteries: standard and long range. The long range is the fancier and most popular option, so choosing that may hike the price of your premium slightly.
Type of car. The Model 3 is classified as a luxury electric car. Insurers compensate for the high cost of repairs by charging expensive premiums.
Likelihood of theft. Thanks to their sophisticated GPS system, the theft rate for Tesla cars is low. In 2015, just nine Teslas were reported stolen. There is no data for Model 3s yet.
Cost of repairs. As a luxury electric car, the Model 3 is expensive to fix, and you can't take it to any old mechanic. It has to be a Tesla-approved body shop. Insurance rates go up for cars that are expensive to repair, so consider including comprehensive coverage and a lower deductible.
Safety features. The car has impressive safety features, like electronic stability control (ESC) and blind spot sensors. This emphasis on safety may help to cut the cost of insurance.
Driver factors
Providers care about the person driving the car, too. When determining your premium, they consider your driving history, including any violations, accidents and claims. If your driving record is clean or free from major violations in the last three to five years, you may score a better rate. Insurers will also look at your credit history, where you live and who else will be driving the car.
Does the Tesla Model 3 qualify for discounts?
Depending on your provider, the Model 3 might qualify for several discounts. These discounts may help to offset the high cost of electric car insurance and ensure you get the most value for your money. As you're researching, ask if these safety discounts apply.
New car discount
Anti-theft discount
Anti-lock brake discount
Reliability and safety ratings for the Tesla Model 3
The Model 3 hasn't undergone crash testing with the National Highway Traffic Safety Administration. However, the Insurance Institute for Highway Safety has run a few tests. The car earned a superior rating for its front crash prevention and an A rating for its headlights.
US News also awarded the 2018 Tesla Model 3 a score of 9 out of 10, ranking it #4 in the Luxury Small Cars category. This score reflects reliability data and a range of safety and style features. As of July 2018, the Model 3 has had no recalls.
The Model 3 is incredibly efficient. If you drive around 15,000 miles a year in cities and on highways, you can expect to pay $500 annually to charge the car. To put this into perspective, a 25-mile drive will set you back just 84 cents. According to the US Department of Energy, you can save up to $5,250 in fuel costs over five years compared to the average new vehicle. As for battery life, the base Model 3 travels around 220 miles on a full charge under ideal conditions. If you opt for the long-range battery, that number increases to 310 miles.
Compare Tesla Model 3 competitors
Want to explore your options? Compare models and makes like the Tesla Model 3.
Bottom line
The Tesla Model 3 is a luxury sports car, and those two descriptors don't make it the most wallet-friendly car on the market. It tends to be on the pricier side to insure, but you may be able to cut down costs with discounts for safety features and defensive driving. Plus, as a bonus, BMW's warranty and maintenance program is better than the industry standard.
Compare providers and policies to find the best value to cover your Tesla Model 3.
Get the cheapest quotes
Compare car insurance companies near you.
Your information is secure.
Frequently asked questions about the Tesla Model 3
More guides on Finder