Finder is committed to editorial independence. While we receive compensation when you click links to partners, they do not influence our opinions or reviews. Learn how we make money.
Tesla Cybertruck car insurance rates
Tesla's electric truck is surprisingly affordable to buy — but expensive to insure.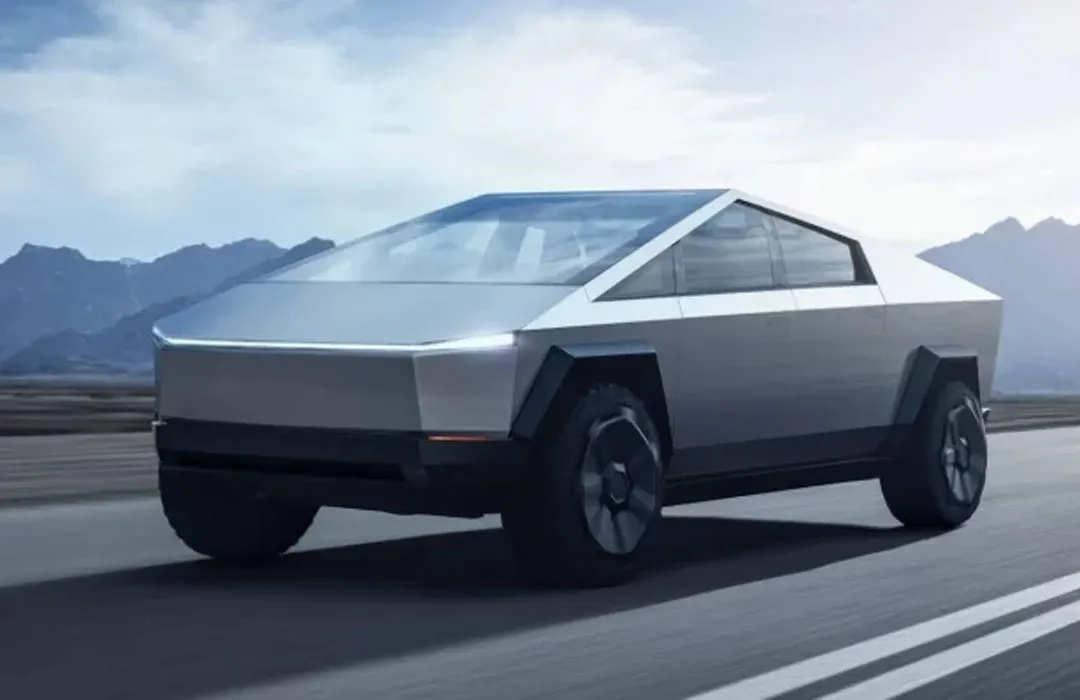 Compare car insurance quotes
Enter your ZIP code below and click Compare to see the cheapest rates in your area.
The highly anticipated Tesla Cybertruck created divided opinions with its retro-futuristic design, but will certainly cause a splash in the new electric truck market. The truck itself is relatively affordable, but insurance costs are expected to be high since it's both a pickup truck and an electric vehicle.
The Tesla Cybertruck is an all-electric pickup with high insurance rates. The average insurance cost for the Cybertruck is expected to be around $400 a month, or $4,800 a year, three times more than the average cost of $1,300 a year. With the lower-end Cybertrucks starting at $39,900, this makes its annual insurance cost-to-base ratio around 12%, which is much higher than the national average of 4% but still in alignment with expected costs for electric pickups.
Discover coverage that's broader than competitors, valuable discounts up to 30% off and perks like shrinking deductibles that reward no claims.
Broad coverage, including for custom car parts or ridesharing
Transparent pricing tools that help you buy within budget
Accident forgiveness on small claims or for staying claim-free
Stack a variety of discounts for multiple cars, autopay or homeownership
Compare car insurance for your Tesla Cybertruck
How do I compare insurance for the Cybertruck?
Insurance on the all-electric Cybertruck is expected to be higher than the average for both electric vehicles and pickup trucks.
Body type. The Cybertruck is Tesla's first attempt at an electric pickup, which have among the highest insurance rates of any vehicle. The Cybertruck is also a heavy pickup with a high towing capacity of over 14,000 pounds and a bulletproof body — features that will add to its insurance cost.
Fuel. With a reported range of between 250 and 500 miles, depending on the model you buy, the Cybertruck can take you on a long haul on a single charge. But electric vehicles (EVs) are more expensive to insure than gas, so this electric pickup is one of the most expensive vehicles to insure.
Theft rates. Electric vehicles are stolen with much less frequency than gas-powered cars, mainly due to EVs sitting in the garage while being charged. A recent report from the Highway Loss Data Institute showed Tesla vehicles are 90% less likely to be stolen than standard cars, so excepted theft rates will be low for the Cybertruck.
Maintenance. Annual maintenance costs for the Tesla Model S are around $560 a year, so you can reasonably expect similar or higher costs for the Cybertruck. While maintenance costs for EVs tend to be lower than gas-powered counterparts, electric trucks are new to the market, which means they could have higher and more frequent maintenance needs.
Coverage. There will be three versions of the Cybertruck available to buy, ranging from approximately $40,000 to nearly $70,000. You'll likely want to protect your Tesla with both comprehensive and collision coverage, in addition to adequate uninsured motorist property damage limits and gap coverage. If you live in California, you could also check out purchasing coverage through Tesla Insurance.
Warranty. New Teslas are covered under warranty for four years, or 50,000 miles, while the battery is covered for eight years, or 100,000 miles. This warranty also comes with unlimited roadside assistance, so you can drop that coverage from your car insurance policy.
Manufacturer offer. Tesla hasn't released details of any special offers for the Cybertruck, but you can check with your local Tesla dealership once the vehicle is released. The $7,500 federal tax credit also does not apply to the Cybertruck, because Tesla has sold over 200,000 electric vehicles.
Does the Tesla Cybertruck qualify for discounts?
The Tesla Cybertruck should qualify for various discounts on your insurance policy, but the exact ones will depend on the version you choose and your insurance company.
Electric vehicle
Passive restraints
Active restraints
Antilock brakes
Antitheft system
Airbags
How reliable is the Tesla Cybertruck?
Official safety and reliability ratings on the Cybertruck won't be released until it's ready to go on sale, but you can reasonably expect similar ratings to Tesla's other vehicles. However, the Cybertruck's design and construction make it a unique vehicle, so it will mainly be a wait-and-see approach when it comes to official safety rating tests.
Safety. At first glance the Cybertruck should pass safety tests with flying colors given it's made with steel alloy that's used in its SpaceX rockets and it has bullet-resistant glass. However, the angular design is unprecedented for a pickup truck, so it's yet to be seen how safe the Cybertruck will actually be.
Reliability. Fans and owners of gas-powered trucks will be eagerly awaiting reliability numbers on the Cybertruck. Older Tesla EVs aren't known for their reliability, though newer models of the Tesla Model 3 and others have been improving over time. Low reliability ratings mean more frequent maintenance and higher insurance rates.
Recalls. Tesla recalled over 120,000 Model S cars for a faulty power steering bolt, so it has experienced recalls before. Considering the Cybertruck is one of the first all-electric pickup trucks, there's a reasonable chance for a future recall on it.
Bottom line
The Tesla Cybertruck will be one of the first all-electric pickup trucks on the market and brings a new design concept to trucks. Its safety ratings will play a large role in determining its insurance rates, but the combination of an electric vehicle married with a pickup truck will result in higher costs.
To find the best insurance plan for your Cybertruck, compare different insurance companies.
Get the cheapest quotes
Compare car insurance companies near you.
Your information is secure.
Frequently asked questions about the Tesla Cybertruck
Read more on this topic