Finder is committed to editorial independence. While we receive compensation when you click links to partners, they do not influence our opinions or reviews. Learn how we make money.
Chevrolet Camaro insurance rates
Average Chevrolet Camaro insurance rates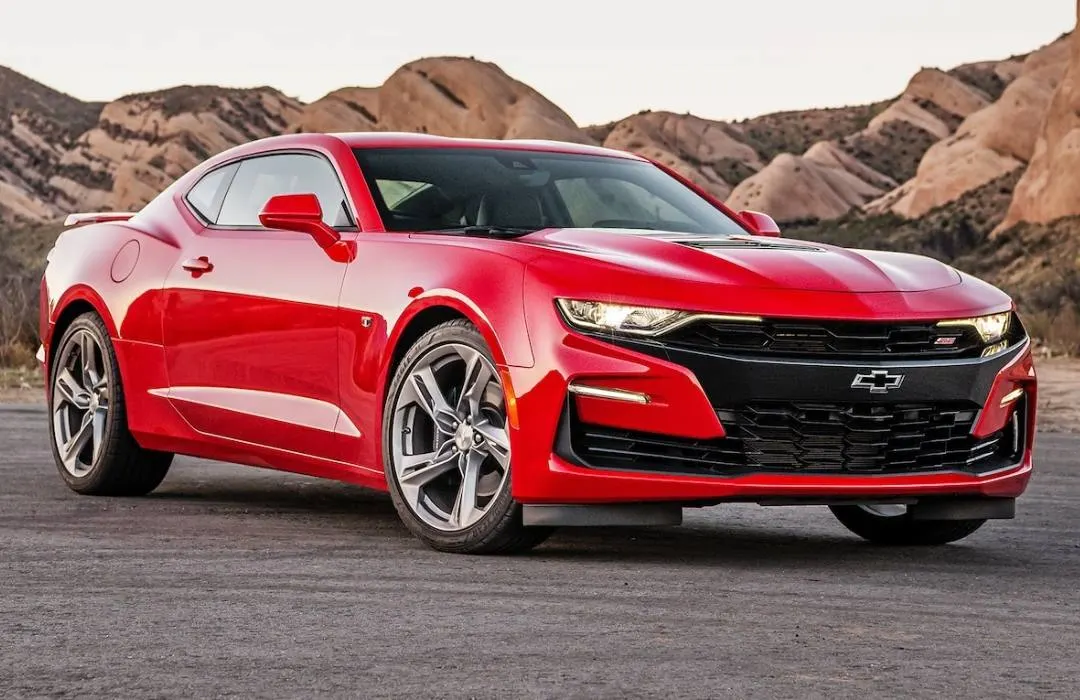 Get the cheapest quotes for your Chevy Camaro
Just enter your ZIP code and click Compare.
How much is car insurance for a Chevrolet Camaro?
The Camaro is an affordable sportscar that's surprisingly cheap to insure. The average insurance costs for a Chevy Camaro is $181 a month, or $2,172 a year. With a base price of $25,905, the annual insurance cost–to–base car price ratio is 7.1%, above the national average of 4%.
Compare insurance for your Camaro
How to compare insurance for your Camaro
Auto insurance is a major purchase that almost every driver needs, but it's never fun to buy something you hope you'll never use. But since coverage is mandatory in almost every state, there's no avoiding it. However, there are a handful of ways you can reduce the cost of insurance, and it all starts with being informed. Here are a few factors you should consider when shopping for coverage.
Price. Shopping by price can be difficult because policies can differ between providers. To get around this, use the same information for every quote in order to accurately compare similar options.
Deductible. Since your deductible will likely impact your monthly premiums, it's important to choose an amount that fits your monthly budget but won't be a problem if you need to file a claim.
Minimum coverage. Before purchasing a policy, it's important to ensure that it meets your state's minimum coverage requirements.
Additional coverage. Uninsured motorist coverage and personal injury protection are two of the many ways you can increase your coverage. Find out what's available and be sure to include any of these options when getting quotes.
Extras. Policy extras like accident forgiveness and roadside assistance may be included in your policy. If not, consider whether adding them is worth the price.
Restrictions. Find out if your provider has any restrictions on your policy. This can help you avoid denied claims or gaps in coverage.
Manufacturer offer or loyalty discount. Ask your dealership if you are eligible for any manufacturer offers or loyalty discounts through particular insurance providers.
Warranty. Find out what's covered by your manufacturer or extended warranty to avoid paying for overlapping coverage.
Car insurance rates for Camaros by year
On average, auto insurance for a Chevrolet Camaro is $154 a month — or $1,848 a year, about $500 above the national average. But your location and other factors will affect how much you'll actually pay. For example, residents of New Hampshire pay as little as $983 per year, whereas the average cost of insurance in West Virginia is $2,518.
| Year | Progressive | Geico | State Farm | Average |
| --- | --- | --- | --- | --- |
| 2010 | $197 | $207 | $155 | $186 |
| 2011 | $197 | $207 | $188 | $197 |
| 2012 | $197 | $207 | $213 | $206 |
| 2013 | $196 | $207 | $213 | $205 |
| 2014 | $195 | $207 | $228 | $210 |
| 2015 | $297 | $312 | $223 | $277 |
| 2016 | $334 | $327 | $256 | $306 |
| 2017 | $341 | $327 | $231 | $300 |
| 2018 | $340 | $306 | $229 | $292 |
| 2019 | $384 | $317 | $238 | $313 |
What factors affect car insurance rates for Chevrolet Camaros?
When calculating your premiums, insurance providers evaluate your chances of filing claims and the cost of paying them out. While your driving history and location can affect both the risk and cost of claims, the vehicle you drive often plays a much larger role. This is because vehicle performance, safety features, repair costs and other factors can all vary depending on your make, model and build options. Here's how the Camaro measures up:
Body type. The Camaro is a two-door coupe that's designed for performance. This could increase the cost of coverage.
Type of car. The Chevrolet Camaro is considered a pony car, which is a type of sports car. Available with 275 to 650 horsepower, its power could make it expensive to insure.
Theft. These types of vehicles are stolen far less than sedans and pickups, which might reduce the cost of insurance.
Repairs. Despite being classified as a performance vehicle, repairs usually aren't too expensive, which may help you save on auto insurance.
Safety ratings. The Camaro has great safety features and solid safety ratings. Both of these factors could reduce the cost of insurance.
Fuel type. The Camaro runs on gas, which should be cheaper to insure compared to diesel, hybrid or electric vehicles.
Trim & packages. The standard Camaro LS/LT comes with a 2.0L 275 horsepower engine. Opting for the larger engine or a more powerful model will likely be more expensive to insure. However, adding features that increase safety or visibility could help you get discounts.
Chevrolet Camaro money-saving safety features
You could save money on car insurance for your Chevrolet Camaro if it comes equipped with these safety features.
Airbags
Anti-lock brakes
Anti-theft device
Parking sensors
Surround view camera system
Daytime running lights
Electronic stability control
Seatbelt pretensioners
Rear backup sensors
Lane-departure warning systems
Adaptive cruise control
Does the Chevrolet Camaro qualify for auto insurance discounts?
Your vehicle may be eligible for various auto insurance discounts depending on which provider you choose. However, the exact discounts you receive may vary depending on location, provider, options, and other factors. Here are a few that should apply to the Chevrolet Camaro:
Anti-lock brake discount
Anti-theft discount
Passive restraint discount (Airbags, motorized seat belts, etc.)
Emergency roadside assistance discount
Chevrolet Camaro reliability & safety ratings
According to U.S. News and J.D Power, the Camaro holds a strong 9.3/10 safety rating. Additionally, both the IIHS and NHTSA give it great ratings in almost every category. It's impressive safety ratings and standard safety features could help you save on insurance.
The 2018 Camaro has a 3/5 star reliability rating from U.S. News and J.D. Power. While this is about average for vehicles in its class, previous years have much higher ratings.
The Chevrolet Camaro has been around since 1967 and is currently in its sixth generation. The muscle car is known for its powerful V8 engine and excellent fuel economy, compared to its competitors. In 2016, there were over 72,000 sales in the United States. The latest model was awarded a 5-Star Overall Safety Rating by the National Highway Traffic Safety Administration.
Chevrolet Camaro maintenance
The Camaro is a performance vehicle that's designed to provide an exciting driving experience at an affordable price. While sports cars generally require more maintenance than most other vehicles, the Camaro's modest price tag and low average repair costs hint at cheaper service appointments.
Regardless of what type of vehicle you drive, routine maintenance can extend the life of the vehicle and ensure that it runs at its best. Chevrolet recommends an oil change every 7,500 miles. The first service appointment at 7,500 miles should cost between $75 and $150, but the price depends on where you decide to have it serviced.
Is an extended warranty worth it for the Chevrolet Camaro?
The Camaro comes with a 3-year/36,000-mile Bumper-to-Bumper Limited Warranty that covers issues due to defective parts and substandard workmanship, your tires included. Beyond the standard warranty, your powertrain is also covered for 5 years or 100,000 miles, whichever comes first. Chevrolet also includes a separate 3-year/36,000-mile corrosion warranty and 6-year/100,000-mile rust-through warranty.
While Chevrolet doesn't offer an official extended warranty for the Camaro, GM offers a protection plan that covers maintenance and mechanical repair protection along with roadside assistance.
About the Camaro
Introduced in 1966 as a competitor to the Ford Mustang, the Chevrolet Camaro is a highly styled, performance-oriented two-door vehicle that's classified as a pony car. Initially designed as a competitor to the Ford Mustang, the Camaro is currently in its fifth-generation, which began production in 2009. But despite its powerful engine and sporty design, the cost of insurance is only slightly above average.
Compare Chevrolet competitors
Explore other manufacturers to find vehicles similar to the Camaro or find out what else Chevy has to offer.
Compare all car makes & models
Bottom line
The Chevrolet Camaro is an affordable sports car that can be optioned up to 650 horsepower. Despite its performance-oriented designed and aggressive styling, it holds great safety ratings and decent reliability ratings that could help you get auto insurance discounts. With that being said, the cost of insurance depends on a number of factors, making it important to compare your options to get an estimate that reflects your vehicle and situation.
Get the cheapest quotes
Compare car insurance companies near you.
Your information is secure.
Frequently asked questions about the Chevrolet Camaro
More guides on Finder