Finder is committed to editorial independence. While we receive compensation when you click links to partners, they do not influence our opinions or reviews. Learn how we make money.
BBVA Compass business loans review
Four ways to finance the growth of your small business with competitive rates for your unique needs.
finder.com's rating: 2.0 / 5.0
★★★★★
A leading small business lender among the largest 25 in the US, BBVA Compass offers banking products in nearly 700 locations across seven states. See how you can take advantage of competitive rates and a variety of financing options when you're ready to grow your small business.
Details
| | |
| --- | --- |
| Product Name | BBVA Compass business loans |
| Max. Amount | $100,000 |
| Loan Term | Up to 10 years |
What business loans does BBVA Compass offer?
A BBVA Compass small business loan gets you the spending capital you need with terms that range from 12 months to 25 years, depending on the type you choose. Even if your business is as new as a year, you could qualify for financing through BBVA Compass.
You'll find four options for funding your small business through BBVA Compass: lines of credit, business term loans, commercial real estate loans and SBA loans.
Small business line of credit
BBVA Compass extends both secured and unsecured line of credit options for flexible business funding toward your financial goals — available for your use whenever you need it.
Convenience Line of Credit. Get an unsecured line of credit of up to $100,000 with reliable payments equal to 2% of your balance or $50, whichever is greater.
Convenience Line of Credit Express. Access funds within a business day on unsecured lines of up to $35,000 and set repayments of 2% of the balance or $50, whichever is greater — with only one year in business required.
Traditional Line of Credit. Apply for either secured or unsecured lines of $100,000 or more featuring interest-only payments. Unsecured loans are for up to 12 months, with secured loans depending on your collateral.
Business term loans
When it comes to investing in your business or elevating the tools you use, Get a fixed-term business loan with predictable monthly payments fixed-term loan is usually one of the first considerations. For BBVA, repayment terms are for up to five years — 10 years, if you're in the healthcare industry.
Secured and unsecured loans are available, both with low, fixed rates. And specific industries may be eligible for an additional 0.25% rate discount.
Commercial real estate loans
Among the largest expenses for any business involve real estate. BBVA Compass includes a range of fixed and variable rate commercial real estate loans from five to 20 years.
Your loan-to-value rate can't exceed 85%, and you'll pay a 1% origination fee on any commercial loan. But you could be eligible for up to 1% off your closing costs if you apply before the end of 2017.
SBA loans
Get the capital required to grow your small business with lower payments, longer maturities and lower equity requirements. SBA loans are partially guaranteed by the government, which is lower risk for a lender and often better terms for you.
Compare BBVA Compass to top online business lenders
What are the benefits of a business financing through BBVA Compass?
BBVA Compass is recognized by the SBA as a leading lender in the US and may be the bank to provide the solutions for your small business if you operate in Alabama, Arizona, California, Colorado, Florida, New Mexico or Texas.
Easily apply online. Submit your application and you could hear back from a banker the same day.
Rate discounts. Save more with autopay from a BBVA Compass checking account, which could knock from 0.25% to 1% off your APR, depending on your loan.
Various loan types. Even if you've only been in business for a year or don't have collateral to secure your loan, you could be eligible for funding.
Next-day funding. Some loan options come with nearly immediate funding on approval.
What to watch out for
While online reviews are generally positive for BBVA Compass, you'll want to keep an eye out for potential drawbacks:
Potentially high APR. You won't learn the rates you're eligible for until after you speak with a banker, and it could be high depending on your credit or collateral.
Limited availability. Loans are available in Alabama, Arizona, California, Colorado, Florida, New Mexico and Texas only.
Negative online reviews. With so many reviews, BBVA Compass is rated A+ by the BBB. But some users complain of spotty customer service, unauthorized hard pulls on credit and high fees.
Am I eligible for a BBVA Compass small business loan?
Eligibility differs by loan type, but in general you must:
Be in business for at least one year.
Live in one of the seven states where BBVA Compass offers loans: Alabama, Arizona, California, Colorado, Florida, New Mexico or Texas.
Depending on the loan you're interested in, you'll likely need to also provide:
Your personal contact information.
Your personal credit history.
Your business's financials.
A business plan.
Financial forecasts, including cash flow.
How do I apply?
To discuss your eligibility, first narrow down the option you're interested in.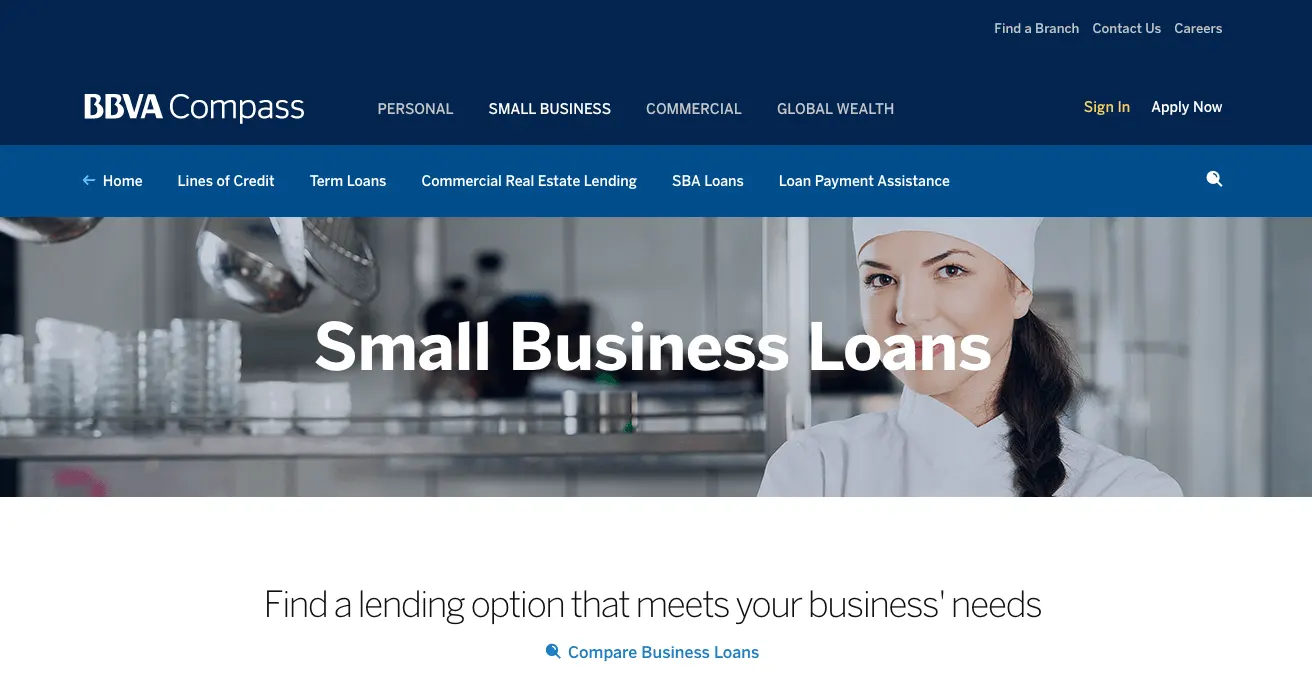 Once you've found a loan you're interested in, go to www.BBVACompass.com and click Contact Us to provide your contact information. You can also call a representative or, if you live in an area that BBVA Compass services, visit your local branch.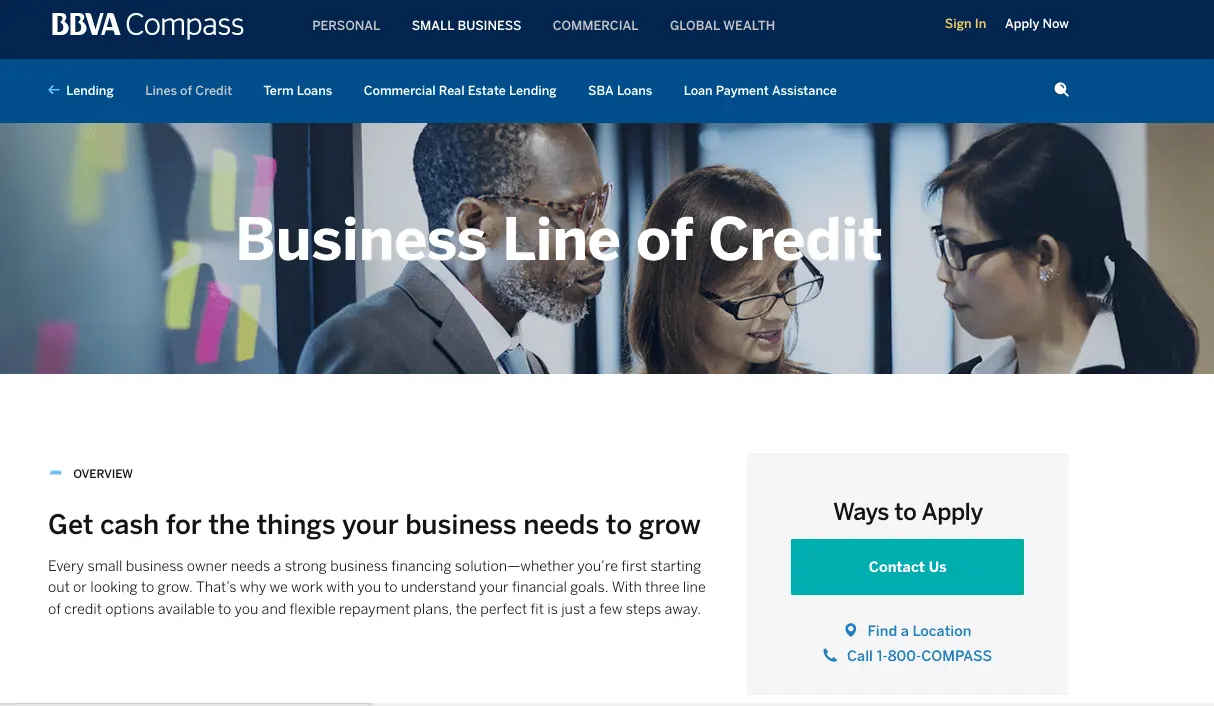 A business loan professional will call you to discuss the options available for your needs and guide you through the funding process.
I got a BBVA Compass small business loan. Now what?
Once you've received funding, keep up with monthly payments to avoid unnecessary penalties.
Set up autopay. Avoid late payments and save on your rate by setting up automatic withdrawals from a BBVA Compass bank account.
Contact customer service. If you need support, call 1-800-239-1996, send a secure form online or request for customer service to contact you online. Or connect on Facebook at BBVACompass or on Twitter @BBVACompass.
Bottom line
BBVA Compass is an option when you're ready to support your big business ideas, get the equipment you need or even cover temporary shortfalls. With several different loan options to choose from, you're likely to find one that suits your needs.
But if you're not in BBVA Compass's seven-state service area, compare your other options for a small business loan.
Frequently asked questions about BBVA Compass
Business loan ratings
★★★★★ — Excellent
★★★★★ — Good
★★★★★ — Average
★★★★★ — Subpar
★★★★★ — Poor
We rate business loan providers on a scale of 1 to 5 stars based on factors like transparency, costs and customer experience. We don't take into account elements like eligibility criteria, state availability or payment frequency — we save that for our reviews.
Read the full methodology of how we rate business loan providers to get a better picture of what goes into each star rating.