Finder is committed to editorial independence. While we receive compensation when you click links to partners, they do not influence our opinions or reviews. Learn how we make money.
Bank of America® Premium Rewards® credit card review
Earn strong travel benefits without a high annual fee with this premium big-bank card.
finder.com's rating: 4.3 / 5
★★★★★
Get this card if you like rewards and travel perks or are a Bank of America Preferred Rewards client.
Pick something else if you don't want to pay an annual fee.
Apply with a good to excellent credit score of 670 or higher.
15.99% to 22.99%
Purchase APR (variable)
Details
| | |
| --- | --- |
| Product Name | Bank of America® Premium Rewards® credit card |
| Card type | Visa |
| Annual fee | $95 |
| Purchase APR | 15.99% to 22.99% variable |
| Balance transfer APR | 15.99% to 22.99% variable |
| Balance transfer fee | $10 or 3% of the transaction, whichever is greater |
| Cash advance rate | 18.99% to 25.99% variable |
| Cash advance fee | $10 or 3% of the cash advance amount, whichever is greater |
| Penalty APR | 29.99% fixed |
| Foreign transaction fee | None |
| Interest free period | Up to 25 days |
| Late payment fee | Up to $40 |
| Returned payment fee | Up to $29 |
| Additional cardholder fee | $0 |
Expert review
Review by
megan.horner@finder.com
---
Megan Horner is the credit cards publisher at Finder. She's passionate about helping you find the best credit cards to meet your financial needs — whether that's earning great rewards or improving your credit score. Megan's expertise has been spotlighted on Lifehacker, CreditCards.com, American Banker and featured on news broadcasts across the country.
Expert review
A solid points earnings rate of 1.5x points on purchases and 2x points for travel and dining is further sweetened by premium travel benefits that potentially outweigh the $95 annual fee.
First, you get up to $100 in statement credit when you spend on such travel incidentals as seat upgrades, checked baggage fees and security programs, including TSA PreCheck and Global Entry.
Next up: Travel protection, including up to $500 per ticket for delayed flights and up to $5,500 per person for canceled trips. Also included is access to the Visa Signature Luxury Hotel Collection and Visa Signature Concierge.
The card's benefits aren't as extensive as
The Platinum Card® from American Express
, for example. But it features a relatively low $95 annual fee. Compare that with the $550 annual fee required for The Platinum Card® from American Express (see
rates & fees
).
Finally, the Bank of America® Premium Rewards® credit card does just that: rewards loyal Bank of America customers with premiums on earnings. Members of Bank of America® Preferred Rewards can see rewards bonuses that range from 25% to 75% — that on top of an already solid earnings rate. Carry an average balance of $20,000 or more with Bank of America and associated accounts to earn yet stronger rewards.
The perks
Signup bonus of up to 50,000 points.


Enjoy a signup bonus of 50,000 points — worth $500 — when you spend a minimum of $3,000 on purchases within 90 days of opening your account.

Get up to $100 credited back for travel incidentals in your first year.


The card offers $100 annually for use toward seat upgrades, ticket changes, airline lounge access and other travel perks. Transactions are automatically credited to your statement for multiple charges up to the annual maximum. You also get a $100 in statement credit for TSA PreCheck and the Global Entry program. Available every four years, the credit is automatically applied after a transaction through either program.

Expanded statement credit

Bank of America has recently added a new $50 statement credit for cardholders to help account for consumers' different spending needs during the pandemic. This will apply toward grocery and dining purchases through December 31,2020.

Earn 1.5x points or more on all purchases with no limit.


The Bank of America® Premium Rewards® credit card awards you a baseline 1.5 points for every dollar spent and 2x points on travel and dining purchases. Things get more interesting for Preferred Rewards members: Gold-tier members earn a 25% bonus, which means that $1,000 in travel and dining purchases can fetch you 2,500 points — an extra 500 compared with other members' earning power. Clients at the Platinum Honors tier enjoy 75% more points.
Is the annual fee worth it?
The Bank of America® Premium Rewards® credit card has a $95 annual fee. Depending on how you spend and travel, that could be well worth paying.
Rewards breakdown
According to Bank of America, points are worth 1 cent each. That means you'll break even on the annual fee when you earn 9,500 points.
That's $4,750 spent on travel and dining, or $6,334 spent on other purchases.
Signup bonus
You can find $500 of value from 50,000 points, according to Bank of America. This can pay for your annual fee several times over.
Regular travel benefits
The card includes benefits that deliver consistent value:
| Benefit | Estimated annual value |
| --- | --- |
| Airline Incidental Statement Credit | $100 |
| Credit for your TSA PreCheck or Global Entry Application fee | $25 |
These two benefits alone come out to $125 in annual value.
Tougher to value, but still lucrative, are perks you'll receive per booking in the Visa Signature Luxury Hotel Collection. These include space-available room upgrades, complimentary breakfast for two, food and beverage credits, late checkout when available and more.
And remember to leverage the card's extensive travel and purchase protections, which can save you money when the unexpected happens.
You'll also like
Travel protection.

Get peace of mind with coverage of up to $500 per ticket if your trip is delayed for more than 12 hours. You'll also get $5,000 in reimbursement toward nonrefundable travel expenses if your trip is canceled.

Easily redeem your points.

No need to work out the best use of your points. Simply redeem them toward a statement credit, gift cards or a cash deposit into a Bank of America or Merrill Lynch account. Or use your points to pay for bookings through the Bank of America Travel Center. Each point is worth 1 cent, which makes 50,000 in points worth $500 in rewards.

No foreign transaction fees.

Using your Bank of America® Premium Rewards® credit card overseas? You won't pay foreign transaction fees for purchases made outside of the US.

Premium services.

Access concierge services and the Visa Signature Hotel Collection for yet more convenient travel.
What does Bank of America travel protection cover?
What to watch out for
High potential APR.

You won't find a low-APR intro period with this card. Depending on your creditworthiness, purchases could attract a variable APR as high as 22.99% from the start.

Annual fee.

While lower than similar cards, a $95 annual fee isn't nothing. You'll find many credit cards with no annual fee on the market.

Limited benefits.

This product offers relatively few lifestyle and travel benefits when compared with more exclusive cards from competitors. If you travel frequently or like luxury travel, you may want to consider an alternative credit card with stronger benefits.
How does credit card interest work?
Compare travel credit cards
Compare Bank of America® Premium Rewards® credit card with other cards
What to know before you apply
To successfully apply for the Bank of America® Premium Rewards® credit card, you must meet specific criteria and submit personal and financial details.
Eligibility criteria
You must be at least 18 years old (or 21 years old, if you're a permanent resident of Puerto Rico).
Required documents and information
Your full name, address and residential status
Contact details that include your phone number and email address
Your employment status and income
Your Social Security number and date of birth
What credit score do I need?
Each bank applies unique scoring criteria when deciding on approval. But you may have a better chance at approval for the Bank of America® Premium Rewards® credit card if you apply with good to excellent credit.
What's a good credit score?
What do customers say about the Bank of America® Premium Rewards® credit card?
On Bank of America's own website, customers score this card a 4.4 out of 5 — which is about average among other Bank of America cards. Customers say they like the simplicity of the rewards scheme, but some criticize the card for not offering enough perks and benefits when compared with other cards at similar annual fees. Still others suggest waiving the annual fee for BofA customers.
Bank of America itself is accredited by the Better Business Bureau, earning a B+ based on internal scoring that considers a bank's longevity, financials and more. The bank also earns a composite score of 3.05 out of 5 based on customer reviews as of this writing. Customers complain about typical banking frustrations, like fees and charges and misunderstandings around credit limits.
How to apply for the Bank of America® Premium Rewards® credit card?
Go to the Bank of America website and find the Bank of America® Premium Rewards® credit card. Click Apply Now.

Complete the form with your contact, financial and employment details.

Carefully review your application for accuracy and submit it.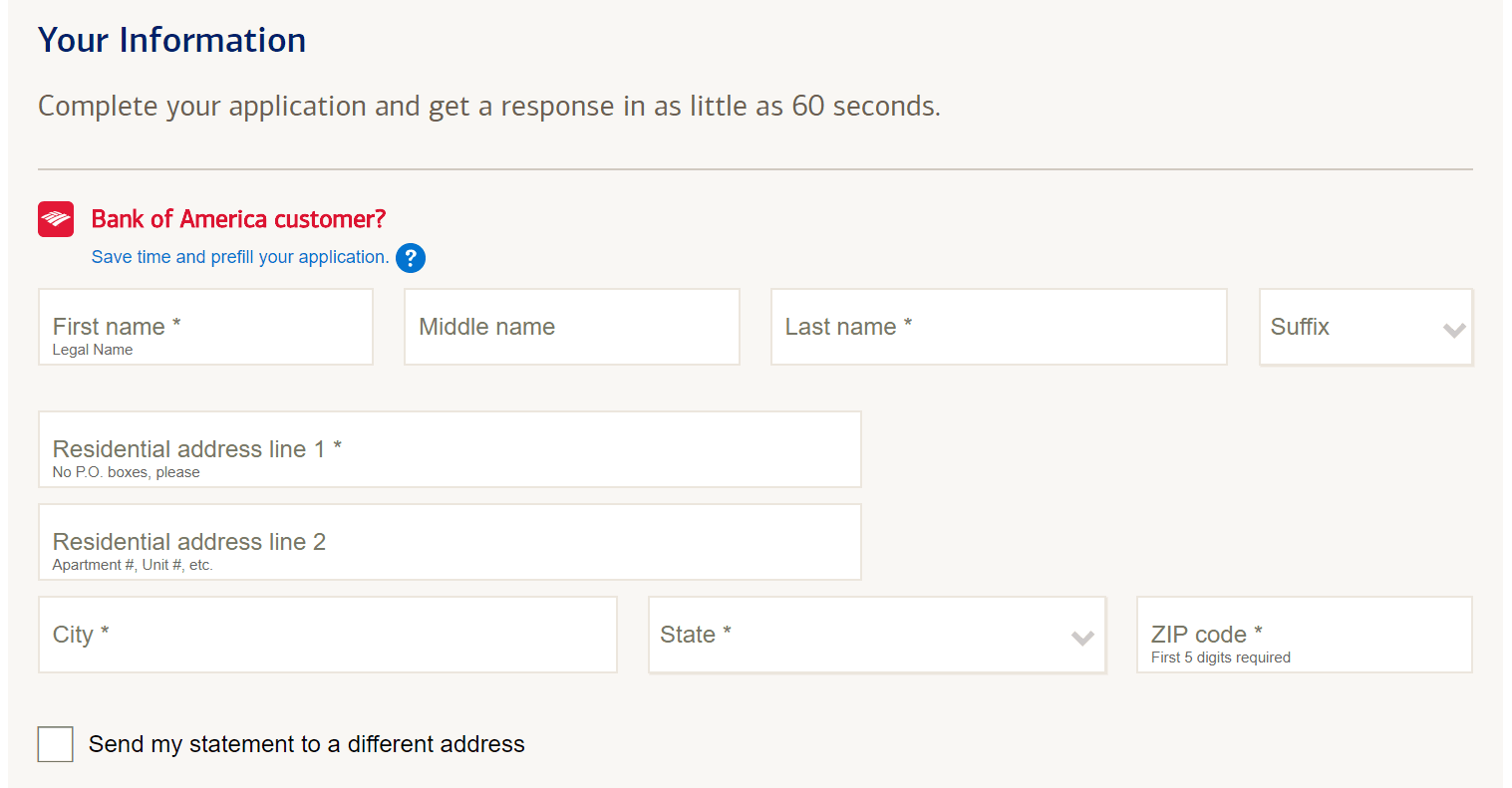 How long will it take to be approved?
Bank of America offers automated conditional approval, so you may get a first decision in minutes. If your application requires further consideration, it could take weeks to see approval.
I got the card. Now what?
Avoid interest within the grace period. Pay your full balance within the 25-day grace period to avoid unnecessary interest on your purchases. Rewards and benefits can quickly disappear after you factor in interest on balances.
Pay on time. Pay at least your statement's minimum on time avoid high penalty fees and rates. Consider setting up autopay to ensure you don't miss a due date.
Enjoy $100 toward Global Entry or TSA PreCheck. Claim your statement credit by using your card to sign up with either airline security program. The credit is available every four years.
Pay for airline incidentals. Receive up to $100 for use toward airline incidentals when you use your card to pay for ticket changes, seat upgrades, extra luggage or inflight food and drinks.
Maximize rewards. Pay for as many travel and dining expenses with your Bank of America® Premium Rewards® credit card to take full advantage of the higher point value.
Hold a large balance in your participating bank account. Earn rewards at higher rates by holding an average three-month balance of $20,000 across Bank of America, Merrill Edge and Merrill Lynch accounts.
Get in touch. Get help at 800-732-9194. You can also email support using the secure online form or connect on Twitter or Facebook @BankofAmerica.
How do I redeem points from the Bank of America® Premium Rewards® credit card?
To redeem points, log in to your Bank of America account and head to the Rewards tab.
There are three redemption options:
Travel.

Redeem points for statement credit on flights, hotels, cruises, rental cars, vacation packages, baggage fees and more.
Cash.

Receive an electronic deposit to a bank account.

Gift cards.

There are options for restaurants, retailers and more.
For all redemptions, you'll receive a 1-cent-per-point value according to Bank of America. This is a standard rate across the credit card industry.
Bottom line
More than just a rewards card, Bank of America® Premium Rewards® credit card extends many travel benefits you'd typically associate with cards requiring higher annual fees. Perks include travel protections, point multiples on travel and dining and up to $200 in statement credit when you pay for specific incidentals.
The card really comes into its own if you carry a large deposit with Bank of America, with big earnings bonuses for existing customers that are tough to match with other providers.
There's a fleet of credit cards designed for all different types of travelers if this card didn't float your boat.
Keep comparing travel credit cards
Frequently asked questions
Editorial Note: Any opinions, analyses, reviews or recommendations expressed in this article are those of the author's alone, and have not been reviewed, approved or otherwise endorsed by any card issuer.
Images: BankofAmerica.com
Credit card ratings
★★★★★ — Excellent
★★★★★ — Good
★★★★★ — Average
★★★★★ — Subpar
★★★★★ — Poor
Our team evaluates credit cards to determine their value against similar cards on the market.
We rank card types — travel, cash back, business — on a set of factors that are most relevant to that type of card. We create these rankings to help you narrow down a credit card that best suits your spending and budget.