Finder is committed to editorial independence. While we receive compensation when you click links to partners, they do not influence our opinions or reviews. Learn how we make money.
Alliant Credit Union banking products: Savings, Checking, and CDs
This online credit union offers a range of easily accessible bank accounts with competitive rates.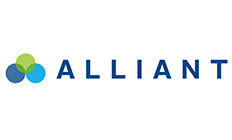 Many people are switching from banks to credit unions for better rates and a greater emphasis on customer service. While credit unions often provide a more personalized banking experience through local branches, Alliant operates almost entirely online. If you're looking for competitive rates and don't mind limited branch access, this credit union might be right for you.
Am I eligible?
To open an account with Alliant, you'll need to meet at least one of the following membership requirements:
A current or retired employee at one of Alliant's partners.
An immediate family member of a current Alliant member.
Live or work in one of the communities near the Alliant headquarters in Chicago.
Support Alliant's partner charity, Foster Care to Success, with a $5 donation that Alliant offers to pay on your behalf.
What banking products does Alliant Credit Union offer?
High-Rate Savings. With a minimum deposit of only $5 and a 0.65% APY, this savings account is designed to help your money grow quickly.
Supplemental Savings. Open multiple savings accounts to better organize and budget your money.
Kids Savings Accounts. Teach kids how to start saving early with this basic kids savings account.
High-Rate Checking. Pay no monthly fee and earn up to a 0.25% APY on your checking balance.
Free Checking. This basic checking account helps you manage your money with no monthly fees, minimum balance requirements or ATM fees at over 80,000 locations.
Free Teen Checking. This account helps teens learn responsible financial behavior with no monthly service fees and no minimum or maximum balance requirements.
CDs. Lock away your money in a CD and earn up to a 0.65% APY with terms between 12 and 60 months.
Compare Alliant Credit Union bank products
How does Alliant compare to other banks?
Alliant is a member-owned credit union that was established in 1935 in Chicago, Illinois. With $8.2 billion in assets, it's the fifth largest credit union in the US and serves over 280,000 customers across the globe.
Alliant was initially created as a credit union for United Airlines employees but is now open to members of more than 150 organizations and communities around O'Hare International Airport. It operates almost entirely online, but has two branches located in Chicago, Illinois.
Despite its limited branch locations, it offers 24/7 support by phone, online and on the Alliant Mobile Banking App.
Checking accounts
Pros
Earns interest. Both of Alliant's checking accounts earn 0.25% APY

—

a rate higher than most traditional savings accounts.
Minimal fees. No fees to open or maintain accounts, so you can hold on to more of your money. Plus, standard transaction fees are lower than most banks.
Free ATM access. Members get access to over 80,000 free ATMs and a $20 reimbursement per statement for ATM fees charged by other banks.
Cons
Withdrawal limits. Most members are limited to withdrawing $500 a day. But you're limited to $200 if you have a history of overdrafts or closed accounts and have a record with ChexSystems.
Fee for checks. You get your first box of checks for free, but you'll pay $15 per box after that.
APY requirements. The Teen Checking account automatically earns interest. But you'll need to enroll in eStatements and make one monthly electronic deposit to earn interest with the High-Interest Checking account.
Savings accounts
Pros
Solid APYs. The High-Rate Savings account and the Kids Savings account earn a solid 0.65% APY.
No minimum deposits. Open a savings account with as little or as much money as you'd like. When you open a Kids Savings account, Alliant pays the $5 deposit for you.
Supplemental savings accounts. Alliant lets you open multiple savings accounts so you can organize your money as you work toward your financial goals.
Cons
Few options. Alliant offers one savings account for kids and one for adults, so you won't find many choices here. But you have the option of opening multiple savings accounts if needed.
Requirements for APY. You must maintain a $100 minimum balance to earn interest on the High-Rate Savings account.
Withdrawal limits. If your savings account comes with an ATM card, you won't be able to withdraw more than $500 a day or $200 if you have a ChexSystems report.
CDs
Pros
Flexible terms. Alliant offers CD terms ranging from one year to five years.
Attractive APYs. You'll earn anywhere from 0.55% to 0.65% APY when you open an Alliant CD.
No fees. You won't pay any monthly fees to open or maintain a CD account.
Cons
High deposit requirements. While most Alliant accounts have no minimum deposits, you'll need at least $1,000 to open a CD.
No short-term CDs. The shortest CD you can open is 12 months.
Early withdrawal penalties. Expect to pay a penalty fee if you need to access your money before your CD matures.
Overall banking
Pros
Security. Just as many other financial institutions, your deposits are protected up to $250,000.
Financial education. Its Money Mentor blog provides valuable personal finance tips that promote responsible financial habits.
Transparency. Lays out all fees up front before you sign up for an account to help you avoid any unexpected charges.
Cons
Few branches. Only has two branches, so in-person customer support is limited.
Limited investment products. Alliant has seven bank accounts to choose from, but doesn't have many investment options.
Eligibility requirements. You can't open an account with Alliant unless you qualify for membership.
Alliant ratings, reviews and complaints
Alliant is officially accredited on the BBB website with an A+ rating. However, it holds one 1 out of 5-star rating for customer reviews, as there are many complaints. Customers mention issues with communication, delays, unexplained fees and more.
Keep in mind, though, that many customers won't take the time to leave positive reviews on the Internet, which is why negative reviews are so much more common.
How do I contact Alliant Credit Union?
Get in touch with Alliant using a few different methods:
Email: Send an email through the help center on Alliant's website.
Phone: Call 800-328-1935.
Twitter: @AlliantCU
Compare Alliant Credit Union to the competition
If Alliant Credit Union isn't quite what you're looking for, use the table to compare accounts from the competition:
Bottom line
Alliant is a Chicago-based credit union that operates almost entirely online, but still has two branches in Chicago, Illinois. It offers competitive rates and low fees on a wide range of essential financial services, making it a great choice for people who don't rely on branches for their banking needs.
However, you'll need a membership to open an account, and some customers are unhappy with the service. As always, it's a good idea to compare your options before opening an account.
Common questions about banking at Alliant
More guides on Finder