Finder is committed to editorial independence. While we receive compensation when you click links to partners, they do not influence our opinions or reviews. Learn how we make money.
Wells Fargo Platinum Card review
A simple, no-annual-fee credit card with a long intro APR period on balance transfers and purchases.
finder.com's rating: 4.5 / 5
★★★★★
Get this card if you want an extended intro APR offer and no annual fees.
Pick something else if you want cashback rewards.
Apply with good to excellent credit score of 670 or higher.
0%
Intro purchase APR
for the first 18 months (then 15.49% to 24.99% variable)
0%
Intro balance transfer
for the first 18 months (then 15.49% to 24.99% variable)
15.49% to 24.99%
Balance transfer APR (variable)
Details
| | |
| --- | --- |
| Product Name | Wells Fargo Platinum Card |
| Card type | Visa |
| Annual fee | $0 |
| Purchase APR | 0% intro for the first 18 months (then 15.49% to 24.99% variable) |
| Balance transfer APR | 0% intro for the first 18 months (then 15.49% to 24.99% variable) |
| Balance transfer fee | Intro fee of $5 or 3%, whichever is greater, for 120 days from account opening, then $5 or 5% |
| Cash advance rate | 23.99% to 25.99% variable |
| Cash advance fee | $10 or 5% of the cash advance amount, whichever is greater |
| Foreign transaction fee | 3% of the transaction value |
| Interest free period | Up to 25 days |
| Late payment fee | Up to $37 |
| Returned payment fee | Up to $37 |
| Additional cardholder fee | $0 |
Expert review
Review by
rhys.subitch@findercrew.com
---
Rhys Subitch is a writer and editor at Finder who tackles topics across the site. With half a decade of experience researching, editing and writing for a Fortune 500 company, university and several independent publications, Rhys brings readers the most up-to-date and curated info on all things finance.
Expert review
This card offers a longer intro APR period on balance transfers and purchases when compared to most other credit cards. But once the intro period is up, the card reverts to a higher-than-average APR.
This card could be help you save money with a balance transfer during the intro period. Additionally, if you pay your cell phone bill with this card, you get a phone protection plan of up to $600 if your cell phone is lost or broken. To top it off, there's no annual fee, making this card one to consider if you're looking to make a big purchase to pay off over 18 months.
The perks
Intro APR period.

Enjoy a 0% intro APR offer on purchases and balance transfers for 18 months following your account opening. After that, a variable APR of 15.49% to 24.99% will apply. When compared to similar cards, this is one of the longest intro APR periods you can get.

No annual fee.

This card comes with no annual fee.
Compare 0% intro APR credit cards
You'll also like …
No penalty APR.

If you make late or returned payments, you'll only pay a fee. Other cards have a penalty APR of up to 30%, which can apply as soon as you make a single late or returned payment, and can last indefinitely.

Access to FICO® score.

You can access your FICO® credit score for free using the Wells Fargo Mobile platform.

Safety and security.

This chip-enabled card offers increased account security against counterfeit fraud. You also get alerts whenever you make a purchase.

Cell phone protection.

When you pay your monthly cell phone bill with your card, you get up to $600 per claim protection against damage or theft. Maximum claims up to $1,200 in 12 months.

Money management tools.

My Money Map can help you track your spending and give you a chart to see what you spend the most money on. You can also create a savings plan, keep track of your progress and more.
Case study: Adrian's experience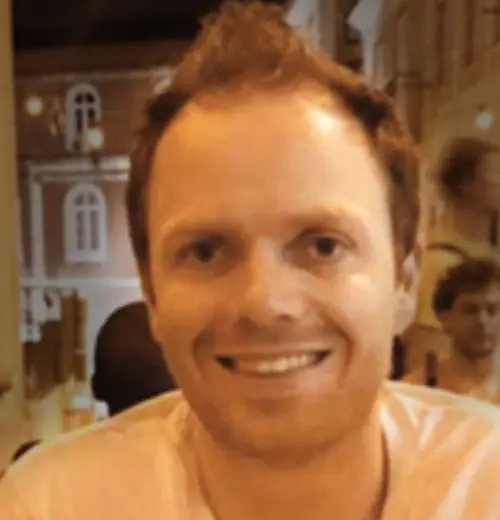 Adrian Tomkins
Senior Product Manager
When I first arrived in the US, I was able to set up a checking account with Wells Fargo. I decided to also apply for the Wells Fargo Platinum Card — I thought it was the best chance for me to get a credit card in my name to start building my credit. Plus, the 18 months 0% APR balance transfer offer and the ability to have one app for managing both my checking and credit accounts was pretty enticing.
While I utilized the card early on, as soon as my credit score improved, I moved to the Delta SkyMiles® Gold American Express Card — it better suited my desire to build up international travel miles and achieve status with an airline.
Overall, the Wells Fargo Platinum Card was great for my balance transfer needs and helping me build my credit. However, it's probably not the best choice for people looking to optimize travel points.
What to watch out for
No signup bonus.

Most cards offer a signup bonus, which you can claim in the first months of card membership once you spend a certain amount.

Foreign transaction fees.

You'll pay 3% fee for each transaction you make outside of the US. It may not seem like much, but it can add up if you often travel abroad.

Potentially high APR.

Depending on your creditworthiness, you may get an APR of variable after the intro period passes. This is relatively high, considering the average APR is around 16%.

Balance transfer fees and limits.

During the 18 months intro period following your account opening, each transfer comes with a fee of $5 or 3%, whichever is greater. Any transfers you make after the intro period will have a fee of $5 minimum or up to 5%. To qualify for the intro APR, you'll need to request your transfers within the first 120 days.

Credit limit.

If you don't have strong credit, you could get stuck with a low limit of $1,000. With other similar cards you could get as high as $5,000.
How does a balance transfer work with this card?
When you apply for a balance transfer, be sure to have the account number and amount you want transferred. Tell Wells Fargo the amount you'd like to transfer. Simply stating you want to transfer the full amount of a credit card balance isn't enough — you need a specific dollar amount.
For each transfer you make during the intro period, you'll pay a fee of $5 or 5% of the transaction, whichever is greater. After that, the fee for each balance transfer will increase to $5 or 5% of the transaction, whichever is greater. That means a balance transfer of $3,000 would cost $90 in fees during the intro period and $150 after.
You can't transfer more than your credit limit and Wells Fargo won't accept balance transfers from other Wells Fargo accounts. Call Wells Fargo at 800-642-4720 about any questions about transfers.
What should I know before I apply?
You may apply for the card if you're at least 18 years old and a resident of the US.
You'll also need to provide the following information:
Your full name and contact information.
Your date of birth and Social Security number.
Your financial information including your employment and housing status.
At this point, you can add an authorized user or request a balance transfer.
You might not get the intro APR period on balance transfers if you've opened a Wells Fargo credit card in the last 15 months and received an intro APR period, intro fee rate or bonus rewards offers, even if you closed your account with a $0 balance. Also, if you opened another Wells Fargo credit card in the last six months, you may not qualify for another Wells Fargo card.
What credit score do I need?
You have a better chance of application approval with a credit score of 670 or higher. The better your credit, you're more likely to get a lower APR and higher credit limit.
What do customers say about the Wells Fargo Platinum Card?
Most customers complain about the low credit line they received and line-increase denials by Wells Fargo even after years of timely payments. Some customers complained about the bank increasing their APR, despite making payments on time and having a good credit score.
The Better Business Bureau has yet to rate or accredit Wells Fargo.
How to apply for the Wells Fargo Platinum Card?
Go to the Wells Fargo website and find the Platinum Visa® Credit Card in the list of balance transfer cards, then click Apply now.
Existing Wells Fargo customers may sign in for a quicker, prefilled application. Others need to click Continue.
Fill out the application form with all the required details.
Review and submit your application.
How long will it take to get my Wells Fargo Platinum Card?
Wells Fargo processes its applications online, and you'll typically get a decision within minutes. If the bank needs additional information, it may take a few business days up to few weeks to receive an answer.
Upon approval, you'll get your card in the mail within seven to 10 business days.
I got the card. Now what?
Download the Wells Fargo Mobile app. And use it to monitor your account, pay your bills, access your free FICO score and more.
Avoid interest. Once the intro period passes, pay your balance before the grace period of 25 days is up after each billing cycle to avoid paying interest on purchases.
Customer service. Call 1-800-869-3557 for customer support. Or you can chat with a customer service representative online on the Wells Fargo website.
Bottom line
If you're looking for a simple balance transfer card with a year and a half of interest-free period to pay off your balance, then this could be a good card for you.
Otherwise, you can check out other low APR or balance transfer credit cards to find the right one for your needs.
Frequently asked questions
Credit card ratings
★★★★★ — Excellent
★★★★★ — Good
★★★★★ — Average
★★★★★ — Subpar
★★★★★ — Poor
Our team evaluates credit cards to determine their value against similar cards on the market.
We rank card types — travel, cash back, business — on a set of factors that are most relevant to that type of card. We create these rankings to help you narrow down a credit card that best suits your spending and budget.