Wedding gifts for parents: Best ideas January 2022
Wondering what to get your parents or your partner's parents on your wedding day? We've got you covered.
Weddings are an amazingly special time for a bride and groom, with the gathering of friends and family and the rest of their lives to look forward to, not to mention an exotic honeymoon!
But weddings are also a special milestone for parents, who deserve a little something to mark the occasion.
If you're looking to make a grand gesture for your parents or your partner's parents on your big day, we can help.
Scroll for our top selection of gifts to give you some inspiration.
What to know about buying Wedding Gifts for Parents
10 great ideas to get you started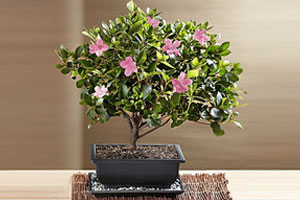 A small tree
Although it might seem like an odd gift, if your parents or your partner's parents love nature and symbolic gifts, a tree might be the perfect gift for both of them. It's a little life that will grow up to bring them joy, just like you. Aww.
Key rings
In the lead up to a wedding, money can be especially tight, so it's understandable if you're only looking for a simple gift. With options for both mother of the bride and mother of the groom, this key ring is the perfect gift for both sets of parents and costs less than £10.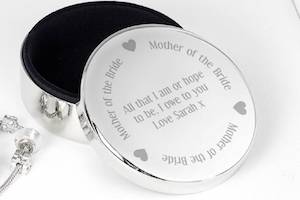 Keepsake box
A small, personalised keepsake box makes a great sentimental gift. This one is designed especially for a mother of the bride, but there are dozens available for any parent at Not On The High Street.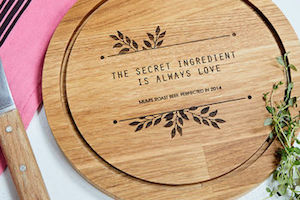 Oak cutting board
A personalised chopping board is a perfect gift for parents who love to cook. This one shows your gratitude with a heartfelt message engraved as well as your own names. It's a keepsake your parents are bound to cherish for years to come.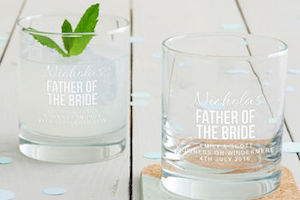 Personalised celebration glasses
If the father of the bride enjoys a little tipple every now and then, he'll love these glasses. After making a big financial investment in your wedding, he's bound to appreciate the gratitude.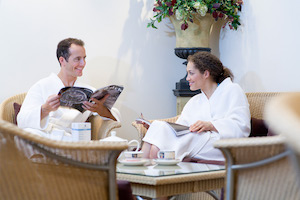 An experience
If you can afford it, it would be great to buy your parents time to relax after the wedding. They've likely put a lot of work into making your special day happen, so an experience like spending the afternoon at the spa would be well deserved.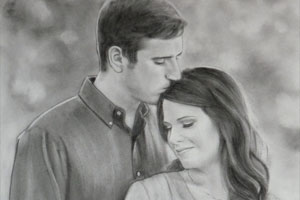 Custom portrait
If you're willing to wait until after the wedding to give your gift, a custom drawing of one of your wedding photos with your parents is a great idea. Drawings of father-daughter dances are especially popular and make a great gift that's sure to be cherished.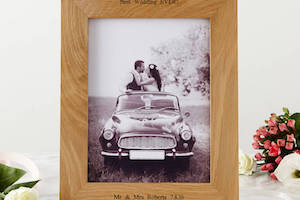 Sweet photo frame
A photo frame always delivers a sweet sentiment. Add your favourite picture of you and your parents together or an image of your partner's parents with them and fit it inside a beautiful wooden frame, engraved with your words.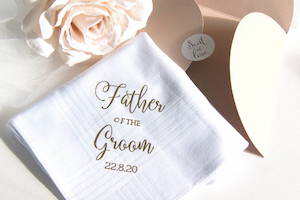 Personalised handkerchiefs
Wedding handkerchiefs are a very traditional wedding gift for parents. Details like lace and a sweet message make this classic father of the groom option a sentimental gift that all parents will adore.
Wedding album
If you're willing to wait until after the wedding, why not present your parents with a beautiful album of your wedding pictures? They'll appreciate it, especially if they paid for the photographer. If you don't want to wait, you could also make a special photo album of memories you've shared with your parents. Make it by hand or use an online tool.
Top selection of wedding gifts for parents
See, choosing a wedding gift for your parents is easy with a little help! Below are our top buys online at the moment from our favourite retailers.
Don't forget to take a look through the discount codes and deals available to save yourself some money, too!
Tips for choosing wedding gifts for your parents
You want to find a gift that can act as a token of appreciation for everything your parents have done for you both. Keep these simple tips in mind and you'll find something very appropriate for the occasion.
Think about who you're buying for. Keep in mind the recipient and the appropriateness of the gift. For example, buying a gift for your mother is very different from buying a gift for your father-in-law. Consider their tastes to get a gift they'll love.
Do your research. It may be a good idea to talk to someone close to your parents (or in-laws) to get a better understanding of what they want. And before buying a gift, make sure you check out all the options available.
Consider their needs. Think about what could be really useful in your parents' lives to get a gift that will be really appreciated.
Set your budget. Sometimes the less expensive and more sentimental gifts are the best gifts. Before you start shopping, set your budget and look for gifts within your spending range.
Decide on whether you want to purchase a practical gift or a sentimental one. Do you want to buy a gift they can use every day? Or would you rather buy a gift that is meaningful and special like a piece of jewellery?
Back to top
Current deals and specials
Back to top