Microsoft Teams review
Microsoft Teams is a video-conferencing and collaboration platform with a powerful suite of tools built around Microsoft products, but it's complex.
What is Microsoft Teams?
Microsoft's take on business collaboration and video-conferencing software is, to the shock of absolutely nobody, built around its existing Office 365 suite of products and services. If you're a heavy business user of Word, Excel, PowerPoint and all of Microsoft's other well-regarded office productivity tools, it's a great way to make the most of them in a collaborative way. However, like many of those tools, there's a mix of both powerful features and product complexity that's not going to appeal to everyone.
Microsoft provides Teams with a range of different pricing plans, depending on both your needs and usage. If you're just after actual video calling through Microsoft, it'll shift you straight to Skype, but that's not a package that supports the kinds of collaborative features most business users will want or desire.
What can I get for free?
You can access Microsoft Teams for free with just a Microsoft account. So if you've got an Outlook email address (or kept up an old-school Hotmail one from back in the day), then you can sign in and set up Microsoft Teams that way. However, that's an option that's only available if you don't have an Office 365 subscription tied to that email account. That's because Teams was and is part of the business suite of Office 365, with tiered pricing depending on your needs.
On the free plan, you can have up to 300 users in your organisation, but they'll have to live with just 10GB of shared storage between them. While you can manage video group calls, there's no facility to record them for later training or review purposes. The free plan also lacks administrative tools for managing your users and their application use as well as usage reporting for Office 365 services.
There's always going to be some variance depending on networks, but in a Finder check where a user performed multiple Zoom meetings as well as a Teams meeting, the video quality on Teams had higher levels of noise and grain than the Zoom chats over the same connections.
There are also some small feature differences in video chats depending on whether you're using the web or standalone app versions of Teams, including the ability to smoothly blur out your background. That could be quite a useful feature in the current climate if you're working from home on your kitchen table, but you'll need to install the Teams app to make it happen.
Microsoft Teams pricing and fees
Because it's part of the business version of Microsoft Office 365, there really isn't distinct pricing for just Microsoft Teams. Office 365 Business Essentials, the cheapest business plan of Office 365 that includes Teams, costs £3.80 per month per user with an annual commitment, while Business Premium will set you back £9.40 per user per month.
How do I sign up for Microsoft Teams?
Set-up for new members and guests can be a little challenging, especially if they're using an external email address.
Microsoft's login process can involve multiple sign-in attempts for new members of a team, which can ensure a good level of security for larger enterprises but might also be a barrier for new members who may not be familiar with the process.
You can sign up online on the Microsoft website and the app version is available for iOS, Android and Windows.
Should you buy it?
The large-scale appeal for Microsoft Teams comes from its integration with the rest of the Office 365 suite, which already supports many levels of content sharing and collaboration without necessarily needing teams per se. It's also very much built around pushing most businesses but the very smallest towards an Office 365 business subscription because the limitations on the free product as a collaborative document tool are pretty stark, with just 10GB of shared space across your entire organisation.
Microsoft Teams is very much a tool for the Microsoft faithful. If you're already using the in-built collaboration features of Office 365, it's a bit of a no-brainer for businesses because it's built right into your existing Office 365 subscription at no extra cost.
It's an extremely powerful collaboration platform in its own right, but that does bring with it a level of complexity that may be challenging for novices with a learning curve – both in setting up Teams and then working within an existing Teams structure – that may take more time and training to fully comprehend.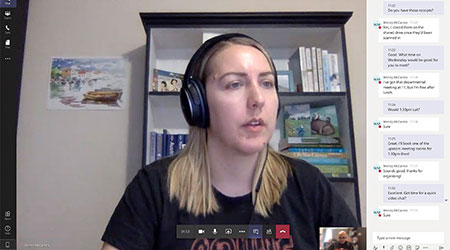 Compare Teams against its rivals
Table: promoted deals, sorted alphabetically
Pros and cons of Microsoft Teams
Pros
Free and paid options
Clean interface
Can easily deliver good quality video to all participants
Cons
Can get quite complex
Predictably can be hobbled by wobbly broadband
Verdict
Microsoft Teams has very good video and audio conferencing tools for just about every usage scenario, but you might need to spend some time learning the system and assisting your team to get their heads around it.
We show offers we can track - that's not every product on the market...yet. Unless we've said otherwise, products are in no particular order. The terms "best", "top", "cheap" (and variations of these) aren't ratings, though we always explain what's great about a product when we highlight it. This is subject to our
terms of use
. When you make major financial decisions, consider getting independent financial advice. Always consider your own circumstances when you compare products so you get what's right for you.