Polar M600 review: A solid blend of fitness and smartwatch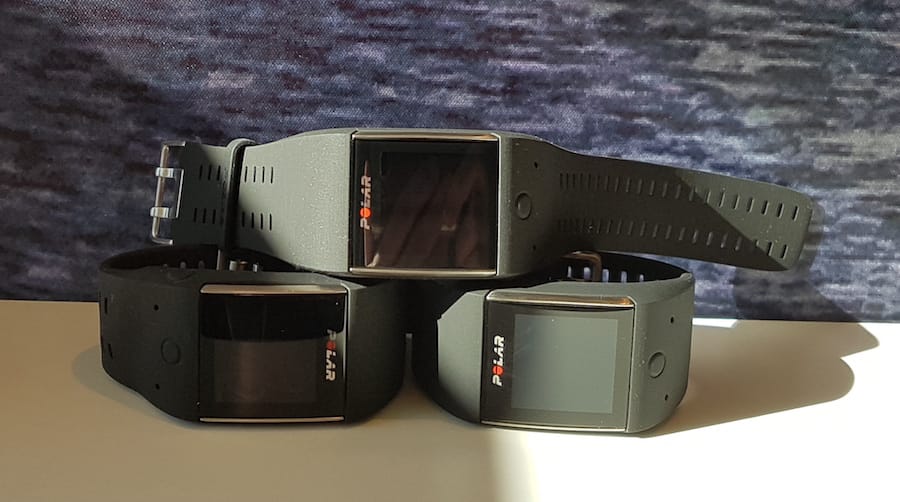 Polar's combination of Android Wear and fitness tracking is solid for active users, though the daily charge may turn you off.
Smartwatches and fitness trackers may offer similar functionality in slightly different form factors, but in the majority of situations they cater to completely different audiences. Polar's new M600 Android Wear smartwatch is obviously designed by the Finnish company to try and bridge that divide, and for the most part the result is successful.
There are still some fundamental challenges when it comes to using a smartwatch as a fitness tracker (*cough* battery life *cough*) but so long as you're prepared to forego sleep tracking and charge the M600 every night, the tracking elements of the watch are well worth your time. Polar's dedicated tracking button makes getting active simple, while the Polar Flow app does a solid job of keeping tabs on your fitness activities.
Polar M600 Design
The Polar M600 is instantly familiar to anyone who has used a wrist-mounted fitness tracker before. The shape of the M600 echoes the likes of the Fitbit Surge, with a small square screen encased in the device's band, and shaped to wrap around a wrist comfortably.
There are two physical buttons on the M600, though their presence is subtle enough they could be missed on first glance. The front button offers a shortcut to Polar's fitness activity tracking, while the side button acts as a "home" button. You can get by without using that side button by simply interacting with the Android Wear touchscreen, but it can be convenient, especially in tracking mode, as a quick way to go home.
Flipping the M600 over, there's a centralised and fairly large optical heart rate monitor on the bottom. It kind of looks like Iron Man's arc reactor, with the central sensor surrounded by a ring of six LEDs, which Polar claims offers much more accurate readings than the dual-LED setup found in many rival devices.
Towards the bottom of the back of the device is another metallic ring, which is the smartwatch's charging port. The cable can only connect in a single direction, which can be a bit challenging to line up, though the magnetic attachment does help in this regard.
The watch comes with either a black or white silicone band, which is removable and interchangeable. There are plans to launch a red band later this year, but to start with the device is purely a two-toned affair.
Wrapped around your wrist, the Polar is lightweight and comfortable, though it does protrude a fair way from your wrist. It's way too bulky to wear while sleeping, which completely negates the sleep tracking function, though the reality is that you'll probably be charging the watch at night anyway.
Polar M600 Specs
The Polar M600 looks fairly competitive against other Android Wear devices on the specifications front. Integrated GPS and heart rate sensor means the smartwatch needs that 500mAh battery in order to power through a full day. You can push the battery life through to a couple of days if you don't do any activity, but that kind of defeats the purpose of a fitness smartwatch, doesn't it?
| Model | Polar M600 Sports watch |
| --- | --- |
| Screen size | 1.3in 240 x 240 pixels, 260ppi transmissive TFT display, Corning Gorilla Glass 3 |
| Band options | Black, White |
| Waterproof | Yes, IPX8, Waterproof to 10m. |
| Battery | 500mAh, 2 days |
| GPS | Yes, GPS and Glonass |
| Connectivity | Bluetooth 4.2 Wi-Fi 802.11 b/g/n |
| Heart rate sensor | Yes |
| Apps? | Yes |
| Calling ability | Yes |
| Price | £299 |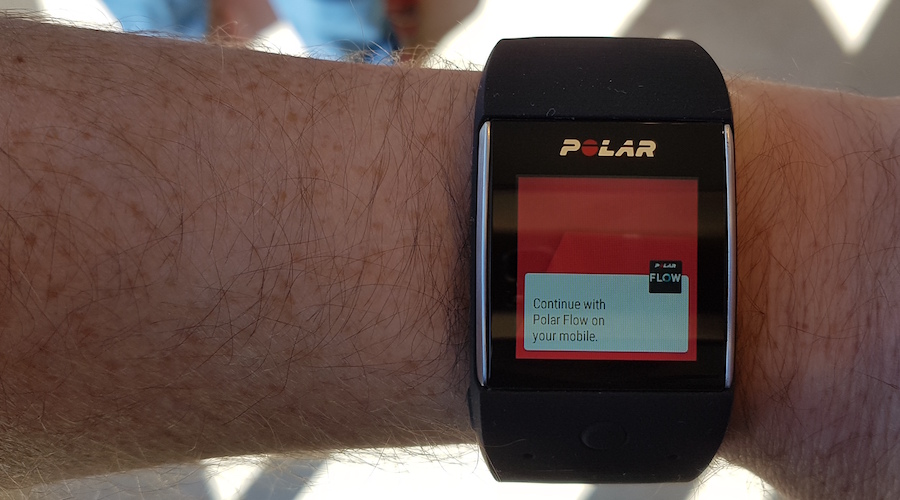 Upsides: Why you'd want the Polar M600
Completely waterproof. The M600 is one of the few Android Wear smartwatches (or fitness trackers, for that matter) which is completely waterproof. You can keep the M600 strapped to your wrist while swimming, and use it to track your performance in the pool. What's better is that the waterproof nature doesn't sacrifice Android Wear's functionality. You can still use voice commands to control your smartwatch thanks to an included microphone.
Lightweight design. The M600 is a little chunky on the wrist (a combination of the 500mAh battery and waterproof design) and may not winning any style awards, but for users looking for a serious fitness tracker to help them train, the M600 manages to sit on the wrist effortlessly. Given the sheer amount of technology crammed inside, the fact that it weighs just 53 grams is a truly impressive feat of engineering.
Integrated GPS. While many of today's fitness trackers and tracking apps rely on your smartphone for GPS information, the M600 has it's own GPS chipset, which means you can accurately track your workout without having to take your phone with you. The results are incredibly accurate, too, unlike many other devices that can throw your location around as your phone tries to find the GPS signal. Like many Android Wear devices, there's also 4GB of onboard memory for music too, so you can still listen to music while you exercise, even without your smartphone.
Comprehensive activity results. The Polar Flow app, which is activated with a press of the front button, offers tracking support for well over 100 activities, from rugby to hiking, running to wheelchair racing and so many more. You need to sync which activities you want to track to your watch, but the results are clearly displayed in the app. You can see your location, your heart rate over time (including heart rate zone) and pace for relevant sports.
The benefit of Android Wear in a fitness tracker. The key attraction of Android Wear has always been in the wrist-based notifications, and that's where the Polar M600 stands apart from other fitness trackers. You can be mid-way through a workout and still be alerted that your mum just pinged you on Facebook Messenger.
Downsides: Why you might not want the Polar M600
Battery life. Polar talks up the longevity of the M600 and its capabilities as a 24/7 fitness tracker, but despite its 500mAh battery, the inclusion of integrated GPS and Wi-Fi technologies means that battery life isn't as good as a fitness tracker without those technologies. That's okay on its own, but the Polar software is designed to track sleep as well as activity, which it can't really do due to the need to charge every day.
No automatic fitness tracking. Strap on a device like the Fitbit Charge 2 and the wearable will automatically detect if you've been active for longer than 10 minutes, so you never miss out on an activity. This functionality is missing from the Polar M600 – you need to manually start tracking every activity. You also need to preload the watch with the activity you want to track, so if you're normally a runner who decides to go for a hike, you need to use the app to add hiking to your watch to get that activity accurately monitored.
Silicone strap is a dust magnet. The rubberised strap may be comfortable, but dust sticks to it like glue, and that's before it's been worn for extensive exercise. You can take it off and wash it easily enough, but some more watch band options would be welcome.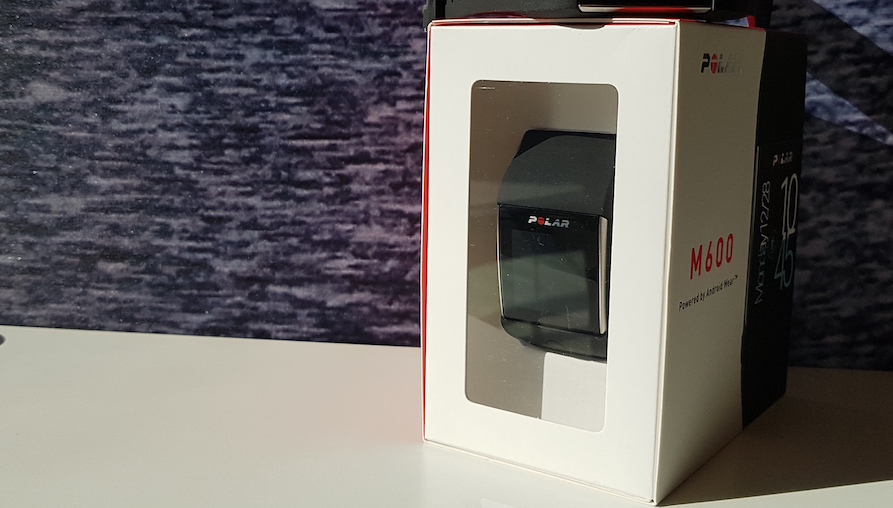 Who is it best suited for? What are my other options?
While the style almost definitely won't be for everyone, there's a really attractive proposition in having an Android Wear smartwatch that is capable of working as a comprehensive fitness tracker. Notifications on fitness devices has always been an area of disappointment, and Polar seems to have delivered here by combining the two fields through its very good Polar Flow fitness software.
If you're looking for more of a smartwatch with notification capabilities and some fitness tracking on the side, the Apple Watch Series 2 is the obvious competition for iOS users. For the more fitness savvy, the Fitbit Blaze is also worth taking a look at.
Where can I get it?
Polar sells the M600 via its online store for £299, and it can also be picked up from other stores around the country.
Latest technology headlines