Nokia Steel review: A new kind of activity and sleep tracker
The Nokia Steel is the new stylish fitness tracker that you can use to monitor sleep, a range of activities and even track your weight, with an eight-month battery life.
The market is currently saturated with all sorts of fitness trackers. From Fitbit to Garmin, we all know someone who owns one. Fitness trackers are used to measure basic functions such as step count, the quality of your sleep and heart rate. The Nokia Steel also tracks more than 10 different activities, such as running, walking and sleeping, and it is even water resistant up to 50 metres so you can track your swim. Input your starting weight, height, age and gender, then add new measurements each day and it will graphically display your weight to show you how far you've come. I have been using the Nokia Steel for a month now and here is my review so far.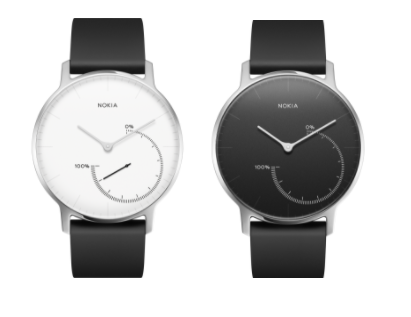 ---
Nokia Steel design
The main thing that I like about the Nokia Steel is that it doesn't look like a fitness tracker. It comes in white or black and actually just looks like a normal fashion watch. The holes in the band are very close together so you can adjust it to fit your wrist perfectly. I find that first thing in the morning I need it a little tighter, but after running I need an extra bit of slack, and this watch allows for both.
The face of the watch is very classic, showing just the time and the percentage of your steps reached for the day. Set the number of steps you would like to achieve on a daily basis in the Health Mate app, then throughout the day as you get closer to your step goal, the dial on the inner circle increases, getting closer to 100%. I really liked this feature as it means I don't have to go into the app or press any buttons to see how close I am to completing my desired step goal.
Unlike other fitness wearables, the Nokia Steel does not digitally display any other fitness information, which to me is the unique selling point of this product. The face of the watch is not cluttered with extra information and simply looks like a normal watch.
It's also worth noting that the Nokia Steel does not need to be charged like some other fitness wearables; it comes with a battery life of up to eight months. Studies show that people often give up on their wearable if they have to charge it, which is why the Nokia Steel has been integrated with a durable, hassle-free battery.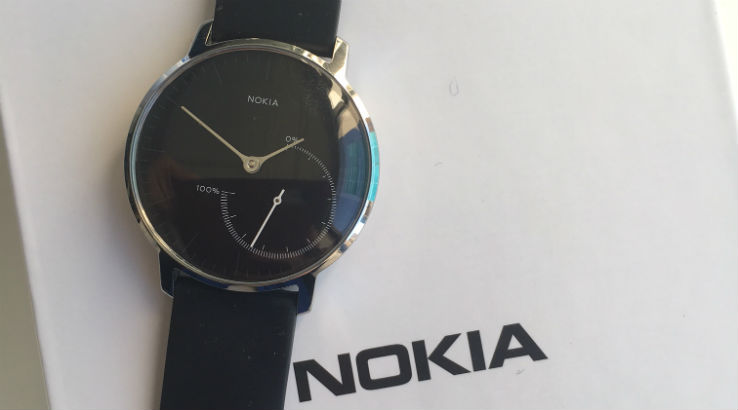 ---
Fitness tracking
The Nokia Steel tracks your activity levels 24/7 (as long as you're wearing the watch) and the best part is that you can leave your phone at home. Sync the watch to your phone via Bluetooth whenever you want to check your up-to-date activity levels. It can differentiate between a range of activities including walking, running and swimming, and also estimates the calories you've burned. The Health Mate app also detects new activities and logs these. Some of the activities it can learn are tennis, squash, badminton, table tennis, weightlifting, football, dance, boxing and more!
For me, the best thing about the Nokia Steel is the step count. As it uses motion to measure steps, I know the step count is not going to be 100% accurate, but being able to gauge approximately how close I am to completing my 10,000-step goal for the day at a glance was great! Quite often I found myself going out for a walk after dinner if I was close, just to reach my daily goal. There are a few activities that the Nokia Steel does not pick up, like cycling and elevation. So if you're walking uphill for 10 minutes, which will generally be harder than walking downhill for 10 minutes, the watch will read this as the same activity. However, being able to track both elevation and cycling will be introduced in the near future.
The Health Mate app also records an estimate of your heart rate when you press your index finger to the camera on your phone. This seems to be roughly correct: I have a rather low heart rate in general which was detected in the Health Mate app, and straight after exercise the app recorded a much higher heart rate. A cute feature of the Health Mate app are the badges it awards the more you use the watch. For instance, once you've walked a total of 410 kilometres, the app congratulates you on completing the equivalent of a tour of the Galapagos Islands.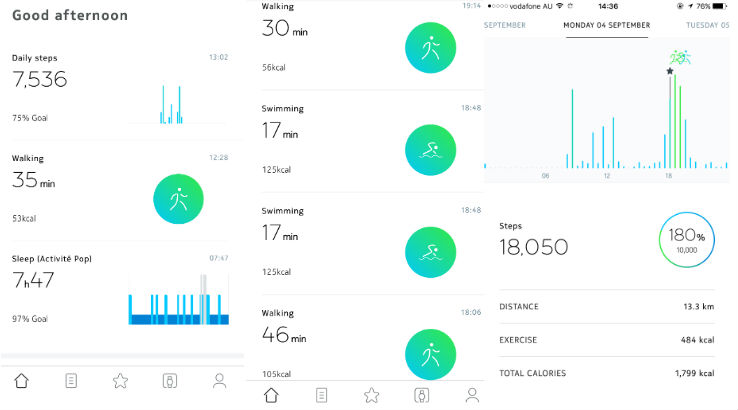 ---
Sleep tracking
Like most fitness trackers, the Nokia Steel claims to record your sleep activity. The watch can record the duration of time spent in bed, the time taken to fall asleep, differences in light and deep sleep, and the number of times you woke up during the night. It is worth noting that the light and deep sleep measurements are taken from how much or little you move during your sleep, so this won't be 100% accurate.
I found that the Nokia Steel was very accurate at measuring what time I roughly fell asleep on a daily basis and the number of times, if any, I woke up during the night. I did actually feel more rested in the morning when the app recorded more deep sleep than light sleep, so the watch seemed to be good at measuring this, but there were some instances where the watch recorded a few hours of blank data.
But generally the Health Mate app gives a great graphical representation of sleep patterns and shows you how close to the recommended eight hours of sleep you are getting each night. The watch also sports a silent alarm which you can set yourself in the Health Mate app. Your watch will slowly start vibrating on your wrist at the set time, which is supposed to bring you out of sleep in a more gentle and natural way compared to a noisy alarm. I only used this a few times, as I prefer my phone alarm.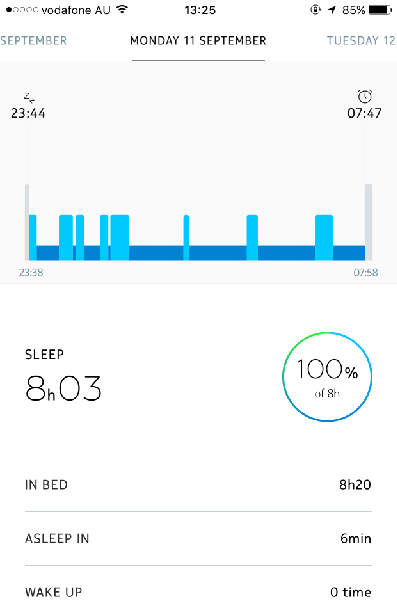 ---
The Health Mate app
I found the Health Mate app very easy to navigate around and aesthetically pleasing. Much like Facebook, the app has the menu bar running along the bottom of the screen, which gives you a sense of familiarity from the get-go. The activity and sleep data is displayed in a simple numerical manner as well as graphically if you prefer. Steps, distance, calories and active minutes are all represented as circular graphs, tracking towards your predetermined goals.
In the app, you are also invited to manually track your weight by entering it as often as you'd like, as well as recording your heart rate too. The app also lets you input new activities in case it does not pick these up automatically. The Health Mate app is linked to MyFitnessPal, a daily food intake tracker. This means that you can combine activity with your diet plan to accurately monitor your health from all important aspects, as diet plays a huge part in staying fit and healthy.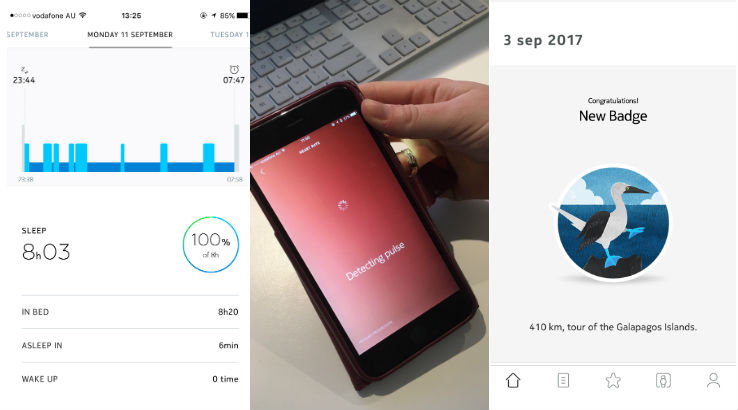 ---
Nokia Steel verdict
I love the Nokia Steel for several reasons. First, I really like the design of the watch itself – it doesn't look like an activity tracker and you can choose the colour you'd prefer. I like that I can wear this watch with every outfit without it looking like a bulky fitness wearable – most people are surprised when I tell them it is monitoring my activity levels! I found I was challenging myself on a daily basis to reach my goal of 10,000 steps, so I have actually become more active as a result of wearing this watch.
I also like that you don't need to press any buttons or charge the Nokia Steel. You just pop it on and start walking! I sync via Bluetooth a few times a day to track how I am doing, but the watch will just keep on recording data independently without it being connected to the app. The Nokia Steel comes with a RRP price tag of £136; however, you can purchase from eBay and DWI for less. If you want an activity tracker that doesn't look like all the others on the market, the stylish Nokia Steel may be the watch for you!
---