LG's 2017 TVs will feature "nano cells"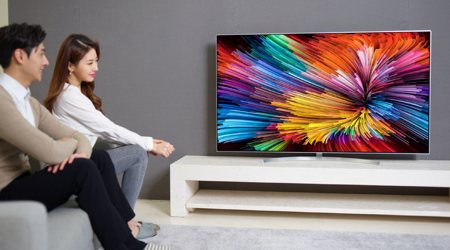 Tiny pixels differentiate LG's highest end TVs for 2017.
LG has been exceptionally busy in the leadup to CES 2017. First it announced a bevy of handsets aimed at the mid-range phone buyer. Then an unusual floating speaker design. Then fully wearable speakers. LG has even pre-announced that it will be showing off robots for use in the home, outdoor and public spaces.
All this rush of information had most figuring that the one thing that LG would hold close to its chest would be its plans for TV sets. TVs are a core staple of the CES experience, but here again LG has made its plans clear by announcing updates to its Super UHD TV line.
Now in its third generation, the SJ9500, SJ8500 and SJ8000 TVs run on the webOS 3.5 platform that's just about all that's left of the once mighty Palm brand, after LG acquired the technology from HP a few years back. HDR is also a highlight of the new TVs, with support for Dolby Vision, HDR10 and Hybrid Log Gamma. LG's claim is that the use of what it's calling "Nano Cell LCD" particles allows for the same quality of brightness and colour uniformity when seen from an angle as from a straight on view, where TVs typically look their strongest.
LG is yet to announce pricing for the new models, but we'll go out on a limb here and suggest they won't be cheap. It's expected to show off the new TVs fully, and possibly announce pricing this week at CES in Las Vegas. We'll update with our impressions later this week as part of our live coverage of all the announcements from CES 2017.
Alex Kidman travelled to Las Vegas for CES 2017 as a guest of Dell.