Electric Dreams Episode Two "Impossible Planet" review
What's old is new (and horny) again.
The Electric Dreams series has plotted a close course with the Philip K. Dick source material so far; however, fans of this particular short story will note this episode begins authentically enough only to deviate off into uncharted territory. Fittingly, that's pretty much the plot of Impossible Planet: an unwitting sightseer asks to swing by an old haunt, but instead two tour-guide swindlers rocket off to somewhere else and try to pass it off as the real McCoy.
The basic framework of that plot remains true enough to the 11-page short story Dick penned in 1953. Flanked by an android "robant" manservant, a 340-year-old deaf woman named Irma Louise Gordon (Geraldine Chaplin) seeks to book a travel tour of Earth with the opportunistic Captain Andrews (Benedict Wong) and his disenchanted co-worker, Brian Norton (Jack Reynor). Slight problem: the exact location of the planet that spawned all of mankind has been lost for centuries. Still, the old bag is stone deaf, trusting, consumed by nostalgia and her offer is a briefcase full of cash. It's enough to make Andrews stop Netflixing interspecies sex to make the impossible possible.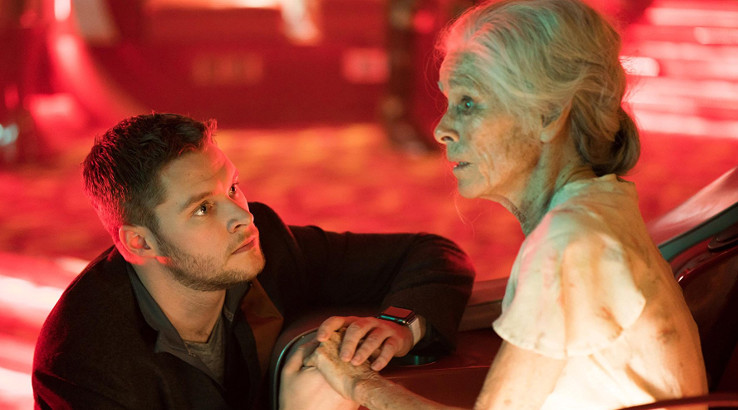 After looking up a solar system and planet that loosely fits the bill of the now-mythical birthplace of our species, the intergalactic ruse cruise on The S.S. Dreamweaver begins. Motivation-wise, Andrews is a scumbag who wants the cash to fund a five-year holiday of pure laziness (and presumably more psychedelic porn). Brian is a reluctant liar who needs the capital to buy his way out of a dead-end job and into the affections of a gold-digging girl who's rapidly losing interest. Meanwhile, the incredibly sweet and surprisingly switched-on Irma starts out hoping to see the last planet her grandparents fell in love on, but as the ship edges closer she complicates things by requesting to see a specific waterfall in what used to be Carolina.
Honestly, watching the web of deceit stretch thin is just as engrossing today as it was in the original short story. A stressful Andrews bitches about this worsening deal while struggling to make an increasingly remorseful Brian stick to the plan. The emotionally-unreadable Robant sits in suspended mode for most of these exchanges, but may in fact be acting as Irma's ears, though it's unclear how he could relay information back to his stone deaf mistress. Also, Irma isn't without her own guile and charms. Pretty soon you've got a case of who is conning who?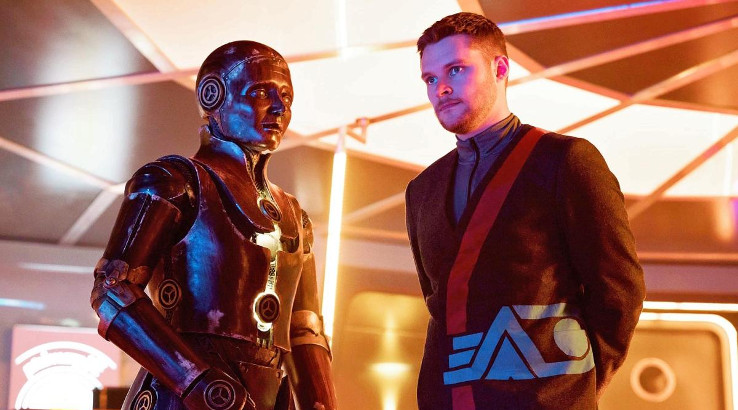 Interestingly, this TV adaptation weaves in a romantic thread to Impossible Planet which didn't previously exist. Irma's need to revisit a Carolina watering hole is driven by a vivid memory once told to her by her grandparents. Seems ancient ol' ma and pa used to go skinny dipping there during their courtship phase. Using a speech-to-text translator, Irma slowly but surely sells this idyllic vision to the unlucky-in-love Brian. Because, hey – if you're gonna snatch one last look at the cradle of man, why not do the meta thing and cradle-snatch a man while you're doing it?
From here, things only get weirder, folks. Irma produces a picture of her forebears, and whaddya know? Grand pappy Gordon is a dead ringer for Brian. Irma also opens her luggage and whips out the remarkably well-preserved outfits her ancestors are wearing in said photograph. Brian agrees to play dress-up, though it's a little unclear as to why. Is the young buck kindly placating an old lady on her last legs? Is he trying to hasten his pay day? Or…you know, is he into it? Either way, the pair zip spacesuits over their Amish-wear and prepare to take a day trip on the hazardous surface of non-Earth, Emphor III.
Like all great Dick stories, the ambiguity ramps up in earnest here. When the two adventurers leave the safety of the ship, a horrified Andrews realises that he hasn't fully topped up the oxygen tanks of the EVA suits. Hand in hand, the oblivious Irma and Brian stroll off into a cyclonic maelstrom, beyond all hope of further radio communication or rescue.
The harsh realities of respiratory systems do the rest. Hallucinations brought on by low O2 levels (or possibly an early entry into the afterlife) cause the world to change. Irma and Brian are transported from a windswept hellscape into a lush sylvan thicket on the edge of a waterfall. It's a bittersweet moment as Irma turns into a youthful version of her grandmother and goes for a skinny-dip. A delighted Brian whips off his space suit and dives in after her.
Is this Brian's heaven, or Irma's, or some sort of shared nirvana? Are their oxygen-deprived brains farting out one final, pleasant malfunction? Do the coincidences in their fateful meeting tally up to a predetermined fate? Or was this a carefully orchestrated swindle by a woman who didn't want to die alone but had a silver tongue, mad Photoshop skills, and access to a heartbroken young man? The fate of the Dreamweaver and its crew is open to interpretation.
---
Latest streaming headlines