Easter gift ideas: The ultimate guide for 2022
Sharing gifts with friends and family is part of what makes Easter a truly joyous occasion.
With so many different people to think about buying gifts for, it can also be an overwhelming holiday to approach alone.
As soon as the Valentine's hearts are taken away, the Easter bunnies come out and you're bombarded with bright pastels, larger-than-life chocolate eggs and even larger price tags.
Easter shouldn't be about who can spend the most, rather who can buy the most thoughtful gift. That's why we've done the research for you.
Whether that's a gift for your kids, your parents, your best friend or your child's teacher, we've rounded up the best affordable present ideas that will leave you feeling much more relaxed this Easter time.
Top retailers to shop Easter gifts
Best Easter gift ideas 2022
---
How to choose the best Easter gift 2022
How to choose the best Easter gift
Gift giving is always a tricky thing to navigate and it's even harder at Easter. Unlike Christmas, Easter isn't heavily associated with gifts, though it's becoming more commonplace. If you're not sure how to choose the perfect present, here are some things to consider:
Age. Age is an important consideration when choosing a gift for someone because it will often dictate what they do and don't like. Luckily, most online retailers categorise gifts according to age, making it easy for you to find something appropriate for everyone.
Interests. The best gifts are always ones that show how well someone knows us. If you're not sure, ask close friends or family of the person for a hint or two.
It's the thought that counts. It may seem clichéd, but we guarantee getting something personal will make them happier than giving them the most expensive gift you can find.
It's okay to be traditional. You may worry the trend of gift giving means simple, chocolate gifts are out the window. This definitely isn't true and there aren't many people who would be disappointed by a sweet treat! If you're on a budget, stick to a box of chocolates or a traditional Easter bunny. If you'd like something a little more elaborate, many gift delivery services now offer products such as edible chocolate bouquets or chocolate-themed hampers.
---
How to choose Easter flowers
Easter flowers are traditionally bright and pastel, or white. They channel the energy of renewal and spring, which is why lilies are a popular choice.
Azaleas are high on the list too, as beautiful and brightly coloured bouquets. If you think the recipient would prefer simpler flowers, tulips and daisies both make excellent choices.
They're a beautiful springtime choice that really embody the spirit of Easter.
It's often cheaper to order flowers online than to buy them from your local florist, but if you decide to order Easter flowers, make sure to order in advance.
Online flower retailers need anywhere from a few days to a whole week to process the orders sometimes and Easter is a particularly busy holiday!
---
---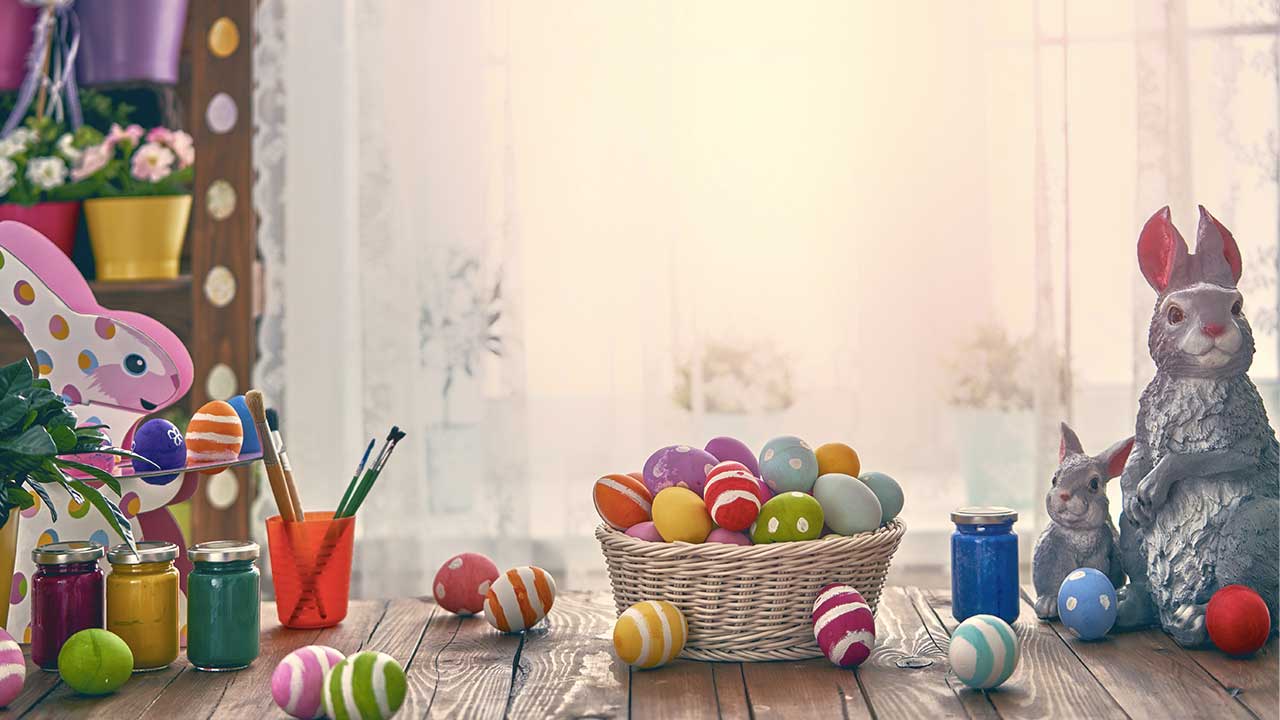 How to choose an Easter basket
Whether you want to assemble your own Easter baskets or buy a pre-assembled one, you've got options. Most Easter baskets are filled with candy, small toys like bubbles or stuffed animals and other treats.
Want to jazz your basket up a bit? You'll have more flexibility if you do it yourself and it may even work out cheaper.
You can customise it to the specific child or even create an adult-themed basket that includes wine and fancier chocolates. If you consider the recipient's age and interests, you'll definitely be able to create a basket they'll love.
Not got the time? If you choose to purchase a pre-made basket, we recommend reading reviews to ensure the items are of a high quality and something the recipient will love. If a few items are inappropriate, you might want to remove them from the basket before giving your gift.
---
How to choose an Easter gift for your kids
Although an Easter basket is a traditional Easter gift, your child will surely be excited by a different kind of Easter gift, especially one they can use outside in the beautiful spring weather. These are all likely to be fun, active toys that kids love.
If you want to keep it simple, even a small amount of Easter chocolate and a stuffed bunny will make the day exciting for your child.
Or, choose a more timeless and sentimental gift by opting for something customised, like a step stool your child can use for years to come and even pass on to their own children someday.
---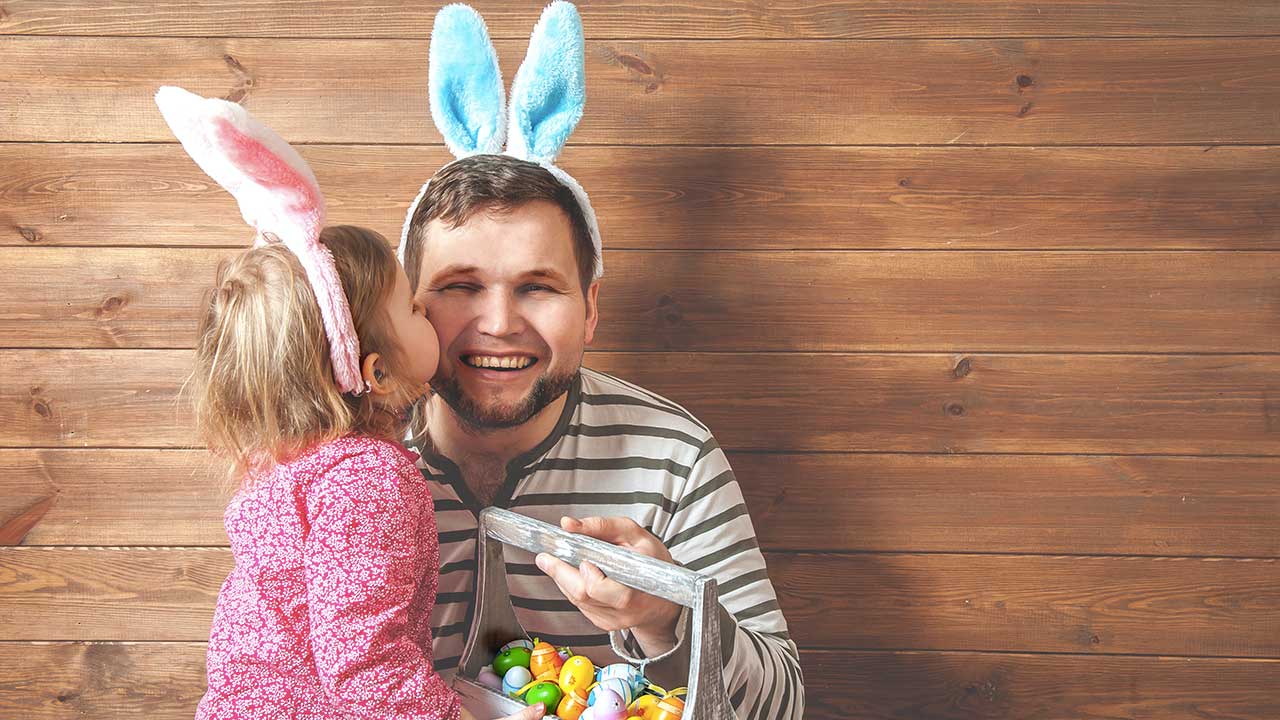 How to choose an Easter gift for your toddler
Choosing a gift for your toddler can be a challenge because much of their personality hasn't come through yet. One minute, they love the newest toy you bought for them, the next they're flailing and crying on the floor.
You know your child best, but we have a few ideas for gifts that will excite even the littlest of Easter chicks.
Bath toys make a great gift for limited attention spans: after all, you can only stay in the tub so long! Easter-themed rubber duckies are affordable and an adorable hello to spring.
You could also try wind-up jumping chicks that frolic about with as much energy as your two-year-old, although we recommend supervising your child when they're playing with it!
---
How to choose an Easter gift for your parents
If you want to show your appreciation for your parents at Easter time, you've got a wide variety of options. Flowers or chocolate are a great choice of course, but we think you can do better!
Go for something personalised to add a special touch, such as these shower steamer aromatherapy pods, which are great if you're on a budget. If you want to spend a bit more, you could always pick an experience of some kind.
Why not book for them to explore a local garden in the springtime complete with a cream tea lunch for two?
---
History of Easter
Easter is an important holiday that's celebrated to mark important events that define Christianity. The holiday celebrates the resurrection of Christ and is essentially the oldest Christian holiday, celebrated for hundreds of years. The season of Lent, which comprises of a 40-day fasting and repentance period culminates in the Holy Week, which ends with the 3-day Easter celebration. Some modern Christians do not observe Lent and only celebrate Easter Sunday.
But Easter is not a purely Christian tradition. It has been supplemented by other pagan customs that were marked to celebrate springtime fertility. The customary egg decorations, the sharing of candy and the making of Easter gift baskets have become popular and been accepted as part of the Easter festivities since the Middle Ages.
---
Easter FAQs
Current gift deals and promotions
Popular reads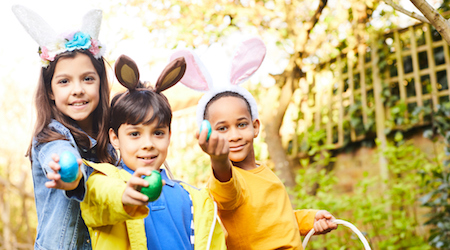 Get your party planner on this Easter with our top tips to make your social gathering the best yet!
Read more…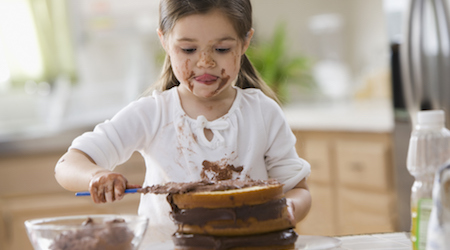 Want to try making something different this Easter? Whether you're planning on baking a rich chocolate cake or chick biscuits for the kids, we've got some of the best recipes to help.
Read more…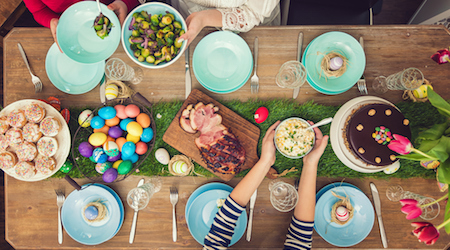 Need springtime decorations for your home and garden this Easter? From little lamb ornaments to baby bunny bunting, we've got just the thing.
Read more…