Crypto.com review 2023
Crypto.com offers safe ways to buy, sell and earn digital assets.
An all-in-one cryptocurrency exchange that offers the opportunity to spend and sell cryptocurrency as well as earn passive income on digital assets
Lacking effective customer support
Crypto is unregulated in the UK; there's no consumer protection; value can rise or fall; tax on profits may apply.
Details
Product Name
Crypto.com App
Fiat Currencies
USD, EUR, GBP, COP, CHF, HKD, SGD, AUD, CAD, KRW, SEK, CNY, TRY, RON, JPY, NOK, MYR, BRL, DKK, ZAR, BGN, THB, INR, TWD, PHP, IDR, MOP, MDL, SAR, MXN, CLP
Cryptocurrencies
BTC, ETH, XRP, DAI, EOS, BNB LTC, ADA, CRO, UNI & 268 more
Deposit Methods
Cryptocurrency
SEPA
Faster Payments (FPS)
Apple Pay
Google Pay
Debit/credit cards

Trading Fee
Maker: 0%
Taker: 0.04-0.06%
Deposit Fees
None
Withdrawal Fees
Cryptocurrency: Fees vary
Overview of Crypto.com
Launched in 2016, Crypto.com has become one of the largest cryptocurrency exchanges in the world, with over 10 million active users. Starting as a crypto-only exchange, Crypto.com has evolved into a more comprehensive platform, offering crypto payments, borrowing and lending services, a non-custodial wallet, the Crypto.org blockchain with native CRO and an NFT marketplace. However, not all of these features are available to UK residents. To be at the forefront of mainstream adoption, the platform has invested millions in marketing, including negotiating deals with globally recognised sporting organisations and celebrities. The exchange is headquartered in Singapore but is accessible all around the world.
If this is your first exchange: Crypto.com has several payment options for acquiring your first cryptocurrency assets. While initially overwhelming, the sleek and friendly user interface is easy to navigate even for inexperienced cryptocurrency investors.
If you're switching exchanges: Crypto.com may provide a great all-in-one alternative that allows you to put your cryptocurrency assets to work or convert them into real spending power. All of this comes at a highly affordable rate, but it may come at the cost of good customer service.
Pros and cons of Crypto.com
Pros
Wide range of features including crypto debit cards and staking
Security is a top priority and there is a $750 million insurance fund
Clean and friendly user interface
Certain Crypto.com cards give you the opportunity to cover the entire monthly cost of subscription services like Netflix or Spotify
Cons
Customer service is rated poorly
Support for certain cryptocurrency assets can be geographically restricted
Withdrawal fees from exchange can be high
In order to be eligible for certain Crypto.com cards, you are required to stake a set amount of GBP that is converted into CRO
Verdict: Is Crypto.com any good?
Crypto.com is a good choice for both inexperienced and experienced cryptocurrency investors. It caters to those who are looking for a platform that supports a wide range of cryptocurrencies and features. The exchange or app may be overwhelming initially, but the user interface is easy to use, and many features are available globally and at an affordable price. The fees for trading are competitive, though they can be high when withdrawing to an external wallet from the exchange. There is a detailed knowledge base available on how features work, and there is Crypto.com university to teach information about various assets. The company has prioritised security, marketing and design, but there is evidence to suggest that the customer service experience is lacking.
Finder ratings for Crypto.com
| | |
| --- | --- |
| Supported cryptocurrencies | ★★★★★ |
| Transferring money or assets | ★★★★★ |
| Fees and costs | ★★★★★ |
| Ease of use | ★★★★★ |
| Customer service | ★★★★★ |
| Features | ★★★★★ |
| Staking/earning | ★★★★★ |
| Trustworthiness/security | ★★★★★ |
| Overall score | 4 |
Crypto.com ecosystem overview
The Crypto.com ecosystem is divided between the Crypto.com mobile app and the Crypto.com exchange (which has both web and app versions). The app offers access to all of the basic features required by new investors, while the exchange provides additional functionality for those looking to trade short-term price movements or put their cryptocurrency assets to work with staking or decentralised finance (DeFi) farming.
Crypto.com app
The Crypto.com app hosts all of the features to get a user started with cryptocurrencies. Users can purchase cryptocurrencies directly using either a bank transfer or credit card. Alternatively, users can store fiat currency within the app's fiat wallet that can then be used to make purchases at any time. In addition, for any user that acquires a Crypto.com Visa card, all of the card details can be managed directly from within the app. Any cryptocurrencies held within the app can then be transferred to the exchange at no cost and vice versa.
Crypto.com exchange
The Crypto.com exchange is where advanced trading is available. These trading features are for those looking to take full advantage of their cryptocurrency assets and short-term cryptocurrency market movements. Through the exchange, users are able to put their digital assets to work, through DeFi and staking products. These offer a range of interest-earning opportunities. Finally, if investors are nervous about leaving cryptocurrency assets in the custody of the app or exchange, Crypto.com offers a non-custodial wallet service that provides full private key control called DeFi Wallet.
Crypto.com NFT platform
The most recent addition to the Crypto.com exchange is the Crypto.com non-fungible token (NFT) marketplace. Built on the crypto.org blockchain, the marketplace is offered as a standalone application. It hosts a range of NFT categories including art, sports, games, music and even NFTs owned by celebrities.
Crypto.org Chain
Crypto.com as a company developed and launched a native blockchain protocol called the Crypto.org Chain. The Crypto.org Chain is an open-source blockchain that facilitates elements of the Crypto.com exchange ecosystem and is capable of hosting other payment, DeFi or NFT applications.
The blockchain was developed using the Cosmos Software Development Kit (SDK) and uses Tendermint Core's consensus engine. By utilising a proof-of-stake (PoS) consensus mechanism, the blockchain remains scalable and secure.
Cronos
Alongside the main Crypto.org blockchain, Crypto.com has also developed an Ethereum Virtual Machine (EVM) sidechain known as Cronos. The sidechain was built using Ethermint and offers smart contract functionality. It was developed so that decentralised applications could be transferred across from other blockchains into the Crypto.org blockchain ecosystem.
What to know about Crypto.com
Crypto.com offers an expansive ecosystem for cryptocurrency investors. Most users will not need to look elsewhere with the variety of features on offer, and rates are extremely competitive. Due to the numerous payment and earning options provided, Crypto.com operates as a crypto bank rather than solely as a cryptocurrency exchange.
It is worth noting that the company has received quite a few negative reviews regarding customer support, though the 2 most common rankings are 1 out of 5 and 5 out of 5. Be sure to read the reviews rather than just looking at the rating for any exchange reviews to find out if the issues may affect you.
Is Crypto.com FCA regulated?
Crypto trading isn't regulated in the UK, but the watchdog, the Financial Conduct Authority, has a register of companies operating in the UK that have passed checks for anti-money laundering and counter terrorism. Crypto.com joined the register in August 2022.
Supported cryptocurrencies
Crypto.com supports over 100 different cryptocurrency assets. Below, Finder has listed 20 cryptocurrencies that can be deposited into the Crypto.com app. There is support added for new coins and tokens constantly so check out the full list on the Crypto.com support page.
Note: Some cryptocurrencies are not available in either the US or Singapore.
BTC
ETH
LTC
CRO
USDT
BAT
SOL
USDC
SHIB
GALA
BNB
LINK
MANA
ALGO
LUNA
BAND
ADA
FIL
DOT
DOGE
Transferring fiat and cryptocurrency
Transferring fiat and cryptocurrency into and within Crypto.com is straightforward. The exchange offers multiple deposit methods for over 20 different fiat currencies. Any money stored within the Crypto.com fiat wallet can be used to pay for cryptocurrency purchases at true cost. Fiat deposits and withdrawals can take 1-3 business days.
It is also very easy to transfer funds between the app and exchange. While the Crypto.com exchange does not support fiat deposits, the transfer of cryptocurrencies from the app to the exchange can be completed in seconds. The transfer of cryptocurrencies to and from external wallet addresses can take 2-3 hours.
While fiat currency can't be stored on the exchange, users can withdraw the stablecoin USDC back into fiat within the Crypto.com app.
Fees and costs
For cryptocurrency purchases, Crypto.com offers true-cost exchanges, making it one of the most competitive platforms in the market. When converting funds from the Crypto.com fiat wallet, there are no additional charges. Charges are implemented if you decide to purchase cryptocurrencies instantly using a debit/credit card or bank transfer. There is also a 1% fee applied to topping up your Crypto.com Visa card with a credit or debit card.
On the exchange, trading fees work based on a maker/taker system. Makers are traders that add new orders to the exchange's order book, creating new liquidity. Makers are rewarded with slightly lower fees. Takers fill already open orders (the ones made by makers), removing liquidity. Both maker and taker fees start at 0.4%.
Most fees within the Crypto.com ecosystem are influenced by CRO token holdings. If you stake a certain amount of CRO tokens, it can increase the interest offered by Crypto Earn, improve the benefits associated with the Crypto.com Visa card and lower the fees associated with trading. There are no fees for transferring cryptocurrencies between the exchange and app, but there are withdrawal fees for withdrawing to an external wallet. These fees vary depending on the cryptocurrency being withdrawn.
Fiat withdrawal and deposit fees
Crypto.com does not charge a fixed fee for fiat deposits and withdrawals. The details for all fiat currencies can be found within the Crypto.com help centre. However, there is a 1% charge for topping up a Crypto.com Visa card with a credit or debit card.
Crypto withdrawal and deposit fees
Crypto.com does not charge any fees for depositing cryptocurrencies. Only associated network fees will be applied when withdrawing through the app. When withdrawing through the exchange, the fees vary and can be quite high. Check the exchange's withdrawal fees tab.
What is it like to use Crypto.com?
Crypto.com has been designed so that it is intuitive for both inexperienced and advanced cryptocurrency users. It is clear the design team has taken time to ensure the user interface is clean, user friendly and easily navigated.
Crypto.com app
The homepage of the Crypto.com app lists all of the accessible features. It also highlights the day's top gainers. The interface of the mobile app is user friendly.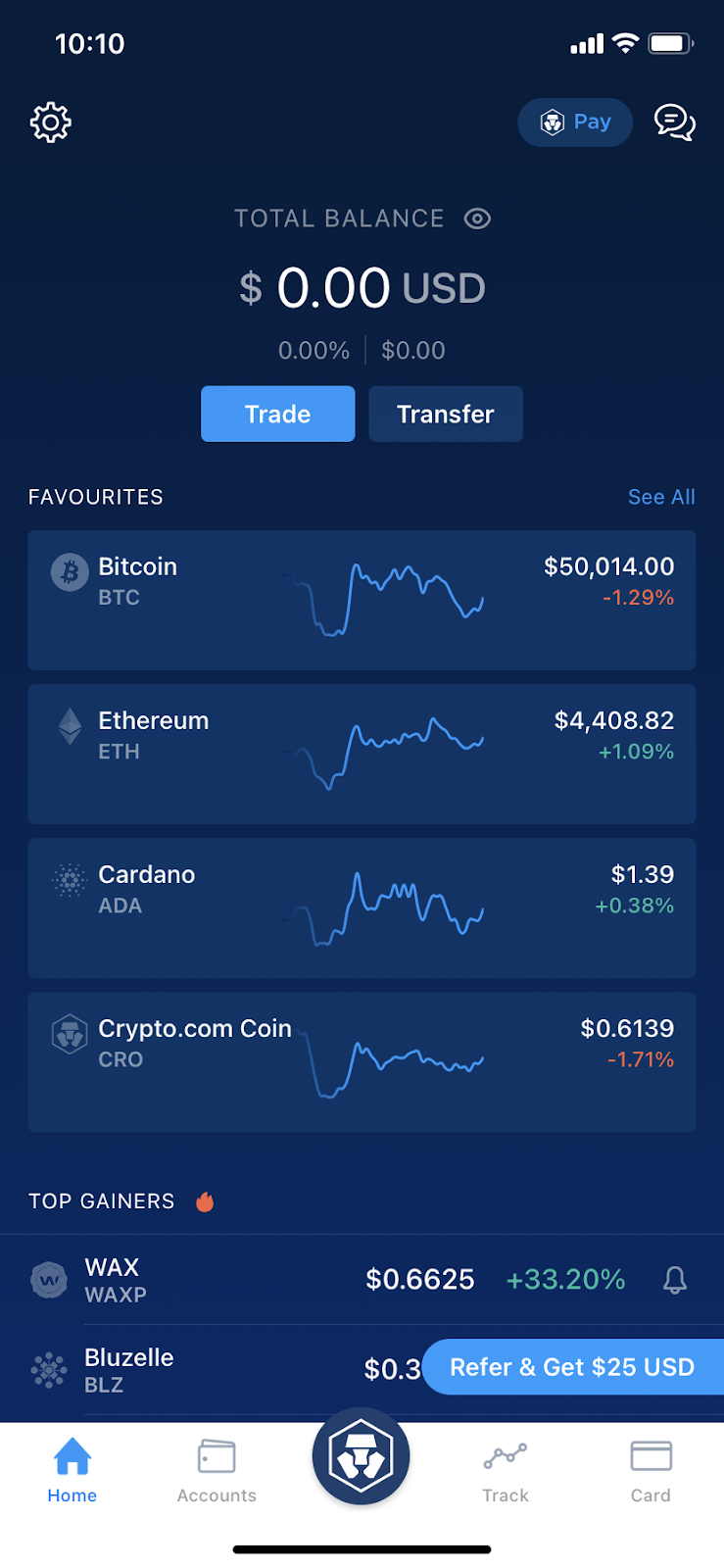 Crypto.com's Cryptocurrency charts
Each cryptocurrency is shown with an adjoining price chart that can be used to analyze price trends. Prices are updated in real time.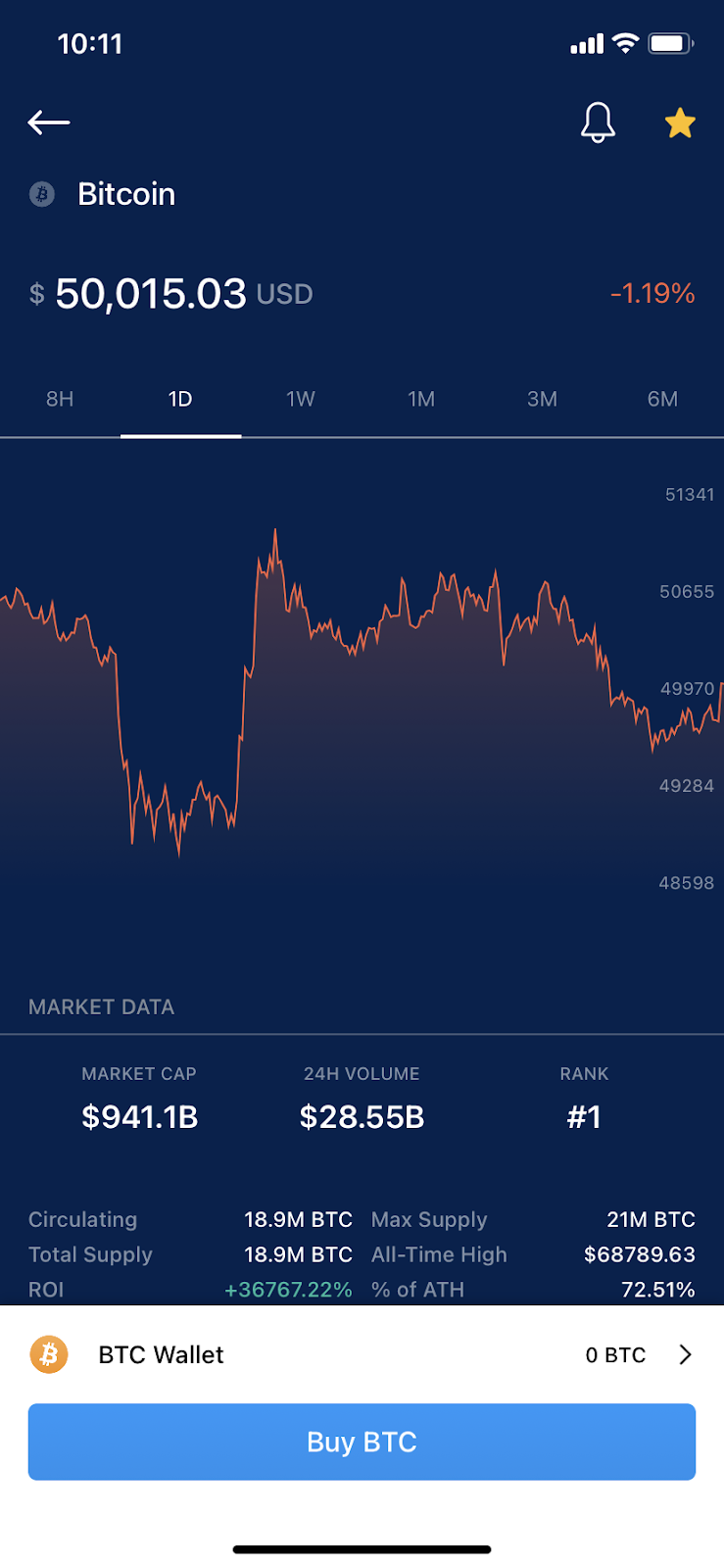 Crypto.com Visa Card
All details regarding the Crypto.com Visa Card can be managed from the Crypto.com app. Users can check balances and top up their card from the app.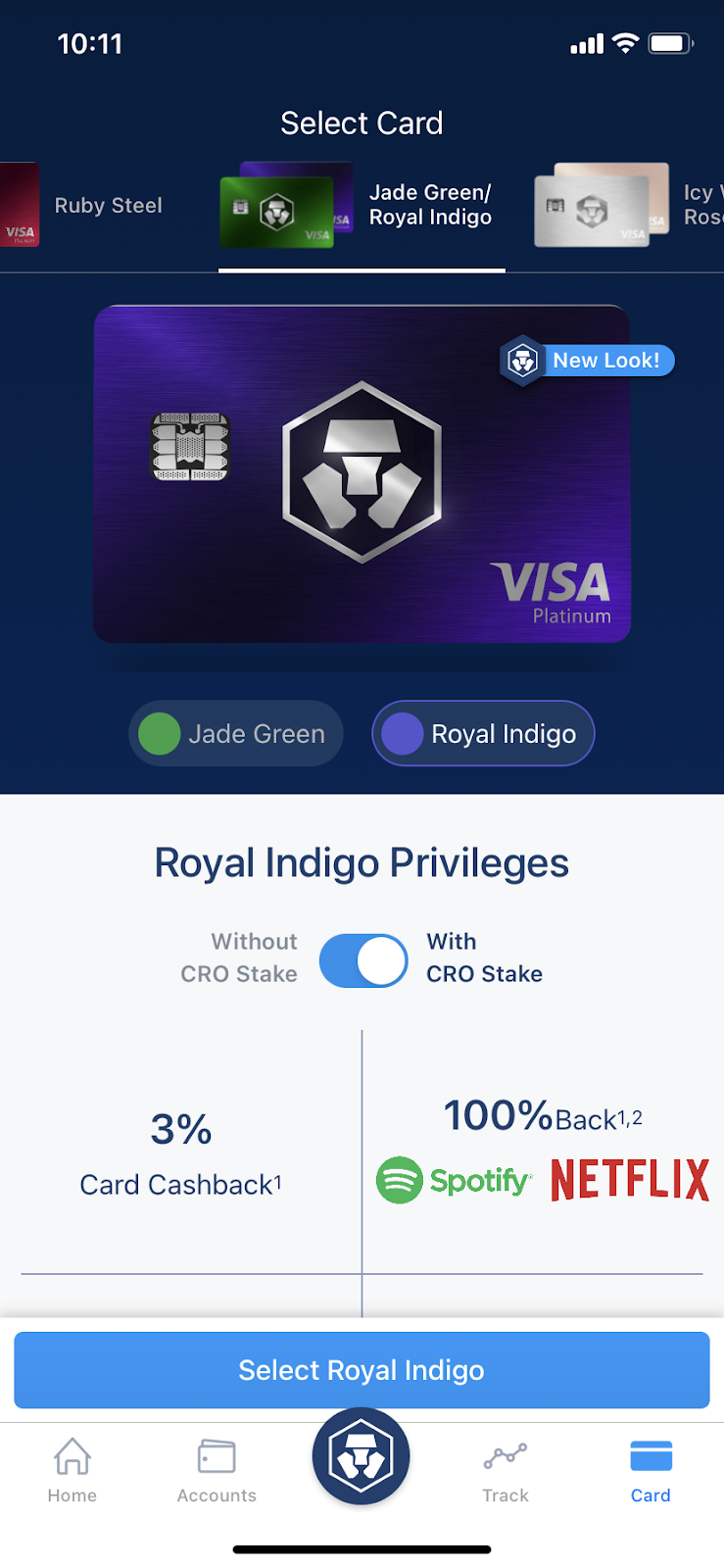 Crypto.com Customer service
Although direct customer service is sometimes lacking, Crypto.com does offer an extensive help centre that is complete with detailed guides on most of the processes users may have questions about.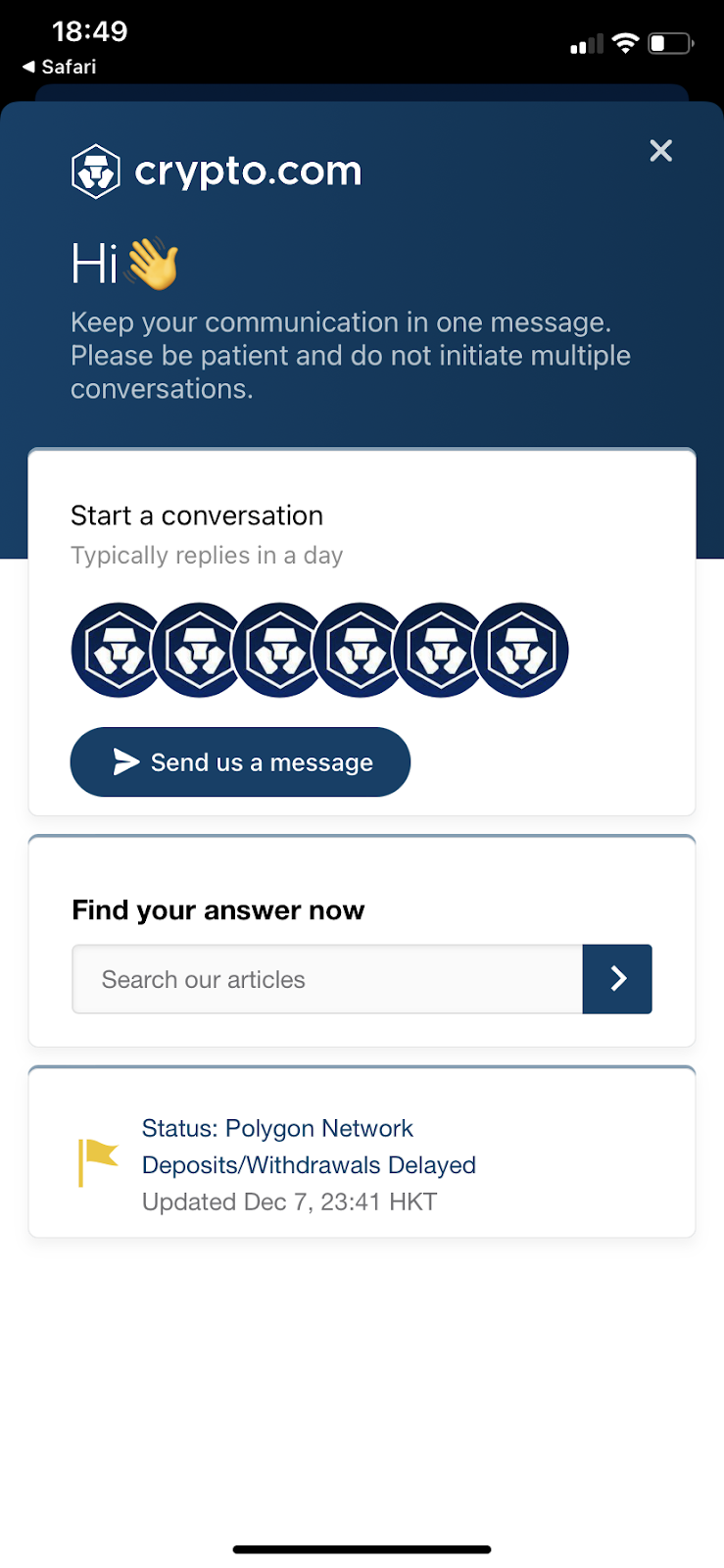 How to buy crypto with Crypto.com
Cryptocurrencies can be purchased using a credit card, cryptocurrency or fiat. While crypto wallet and fiat wallet purchases are completed at true cost, credit card purchases are charged extra fees.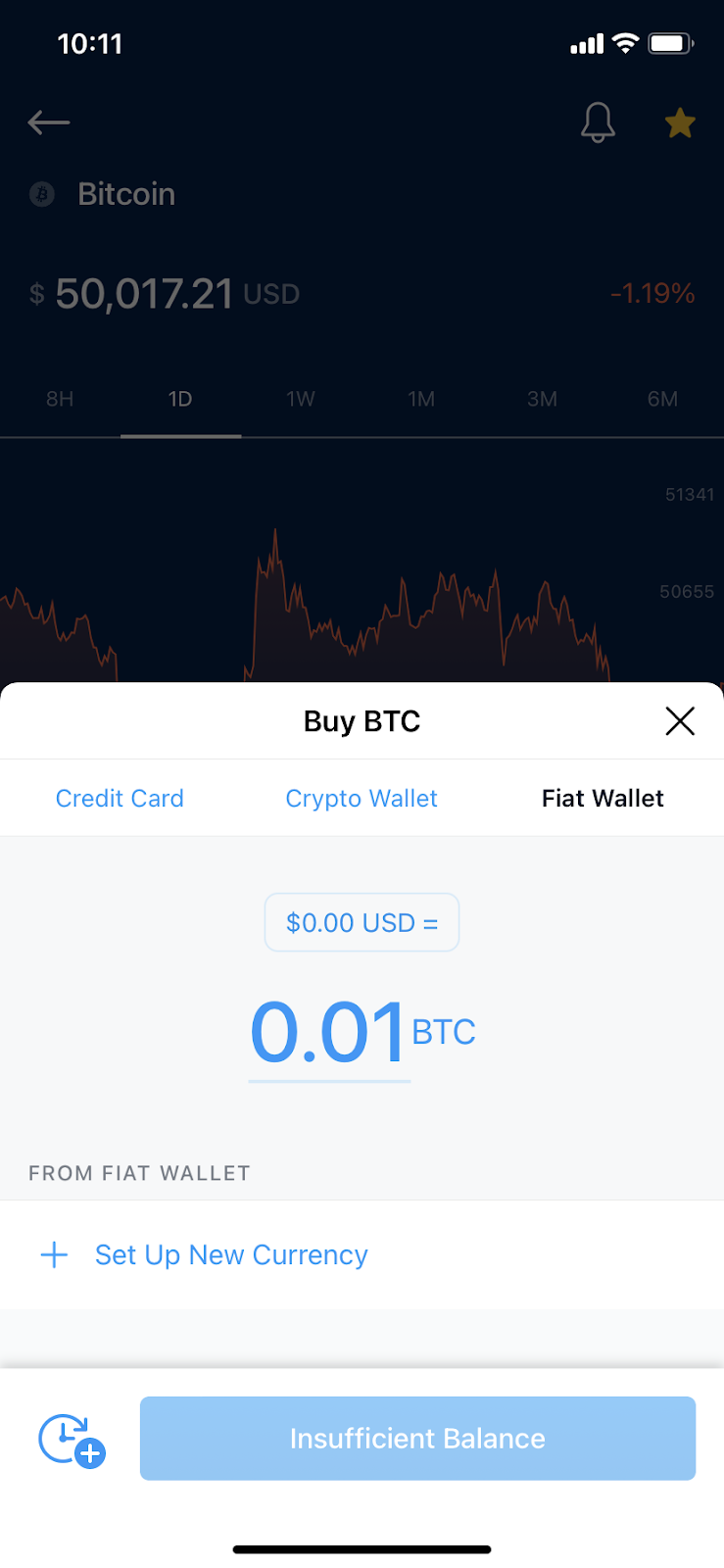 Does Crypto.com have good customer support?
Crypto.com offers several methods for customer support. These include a 24/7 live web chat, an email ticketing system, a customer service number and a detailed help centre as well as social media platforms. Although several methods are available, there are many negative reviews regarding these services. Poor reviews state it is hard to get fast customer support and that answers are unhelpful. Be sure to read the reviews to get an idea of other consumers' issues and make an informed decision.
| | Support offered | Wait times |
| --- | --- | --- |
| Contact us form | Yes – for general, regulatory and law enforcement inquiries | 24 hours |
| Live chat | Yes | 15-30 mins |
| Customer service number | Yes | Variable |
| Help centre | Yes | N/A |
| Social media | Yes | Variable |
List of services on Crypto.com
Earning on Crypto.com
Crypto.com gives you the ability to put cryptocurrency assets to work through staking and DeFi yield farming products.
The Crypto Earn module also offers up to 14.5% APY on stablecoins – rates are slightly lower for other cryptocurrencies. Rates vary depending on the amount of native CRO tokens held.
Alternatively, you can access DeFi staking, swapping and yield farming protocols through the DeFi wallet offered by Crypto.com. There is also the ability to stake CRO for an APY of over 10%.
Visa debit/credit on Crypto.com
Crypto.com gives you the ability to convert cryptocurrencies directly into spending power with the Crypto.com Visa card. The Crypto.com Visa card offering has 5 different tiers, each providing you with a host of card benefits.
For the highest tier, these benefits include 8% cashback from CRO Rewards, which is paid in CRO Token to your crypto wallet. The top tier also covers the cost of your subscriptions to Netflix, Amazon Prime and Spotify. You are allowed a maximum of one reimbursement per merchant per month up to the US dollar value equivalent stated on Crypto.com's website. Which merchants you can earn a rebate on will depend on which tier card you have.
To apply for the card, you'll need to purchase and hold CRO tokens for 180 days first. The first step is to sign up for an account and purchase your CRO tokens. You'll need to hand over the set amount of GBP to qualify for the card tier you want. Once you've bought your CRO tokens, they'll need to be deposited in your Crypto.com wallet. After 6 months, you can then "stake" your CRO in order to get your Visa card. Once you have your card, you can top it up via your fiat wallet, crypto wallet or credit/debit card. However, it is worth noting there is a 1% fee applied when topping up with a credit/debit card.
Promotions on Crypto.com
Crypto.com also hosts 2 promotional platforms called The Syndicate and SuperCharger.
The Syndicate is a project fundraising platform that allows investors to get into cryptocurrency projects early. Blockchain or application developers can list cryptocurrency tokens that are related to an upcoming project after they have been vetted by the Crypto.com team. Cryptocurrencies are often listed with a 50% discount to encourage interest.
Meanwhile, SuperCharger is a liquidity pool specifically designed for the native CRO token. You can deposit CRO tokens in the pool for a limited period (the charging period) and earn popular crypto coins and tokens as a payout during the reward period.
Trust rating
Crypto.com receives a 5-star trust rating. The rating is given based on multiple factors. The company's zero hack history and the requirement for users to use secondary authentication when logging in are notable. There have been multiple security audits performed by both internal and external audit teams. Crypto.com offers a large insurance fund to cover any potential losses due to security breaches.
Past hacks
No hacks have ever taken place on Crypto.com.
Security audits
Crypto.com takes security seriously. Alongside implementing standard security features such as 2-factor authentication (2FA) and the cold storage of all digital assets, the exchange has also listed a bug bounty program on HackerOne. This provides rewards to those who spot gaps in the security of the platform.
The company has also completed thorough audits of modules within the Crypto.com ecosystem. For example, the DeFi Swap module is a fork of the Uniswap decentralised exchange, which was originally audited by dapp.org. However, before launch, DeFi Swap was also audited by Crypto.com's internal security team. The exchange also makes sure that all protocols listed within the DeFi Swap feature have been fully audited and clear certain guidelines.
Insurance
Crypto.com has amassed a $750 million insurance fund to cover any losses sustained through damage or theft. This includes the recent addition of a $100 million direct insurance policy provided by Arch Underwriting at Lloyd's Syndicate 2012 for its cold storage assets.
Signing up on Crypto.com
Compare crypto.com with other exchanges
Table: shows partner brands and other brands, sorted by popularity
Crypto is unregulated in the UK; there's no consumer protection; value can rise or fall; tax on profits may apply*.
*Cryptocurrencies aren't regulated in the UK and there's no protection from the Financial Ombudsman or the Financial Services Compensation Scheme. Your capital is at risk. Capital gains tax on profits may apply.
Cryptocurrencies are speculative and investing in them involves significant risks - they're highly volatile, vulnerable to hacking and sensitive to secondary activity. The value of investments can fall as well as rise and you may get back less than you invested. Past performance is no guarantee of future results. This content shouldn't be interpreted as a recommendation to invest. Before you invest, you should get advice and decide whether the potential return outweighs the risks. Finder, or the author, may have holdings in the cryptocurrencies discussed.