Coronavirus travel guide: Everything you need to know
Planning a holiday but keen to read up on the specifics? Our travel team are here to help with all the rules and regs of holidaying during the coronavirus pandemic.
As the COVID-19 curve begins to flatten, things are gradually opening up in the UK and beyond. But this doesn't mean that we can all relax and return to regular travelling (sadly).
In fact, social distancing and good hygiene are now more important than ever in order to properly fight off this nasty virus. Many restrictions have been put in place following aviation guidance from the UK government, which we're going to take you through below.
Obviously, social distancing while travelling is difficult and downright inconvenient, but rest assured, it's worth it for the safety of all involved.
So if you're spending one or a few days away from home, here's what to expect.
Where can I travel to without restrictions from the UK?
There are now a fair few countries and territories with no current restrictions (such as testing or quarantine) where UK nationals can go on holiday.
Andorra
Belgium
Croatia
Czech Republic
Denmark
Faroe Islands
France
Germany
Gibraltar
Italy and Vatican City
Liechtenstein
Luxembourg
Malta
Monaco
Netherlands
Poland
Reunion
San Marino
Serbia
South Georgia and Sandwich Islands
Spain
Switzerland
Turkey
Where can I travel to with restrictions from the UK?
The following countries are also open for trips to UK holidaymakers. However, many have their own restrictions and rules for arrivals.
Antigua and Barbuda
If arriving by air, a health certificate is required with evidence of a negative test taken no more than seven days before arrival.
Aruba
Borders are open to UK tourists, and although travellers will not face quarantine on return to the UK, the FCO still advises against all but essential travel, which makes getting travel insurance problematic.
Austria
A health certificate is required, with evidence of a negative test taken no more than four days before arrival, or face self-isolation for 14 days.
Bahamas
A health certificate is required in advance online, with evidence of a negative test.
Barbados
A health certificate is required, with evidence of a negative test taken no more than 72 hours before arrival. Any travellers who fail to produce this face mandatory testing at the airport (US$150) and will have to self-isolate until the test results are provided.
Bermuda
A pre-travel online authorisation process is required, including a $75 fee for each traveller to cover the cost of testing on arrival.
Dominica
Travel is not permitted from the UK yet, but borders are due to open to UK tourists on 15 August.
Greece
Direct flights with the UK resumed on July 15. All arrivals must complete a "Passenger Locator Form" online before arrival; and currently may also face testing at the airport, which means self-isolating until test results are available. If they test positive, they must then self-isolate for 14 days. If another passenger on the same flight tests positive, they may be subject to further self-isolation measures.
Greenland
A health certificate is required, with evidence of a negative test taken no more than five days prior. Arrivals must also quarantine for five days: this is defined as travellers keeping a distance from people other than those they have travelled with, while being permitted to leave their accommodation to go food shopping or for walks/hikes.
French Polynesia
Borders opened to tourists from the UK on July 15. A health certificate is required, with evidence of a negative test taken no more than 72 hours before arrival.
Grenada
Health screening on arrival including a coronavirus test. Quarantine measures are expected to be announced shortly.
Iceland
Testing on arrival or self-isolation for 14 days. Arrivals must also fill in a registration form online, pre-arrival. If booked in advance, tests cost £53 (alternatively, £65 on arrival).
Jamaica
Health screening on arrival including a coronavirus test, with a positive result leading to 14-days self-isolation. A pre-authorisation form is also required.
Lithuania
The Lithuanian government "recommends" all arrivals from the UK self-isolate for 14 days. They must also register with the Ministry of Health in advance.
South Korea
Testing on arrival and a mandatory 14-day self-isolation regardless of results (anyone who tests positive will be isolated at a hospital or community treatment centre).
St Lucia
A health certificate is required, with evidence of a negative test taken no more than seven days before arrival. Screening will take place at airports including temperature checks. Any symptomatic passengers will be isolated and tested. A pre-arrival online registration form must also be completed.

Before flying
Pre-departure eligibility and health screenings
At some airports, you may be required to take part in a pre-flight health screening. The UK's largest airport, Heathrow, began trialling these measures in May.
So far, temperature and health checks have not been rolled out to all UK airports, and Heathrow's trial only lasted one month. However, if you plan to travel in the next few months, don't be surprised if you are stopped and checked for signs of COVID-19.
In fact, we'd encourage you to allow extra time for this, just in case.
At the airport
Distancing at the check-in
Social distancing rules apply throughout the airport and the check-in queue is no different.
Markers are placed on the ground to indicate where you must stand in order to keep your distance from others in the queue.
You'll notice all crew are wearing masks and gloves as added protection. As passengers, most UK airlines and airports are asking you to wear a face covering when travelling through. Looking to buy one? Take a look at Finder's pick of the best cloth masks or even make your own following our guide.
Reduced or no option to pre-select seats before check-in
You may find that some airlines have removed the ability to pre-select seats prior to check-in to allow the airline to properly space its passengers.
Families and groups travelling together will be allocated seats next to each other, where possible. This is likely going to be adopted by other airlines to maintain social distancing onboard.
More self check-in and bag drops
Contactless check-in and bag drops are nothing new but these are being strongly encouraged to align with social distancing.
You may be contacted by your airline prior to your departure date to check in online.
When you arrive at the airport you may also notice more staff directing you toward the self-check-in terminals.
Closed food court areas and lounges
The reopening of food courts and restaurants is going to happen slowly, as more flights resume. Many Boots or WHSmith stores are open for small supplies, but larger restaurants serving meals may still be shut, which means the airport might feel eerily quiet to you.
Similar to food courts, many airport lounges are closed for the meantime.
The need to bring your own food
As food courts and airport lounges are likely closed until further notice, you'll be starved for food choices. Some sit-down restaurants may be open so long as they've been deemed safe. However, they may be limited to a number of diners.
Your best bet is to pack your own meal if you're looking to eat before you board your flight.
At the gate
Distanced seating
At the gate, you'll be encouraged to comply with social distancing rules, most likely by keeping a seat between your party and the next.
Sequenced boarding
When boarding during normal times, queues are usually broken down by class and then by large chunks of rows.
With social distancing, this is likely to be even further broken down into smaller sets of rows. This works to reduce overcrowding when boarding the plane.
As a result, you may find the plane begin to board earlier. Keep an eye on the boards to make sure you're near the gate when your flight begins to board.
On the plane
Distanced seating
In the air, social distancing is also imperative. Some airlines are achieving this by giving customers an entire row to themselves. The exception is when travelling with family or other members of your household.
Other airlines are removing the ability to book the middle seat in order to create distance between one passenger and the next. Or, have removed the ability to pre-book seats all together with seat allocation occurring during check-in to adequately space passengers.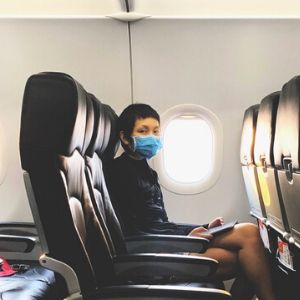 Sanitisation stations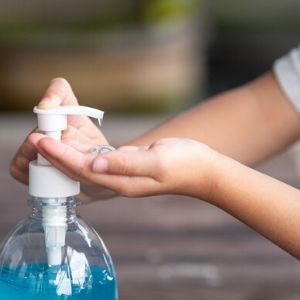 To reduce the spread of COVID-19, airlines are thoroughly sanitising their aircraft after every flight. This may add time between flights, so please be patient.
Sanitisers for both crew and passengers are available at the airports and on the planes. Regular hand washing is encouraged throughout and toilets are constantly being cleaned.
Face masks available
Many airlines are offering free face masks to passengers. Whether you're required to wear them is dependent on the airline.
Limit cabin baggage
Boarding is going to be a little slower and you may be asked to avoid touching too many surfaces, which means your cabin baggage allowance could be limited.
Scoot has already implemented this. As of 1 June, passengers can only carry a small cabin bag which fits under the seat. On the upside, all other carry-on luggage is being checked in for free.
Limited meal service and no in-flight magazines
Depending on the airline, meals may be limited or removed altogether to reduce the amount of face-to-face interaction.
You should be notified of this before boarding so you can bring your own food on board if you want to.
Many airlines have also removed their in-flight magazines to reduce the chances of the virus spreading.
At the hotel
Digital check-in
Online check-in is nothing new but now more than ever, hotels are utilising it to remove the need for face-to-face contact.
Depending on your hotel, you may be able to check in on your phone upon arrival, or via a kiosk at the lobby entrance.
For phone check-ins such as with Hilton, you'll be given a digital card on your phone which you can use to open your room. If this is an option at your hotel, you'll be emailed a QR code prior to your stay.
For kiosk check-ins, a card may be generated for you on the spot.
If you feel uncomfortable or unsure about using this tech, lobby staff are still available to help.
Closed restaurants, gyms and pools
Depending on the restrictions at your destination, social and recreational spaces such as restaurants, gyms and pools may be closed or restricted.
In the case that these aren't open, there may be alternatives available.
For example, the restaurant may deliver your buffet breakfast dishes of choice to your room and there may be virtual gym classes you can tune into from your TV or phone.
Contact your hotel prior to your stay for details on what's open and what's available so you can plan accordingly.
No-contact amenities
In line with social distancing rules, food orders may be delivered to your door and left for you to pick up, instead of someone setting it up in your room.
Likewise with cleaners, they may be restricted to entering only when you're outside your room.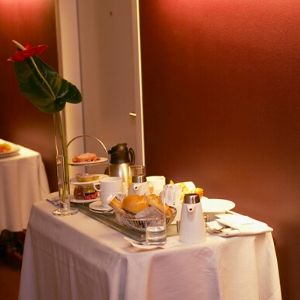 Out and about
Digital ordering and payments
To reduce any physical interaction, ordering at the counter or with staff may no longer be available at restaurants and cafes.
Instead, a digital ordering system could be in place either at the front of the restaurant, on your table itself or even via an app.
Alternatively, the restaurant might require you to pre-order and pay over the phone, on its website or via an app.
Before you head out, call the venue in case you need to make early arrangements or download any specific apps on Wi-Fi to make the process seamless.
Contactless payments
The use of contactless payments over cash was adopted by many during the height of the pandemic and it's likely to continue.
When travelling, remember to bring digital forms of payment in case cash is denied.
Distanced tables or sectioned restaurants
As restaurants re-open, social distancing rules are being enforced. This means that tables will be heavily spaced out in venues or sectioning may occur.
Due to these rules, restaurants are restricting the number of diners at any one time. So if you're thinking of rocking up in the hopes of getting a table, the odds are probably going to be against you.
A better idea is to call up and make a booking. This will ensure there's a table waiting for you and not a waiting line of disappointment.
Markers on the ground to indicate distance
Airports, hotels, entertainment venues, supermarkets and stores have adopted placing markers on the ground to remind you of distancing rules.
These are either 2 metres or 1.5 metres apart and indicate where you should stand in relation to others, particularly when waiting in line to be served.
They may make lines seem long but trust us, the waiting time probably won't be any longer than usual. It just feels that way because you're further from the counter.
Limits on the number of people inside an establishment
Stores and restaurants that have reopened will have been given strict guidelines on how many people may be allowed in at any one time.
Due to this, you may find yourself waiting outside stores and cafes until you can go in.
Screens and guards
Multiple stores and supermarkets may have installed plastic screens to separate you from your server.
These are see-through so it won't stop you from physically seeing or communicating with each other, but is more of an added measure to keep everyone safe and healthy.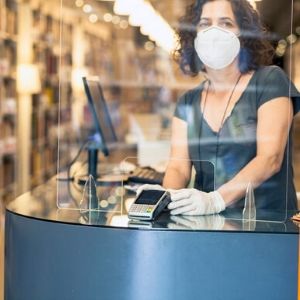 Sanitisation stations
Good hygiene is imperative to stopping the spread of COVID-19 and should be continued, even when on holiday.
Sanitisation stations have cropped up everywhere, particularly in high-traffic spaces like supermarkets, to help you out.
Otherwise, it's a good idea to pop a bottle of hand sanitiser in your luggage.
You should also remember to wash your hands for 20 seconds regularly. This is particularly important if you've been to a public place or have blown your nose, coughed or sneezed.
Still looking to get away? We recommend booking with a trusted travel company with a good cancellation policy.
Here are some deals for our favourite travel providers
Travel news and reviews