Coronavirus Shopping
Where To Buy
Christmas gift ideas for someone who has everything 2020
Win Christmas by finding the perfect gift for someone who's got it all.
Everyone knows someone who has everything, but you still need to find them a present! This year, you're going to be prepared. We've scoured the internet and hand-picked some of the coolest, quirkiest and most unique Christmas gifts out there, so you're sure to find just the thing for the trickiest person on your list.
Experience gifts
Personalised gifts
Tech and gadget gifts
Quirky gifts
Back to top
Top retailers to Christmas shop for the person who has everything
Experience gifts
Personalised gifts
Flowers and gift baskets
Enjoy 3 months of The Telegraph for just £1 per week!
Get 50% off a Telegraph subscription right now
Get the latest news, business, sport, and culture from the Daily Telegraph
Access all articles on telegraph.co.uk
Discover exclusive Subscriber Rewards and Events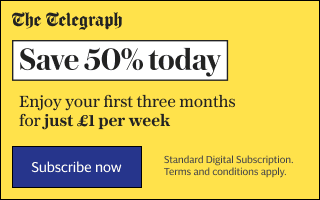 What do you buy the person who has everything?
It can seem like a daunting prospect, but trust us they don't actually have everything! There are just a few key things to remember when choosing a gift:
Don't get bogged down trying to think of something they want or need. They'll probably already own it.
Think outside the box and aim for something that they would never buy for themselves.
Pick something quirky. Things like movie or book memorabilia or sports merchandise. Obscure books, weird boardgames or gag and novelty gifts work too.
Donate to a charity. Are they an animal lover? Adopt an endangered animal in their name.
A personal or handmade gift. A framed collage of photos of you together or scrapbooks of trips you've taken together are sure to be things they don't already own!
What are the best DIY Christmas presents for someone who has everything?
Making a present by hand is actually a perfect option when shopping for those people who seem to have everything. If you're looking for inspiration, check out these fun DIY gift ideas:
Crochet blanket, hat or scarf. If you're handy with a crochet hook get creative with it and craft your loved one a blanket, hat or scarf and be sure to tell them it was made especially!
Homemade jams, mincemeat or baked goods. Are you a whizz in the kitchen? Whip up a tasty jam or rich mince pie filling, add a ribbon and you'll have an easy gift.
Photo collage. A clssic handmade gift for those of us less creatively inclined, to give the photo collage a fresh edge try buying or making a large letter for their first or last initial and trim photos to fit inside it.
Customised gift basket. Fill a basket with things you know they'll love. This can include snacks, wine, beer, DVDs, CDs or whatever you can think of!
Back to top
Top gift cards for someone who has everything
If your loved one is the ultimate picky shopper and you really can't think of anything to buy them, then the gift of choice is always a wise one. Pick up a giftcard for their favourite retailer and let them choose their own gift!
Top retailers for Christmas Giftcards
Experience Gifts
Flowers and Gift Baskets
Back to top
Frequently asked questions
In the case of buying for someone who has everything, price tag is not always the most important thing! Rather than spending a fortune, focus instead on finding something unique or meaningful.

This is a great excuse to treat yourself at the same time as your loved one! Buy experience gifts like the one suggested above and enjoy a getaway, skydiving experience or spa day together!

Experience gifts can also be a great answer here! If there's an event you'd think he'd enjoy such as a sporting event or concert then consider getting him (and maybe you, too!) tickets for it.

Would she enjoy going for a day at the spa? Maybe tickets to see a movie, play or sports event?

Sentimental gifts like jewellery, photo frames and albums or a donation to a charity made in her name could also work well.
Back to top
Gift deals and discounts