If you're looking to stay fit and healthy without leaving the comfort of your home, why not invest in a treadmill? We've rounded up a list of stores selling a whole range of options, including handy folding models if you're a little short on space.
Our top in-stock picks
Finder's pick: NordicTrack T 7.5 S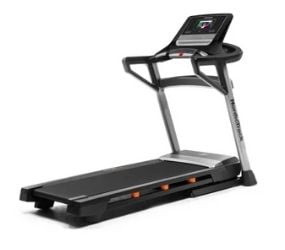 ★★★★★
Buy now at NordicTrack
This NordicTrack Commercial T 7.5 S treadmill has a 7" HD touchscreen featuring more than 16,000 interactive on-demand workouts with world-class trainers, easy real-time stat tracking and impressive live incline and speed control.

| | |
| --- | --- |
| Incline | 0-12 |
| Bluetooth | Yes |
| Foldable | Yes |
| Size (LxWxH) | 187xm x 91xm x 151 cm |
Which of these retailers offer free delivery?
NordicTrack: Standard delivery is £49 on all products ordered to mainland UK addresses.
Home Fitness Code: Free delivery on all fitness equipment orders.
Argos: Order by 6pm and get same day delivery for £3.95 on selected products.
UK Sport Imports: Free one-man delivery to most mainland UK destinations. Optional two-man delivery is offered at a surcharge and is recommended for bulky items if you are unable to assist unloading.
Idealo: Delivery options vary.
John Lewis: Free shipping on orders over £50
Decathlon: Delivery options vary.
Sports Direct: Delivery options vary.
Best Gym Equipment: Free shipping on orders over £99
Fitness Superstore: Free shipping on orders over £199
How to choose a treadmill
Finder's wellbeing expert Amelia Glean answers

One of the most popular types of home exercise equipment is the treadmill, providing a pretty good aerobic workout. Treadmills allow people of all ages and fitness levels to do a bit of exercise by walking. But for those looking to run, it's obviously an excellent purchase, too. But beware, there are good-value and bad-value treadmills out there. To help you out – here are five important features to consider:
1. Speed and incline levels
A major difference between most home and commercial treadmills is the top speed. Most gym treadmills can go up to 22km, but home-use machines often only reach 16km. Consider purchasing a treadmill that offers the fastest speeds possible within your price range. A treadmill with variable incline settings is also a sensible choice. Look out for a maximum incline of around 10-15%, as this allows you to increase the difficulty of your run, without needing as much speed. A more powerful motor is worth investing in too – it's likely to stand the test of time. And if it's not having to work flat-out at the limit of its capabilities, it's more likely to run quietly.
2. Running area
Lower budget treadmills usually offer a smaller running area. If you have space restrictions and are looking for a relatively compact model, that might be fine, but otherwise, you'll want to watch out for running deck size too. Somewhere around the 0.58m² size usually cuts the mustard.
3. Work-out programmes
As a general rule, more expensive treadmills tend to come with a broader selection of pre-programmed work-outs – perhaps upwards of 20. At the very top end of the spectrum, look out for models that interact with third party apps, giving you the option to download from a huge pool of programmes online to change up your workout whenever you feel like it.
4. Heart rate monitoring
Being able to monitor your heart rate on the treadmill is an effective way to improve the quality of your workout, whether that's a walk, a jog, or a run. No matter what your goal – losing weight or improving aerobic endurance – treadmills can track the number of calories burned or heart rate zones reached, which will give you an indication of your fitness levels and performance.
5. Smart connectivity
The last thing you should consider is whether the treadmill provides connectivity to smartphones or fitness wearables, such as Fitbit's, Garmin's and Apple Watches. This will allow you to track and upload your workouts and monitor your performances over a period of time, giving you more motivation to keep on going.
Other FAQs about treadmills
Browse our top exercise deals and discounts
Popular reads
Image Source: Getty