Where to buy exercise bikes online | Exercise bikes for sale
Get a sweat on at home with an exercise bike thanks to Finder's round up of the best sites to buy one from.
Shop exercise bikes at Home Fitness Code from £140
Lightweight and space-saving design
Low prices
Free shipping on all equipment
Our top in-stock picks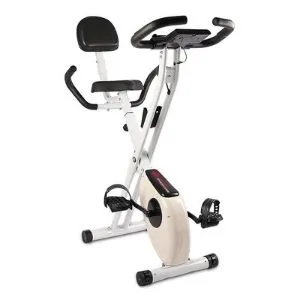 Foldable Fitness Bike 2-in-1 Upright and Recumbent Bike
from Home Fitness Code
The folding fitness bike offers a smooth lower-body workout in a convenient folding frame design for easy, on-demand storage and set-up.
£149.99 - IN STOCK
View details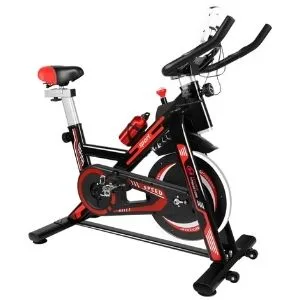 Indoor Exercise Bike Stationary Bike with LCD Display
from Home Fitness Code
Equipped with a variety of adjustable features and cutting-edge technology, this stationary bike can adapt to various fitness goals.
£189.99 - IN STOCK
View details
If you're looking for an effective way to burn fat and up your fitness level, there are few exercises more efficient than cycling.
And if you don't want to cycle outside, an exercise bike may be the perfect fit for you.
Where to buy exercise bikes online
---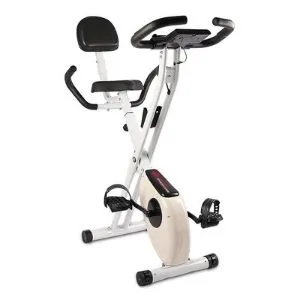 ---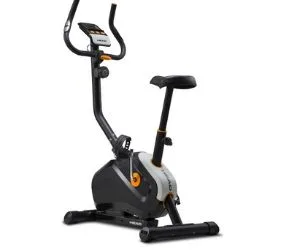 ---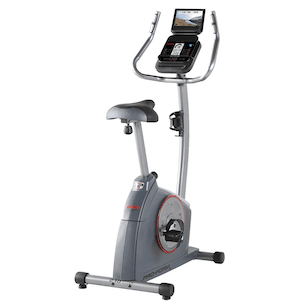 ---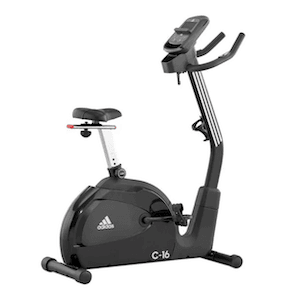 ---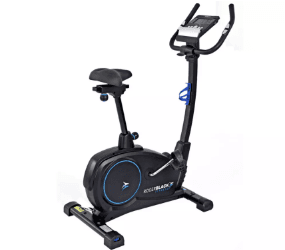 5. Argos

Sweat in the comfort of your own home thanks to an exercise bike from Argos.
There's no need to leave the house to exercise, just order a stationary bike from Argos and pick it up the same day.
Order by 6pm and get same day delivery for £3.95
Free returns
Great deals available
---
Does your company belong in this list?
Can you lose belly fat by riding a stationary bike?
The short answer is yes. Cycling can help you lose body fat, just like any other aerobic exercise. But cycling isn't going to target your belly fat specifically. And besides, it isn't the way our bodies work. Instead, if you use your exercise bike regularly and manage your calorie intake, you will lose body fat all over your body, including some from your belly.
---
What shops sell exercise bikes?
Quite a few, actually! Our favourites are John Lewis, Argos and Sports Direct. You can find deals and discounts for each of these retailers
below
.
---
Is cycling on an exercise bike as good for you as cycling on a normal bike?
Finder's wellbeing expert Amelia Glean answers

Cycling, regardless of whether you're peddling a stationary bike or a road bike, is a great workout for you and your body, for people of all ages. Just two or three 30-minute sessions a week can result in significant health benefits, such as improved cardiovascular fitness, and the strengthening of your leg muscles. But what does a stationary bike offer that a road bike doesn't?
1. Interval training
Interval training allows you to alternate short bursts of intense exercise with longer intervals of less intense exercise. This can help you burn more calories in less time, and elevate your cardio fitness. Stationary bikes allow for varied resistance levels, so you can exercise at low, medium, or high intensities at the touch of a button.
While interval training is possible on a normal bike, it's much easier to force yourself into specific heart rate zones on an exercise bike, making it ideal for an interval training workout.
2. Safer than road cycling
Cycling outdoors has many of its own benefits, but it does come with certain hazards, such as cars, uneven or slick road surfaces, and poor visibility in bad weather conditions.
But with indoor cycling, you don't have to be concerned about traffic, road conditions, or the elements. You can work out safely at a comfortable temperature any time of the year inside your own four walls.
3. Burn more calories
It depends how hard you push yourself of course, but the exercise bike has another advantage when it comes to workout benefits. Your bike will often come with preset programmes and numerous resistance levels, making it easier to modify your workout to suit your goals. You can also monitor your heart rate more accurately.
The result? Many cyclists report burning more than 600 calories an hour on a stationary bike… which is a pretty good session in our books. After all, burning more calories than you consume is the key to weight loss.
Which retailers offer free delivery?
---
Frequently asked questions
University of Glasgow 2017
Our very best deals and discounts from the above retailers